Umbria
Umbria is nicknamed "the green heart of Italy." Celebrated for its rolling hills, covered with sunflowers and sprinkled with magnificent medieval towns, Umbria was described by Henry James as "the most beautiful garden in all the world" Despite all these praise, Umbria has often been overshadowed by its more famous neighbour, Tuscany. Today, however, there is a newfound appreciation for all that Umbria has to offer: It is home to one of the largest lakes on the Italian peninsula, Lake Trasimeno, here are countless cathedrals and museums, an abundance of cultural activity throughout the year and the undulating, peaceful landscape and the picturesque villages and towns almost appear like they did on canvases painted 400 years ago!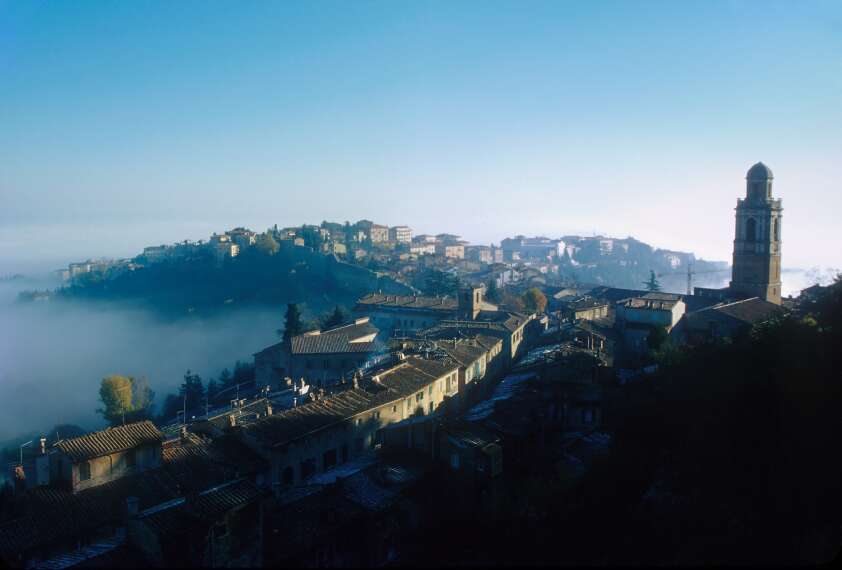 Perugia rising out of the morning mist
An impressive medieval heritage
Umbria is landlocked, but is otherwise much like Tuscany landscape wise. Umbria offers rolling hills which terminates in the Apennine mountains in the east. The many hills and mountains cast a soothing shade over the lush river valleys with elms and chestnut trees. Umbria is characterised by the many medieval towns located on top of steep hills with fortresses, thick city walls, watch towers and narrow, cobbled streets.
Outside these towns you find monasteries and castles, several of them founded by local men who later were named saints. As in other catholic countries the region has many churches and cathedrals with grand architecture and breathtaking frescos and carvings. Towns like Assisi, Spoleto, Norcia, Gubbo and Orvieto are all good examples of Umbria's impressive medieval heritage.
No chance to get bored
The towns in Umbria are small. Most, except Terni and Perugia have in between 20 000 and 40 000 inhabitants. Throughout the year a multitude of festivals and fairs are held around the region, everything from popular antique fairs, jazz festivals, an onion festival, a tulip festival, historical games, a food festival, an international street performer festival to a kite flying festival.
Are you looking for a propeperty in Umbria? Use the search function to the left and search for properties such as farmhouses, villas, apartments or historic property in Umbria.

Casa Bel Sole – Your property finder in Italy!
Umbria's trademark, Sunflowers