Boligdetaljer
"Il Ciclone"
| | | |
| --- | --- | --- |
| COD. 3896 | Tuscany - Laterina Pergine Valdarno (Arezzo) | € EUR 4,000,000 |
| | | |
| --- | --- | --- |
| TYPE: Rustic farmhouses and Countryhouses | BOLIG AREAL: 1156.65 kvm | TOMTE AREAL: 13.00 ha |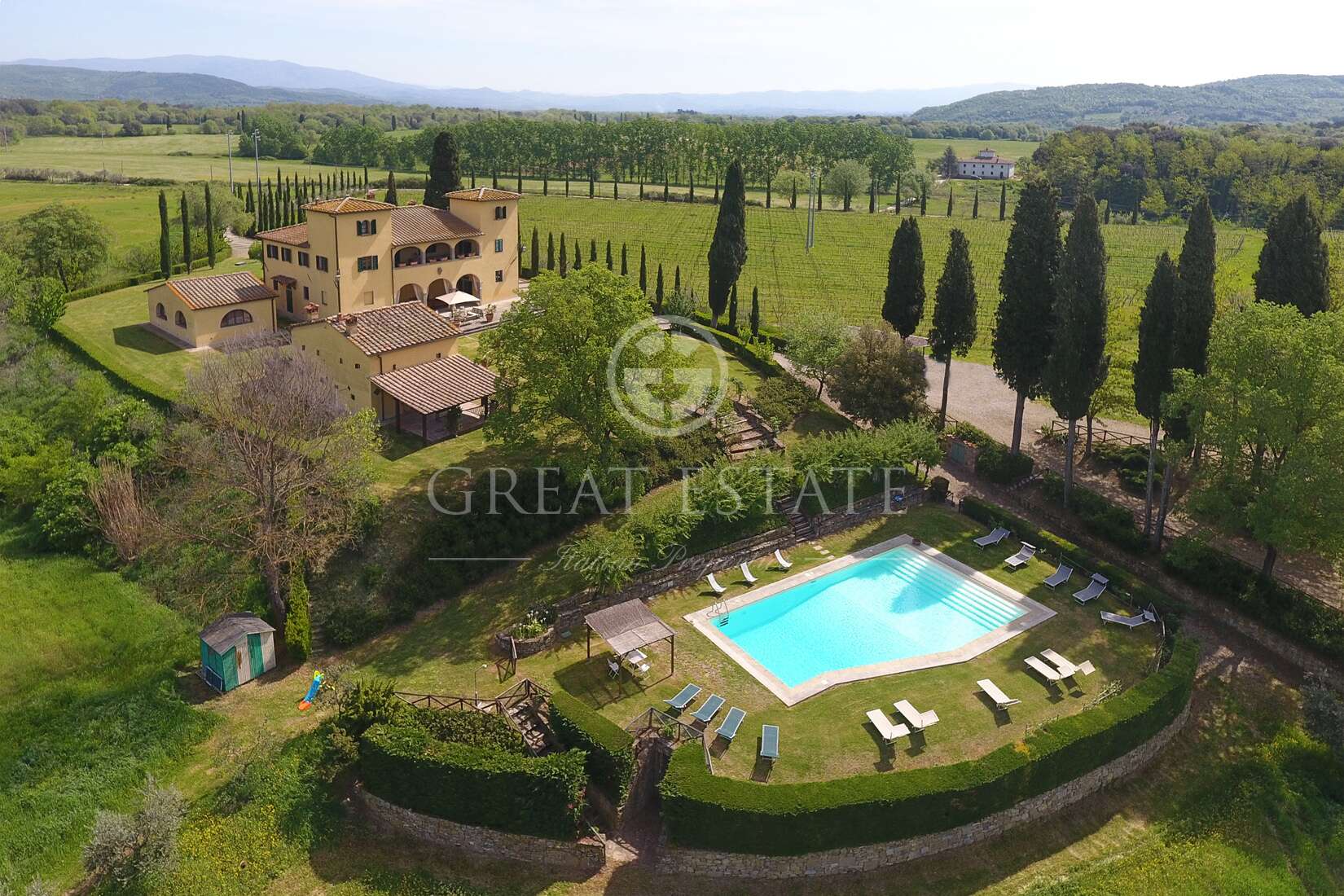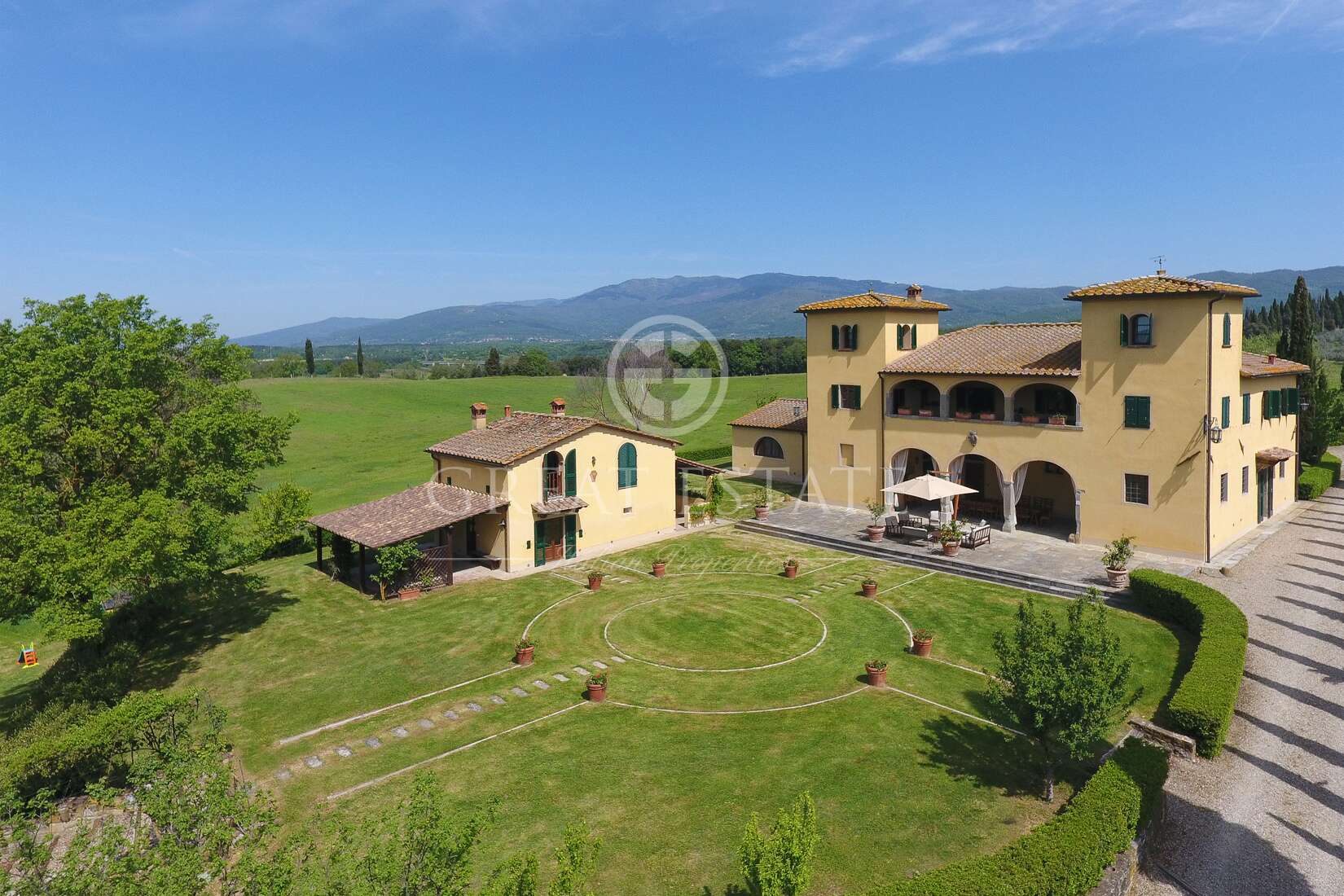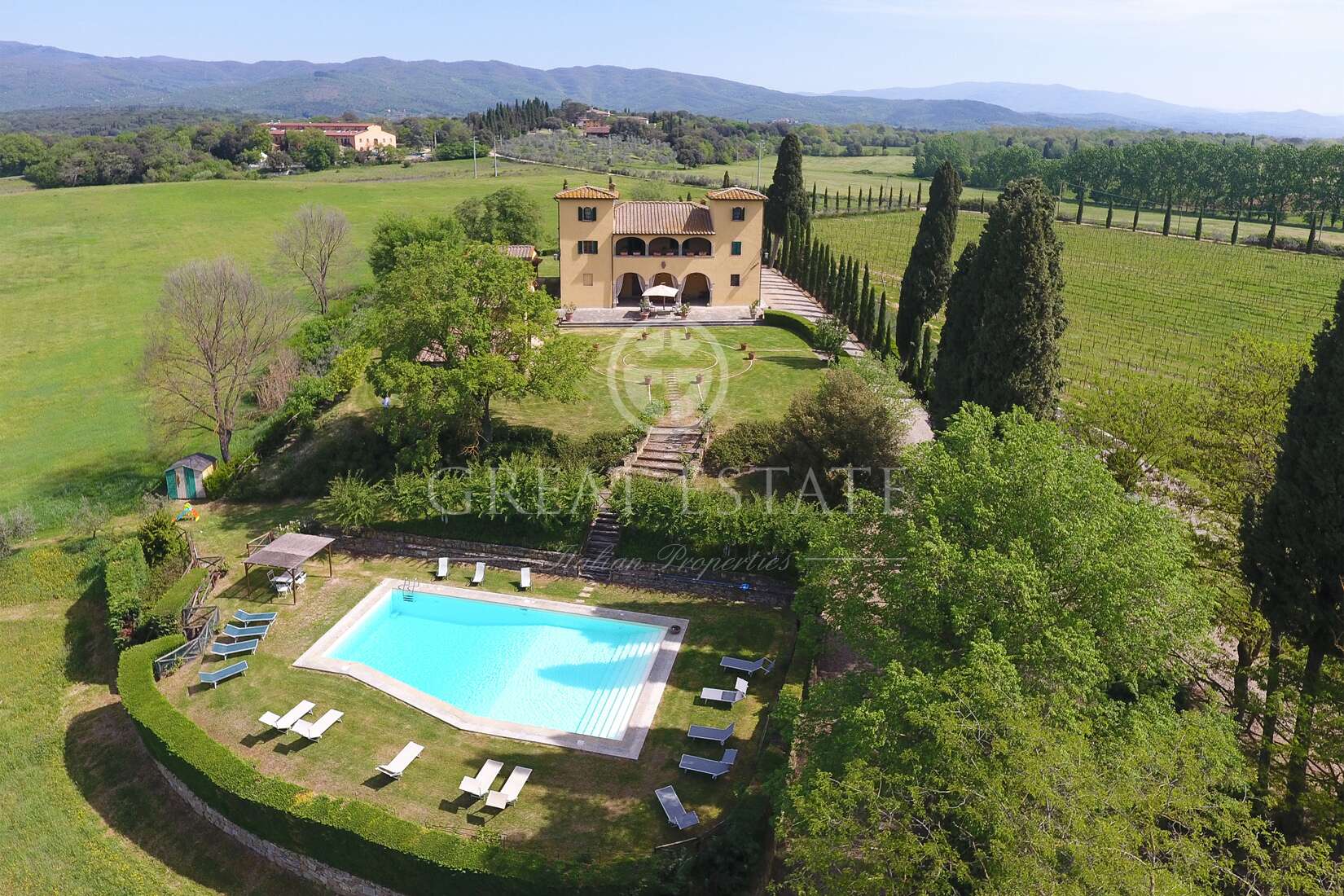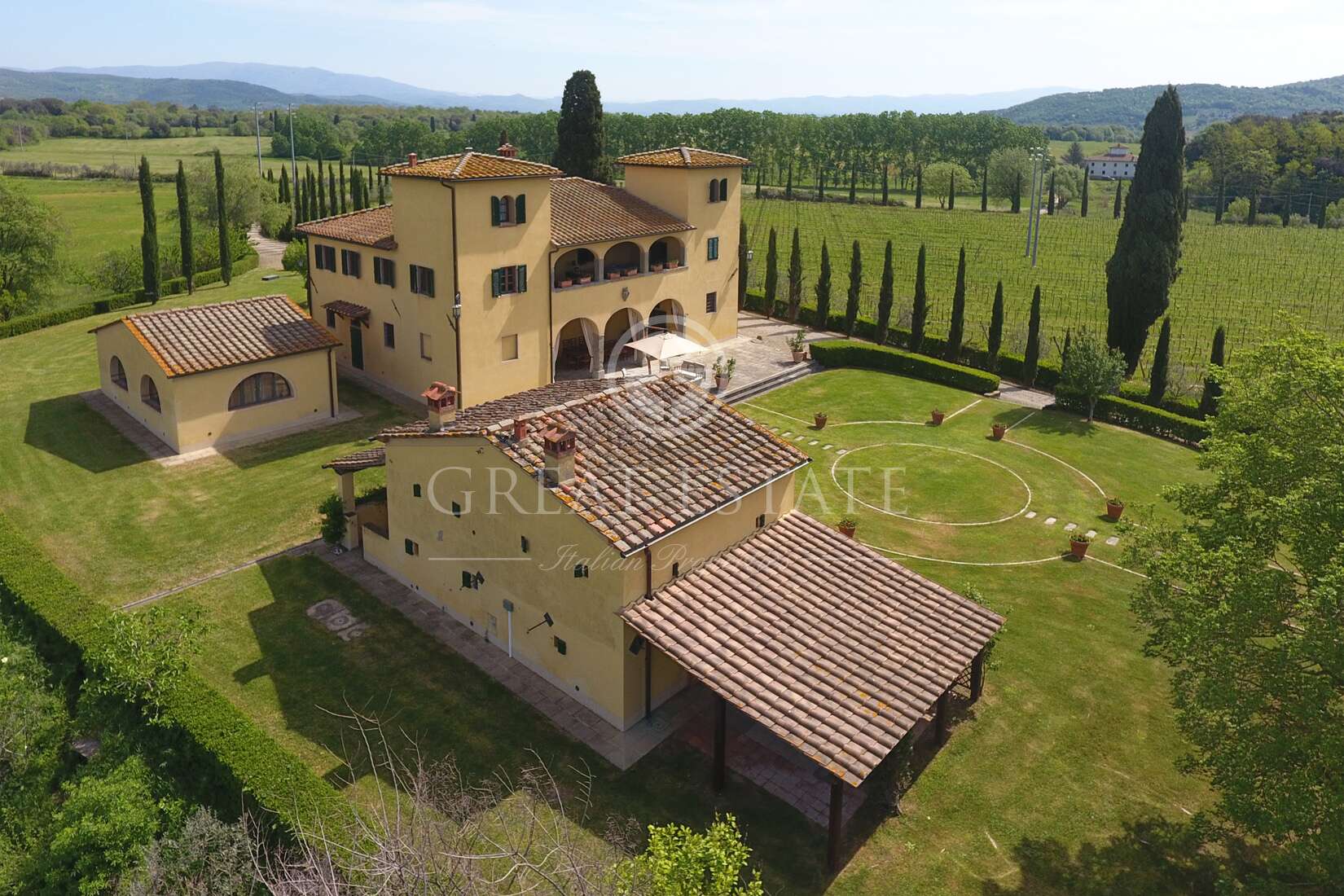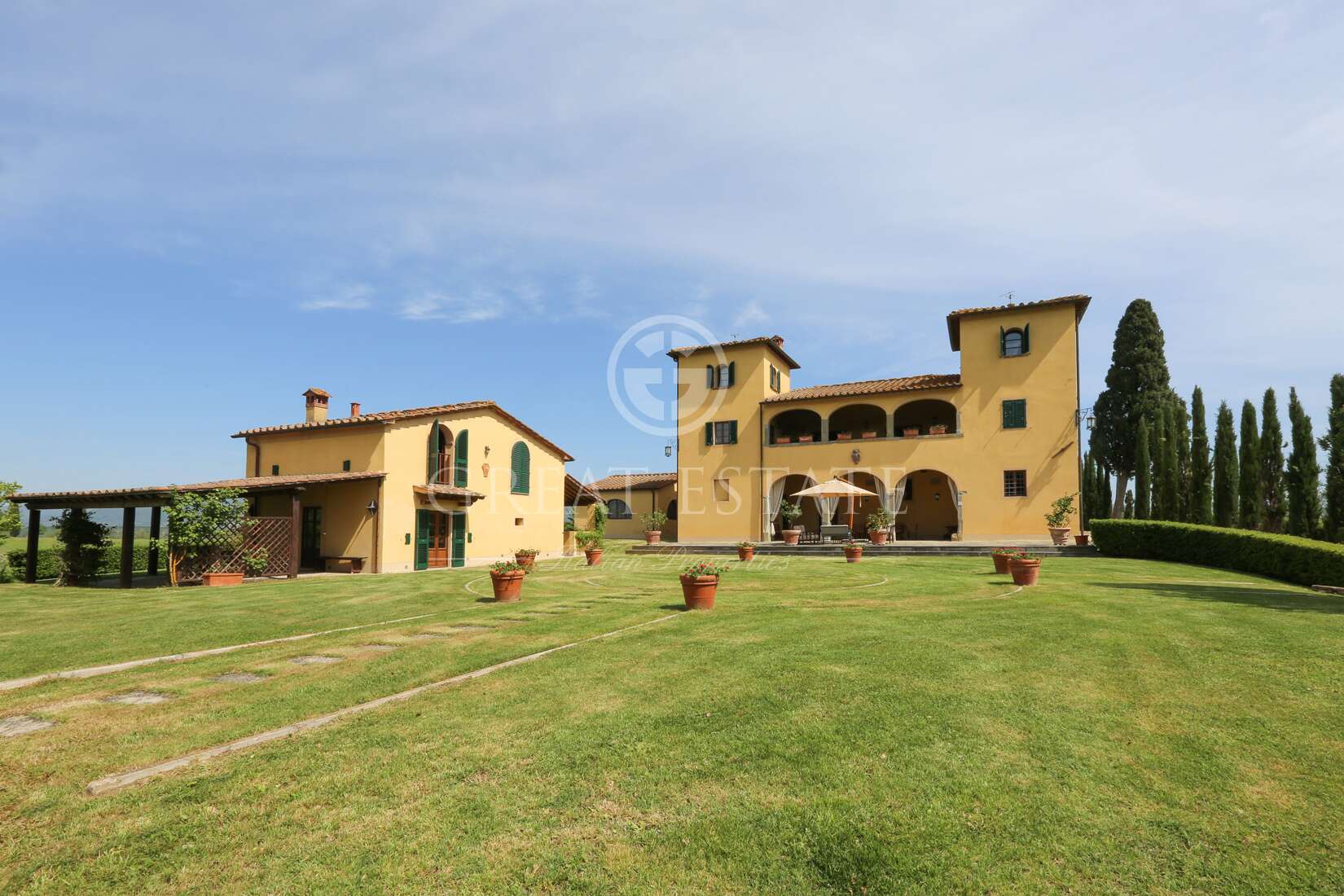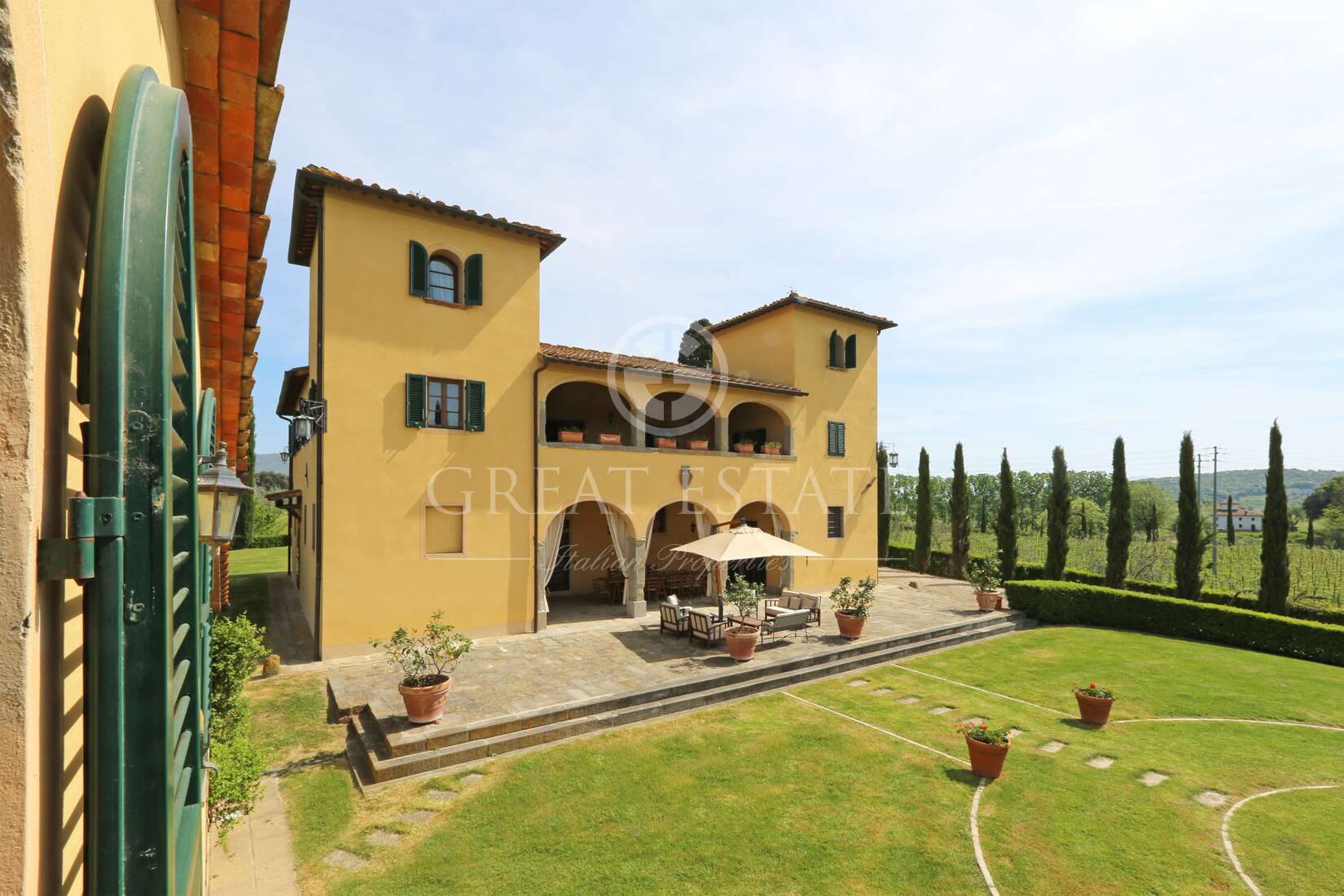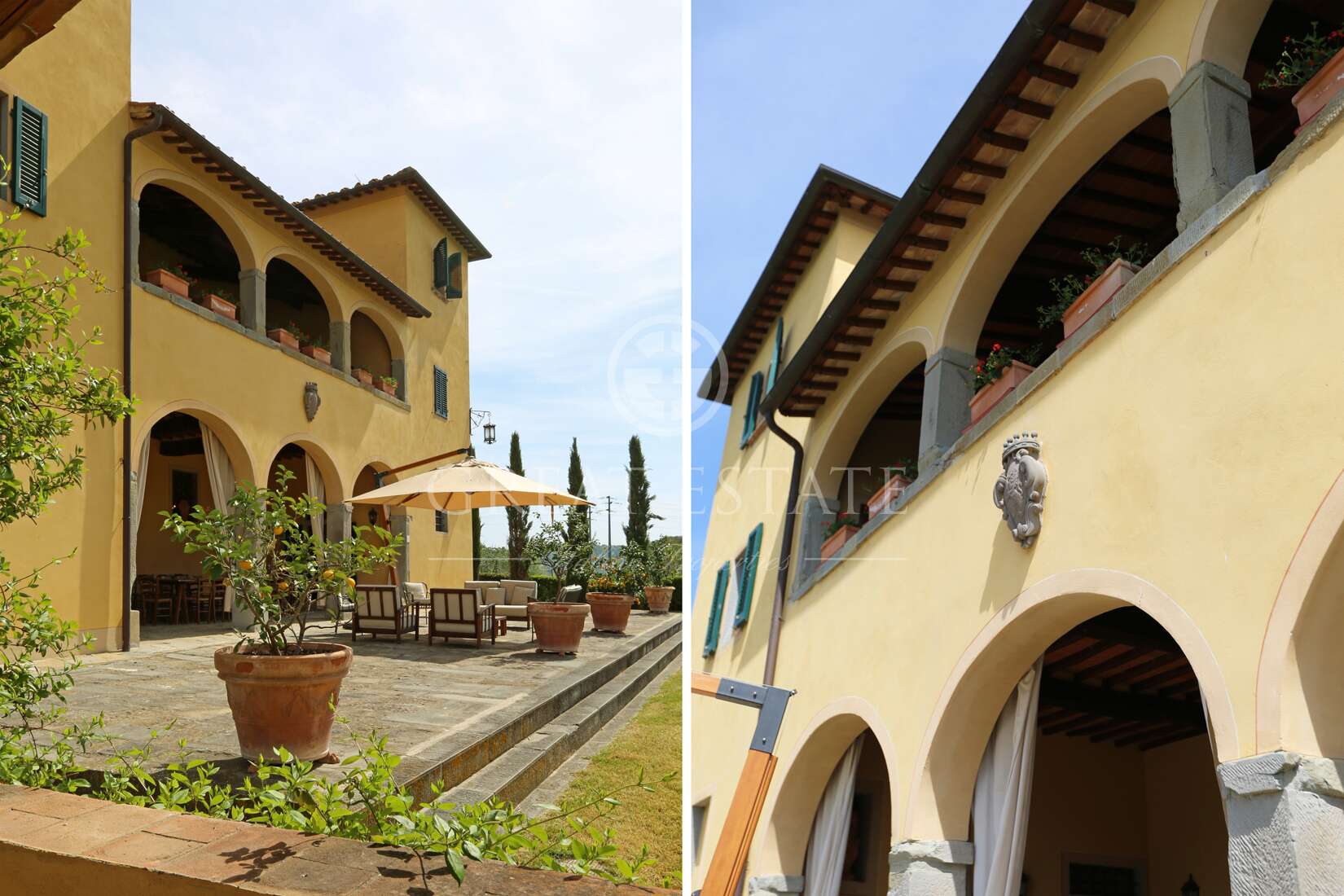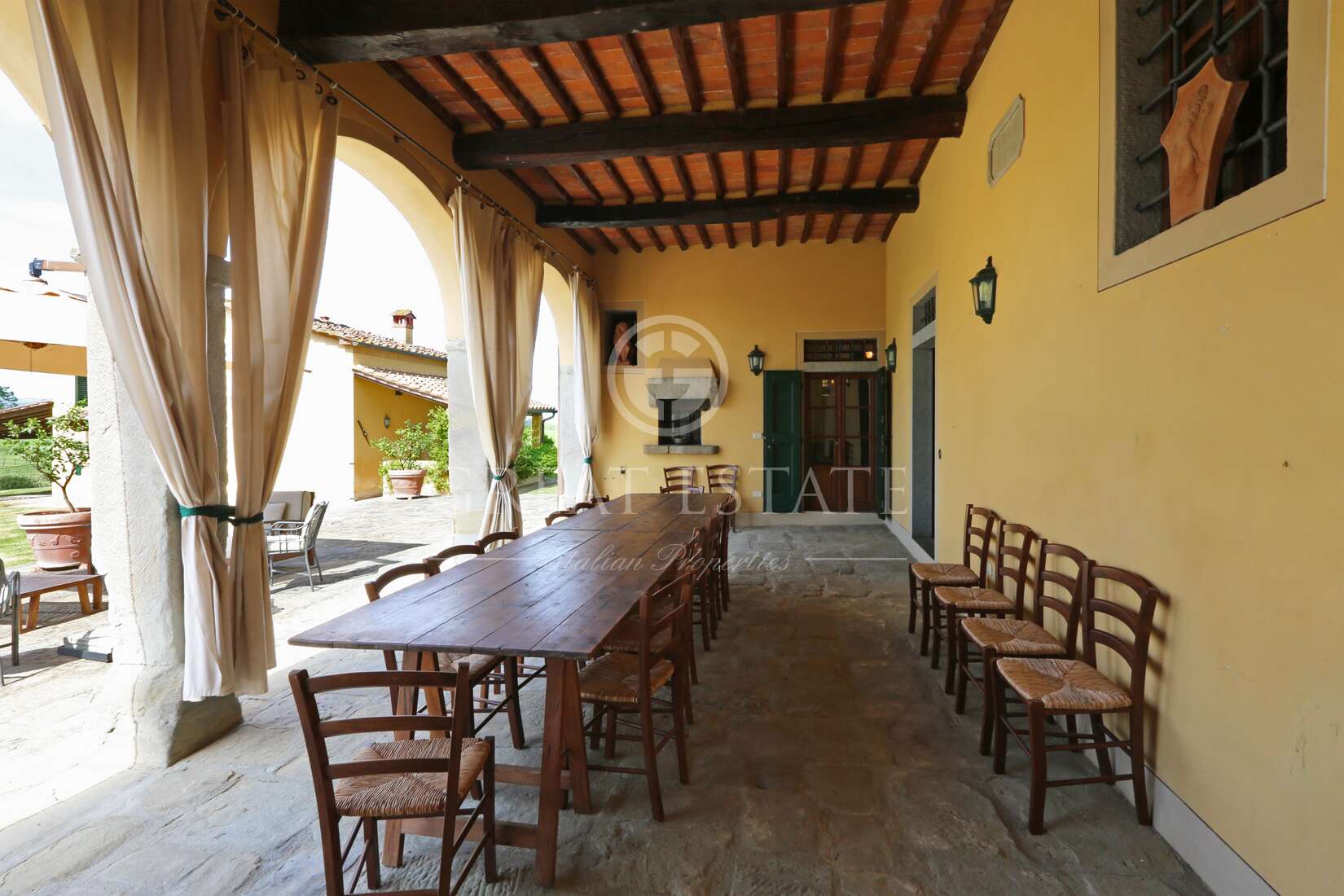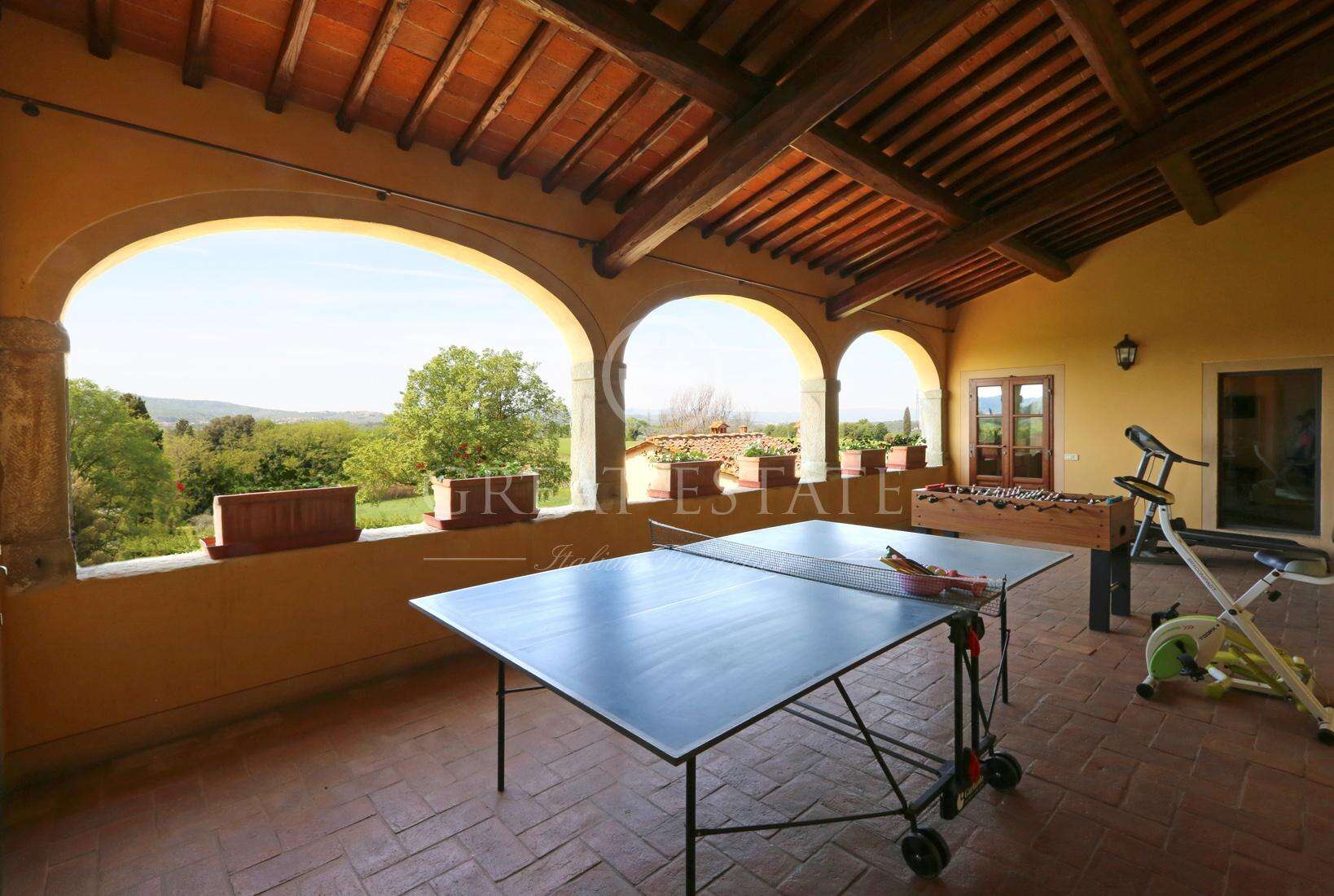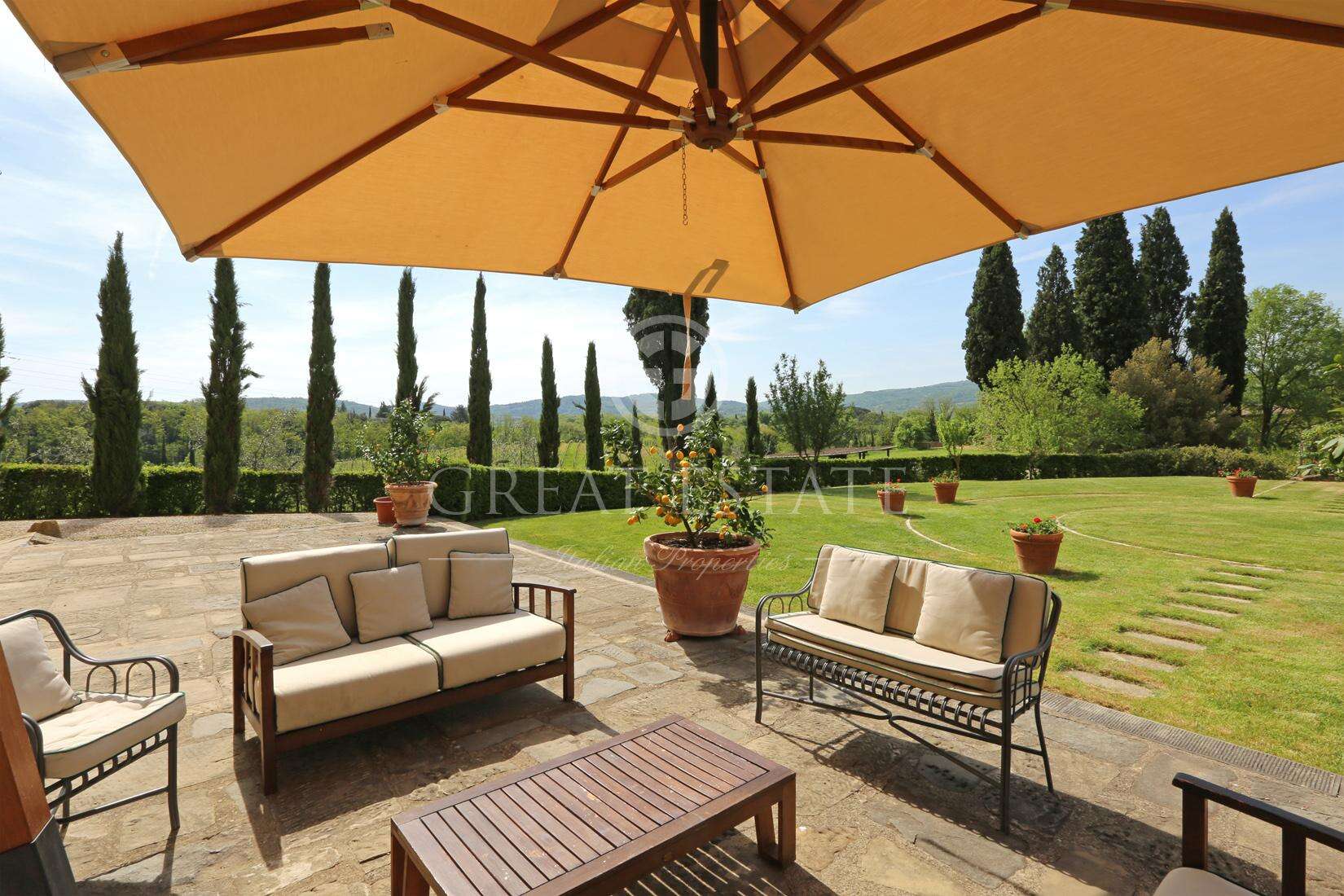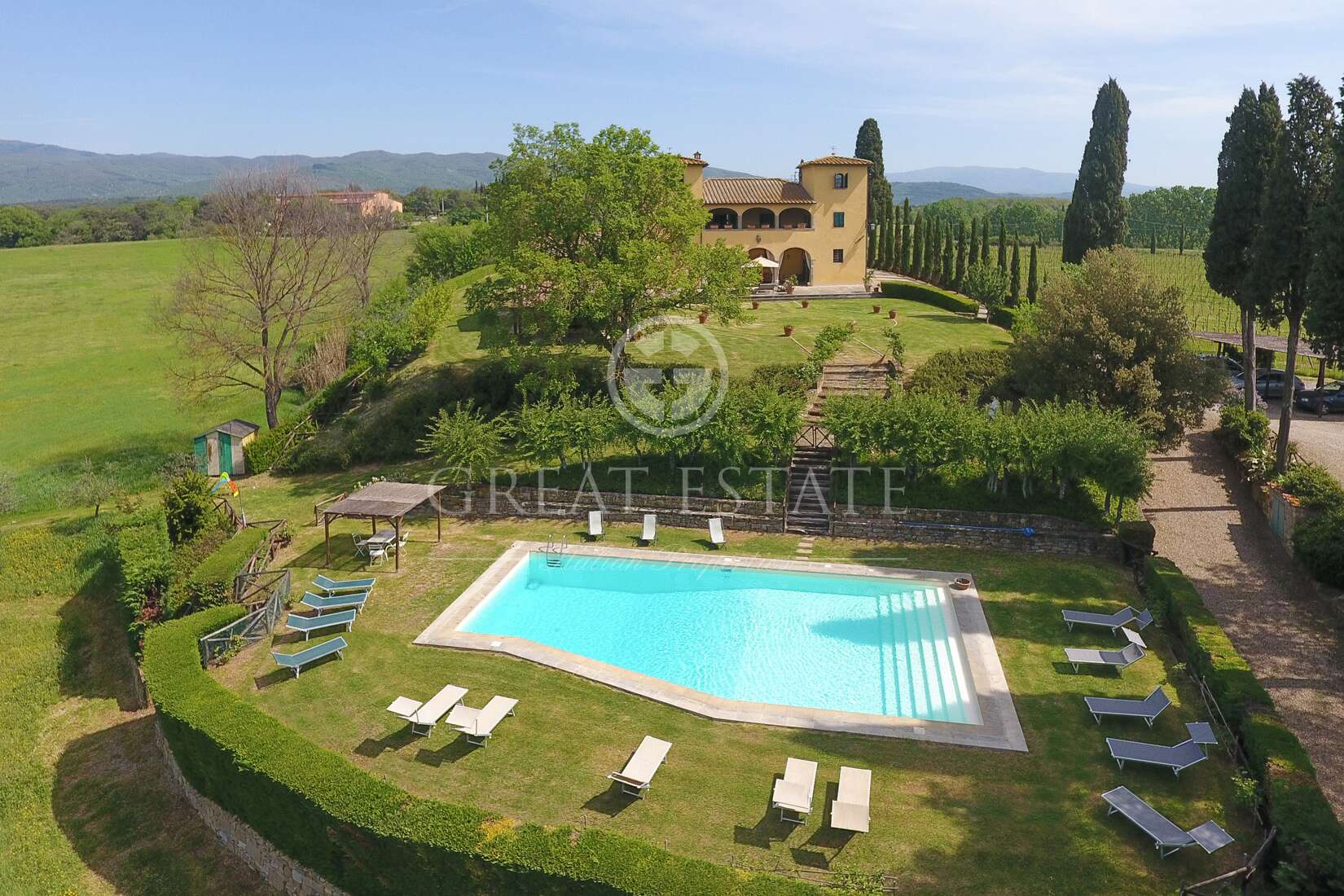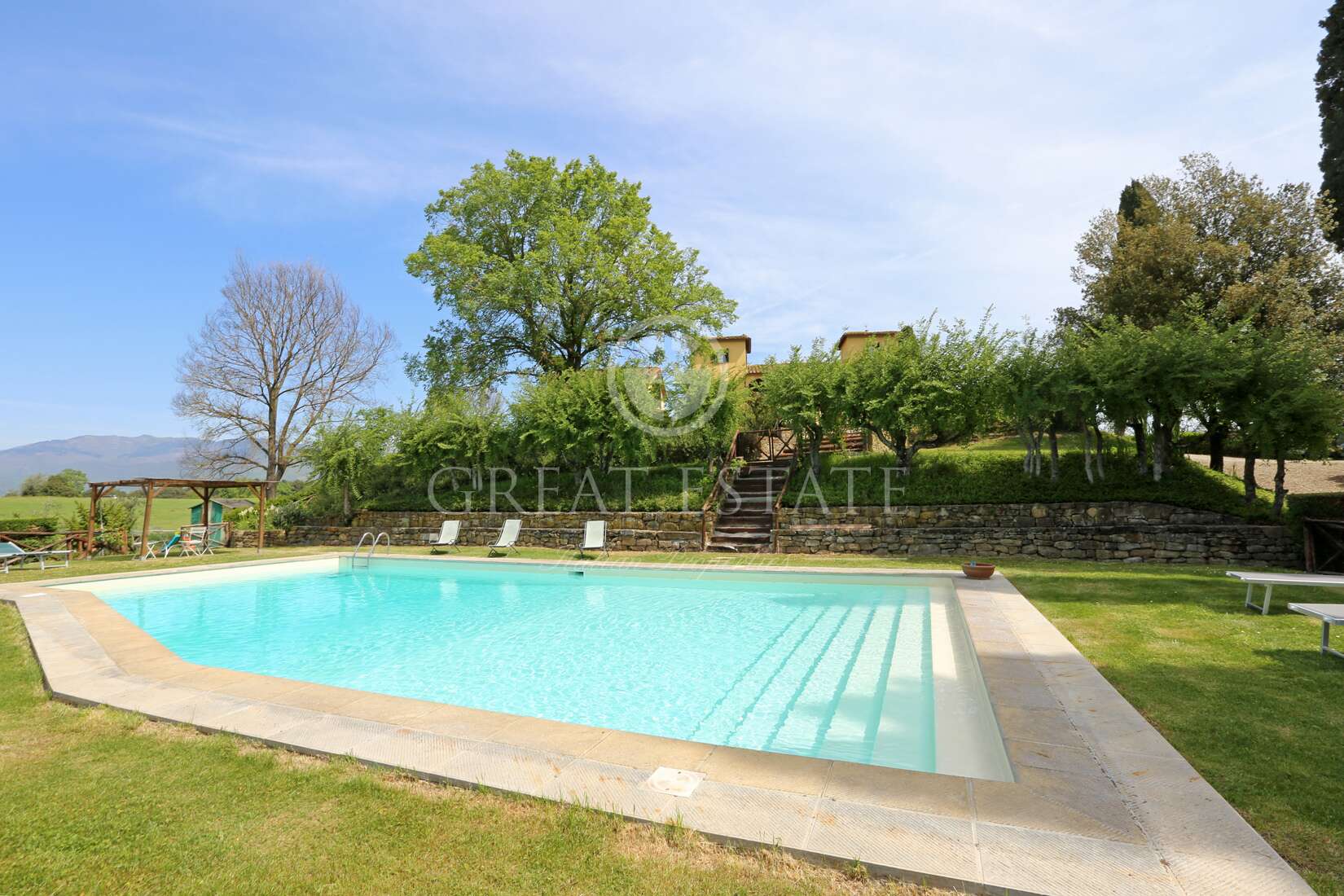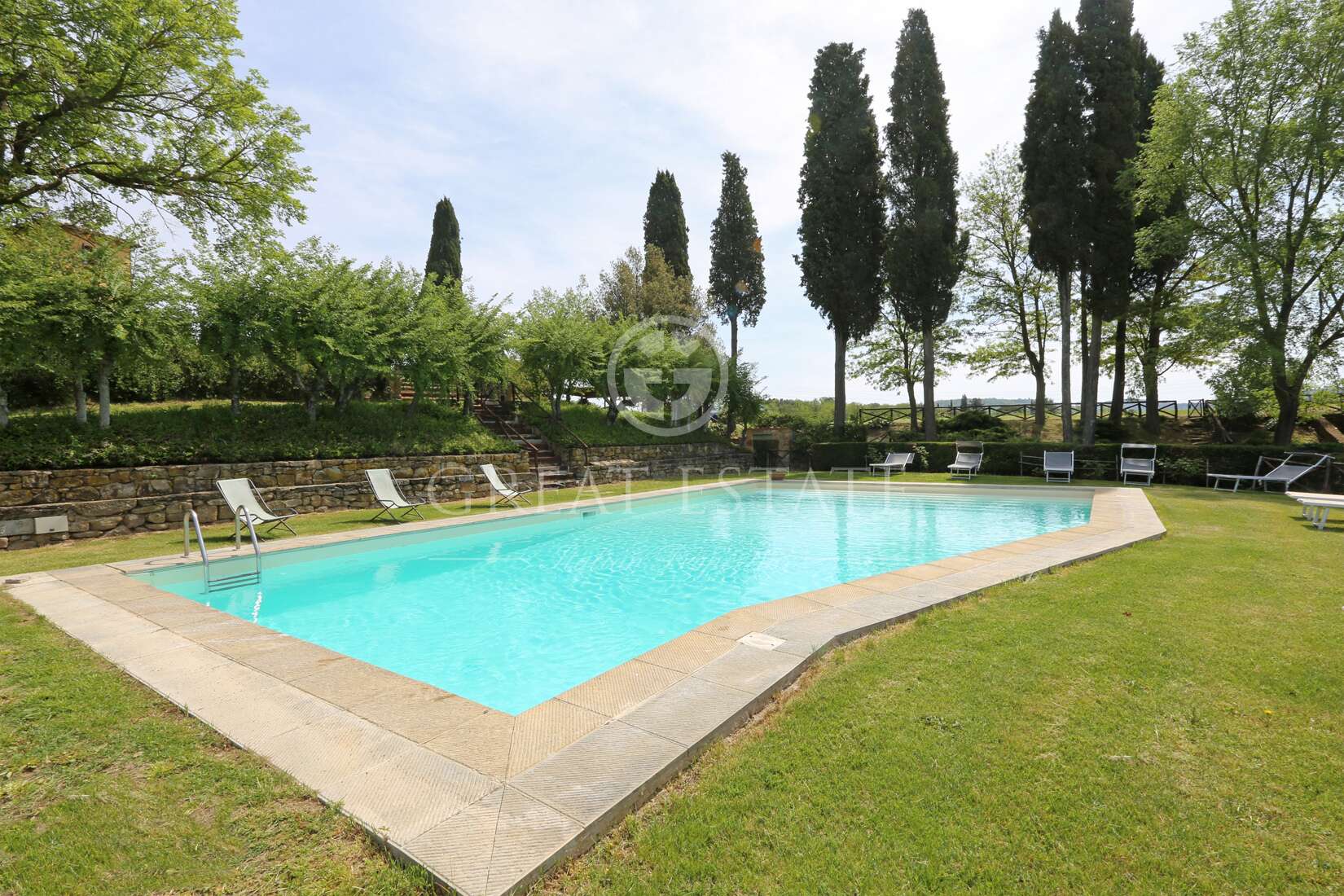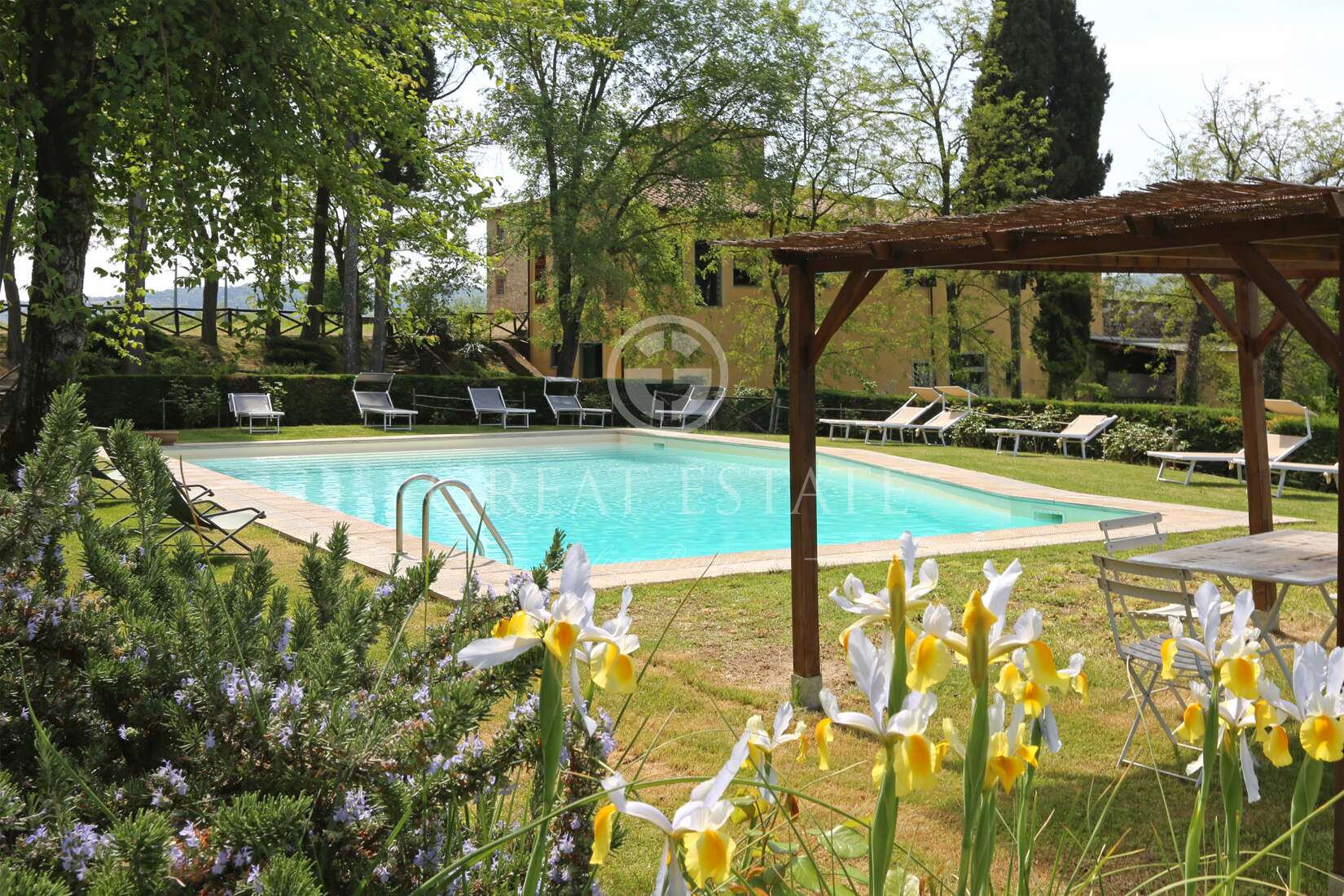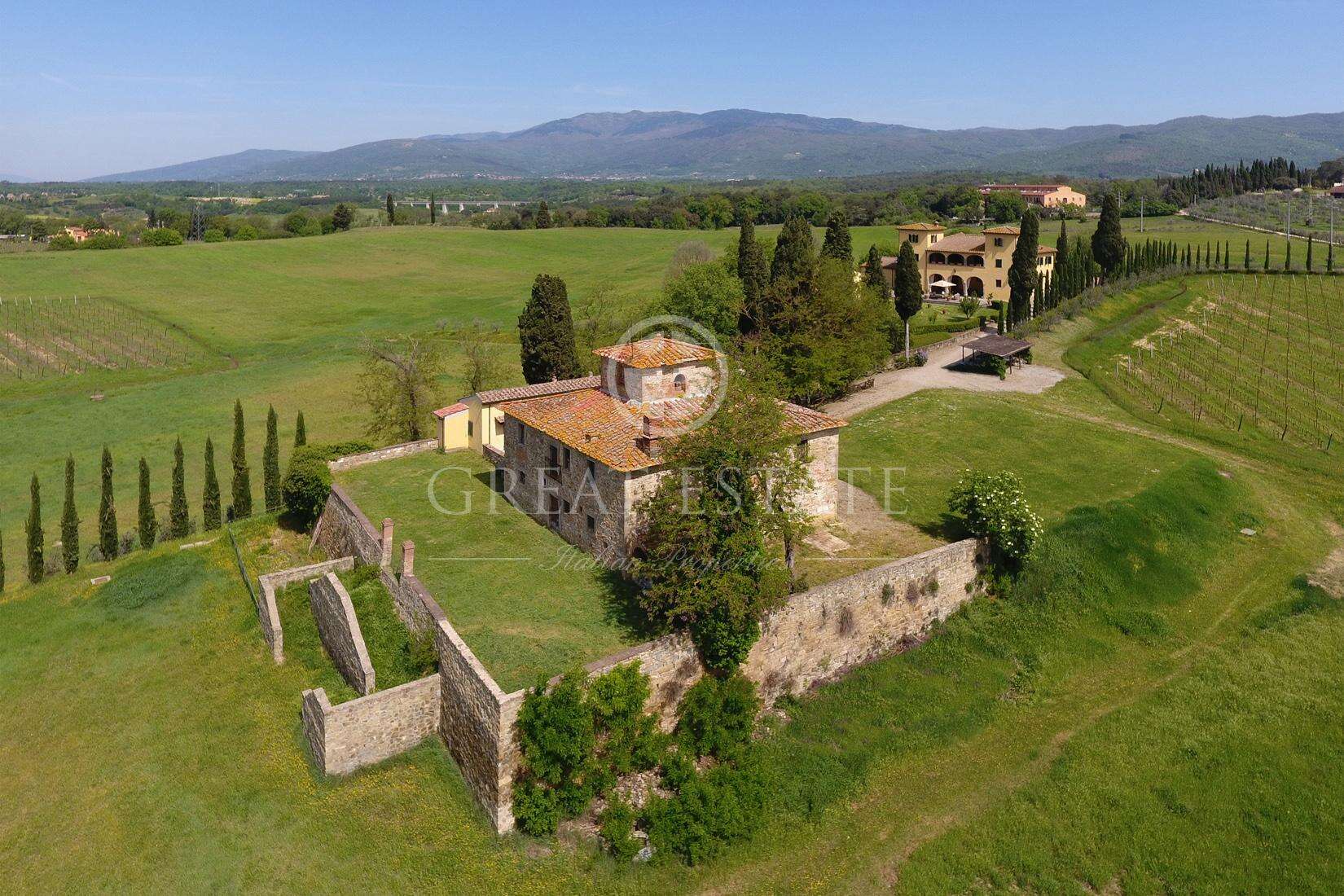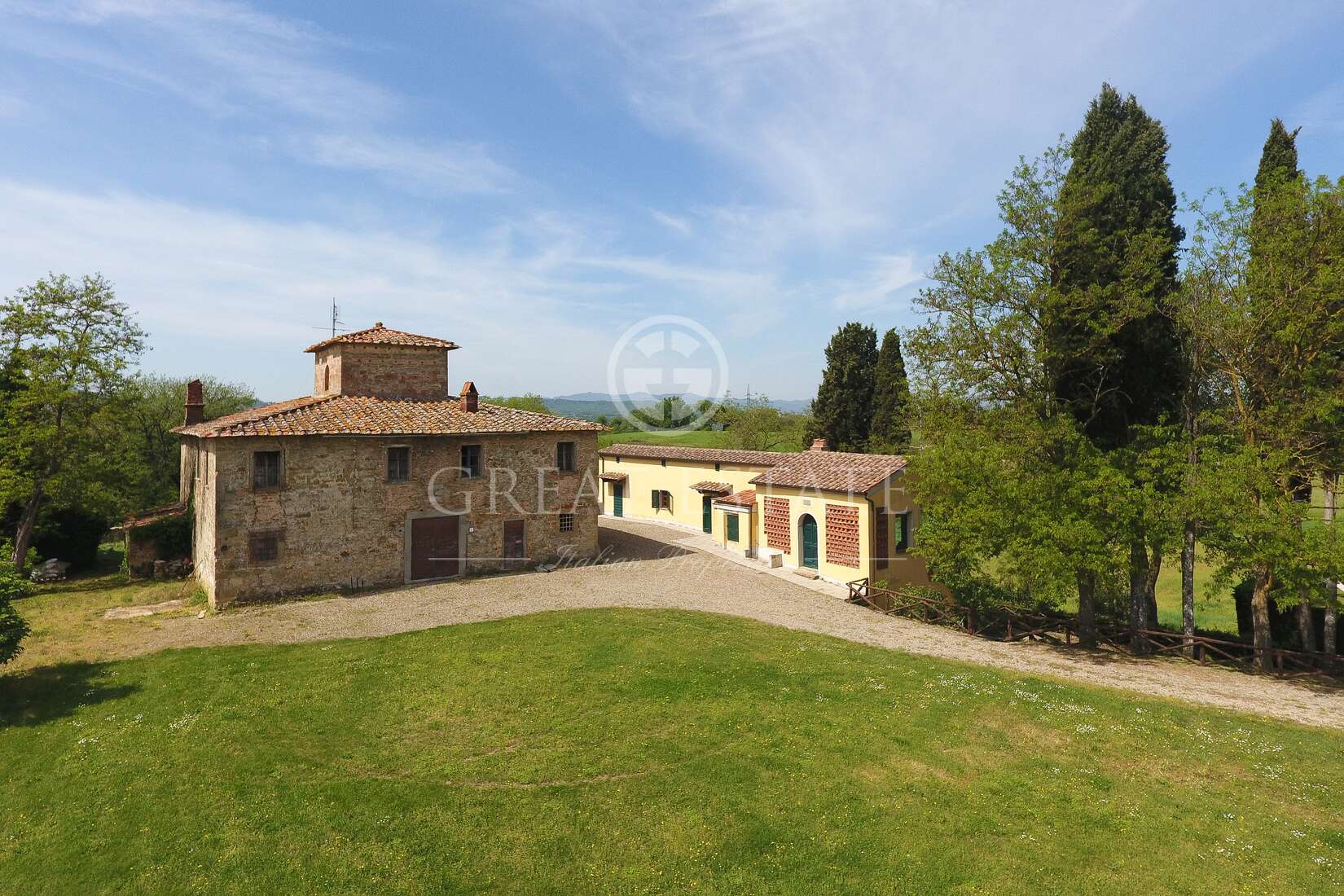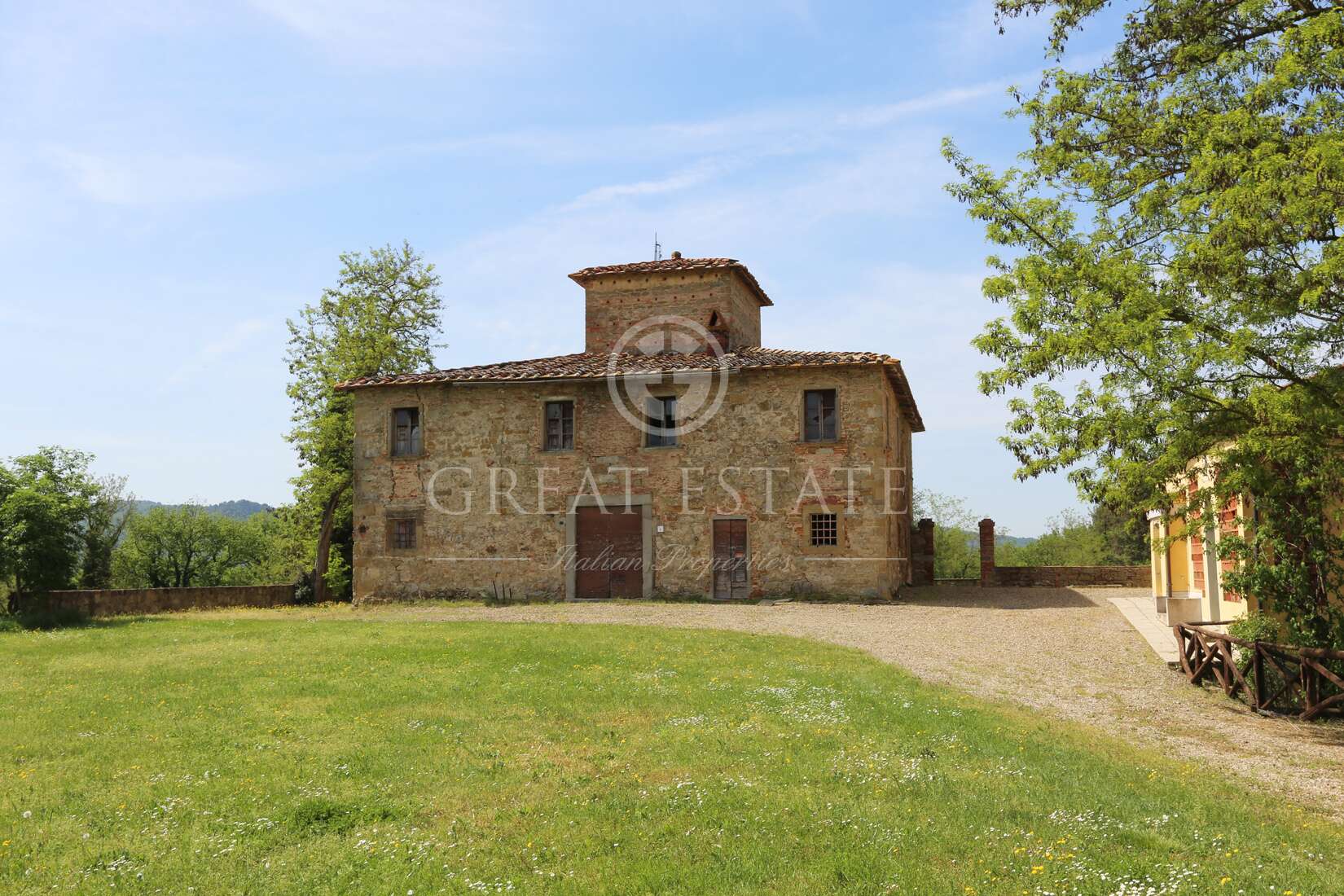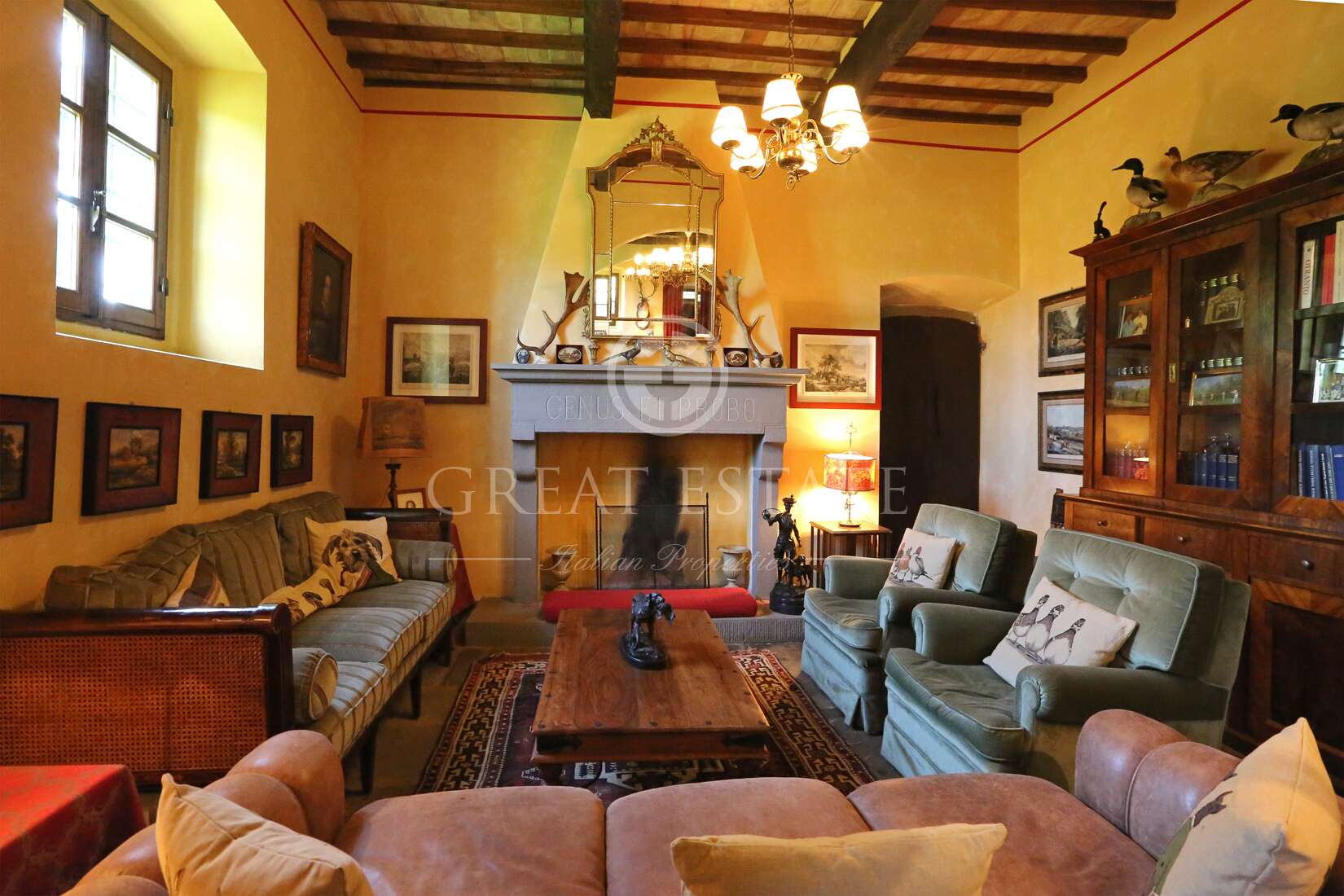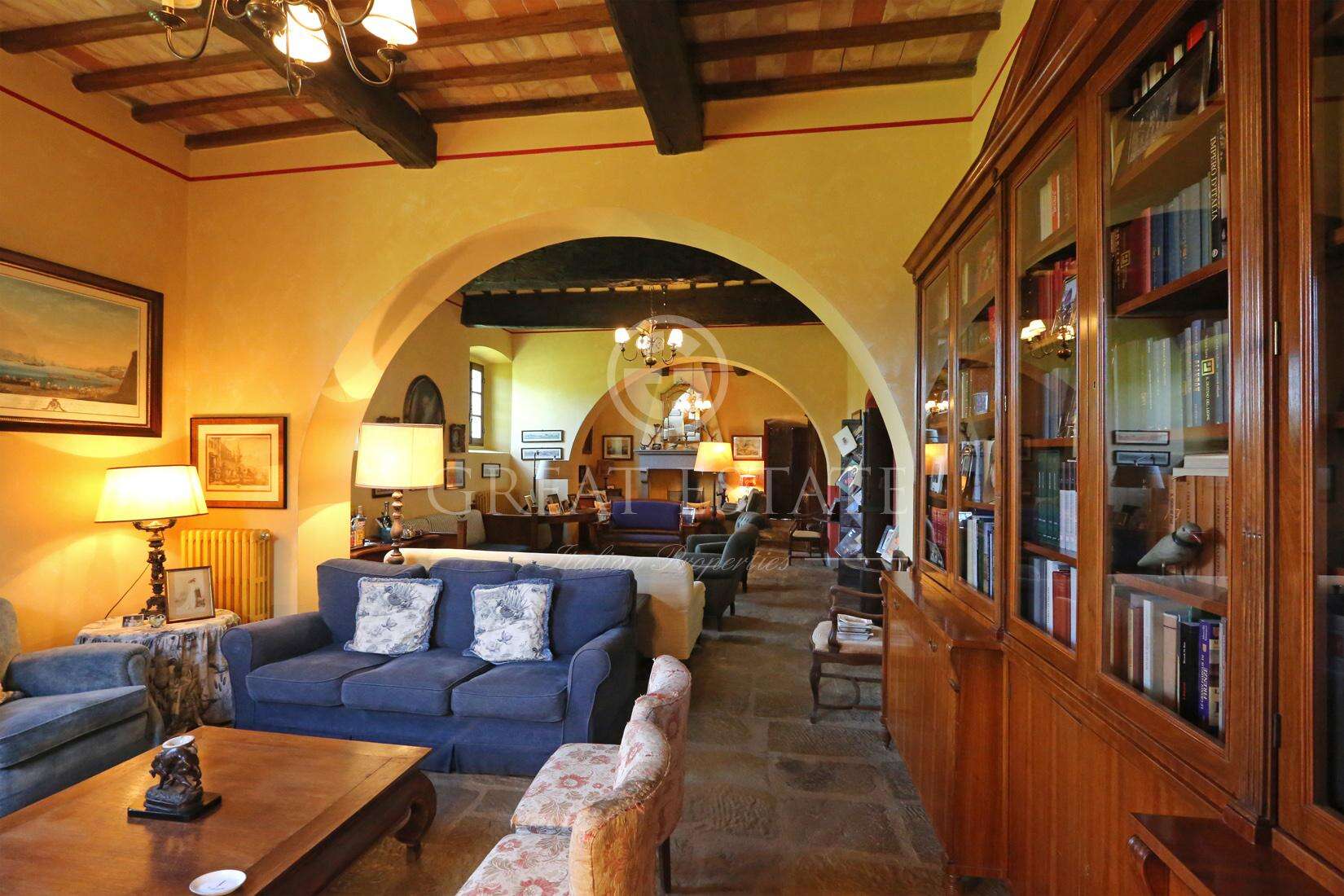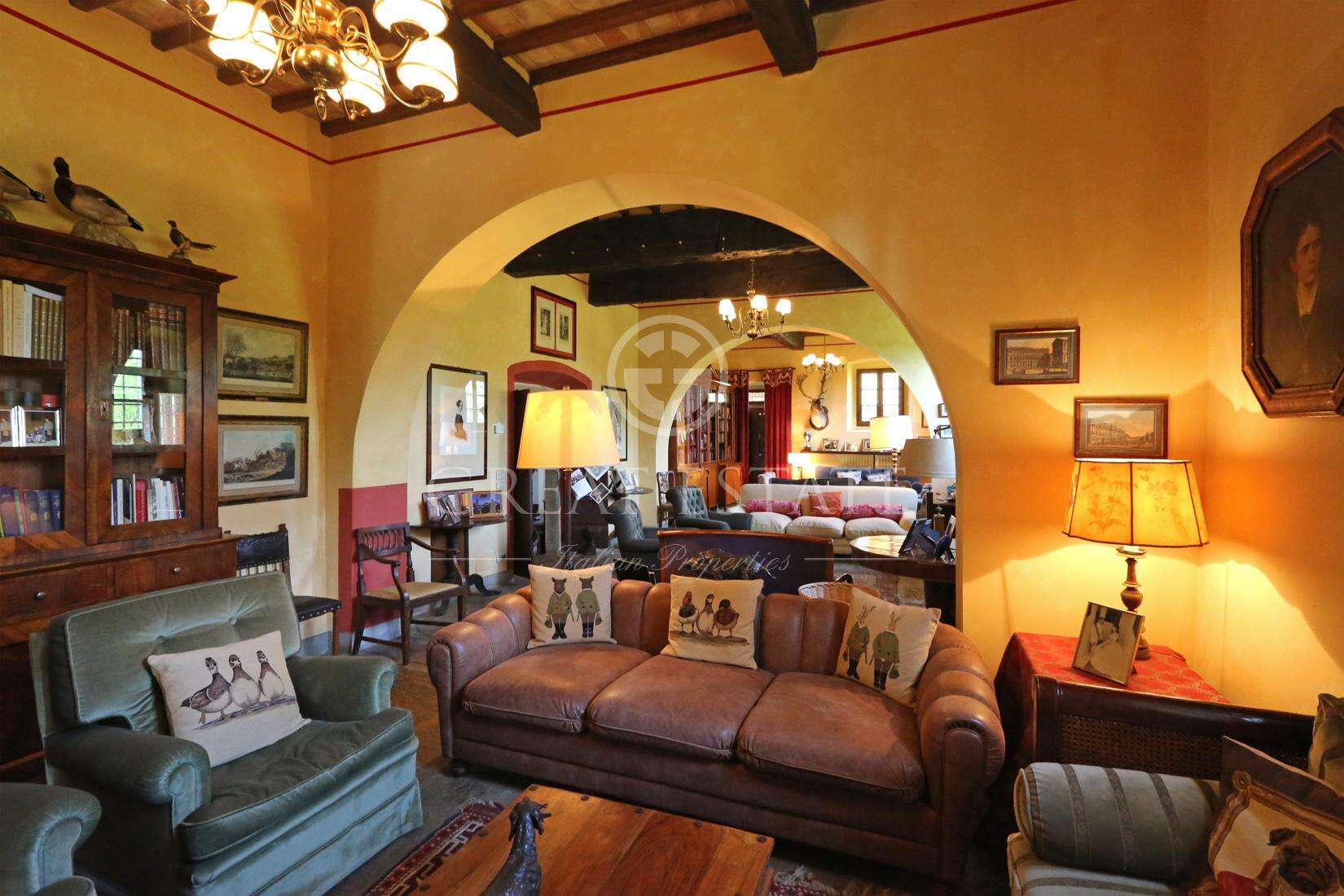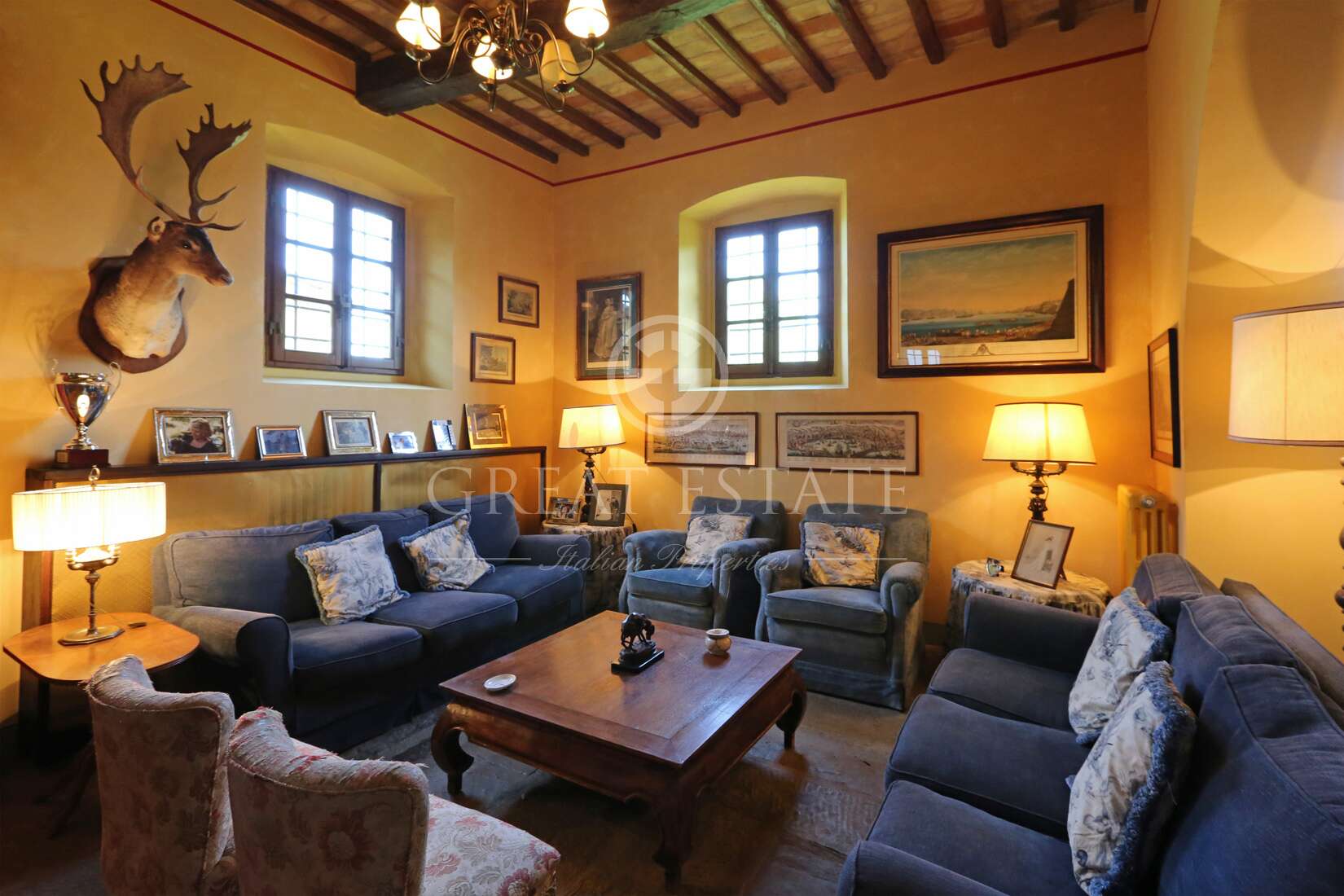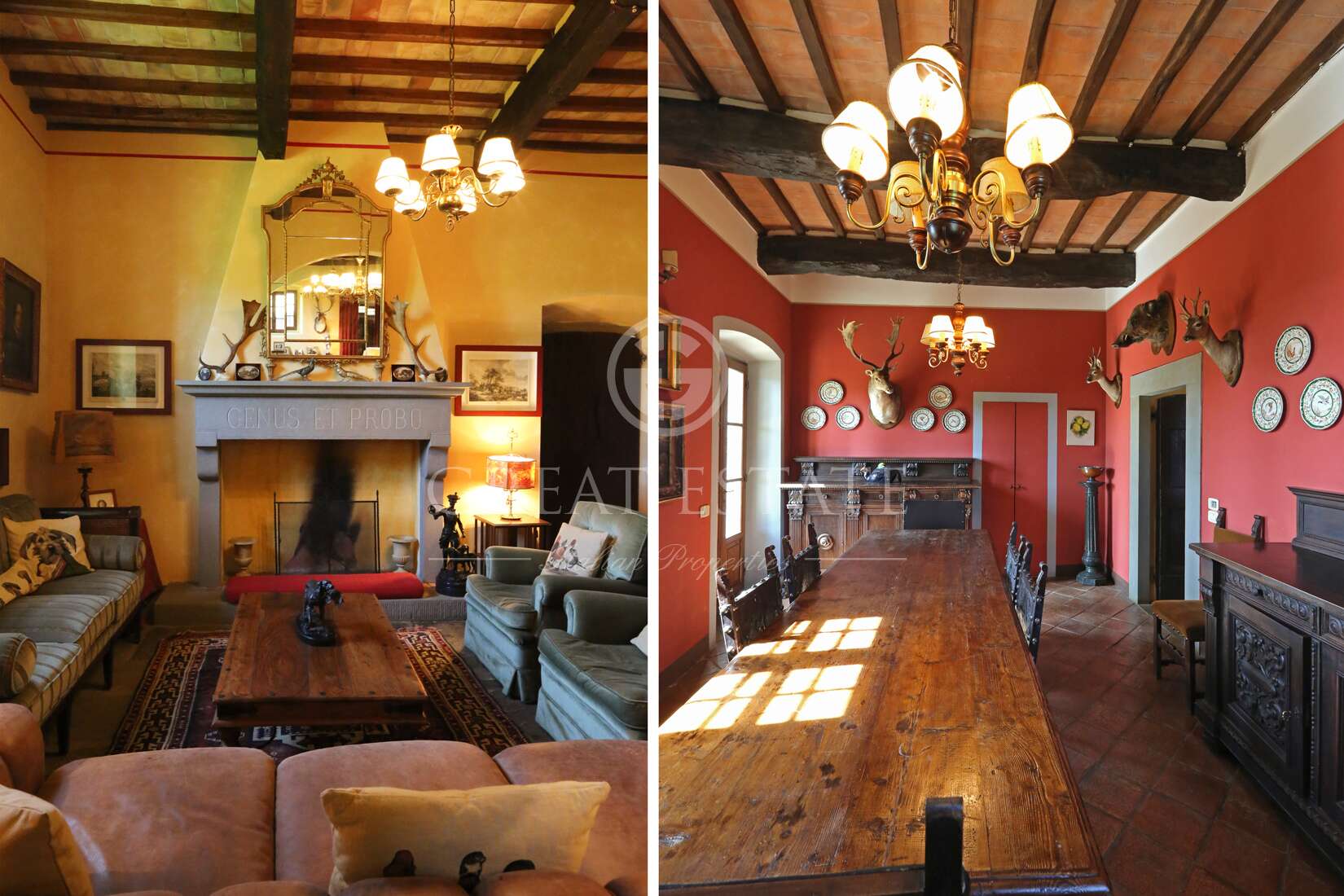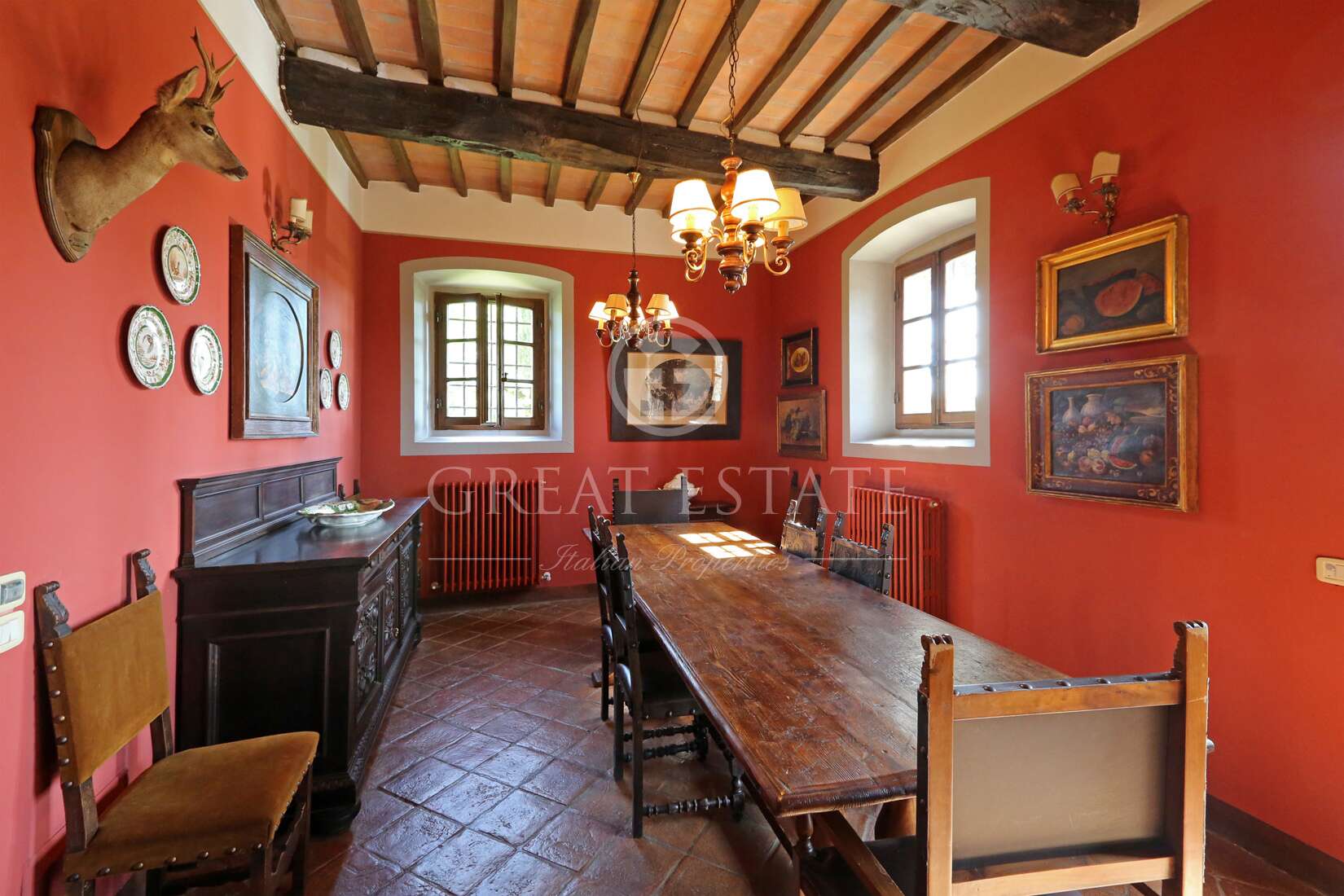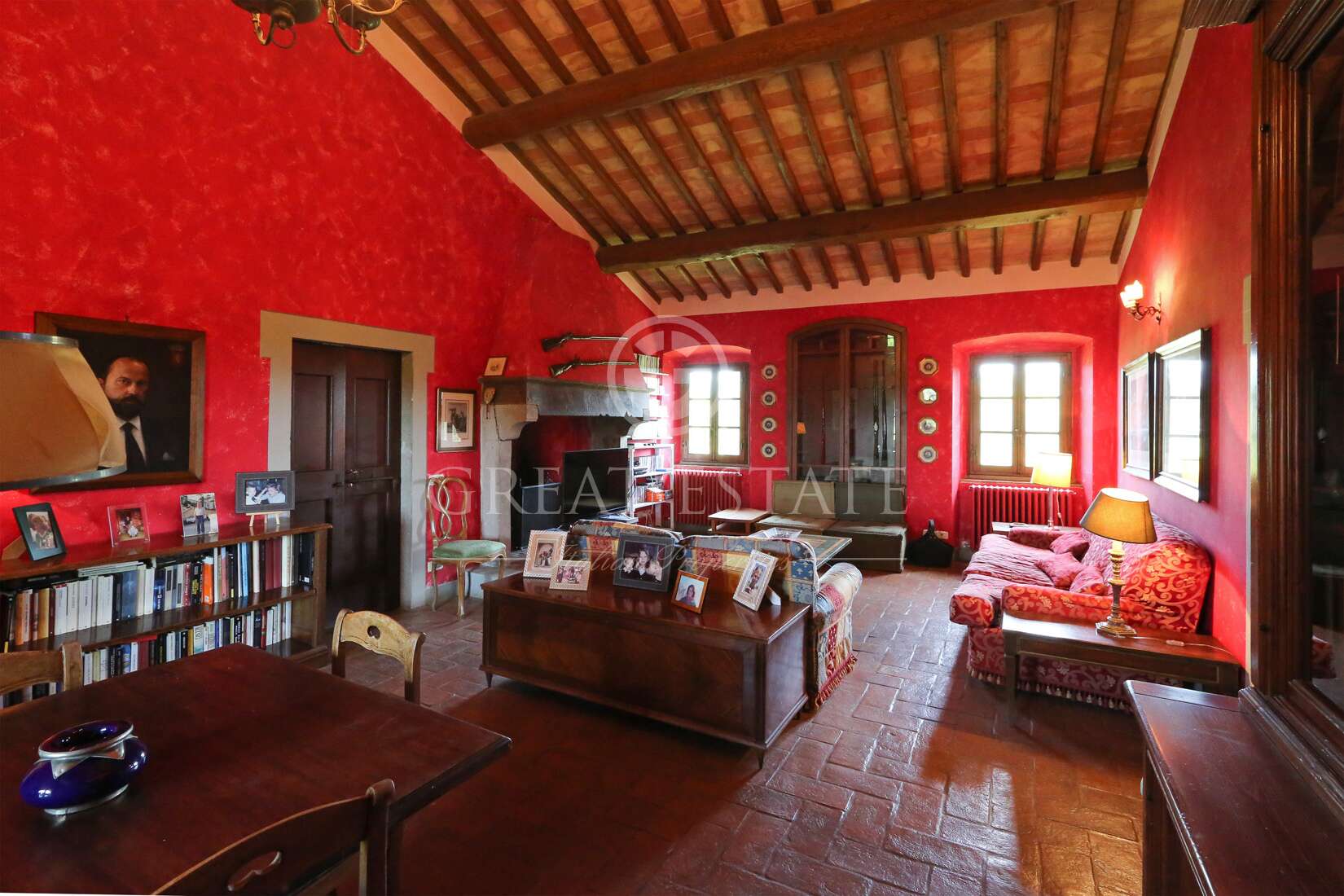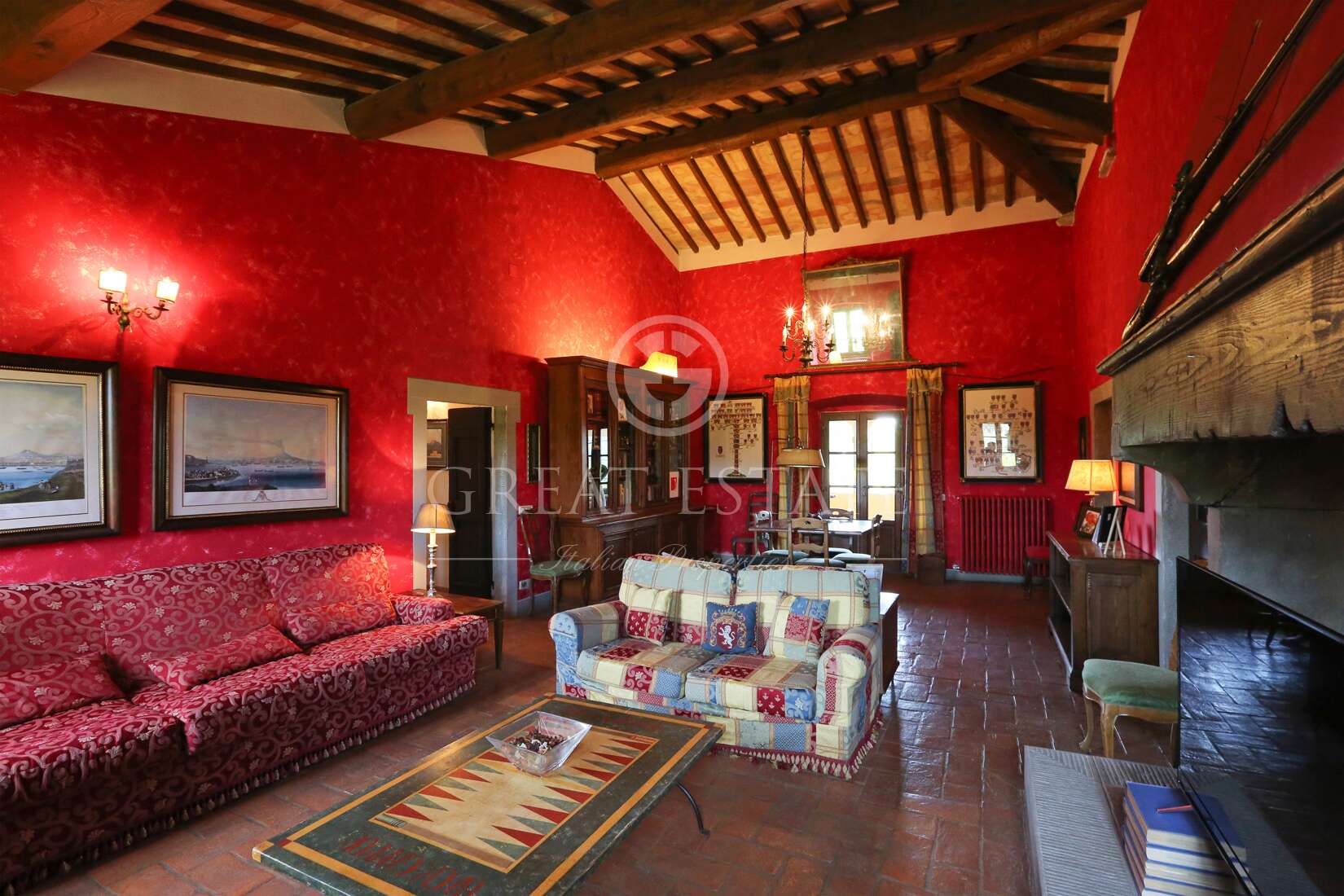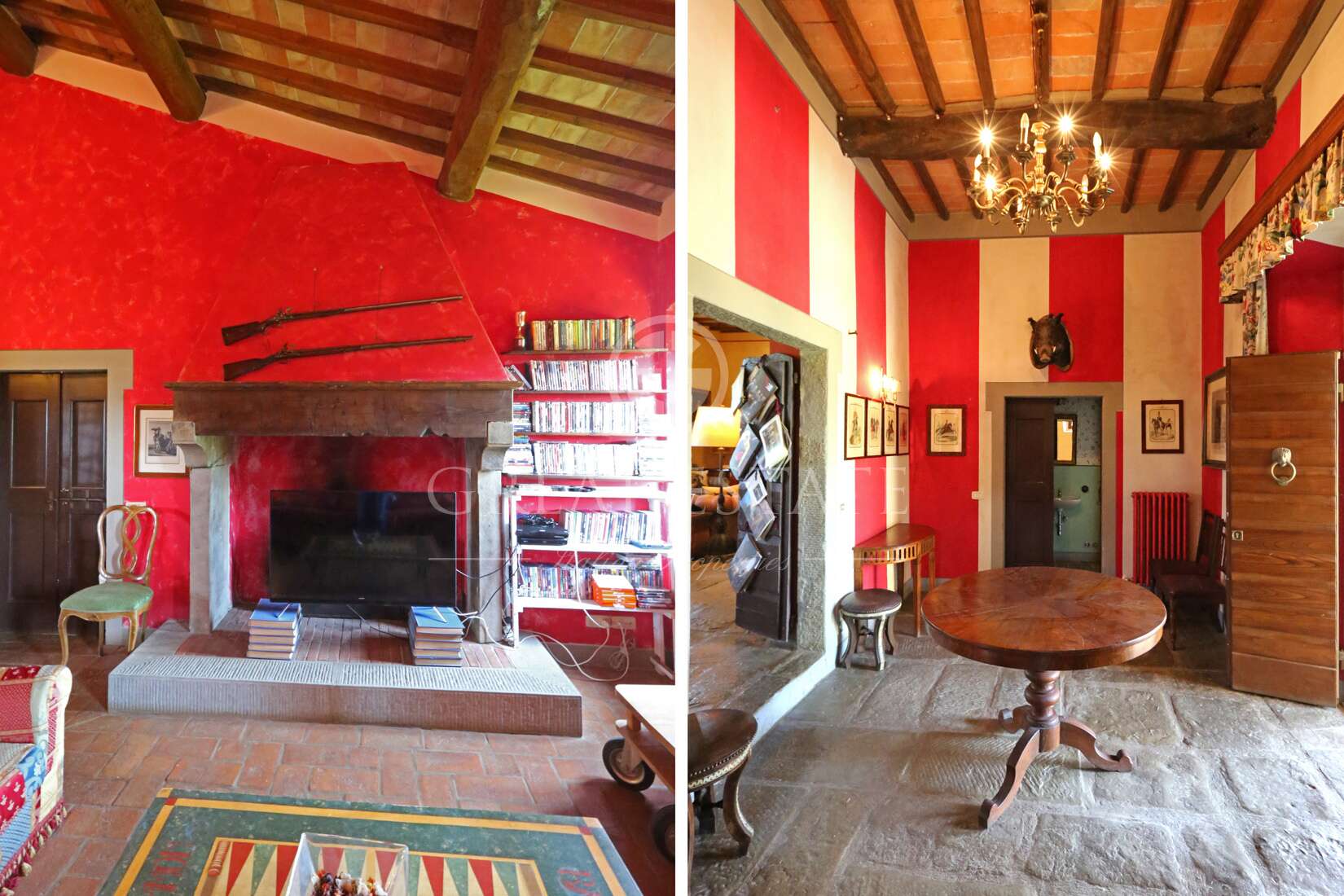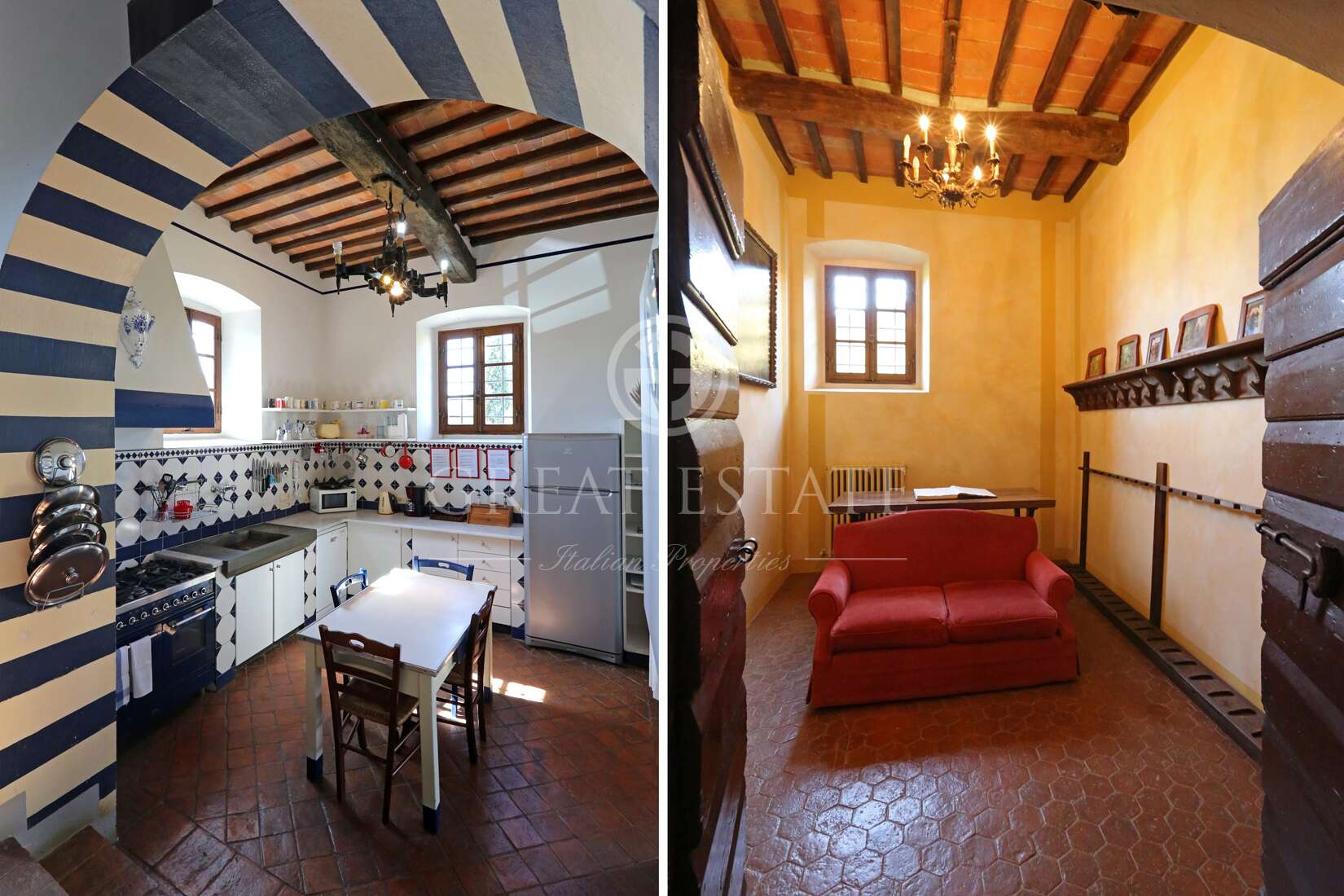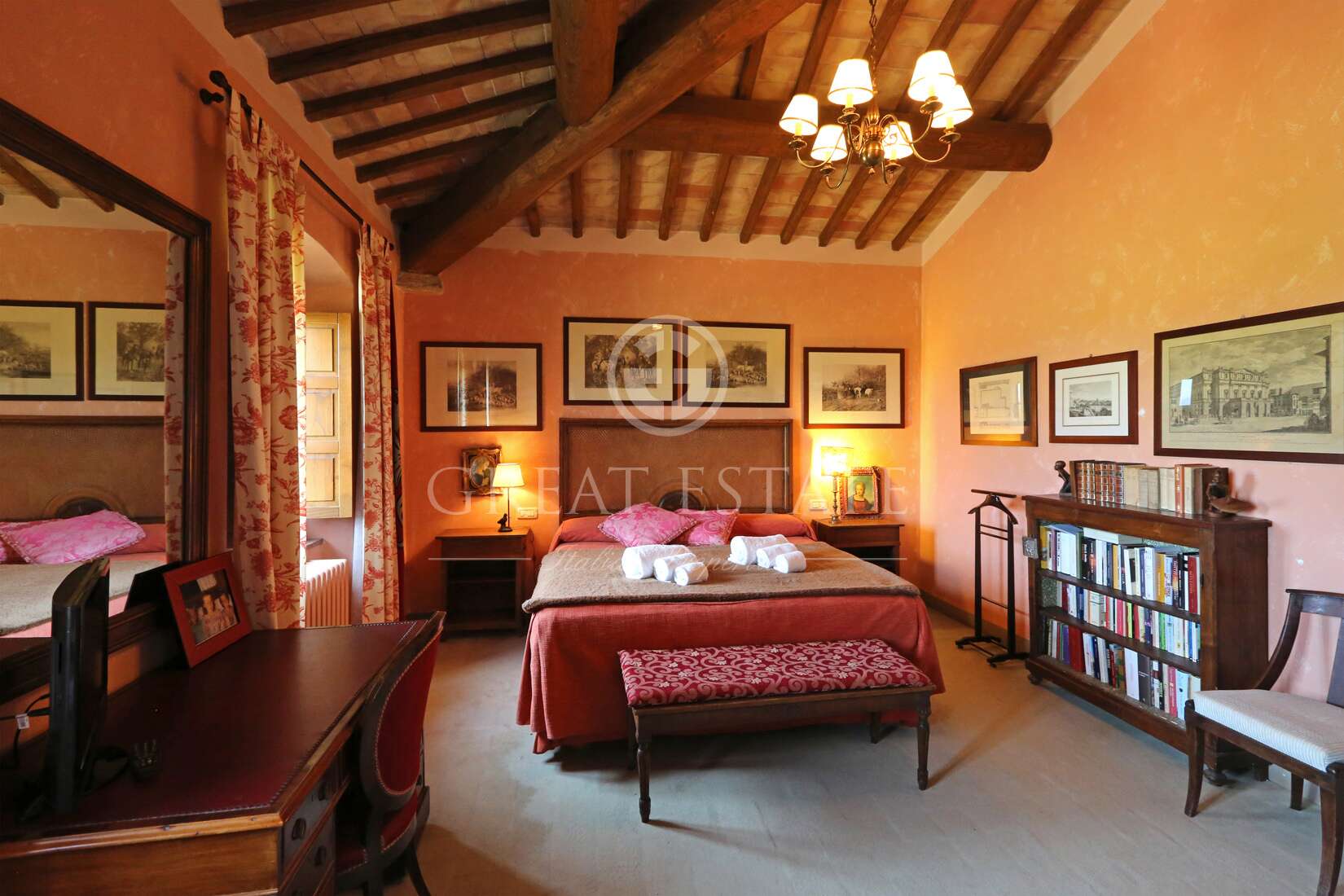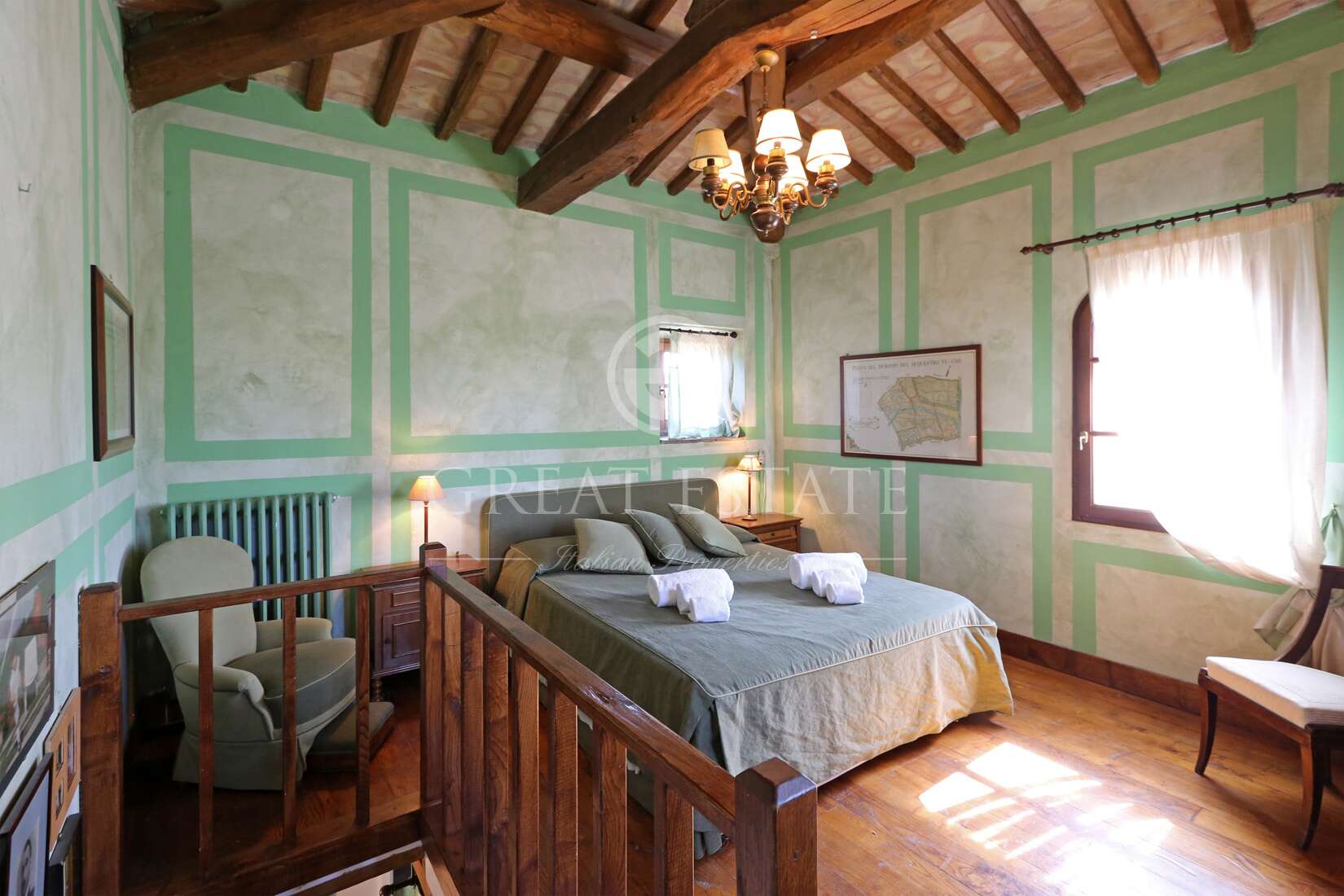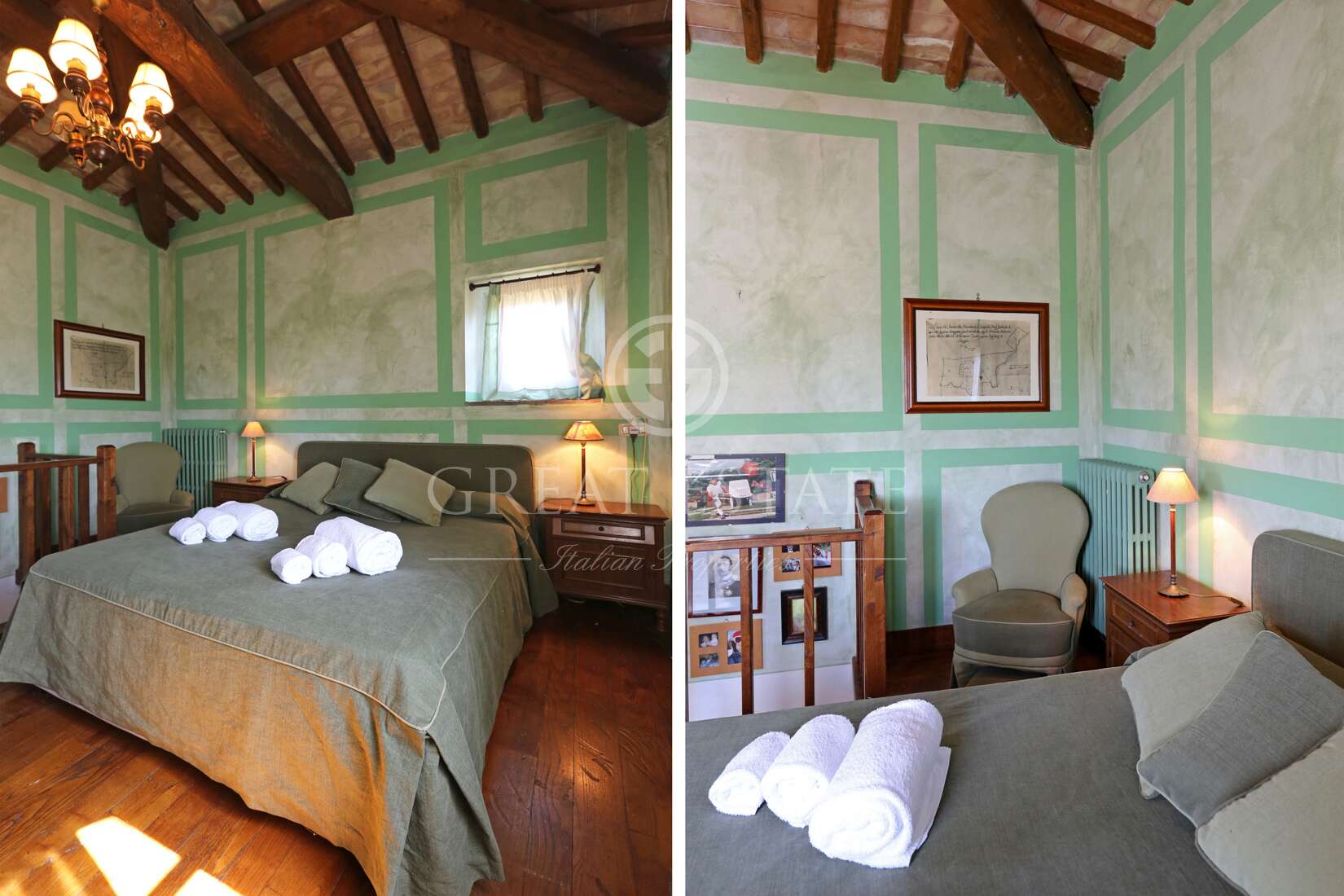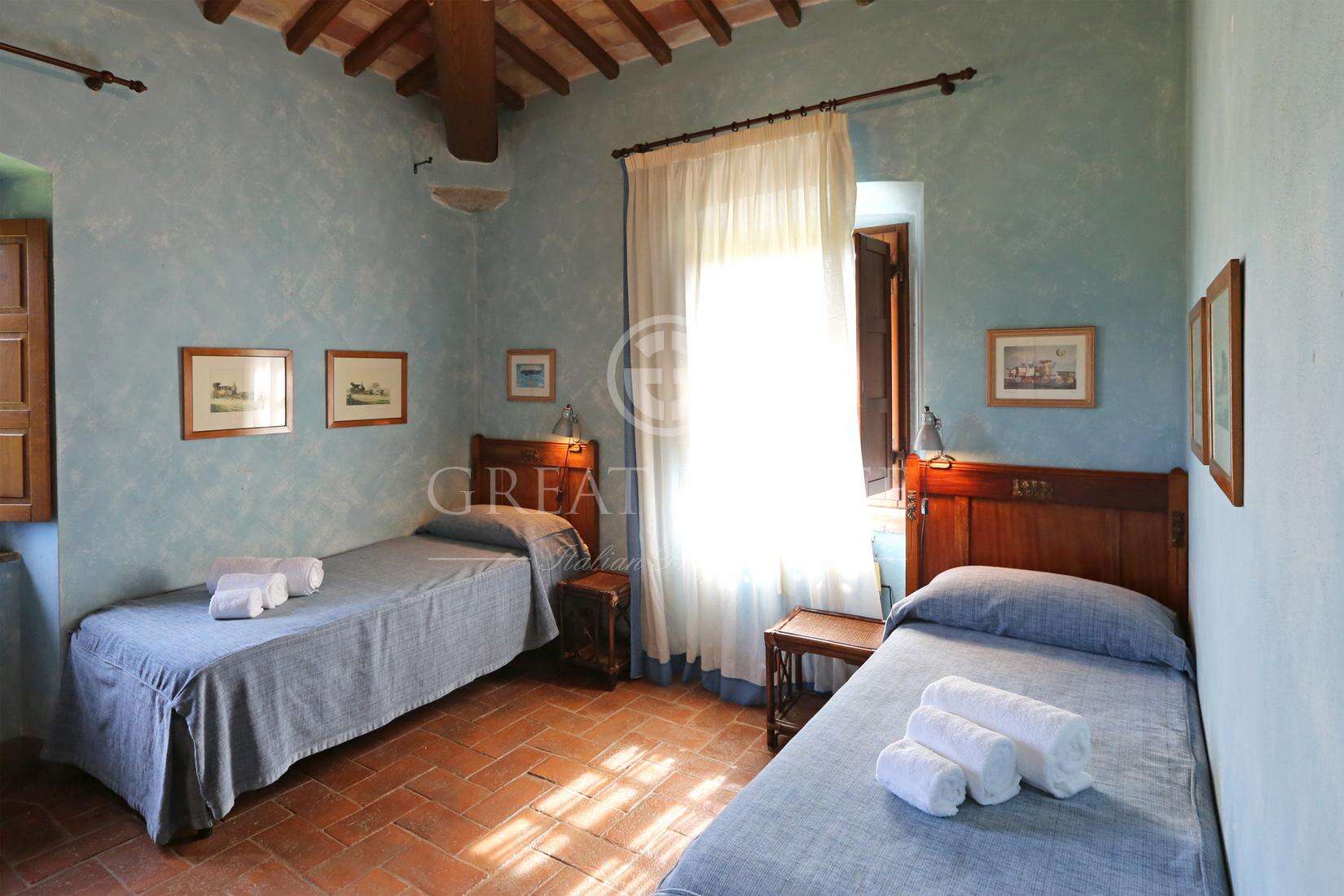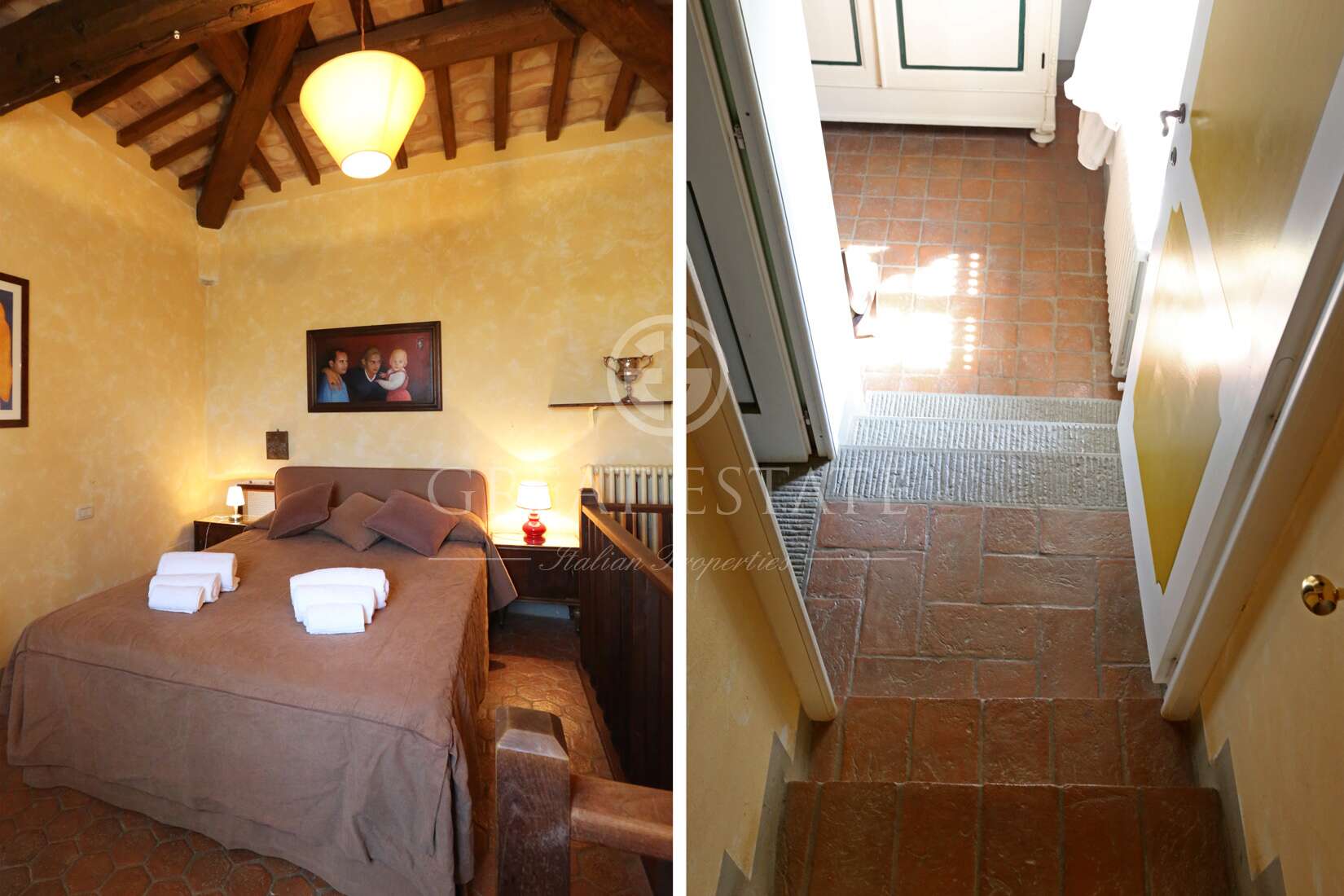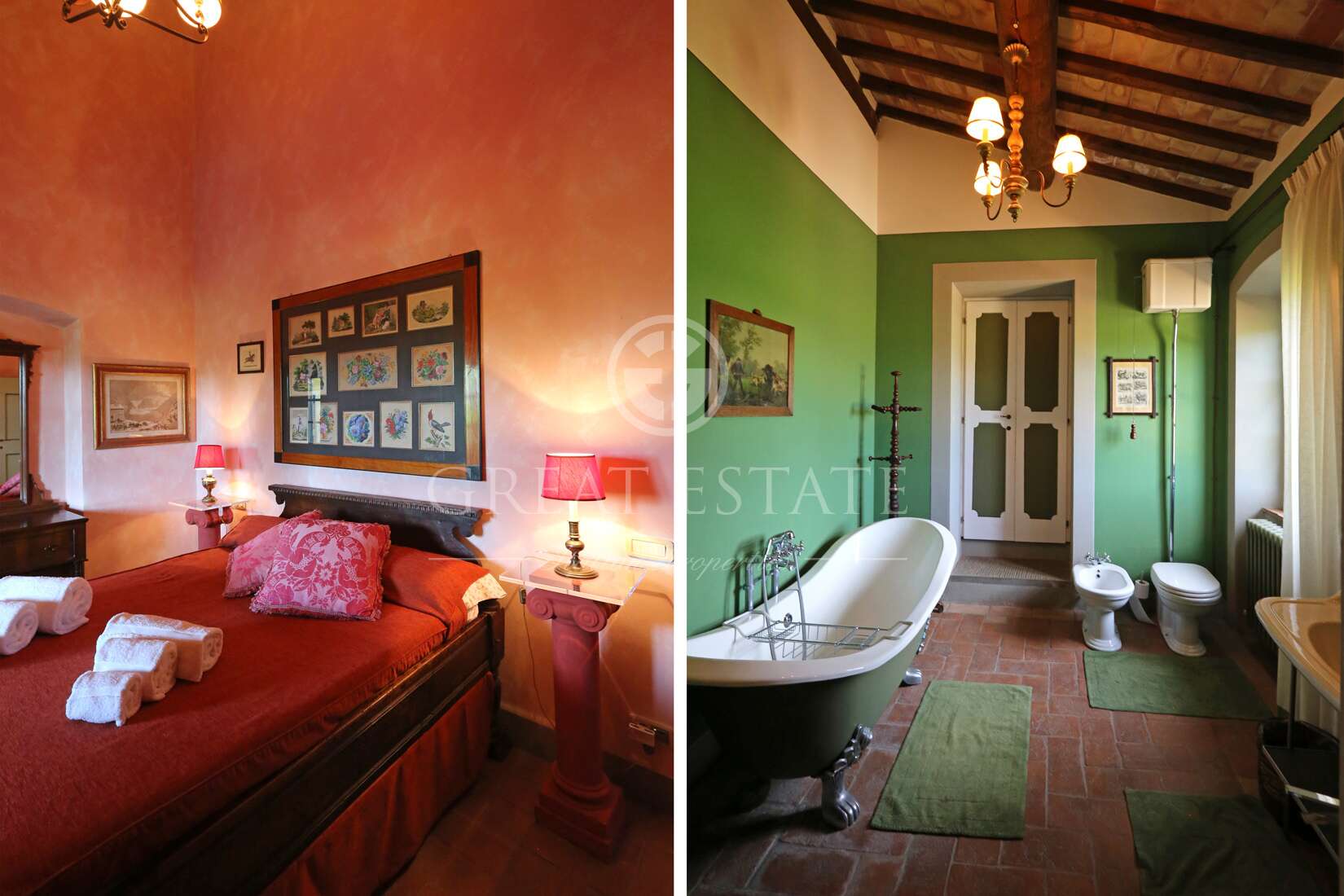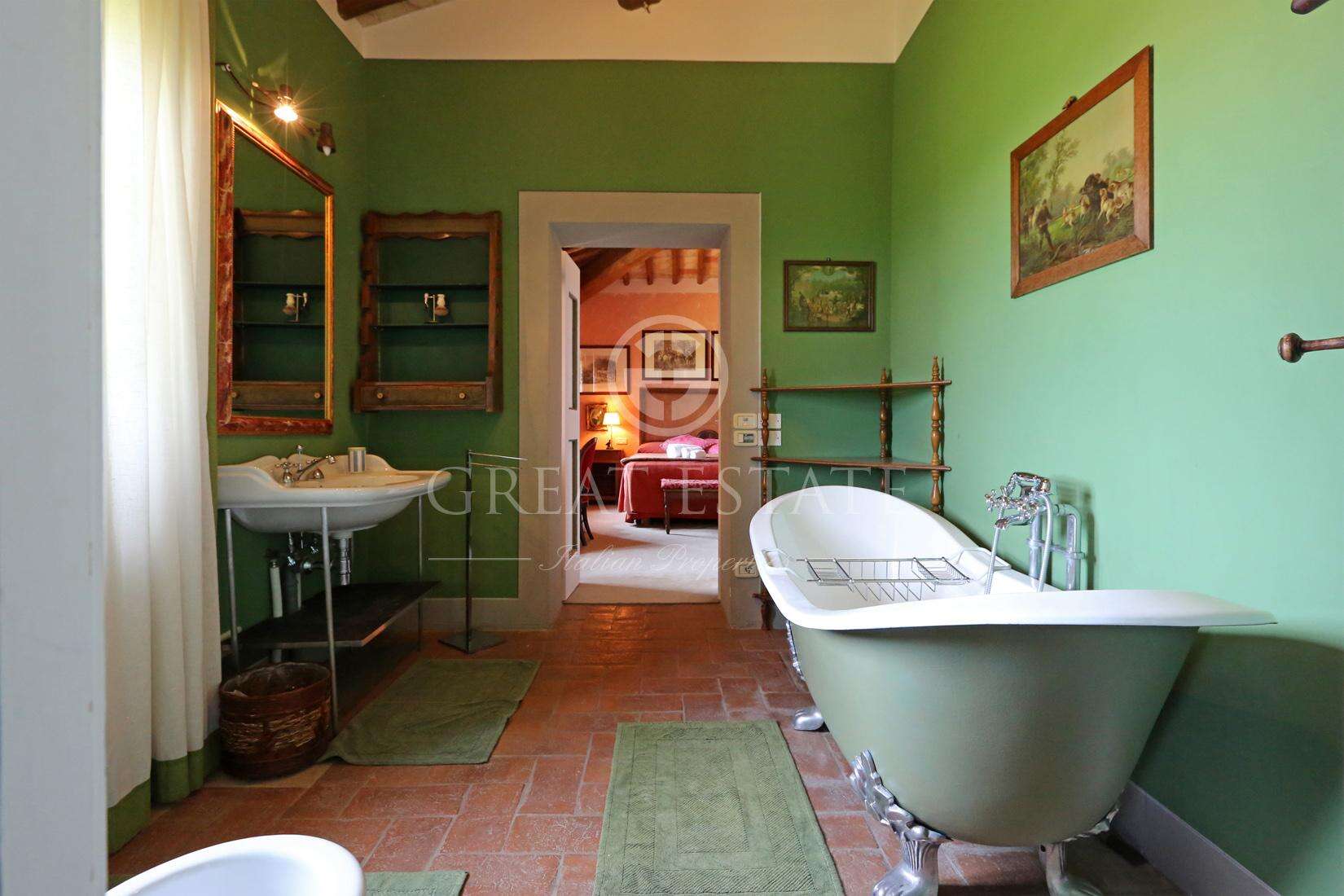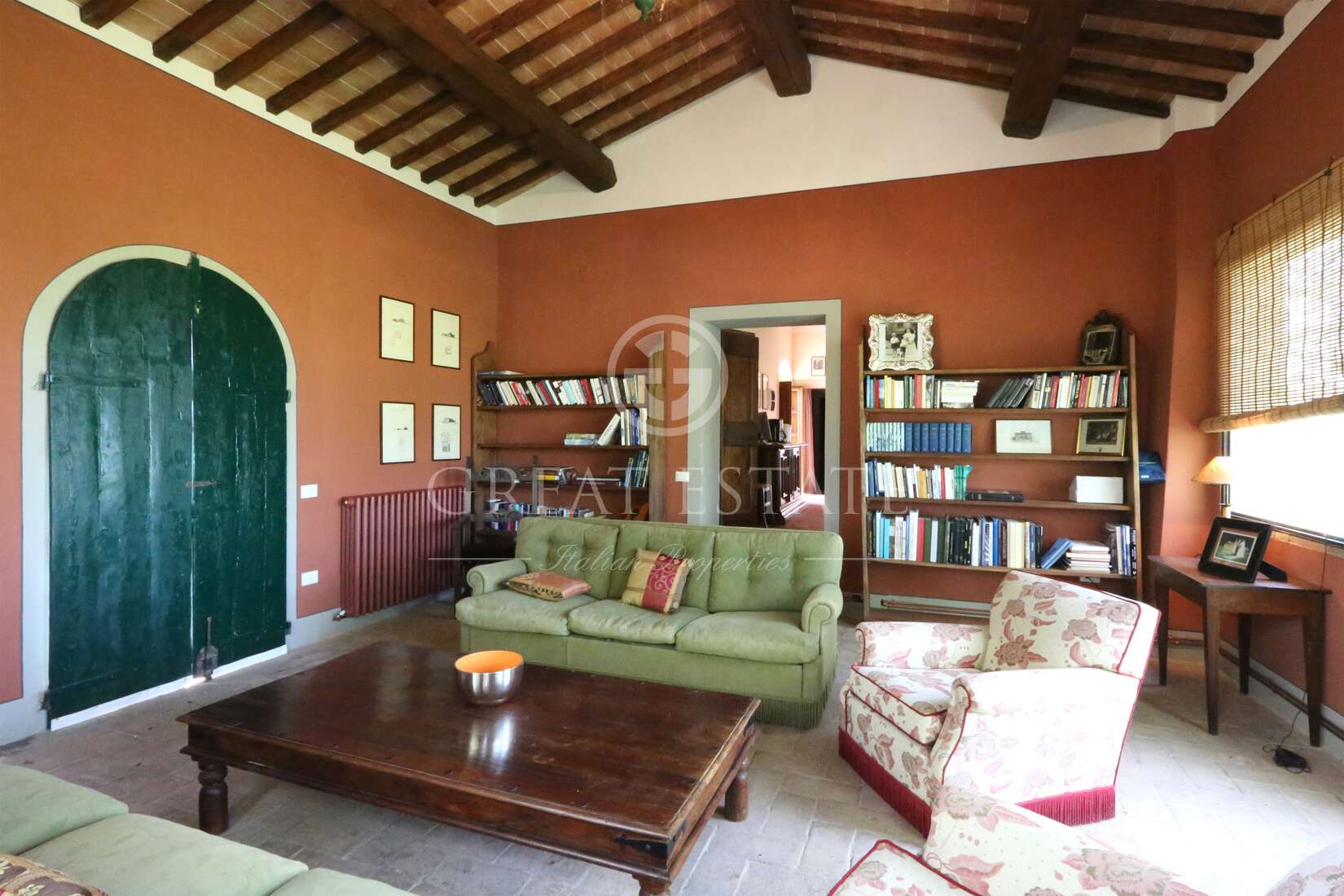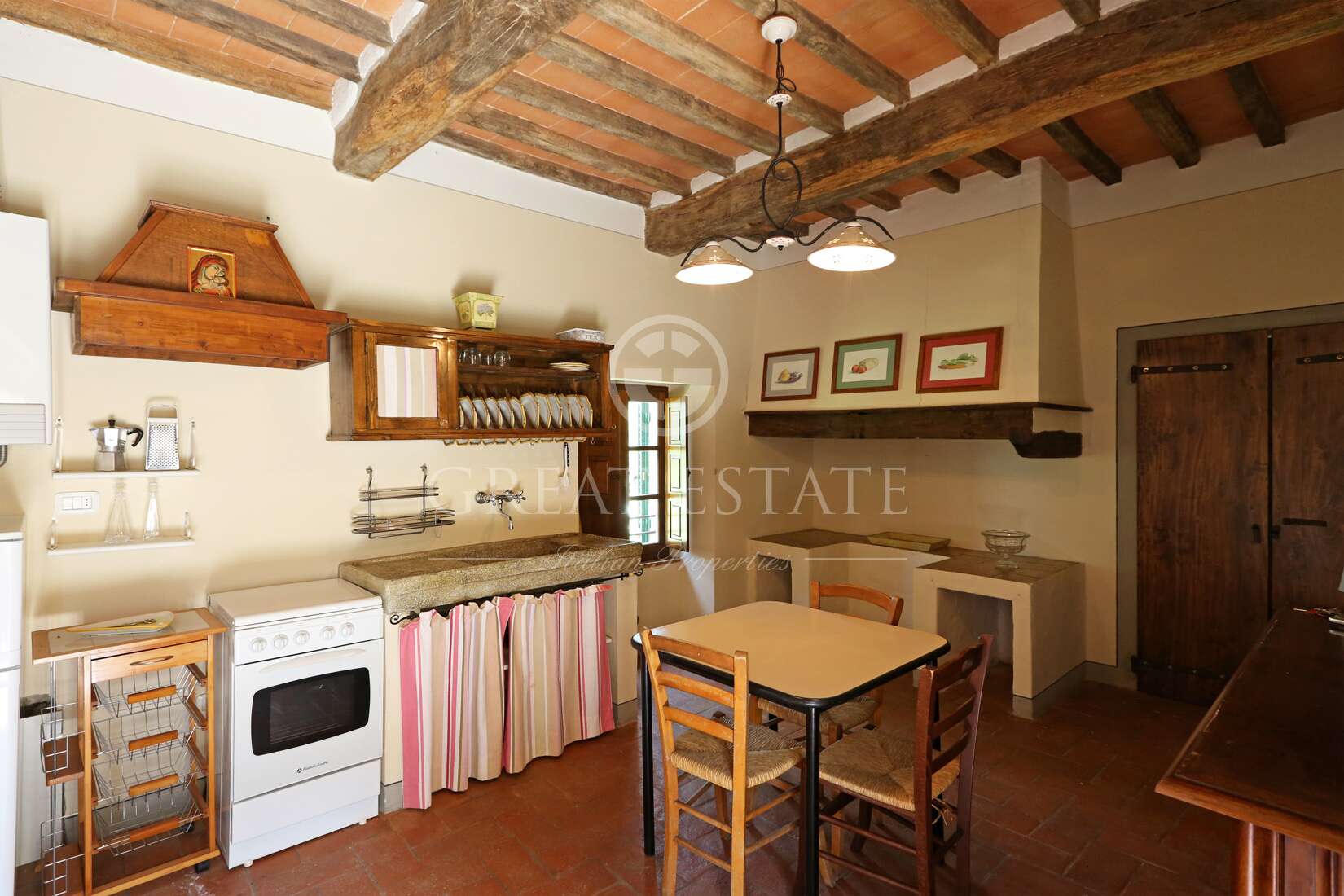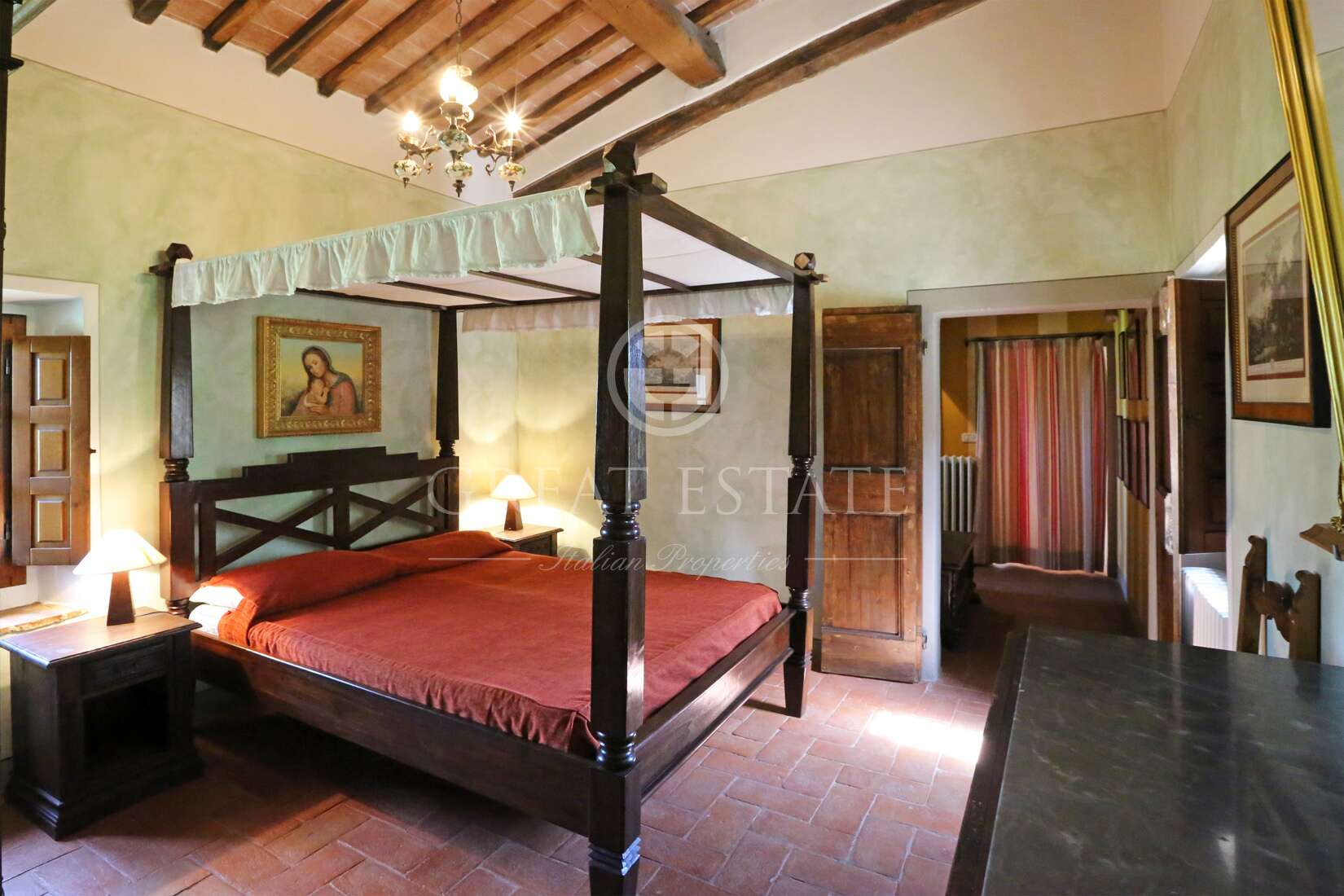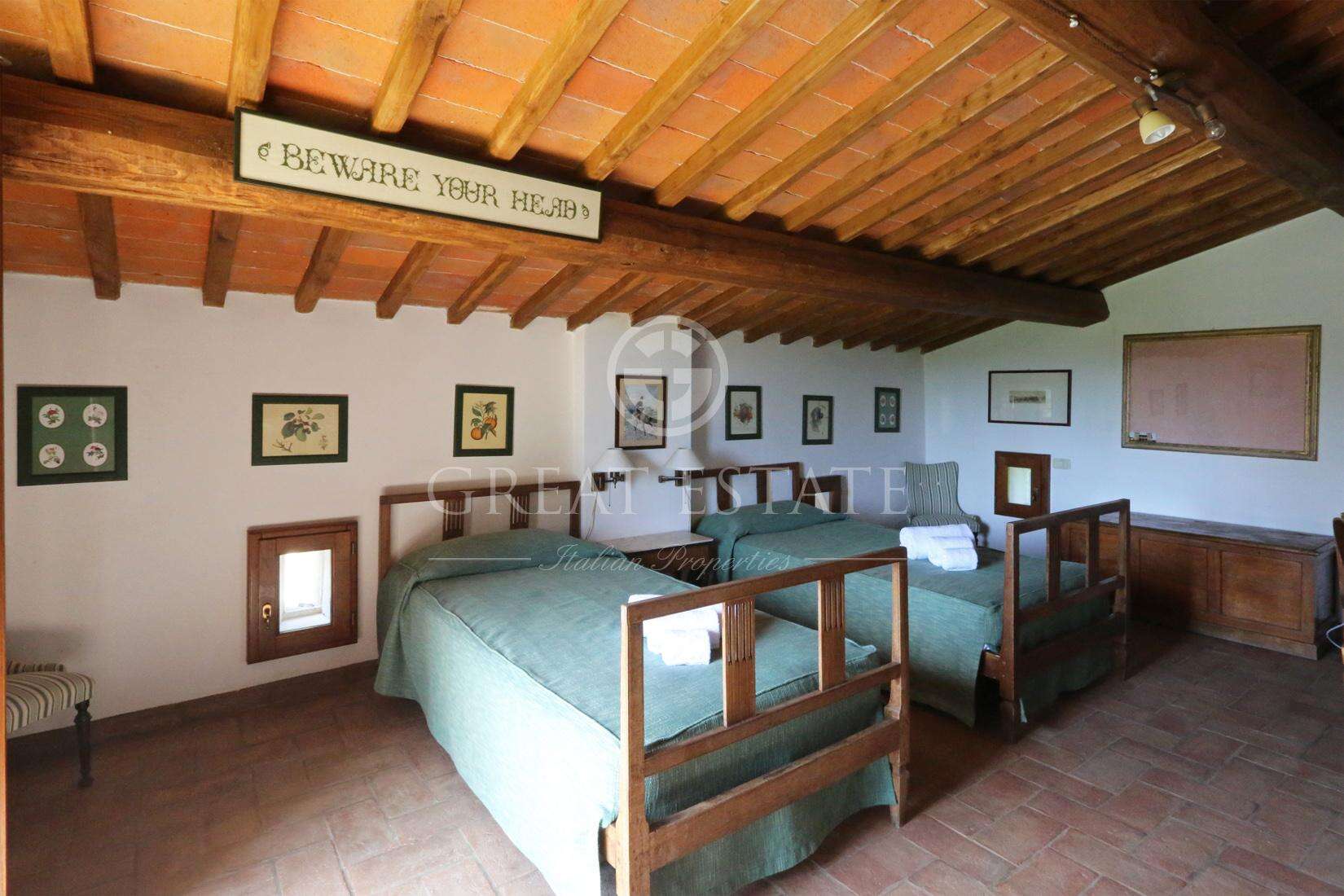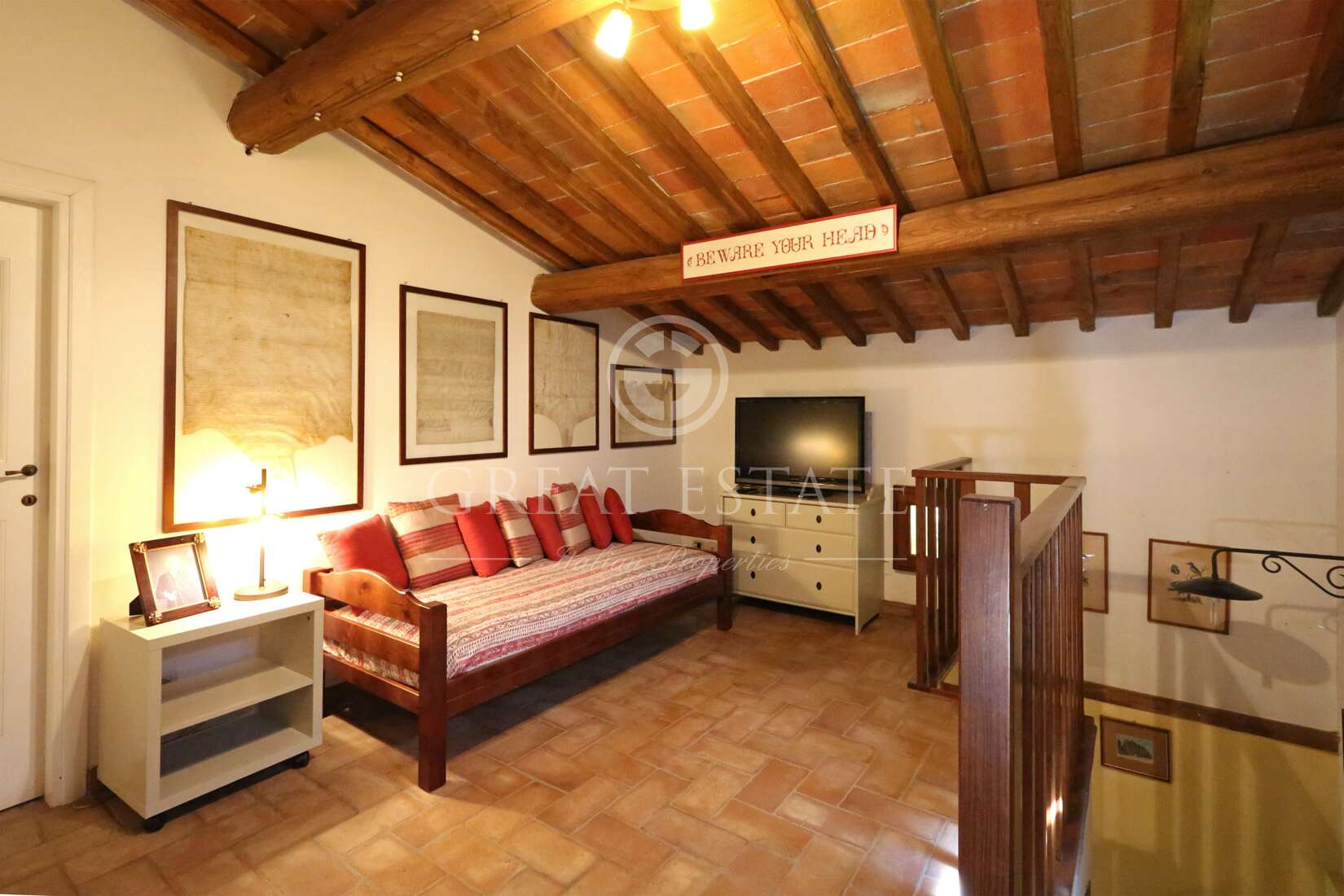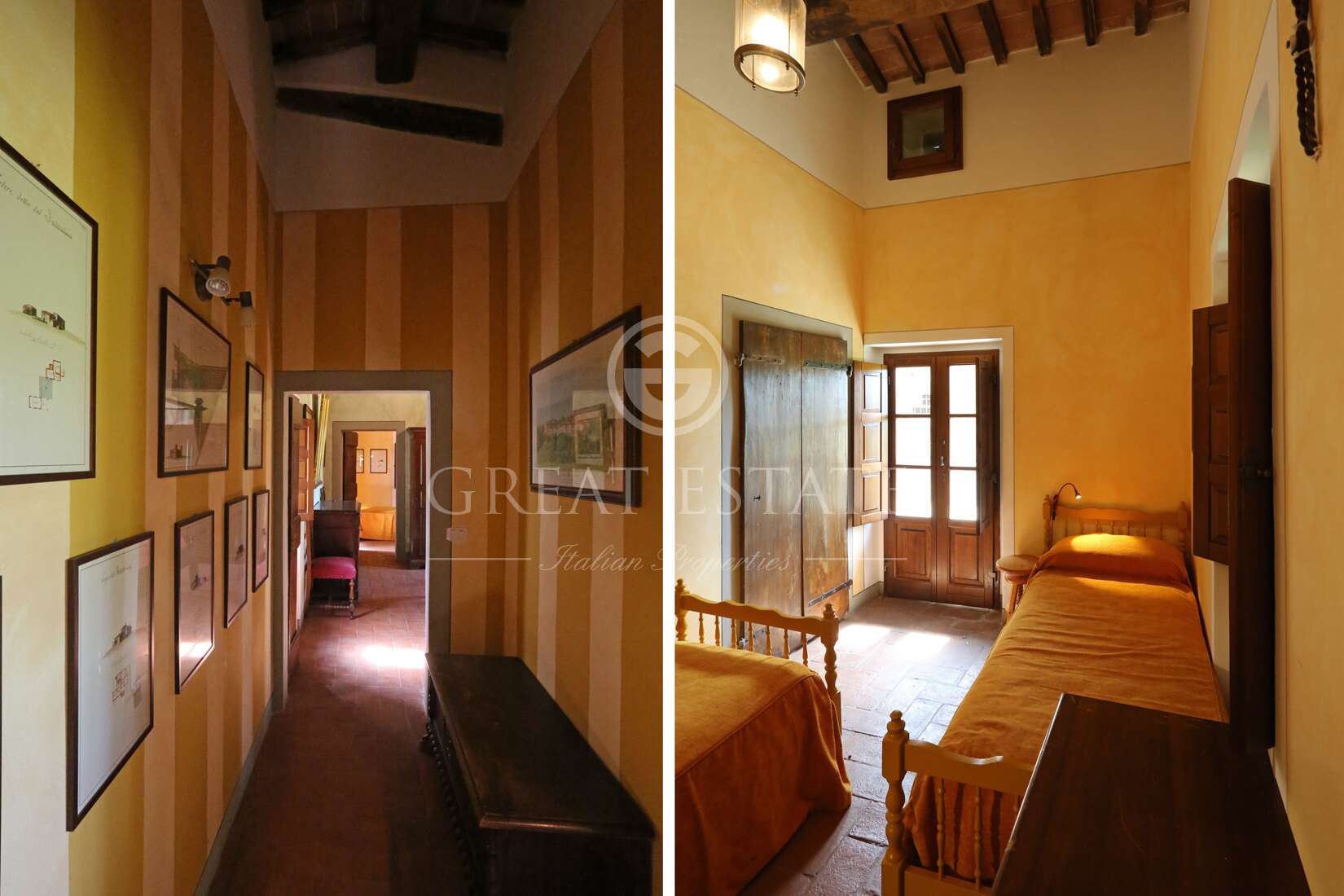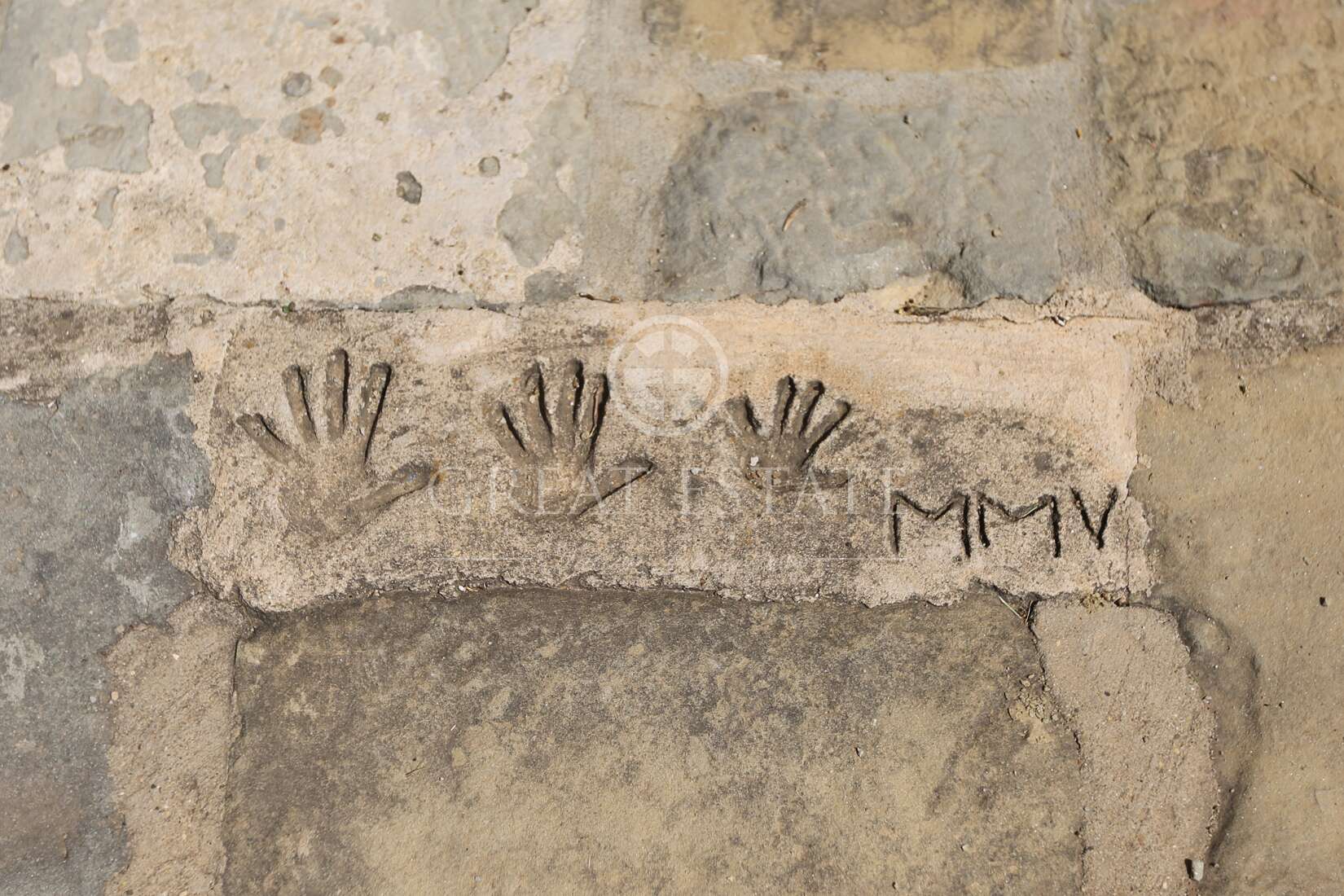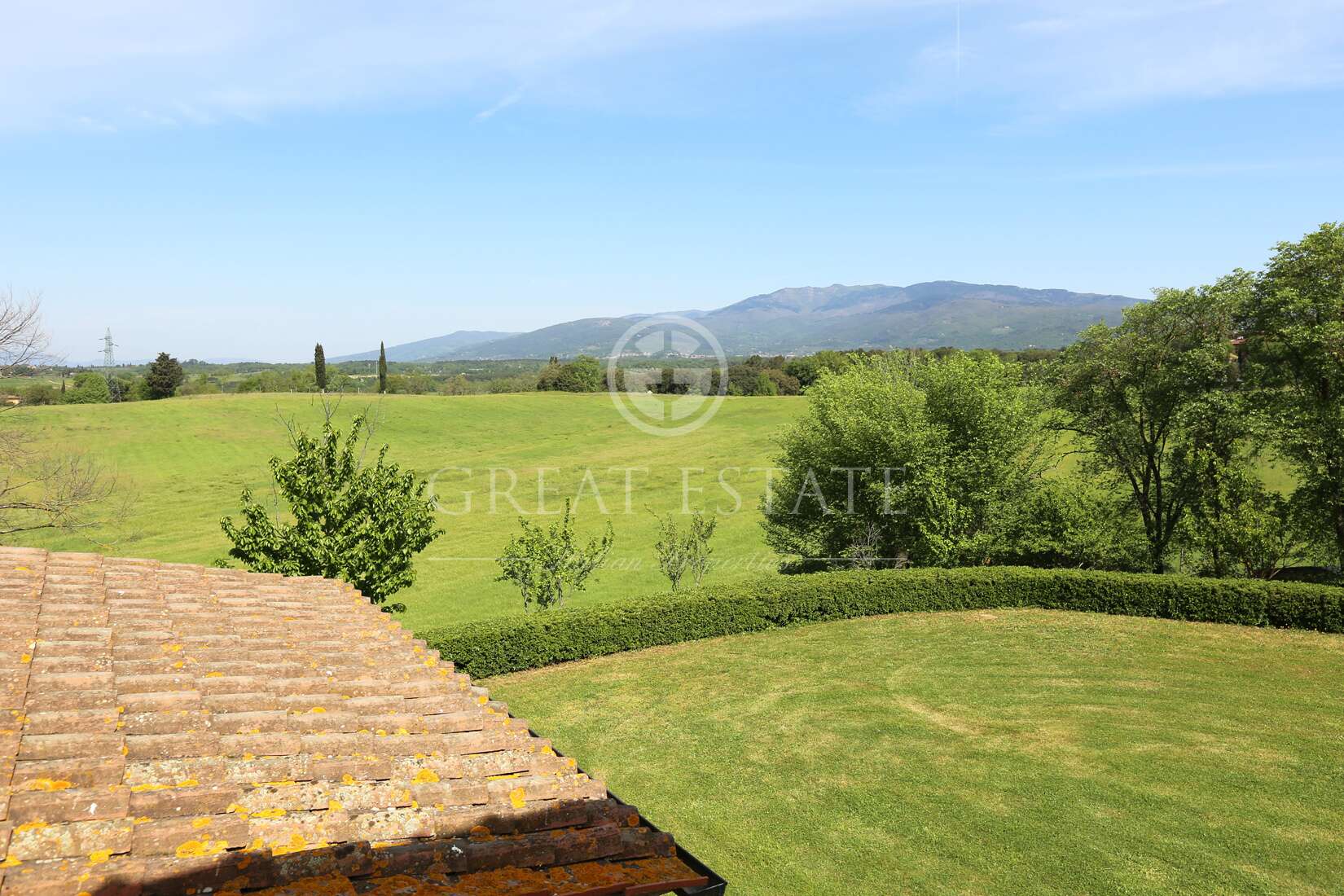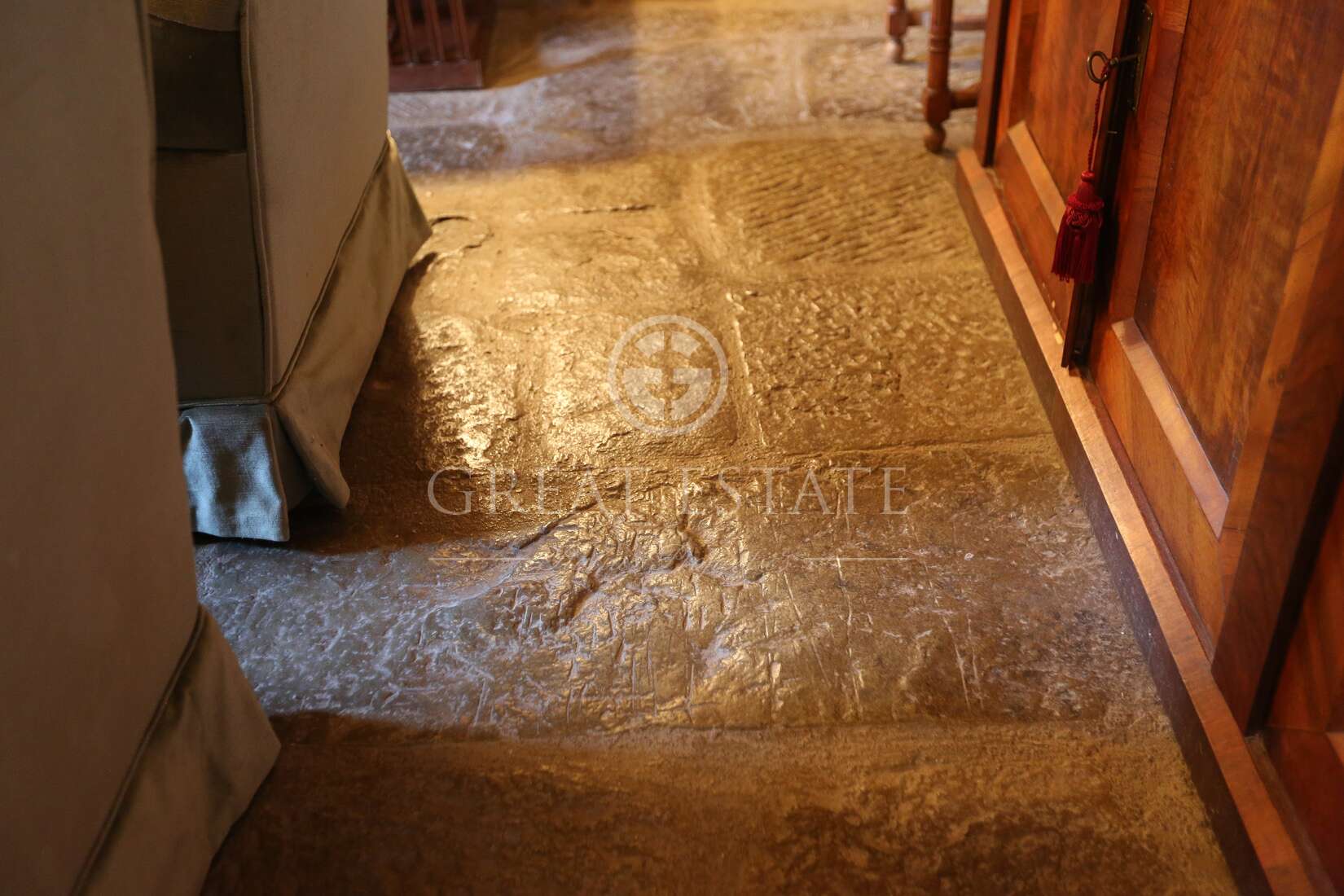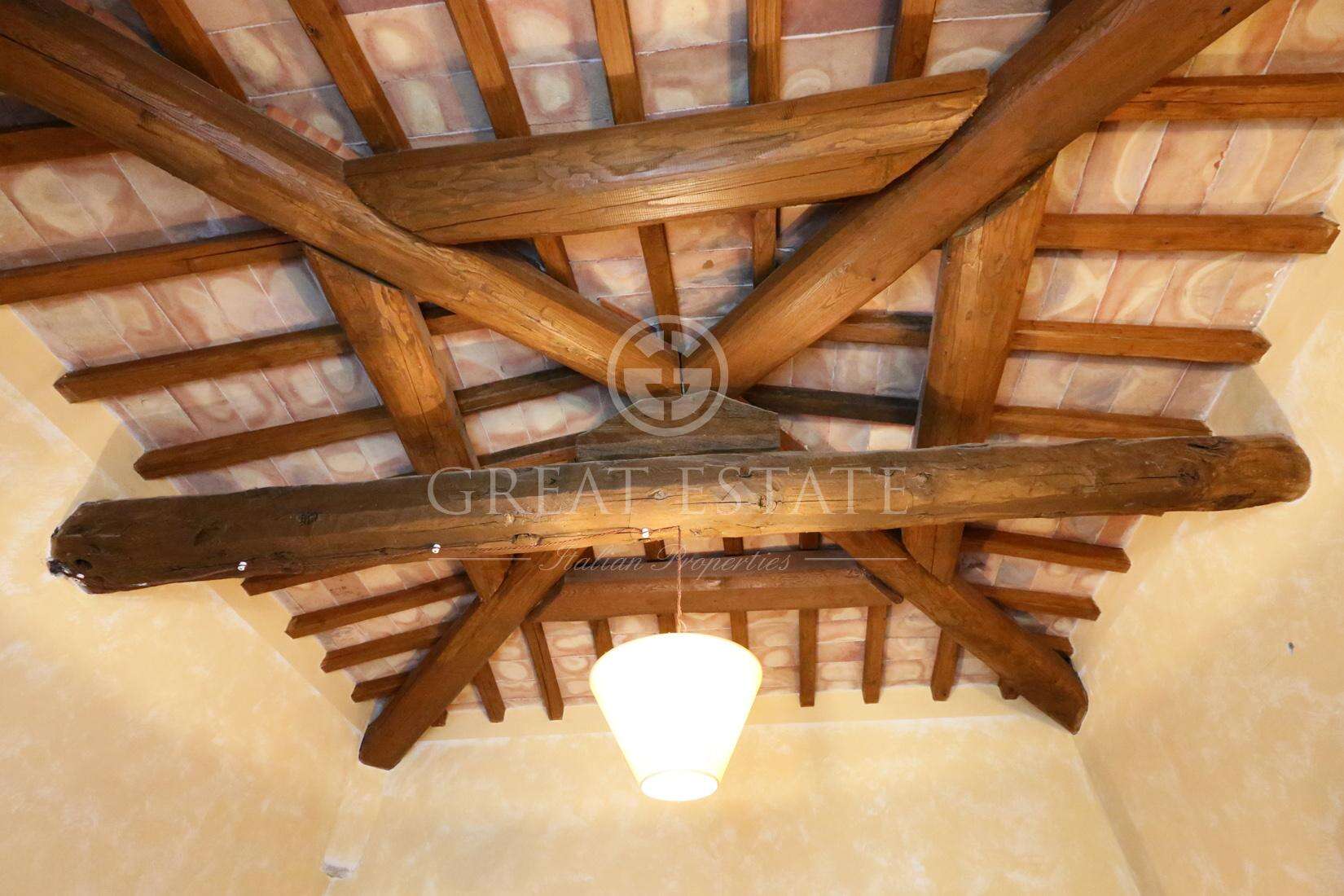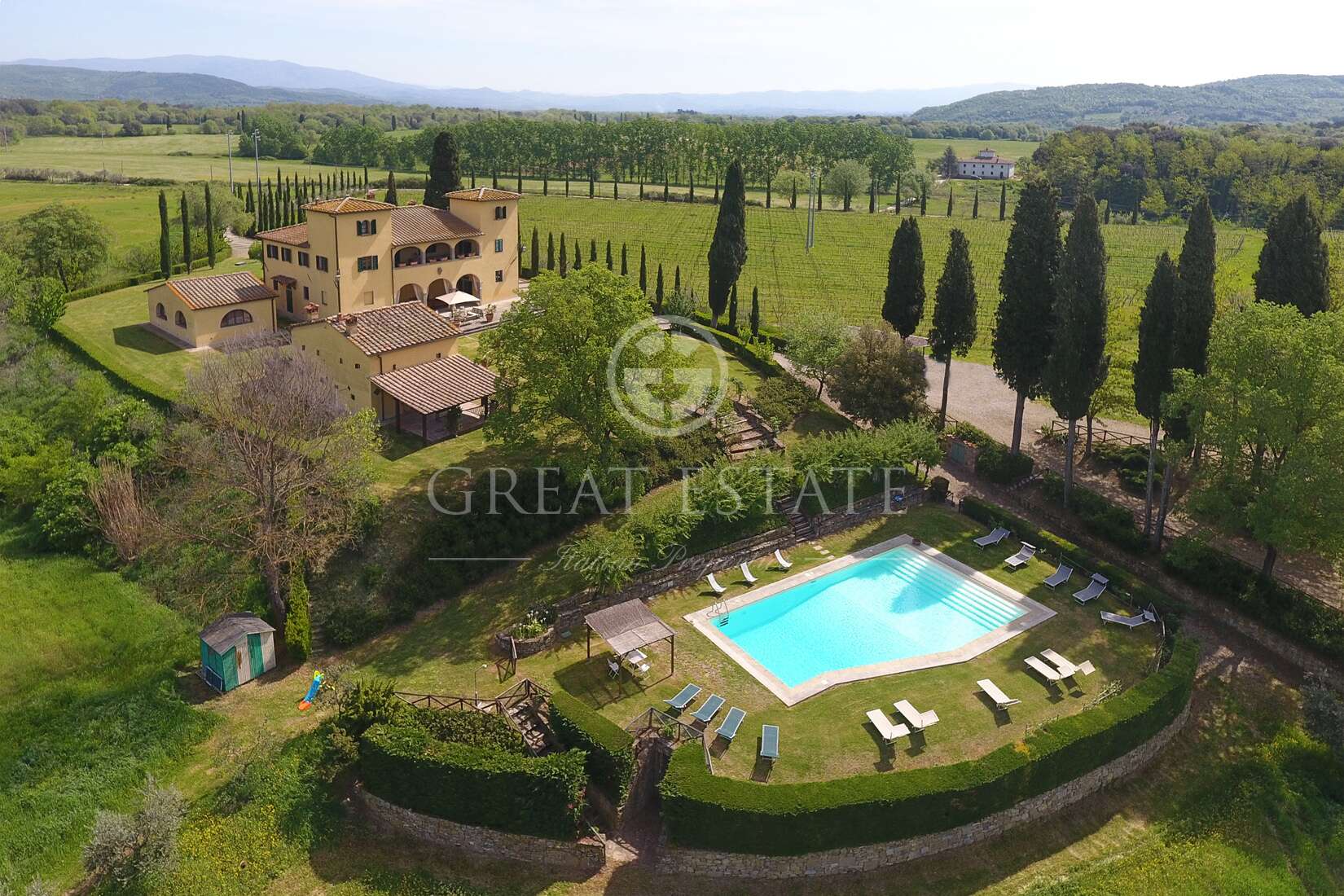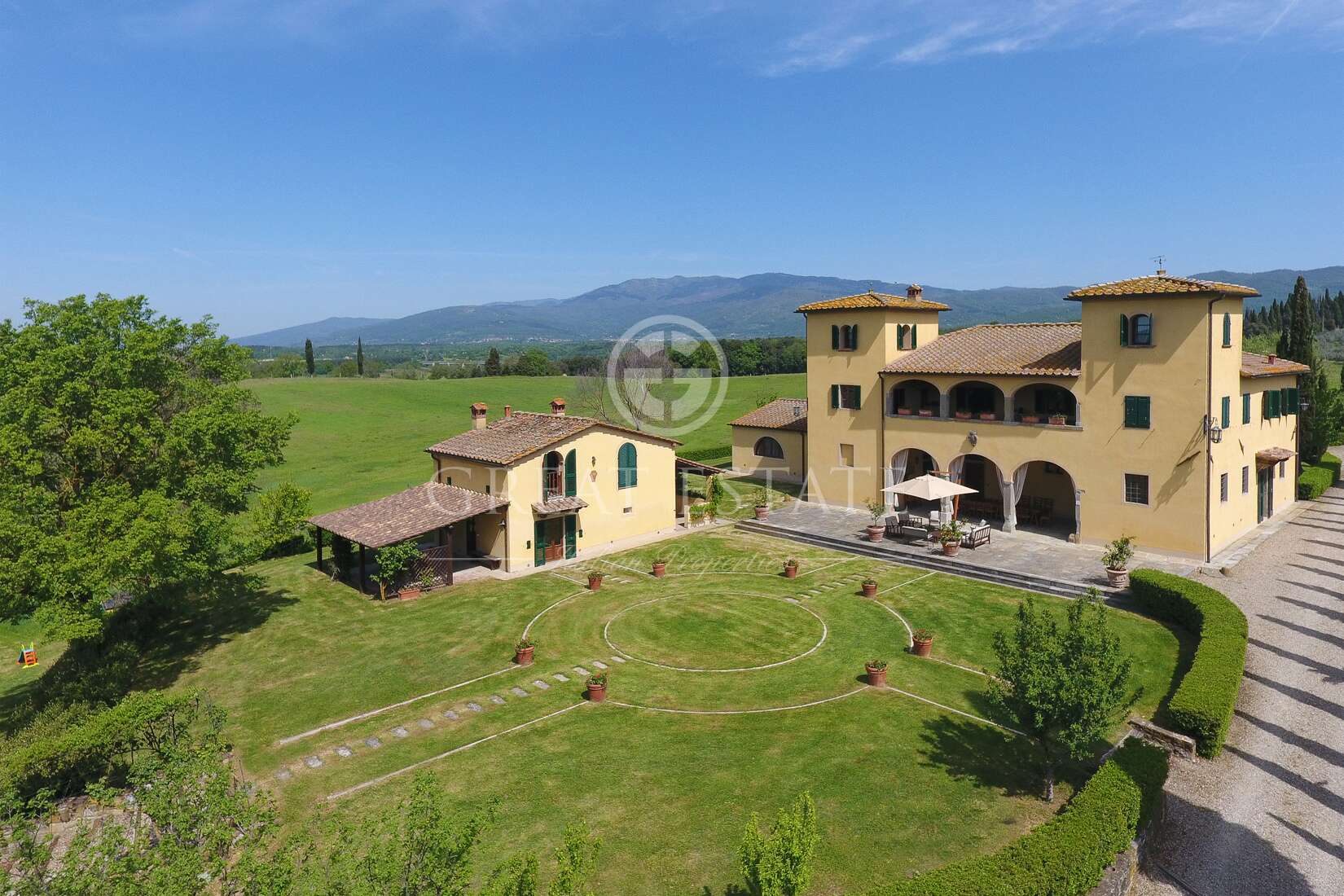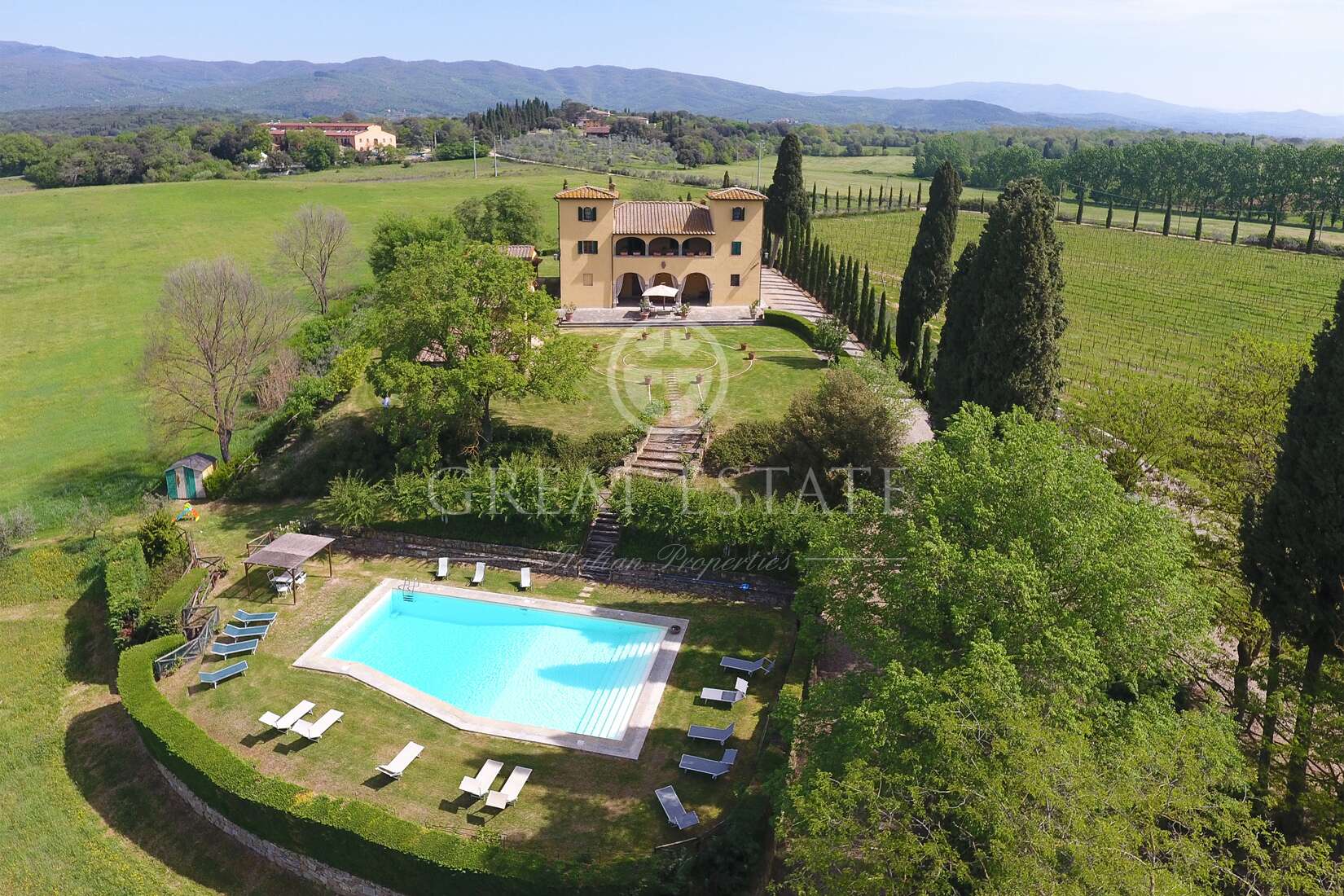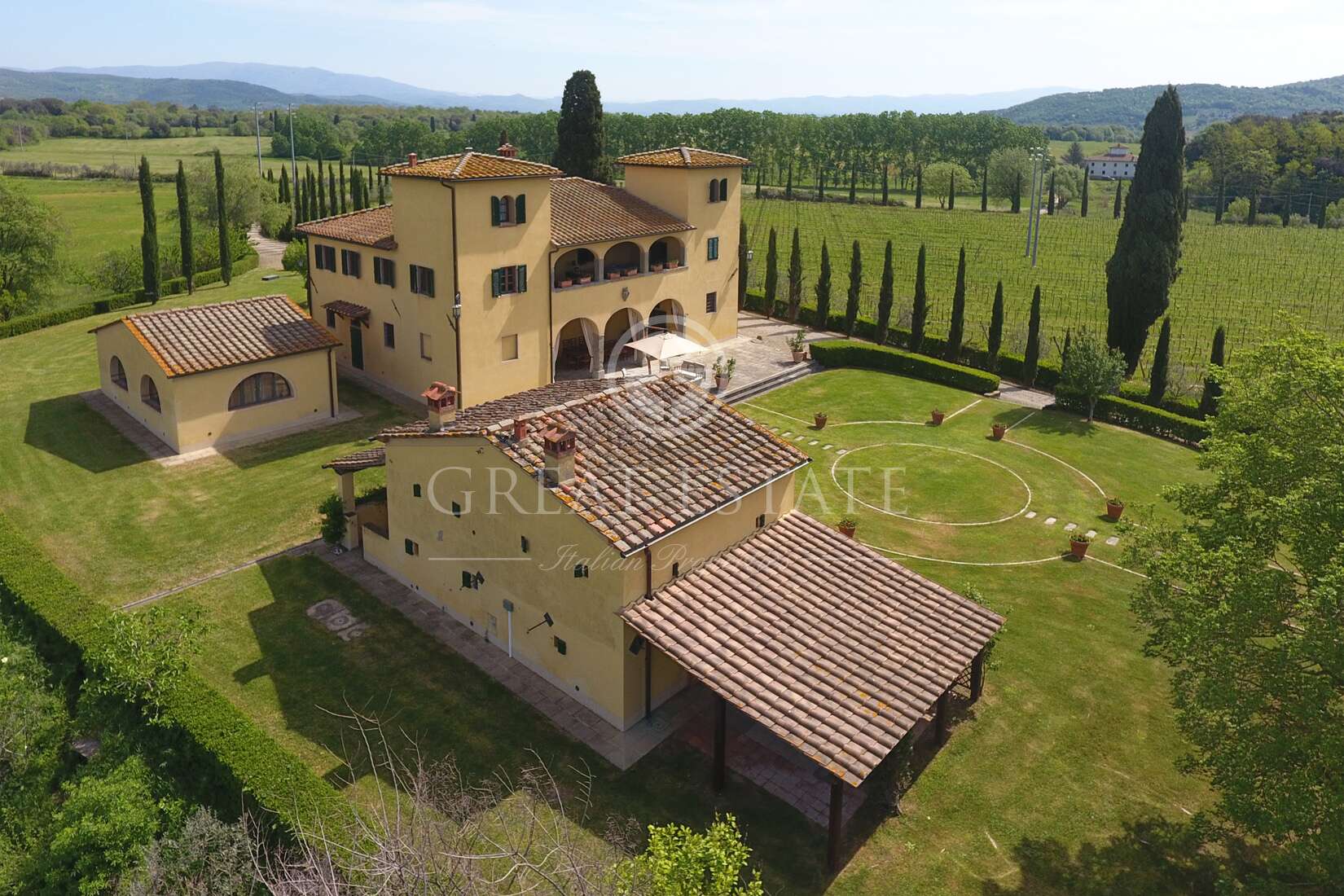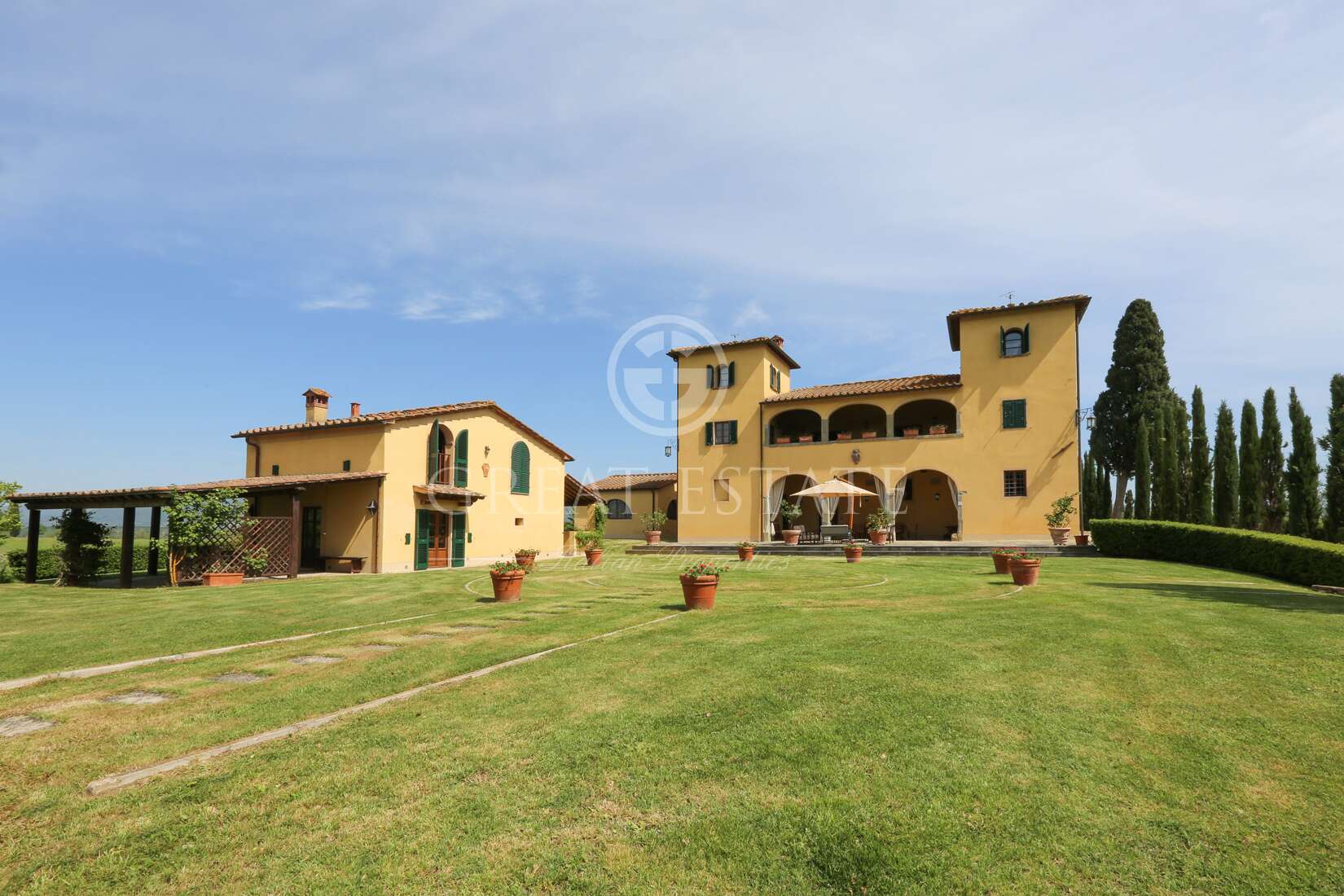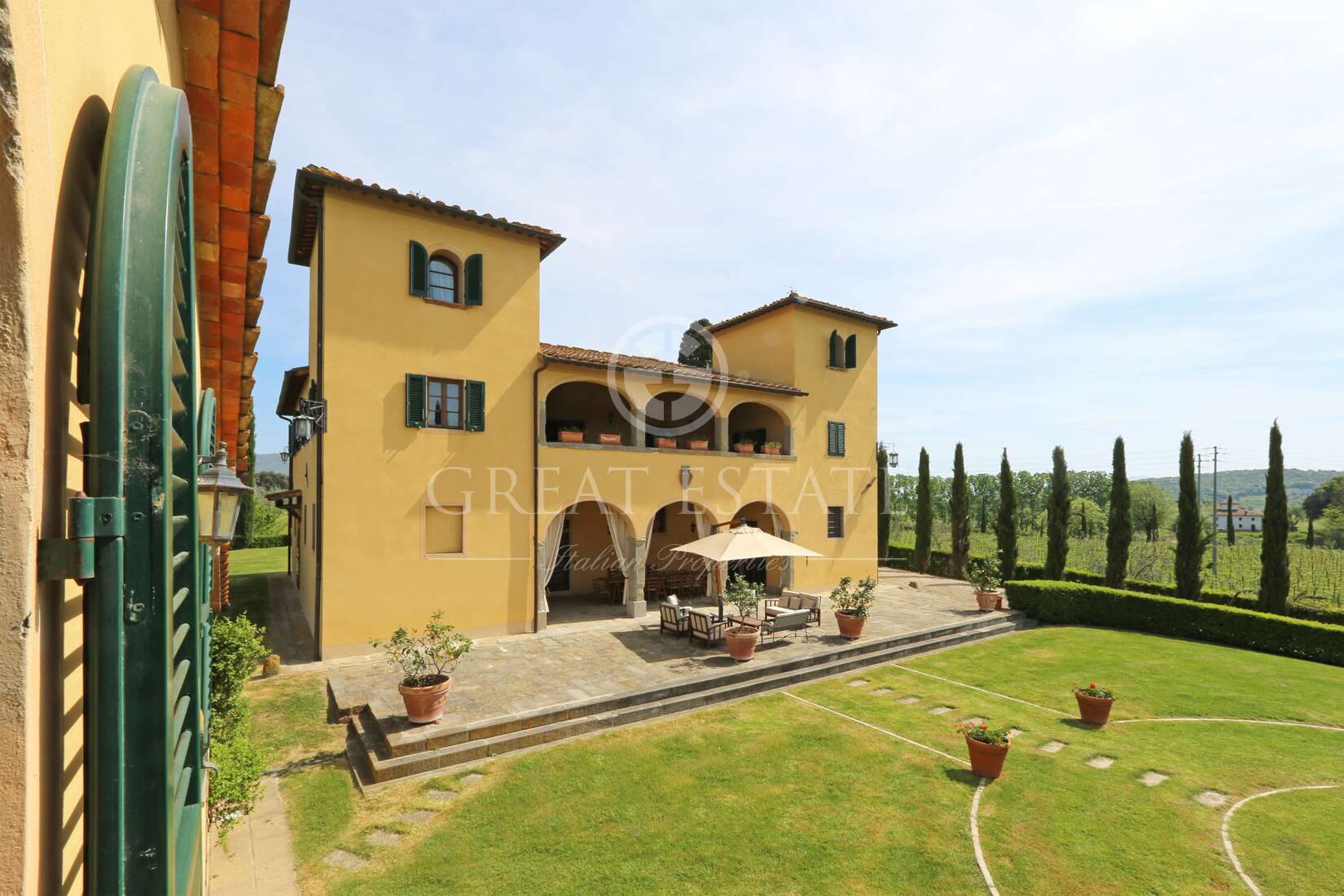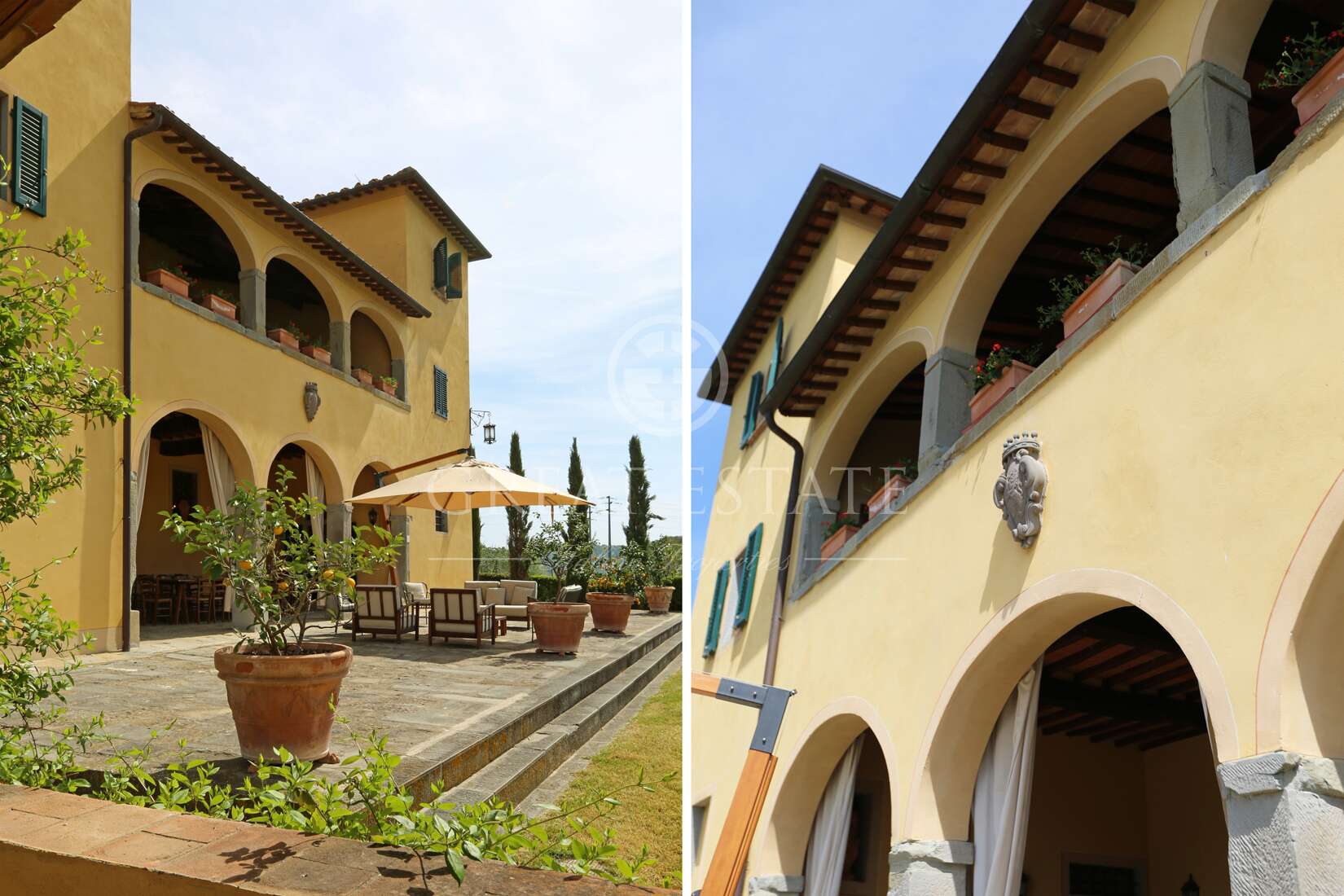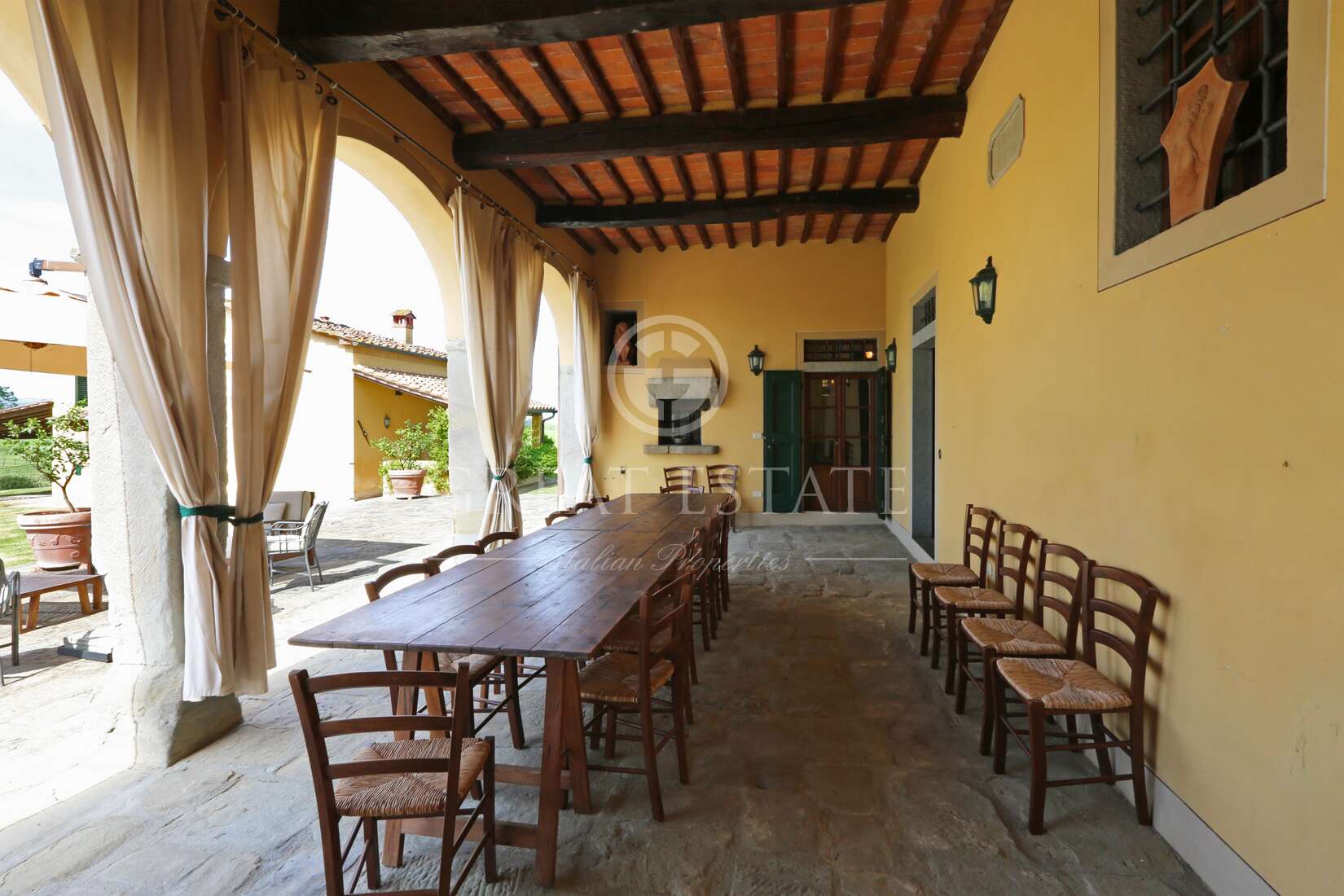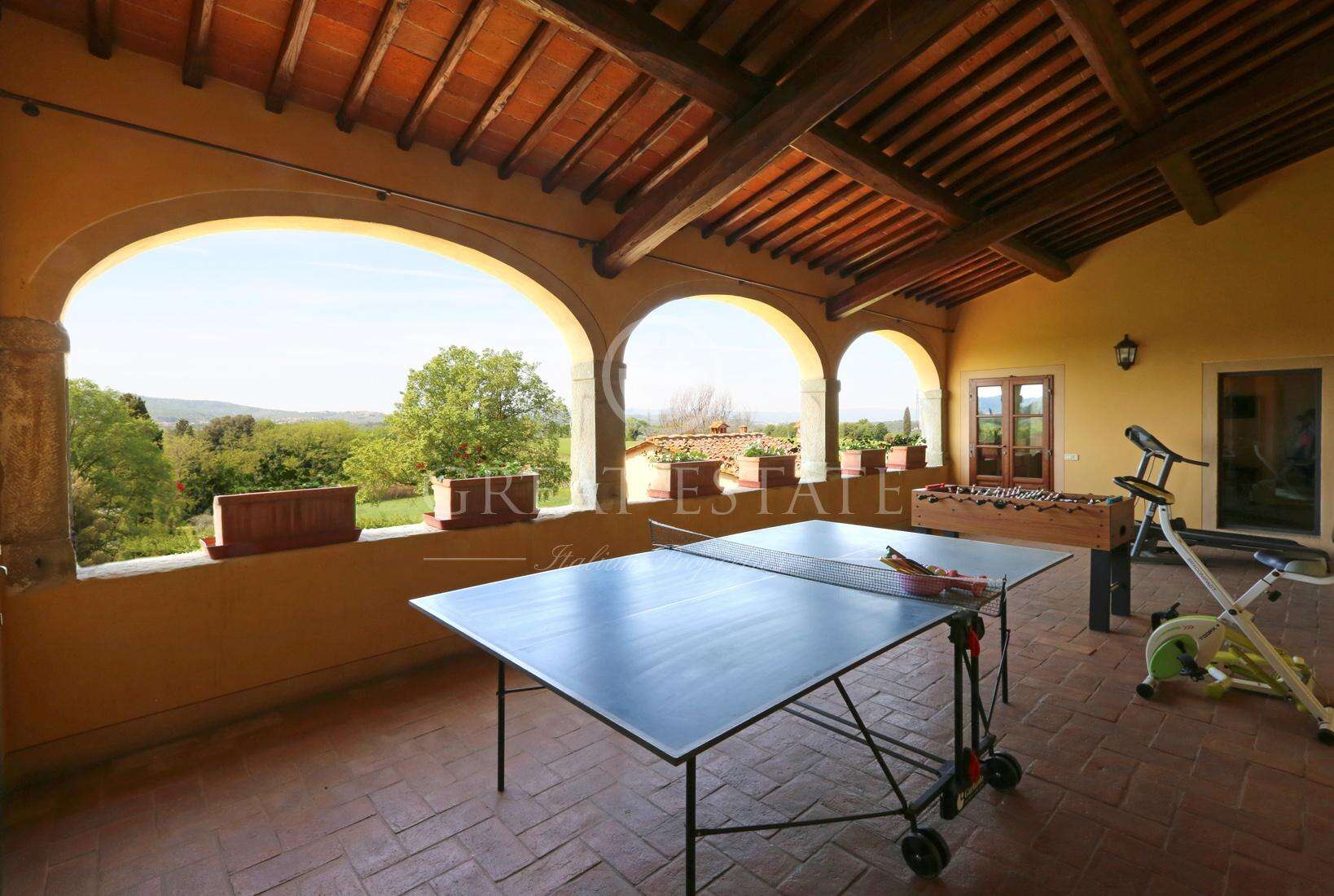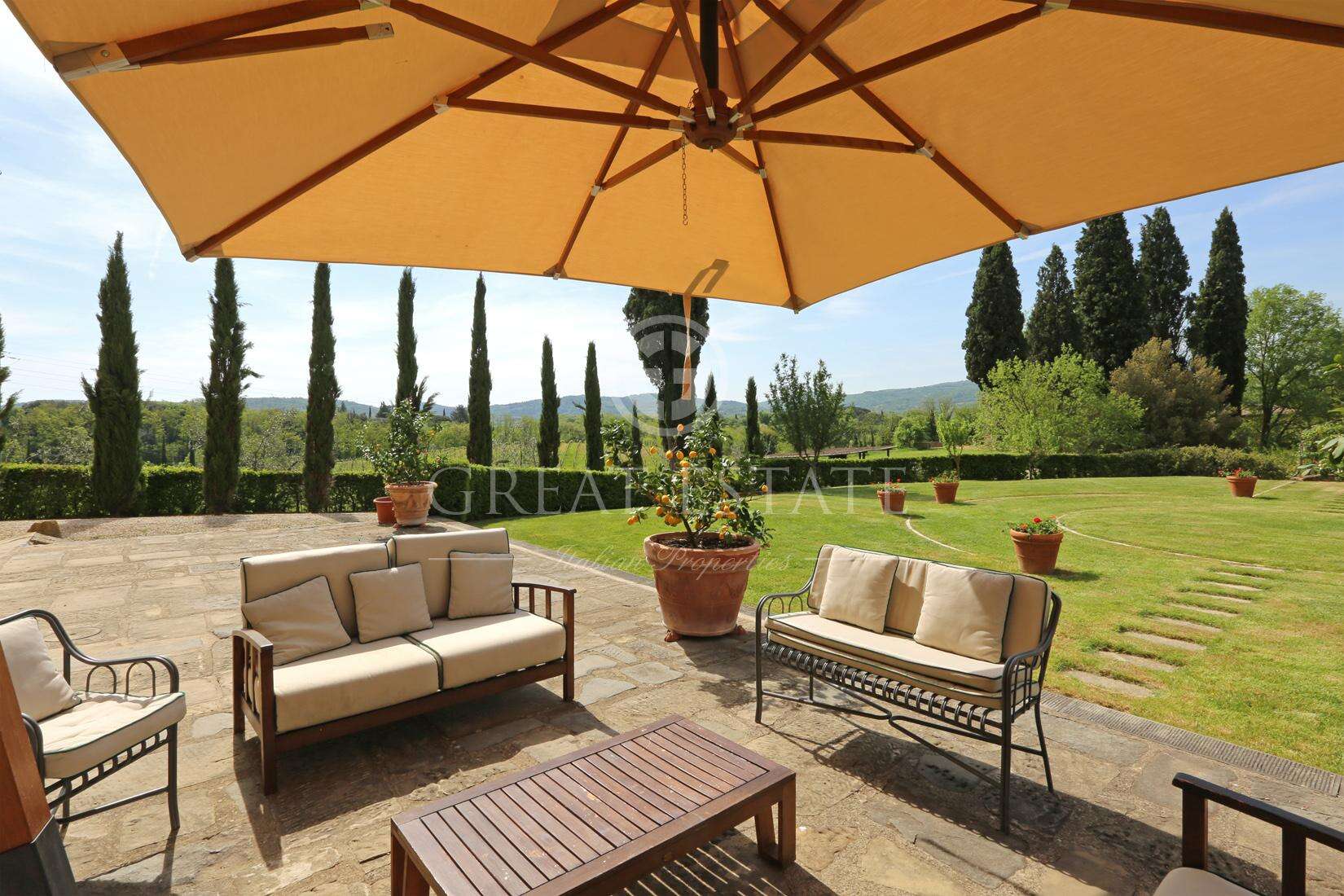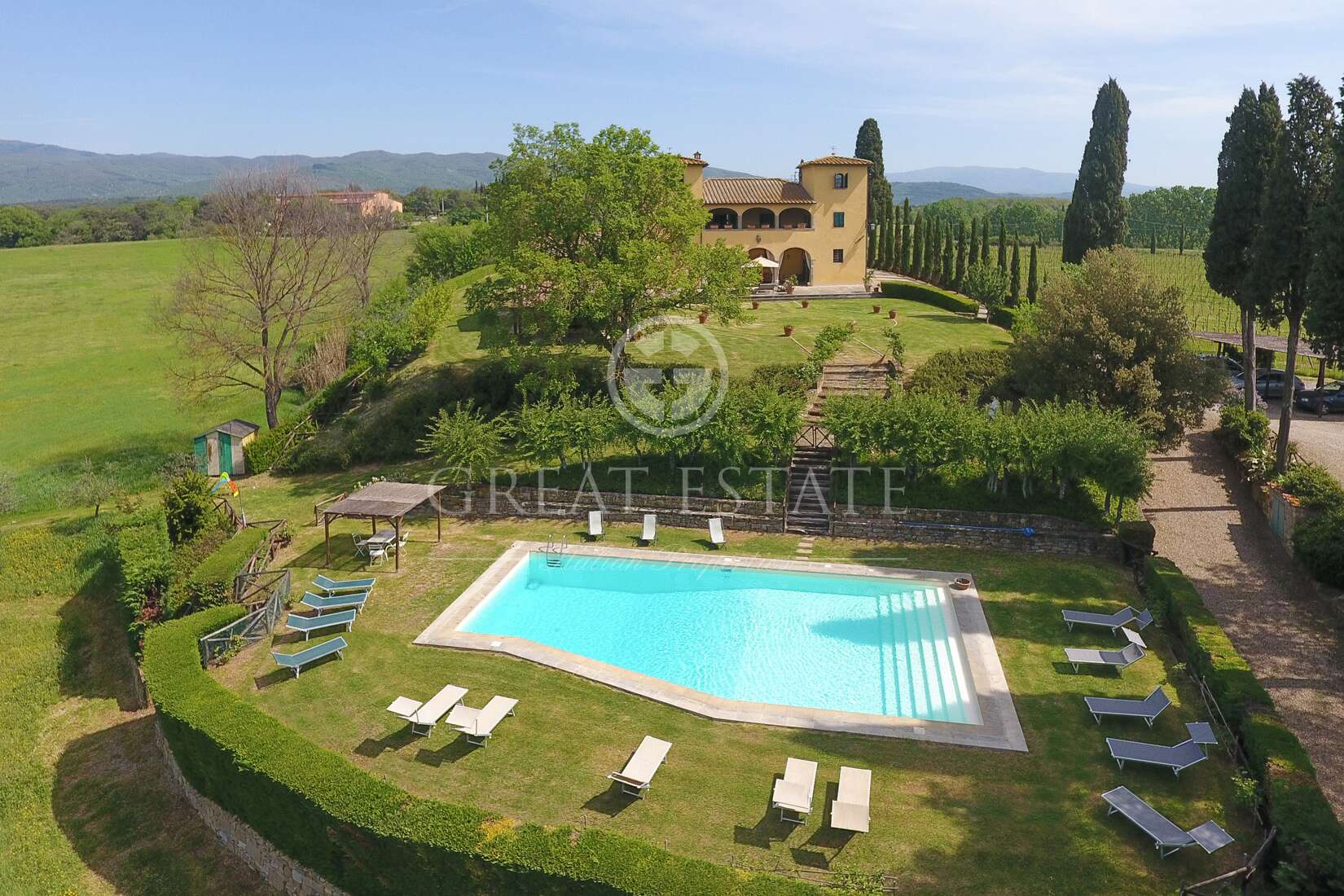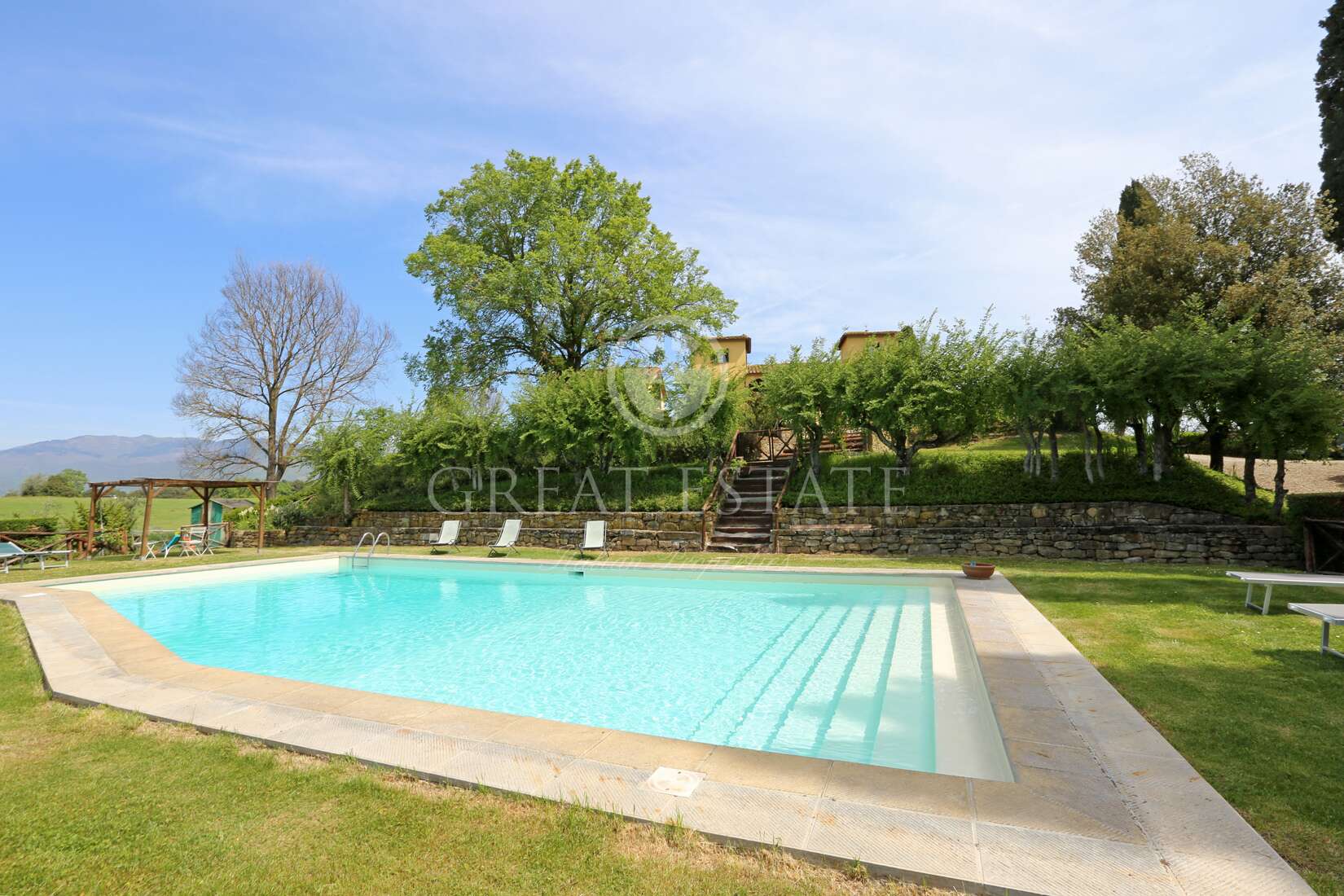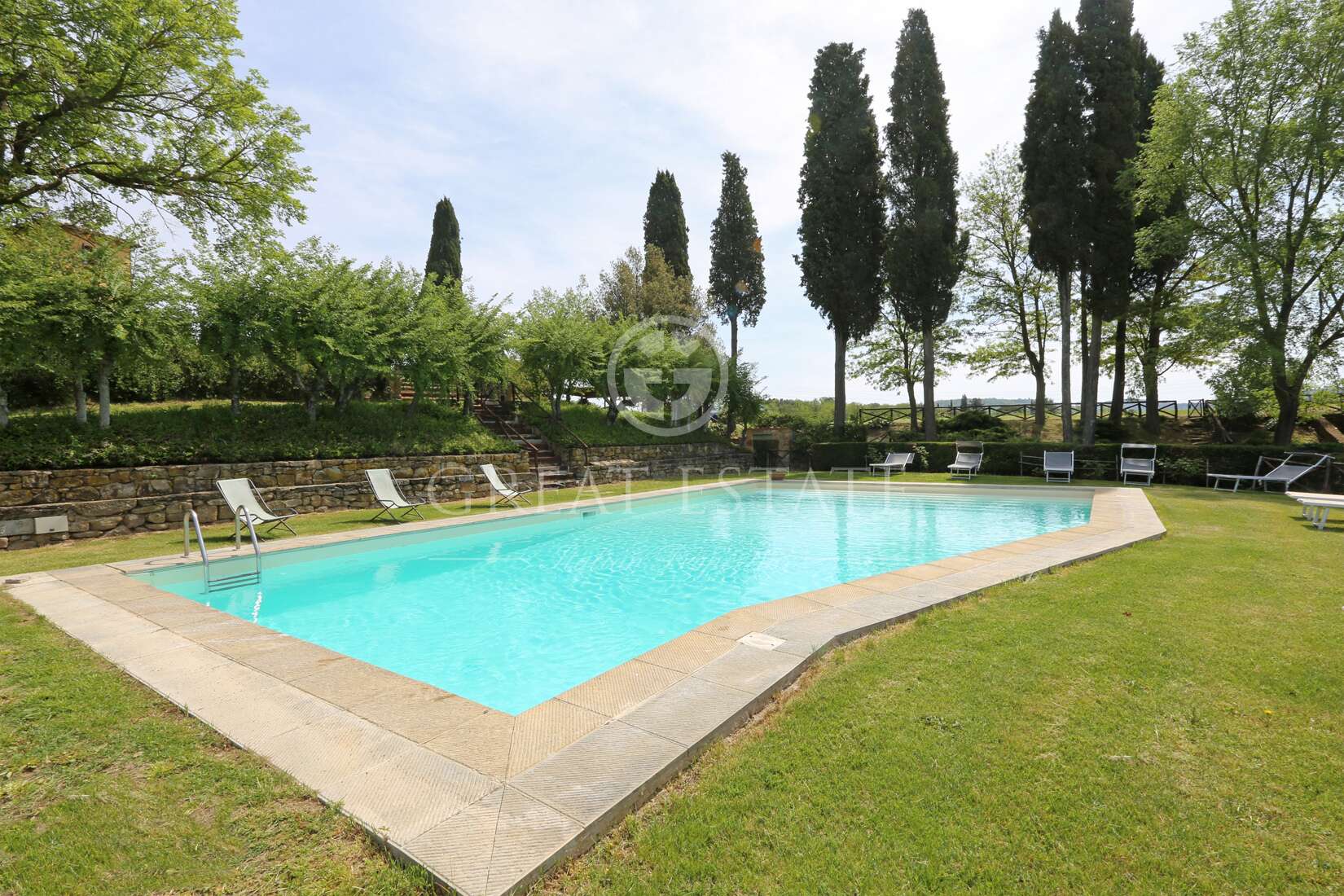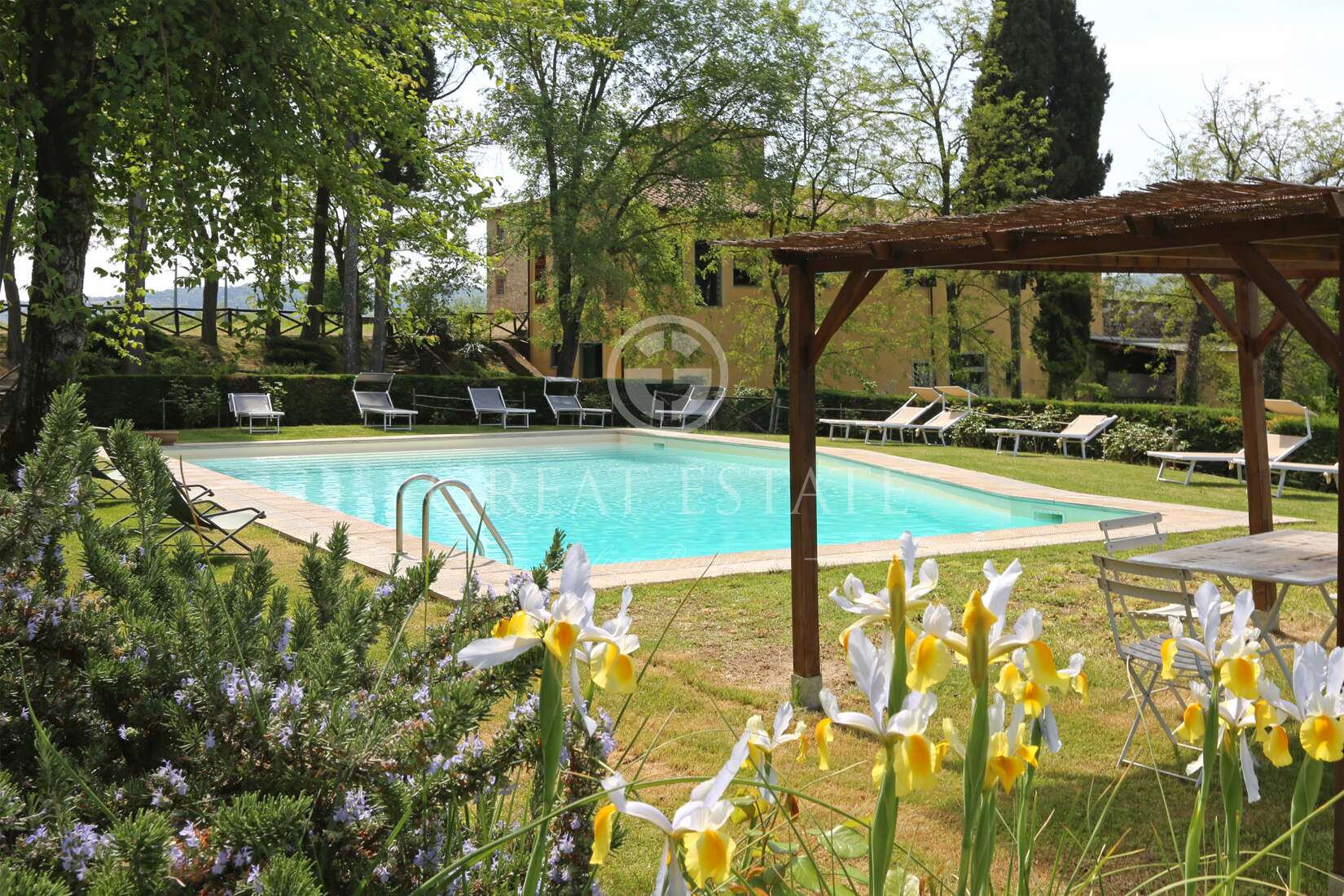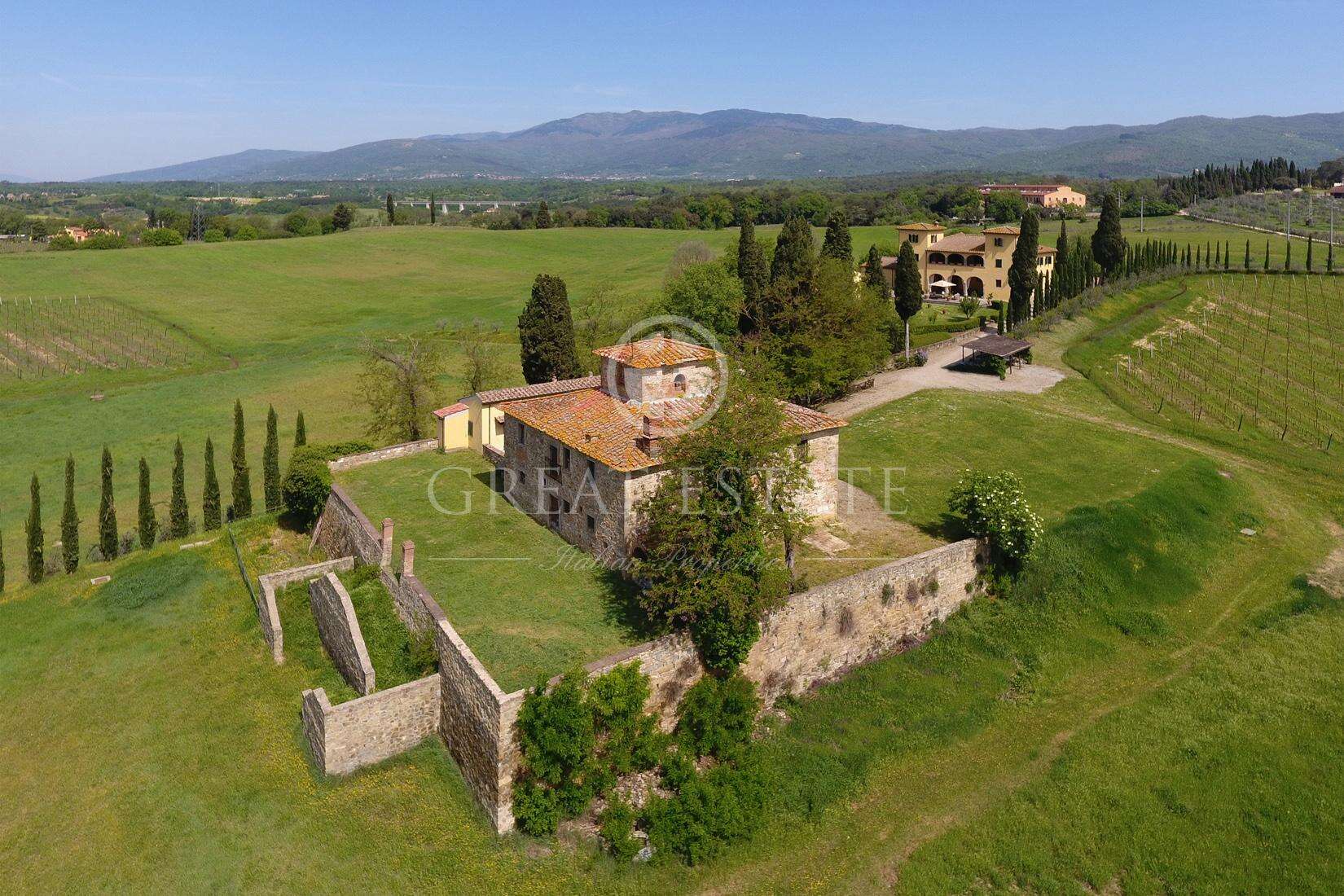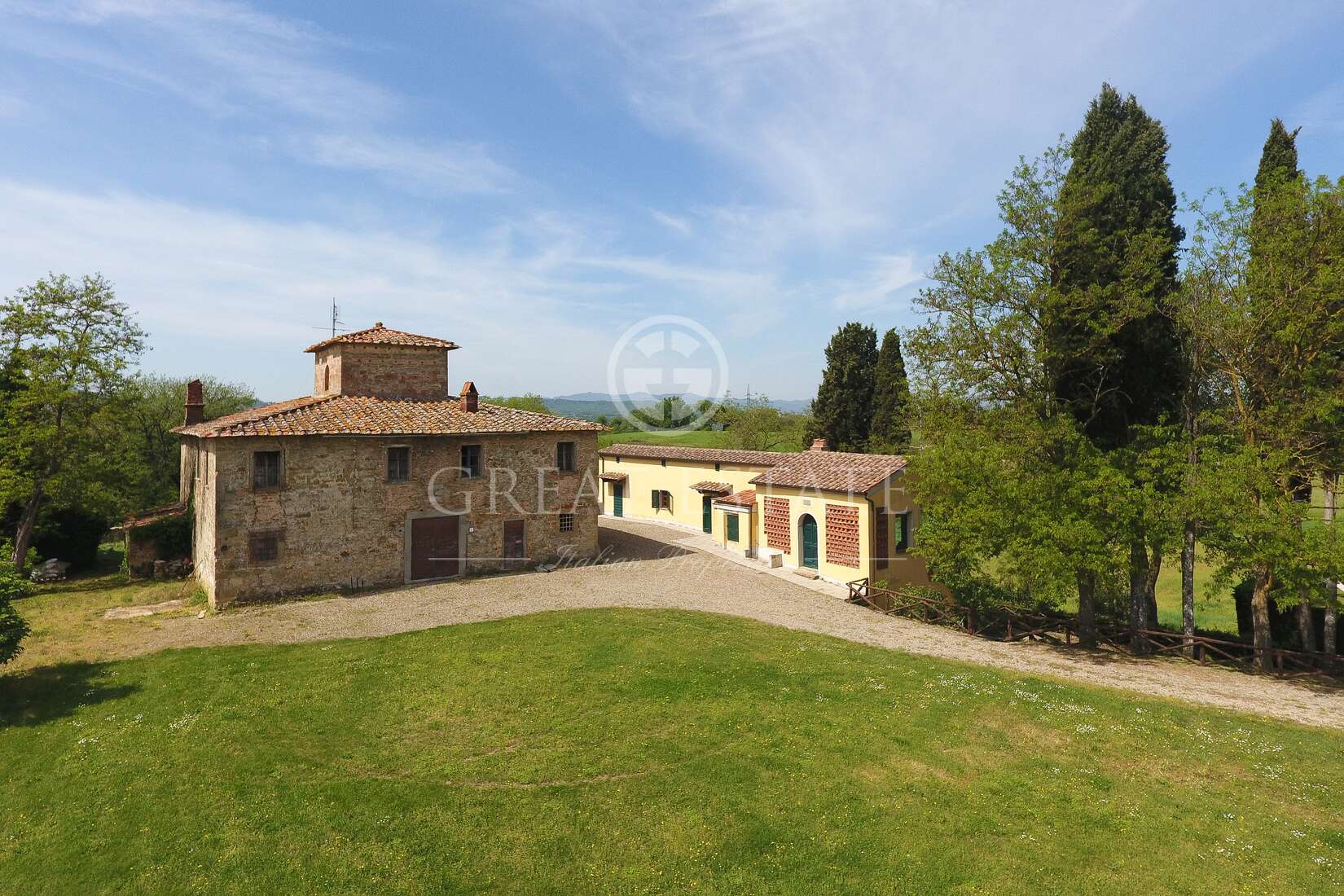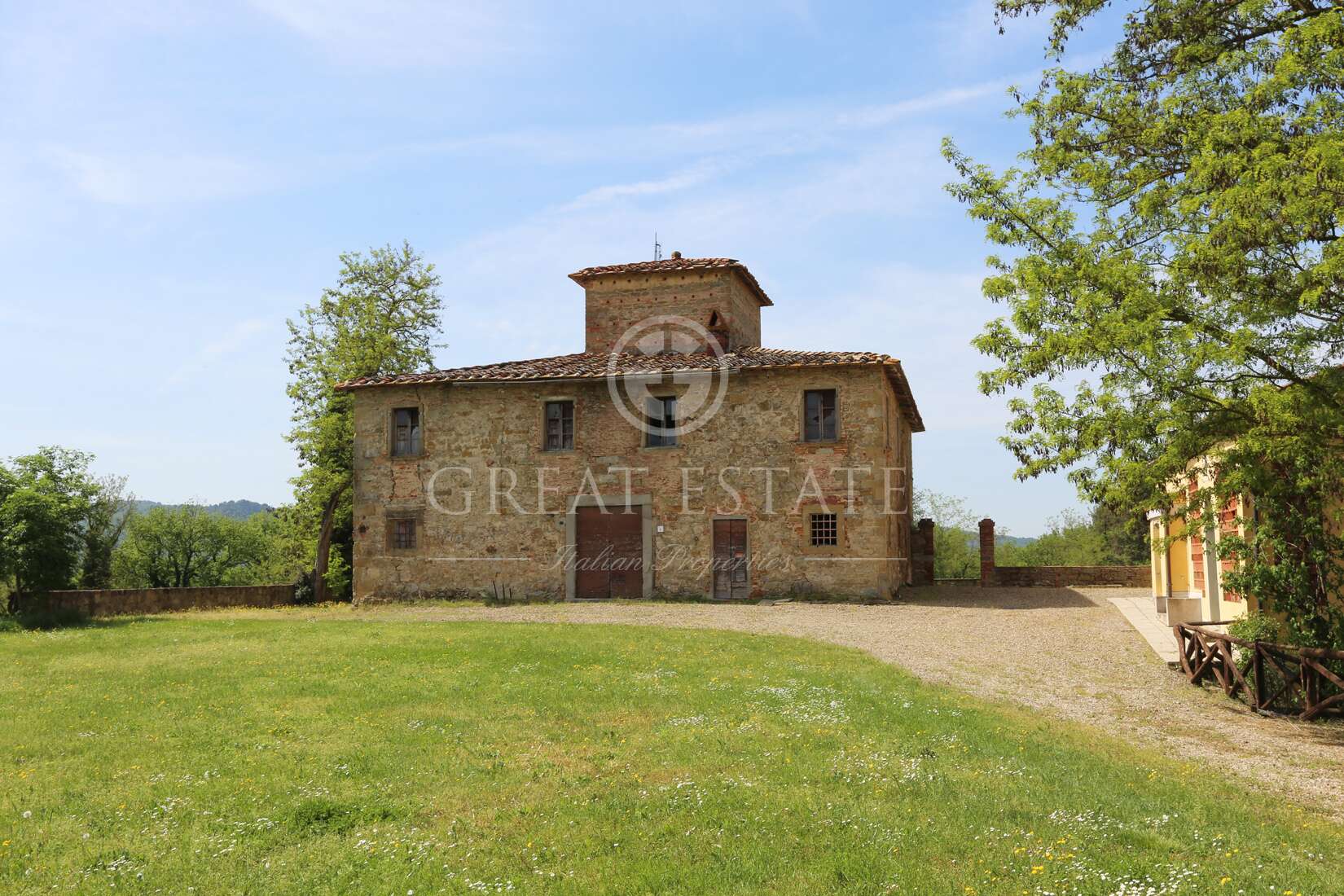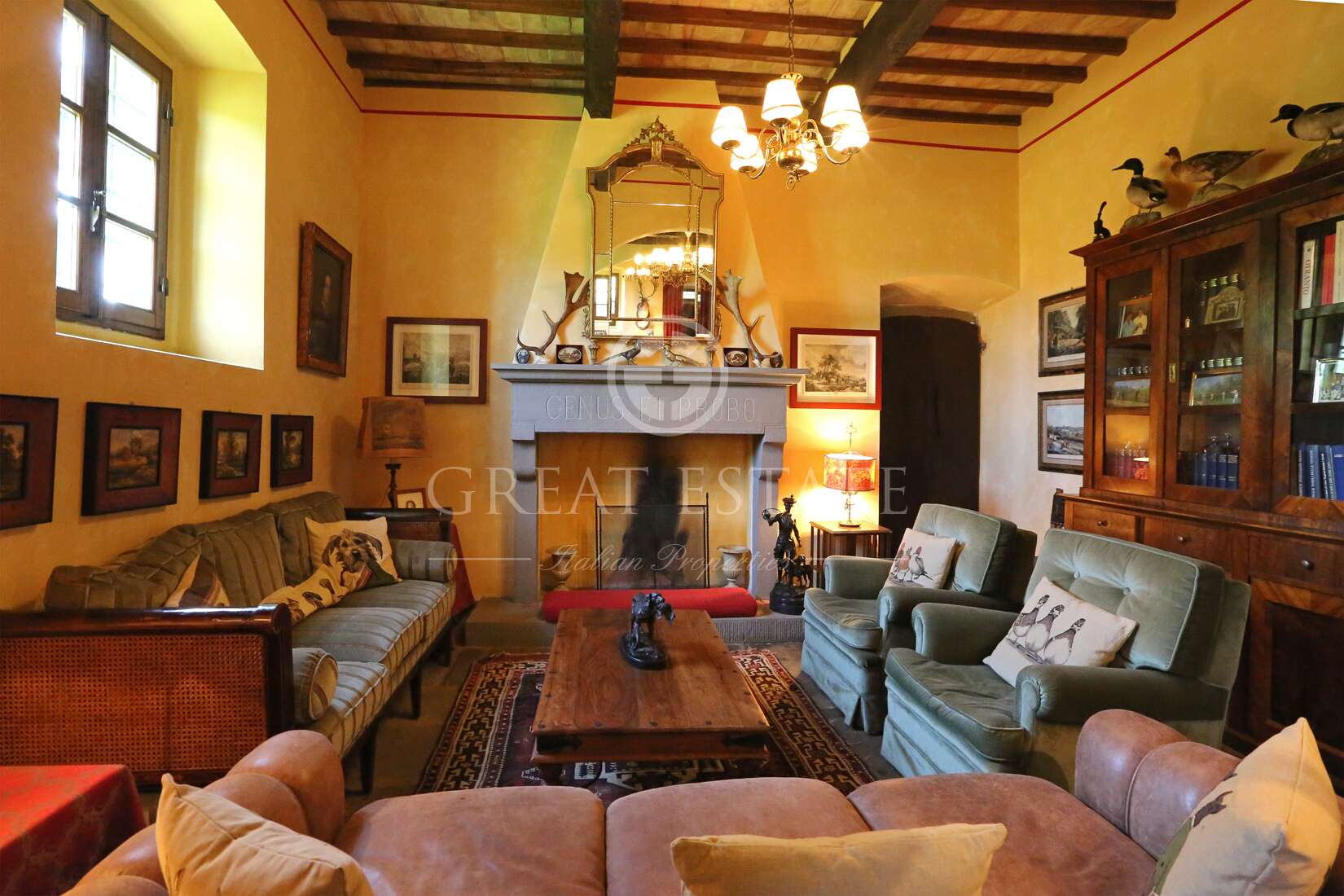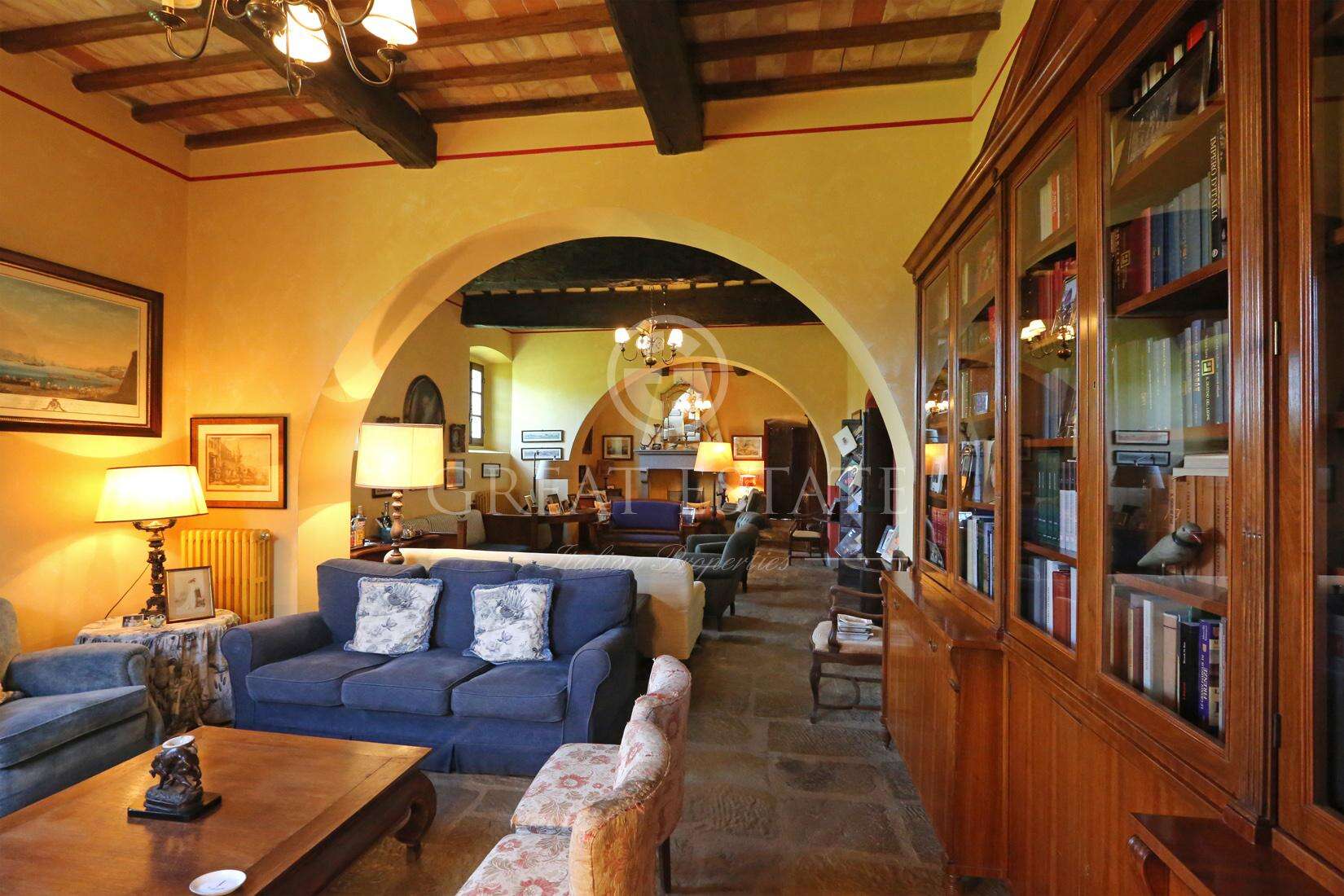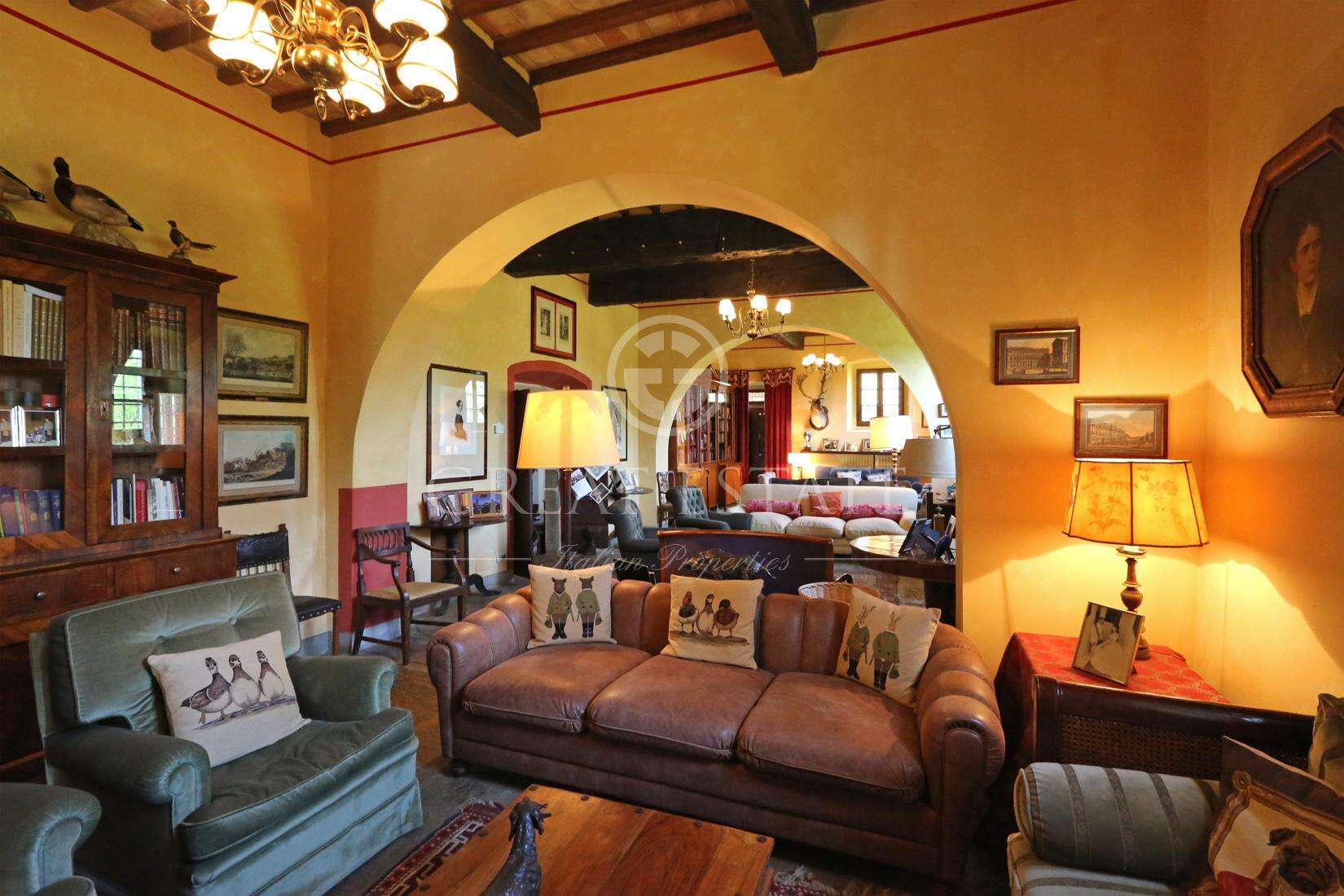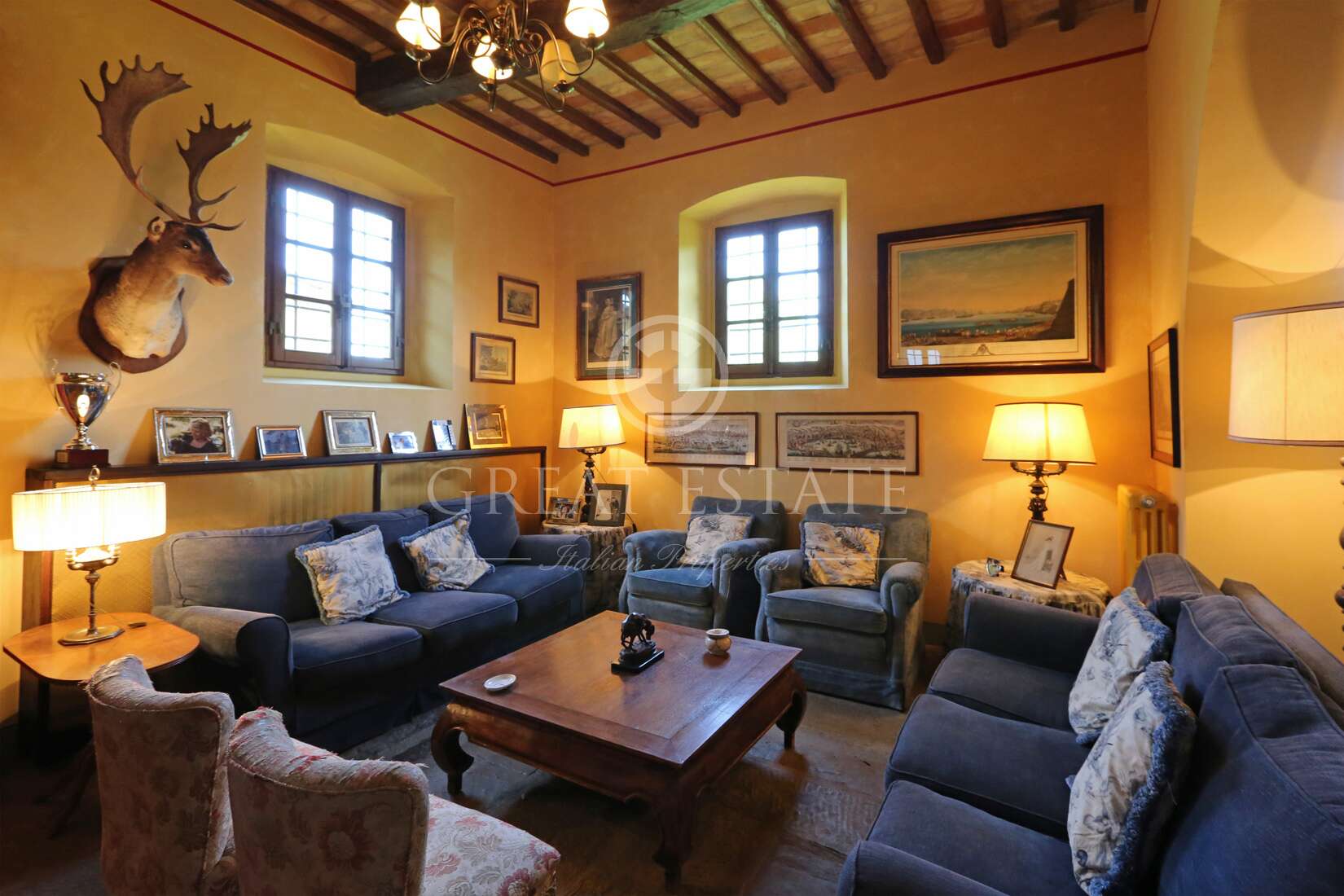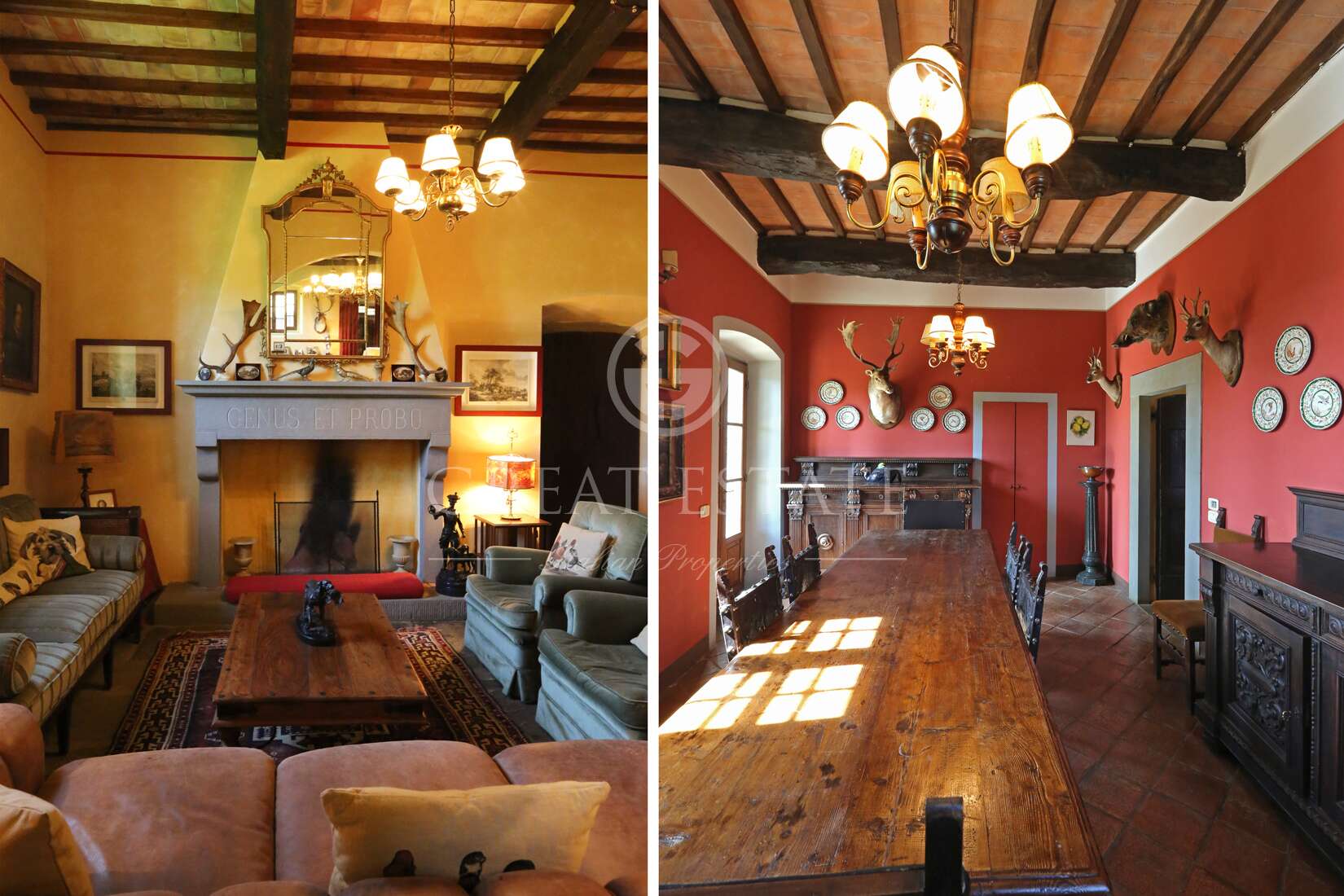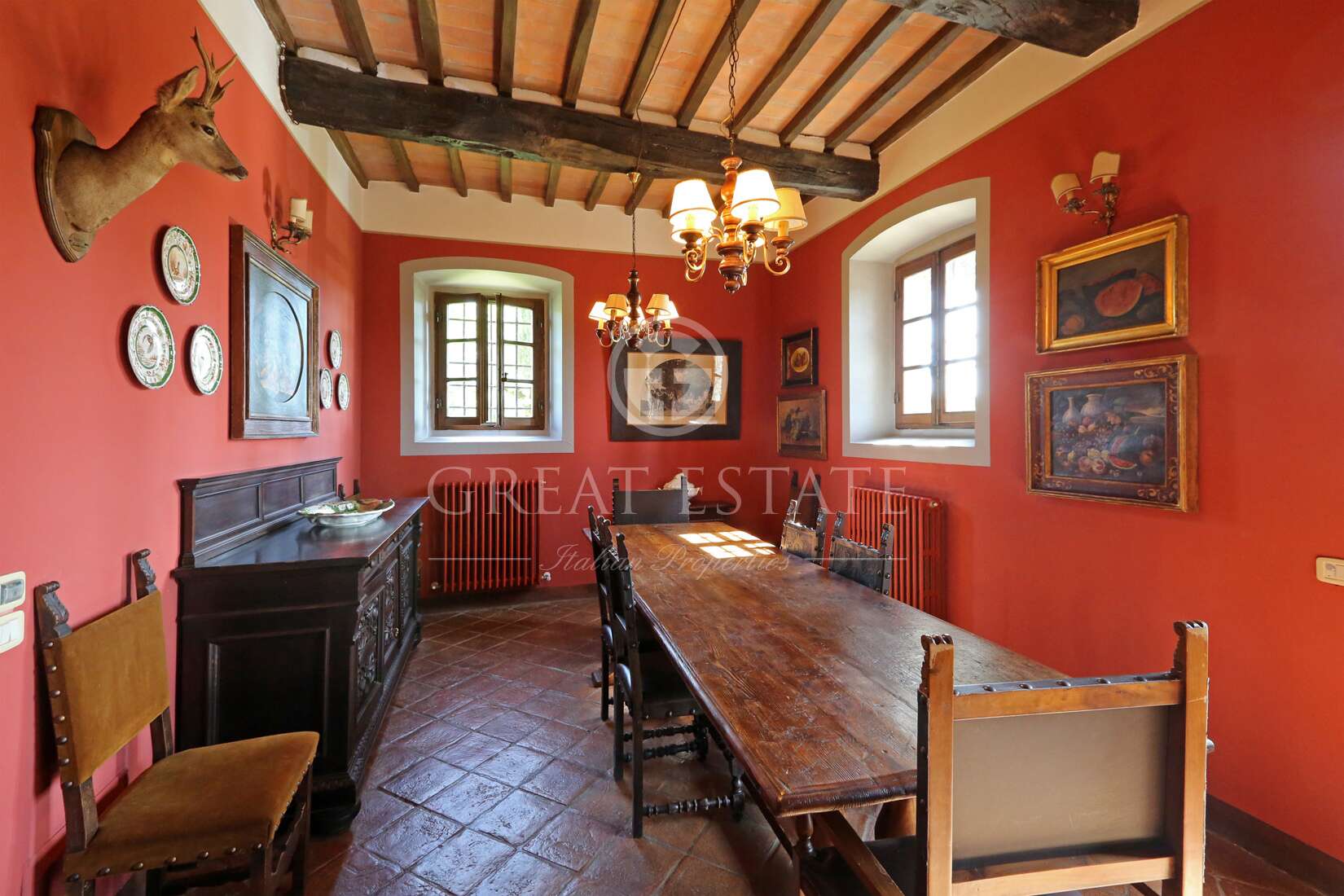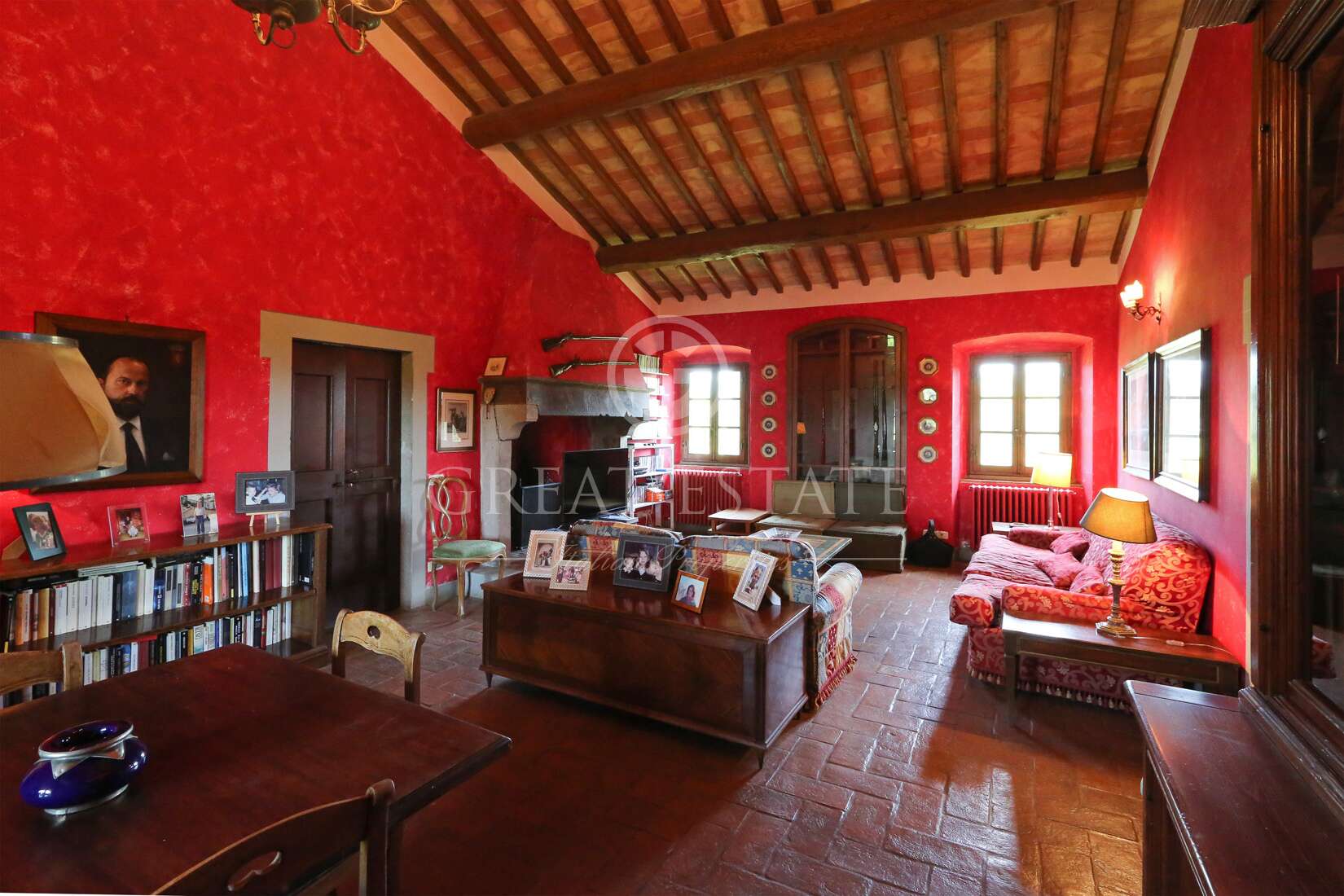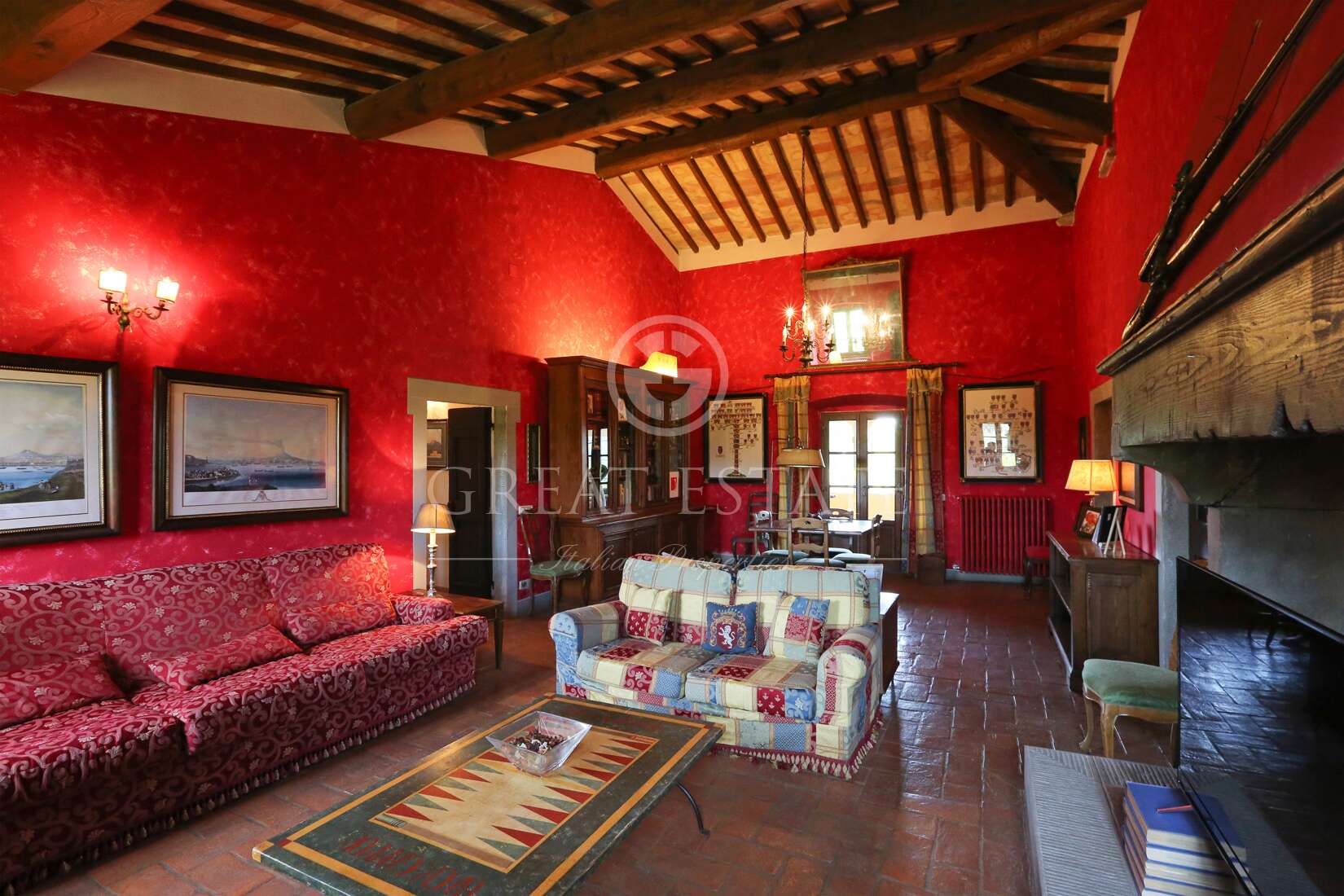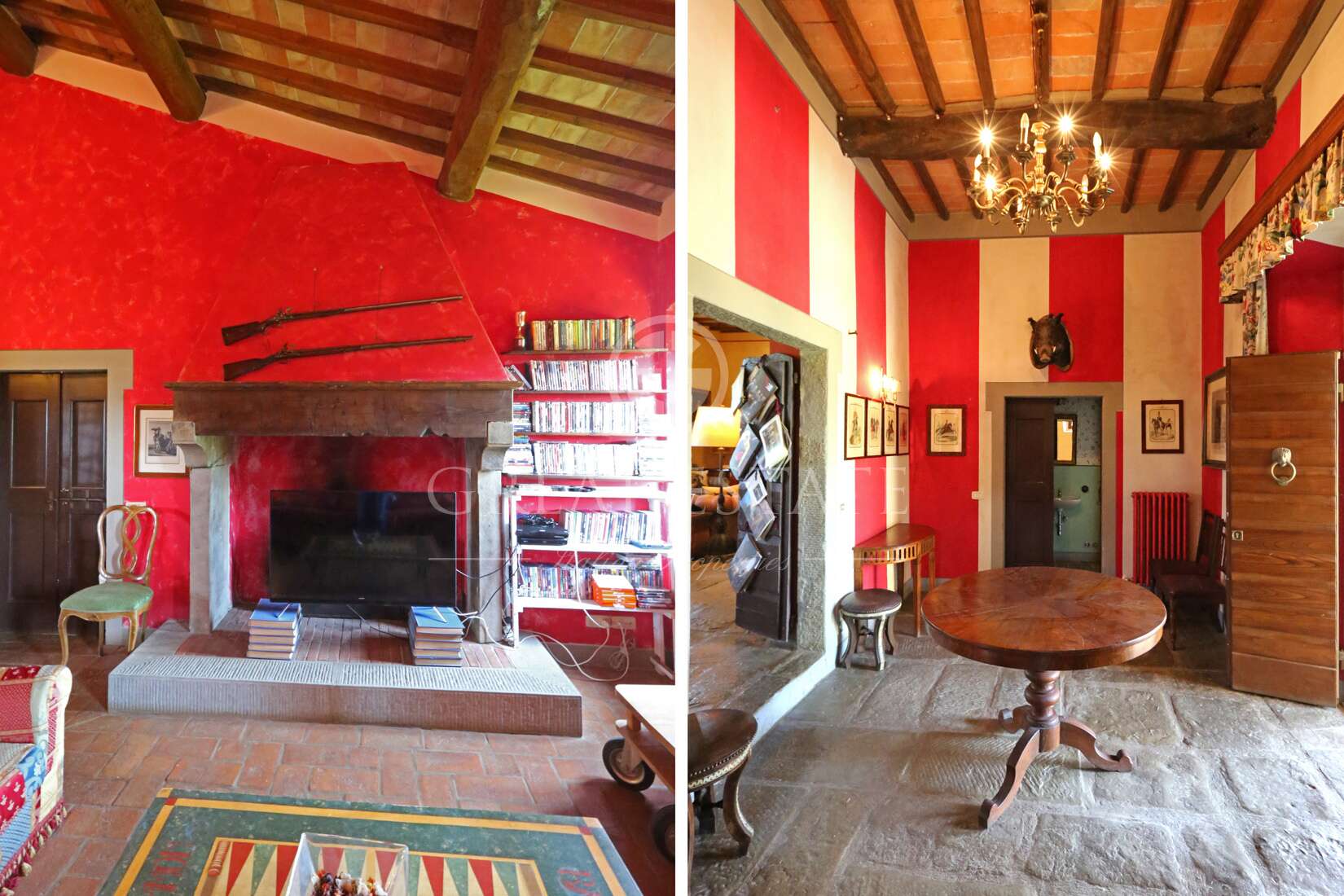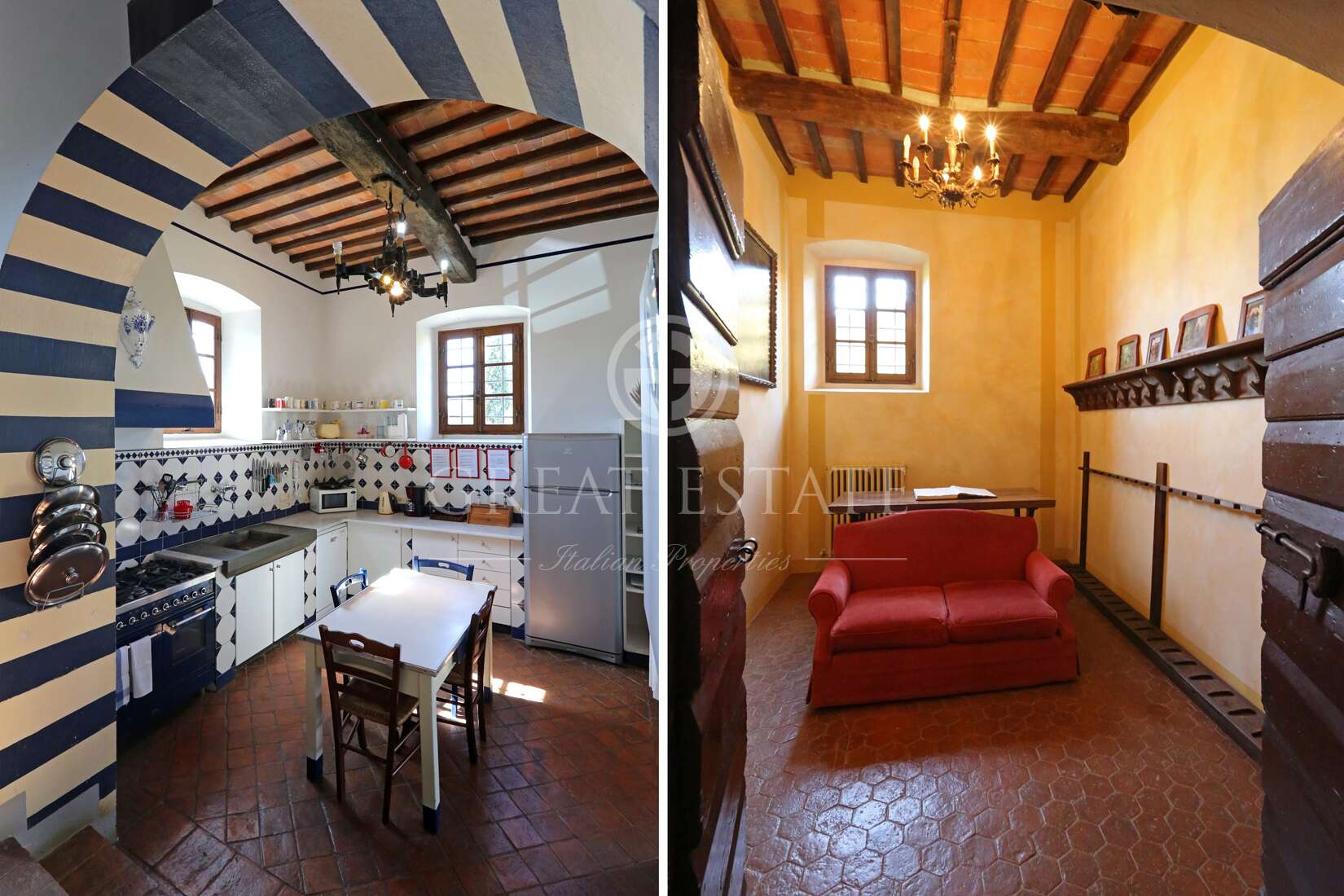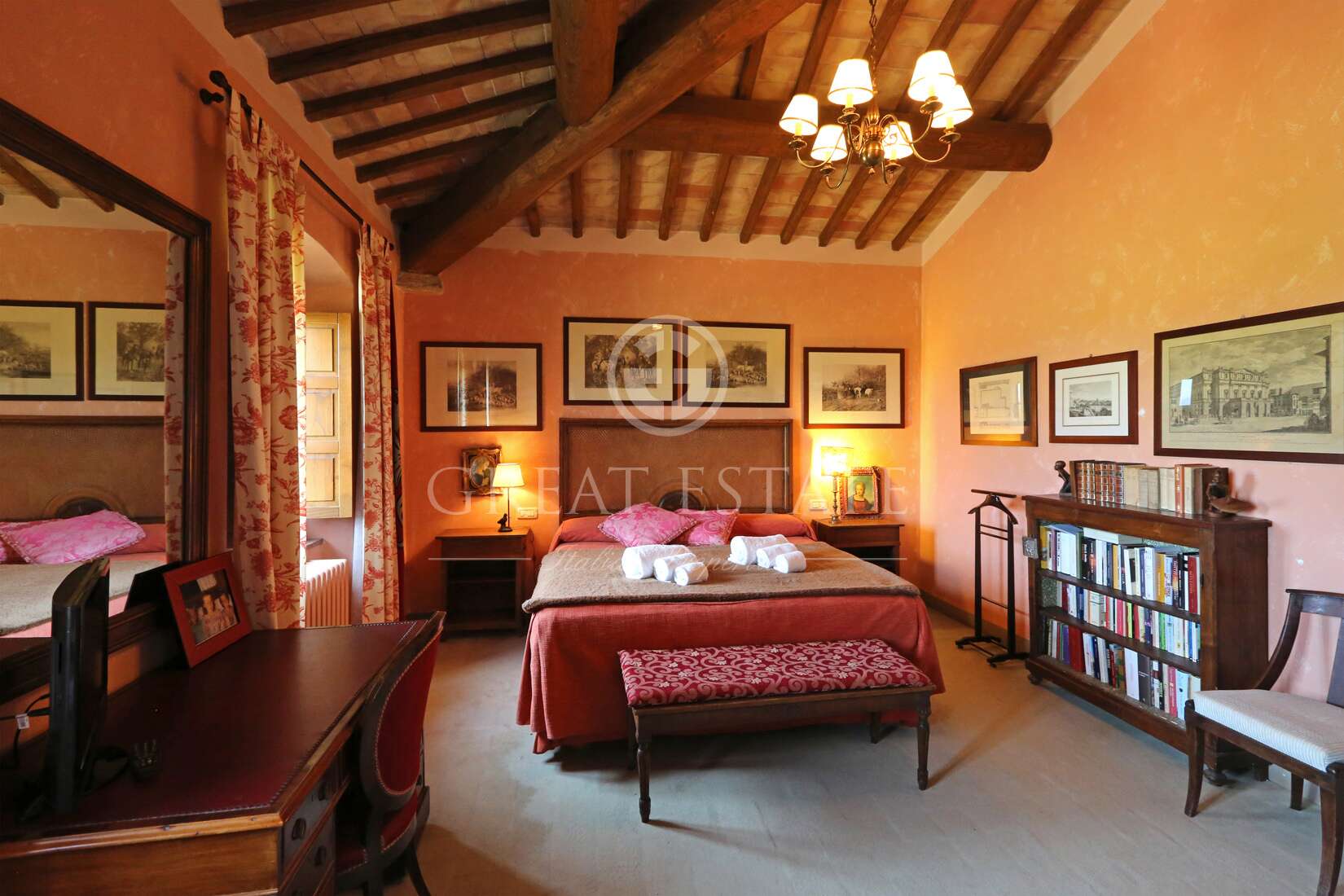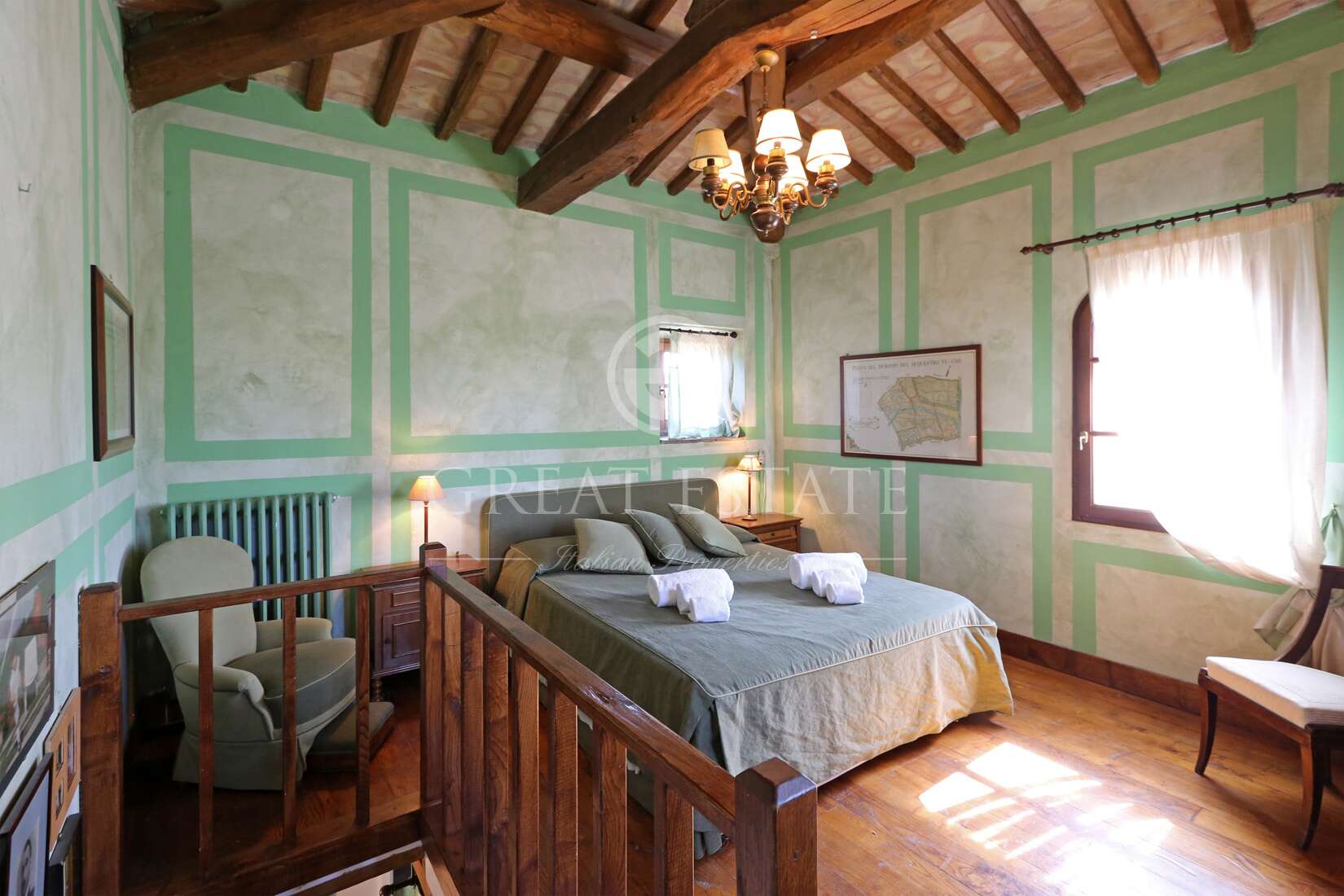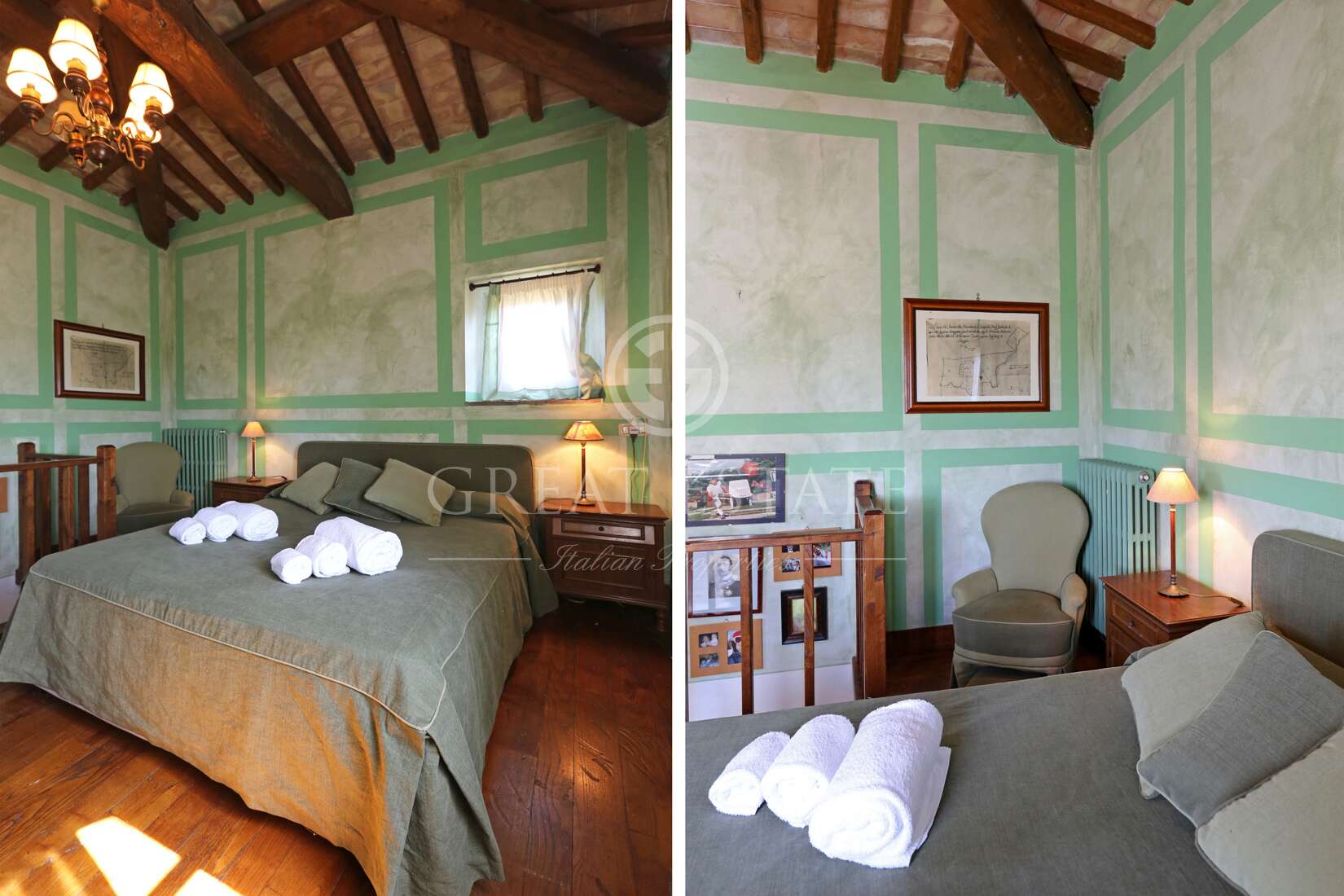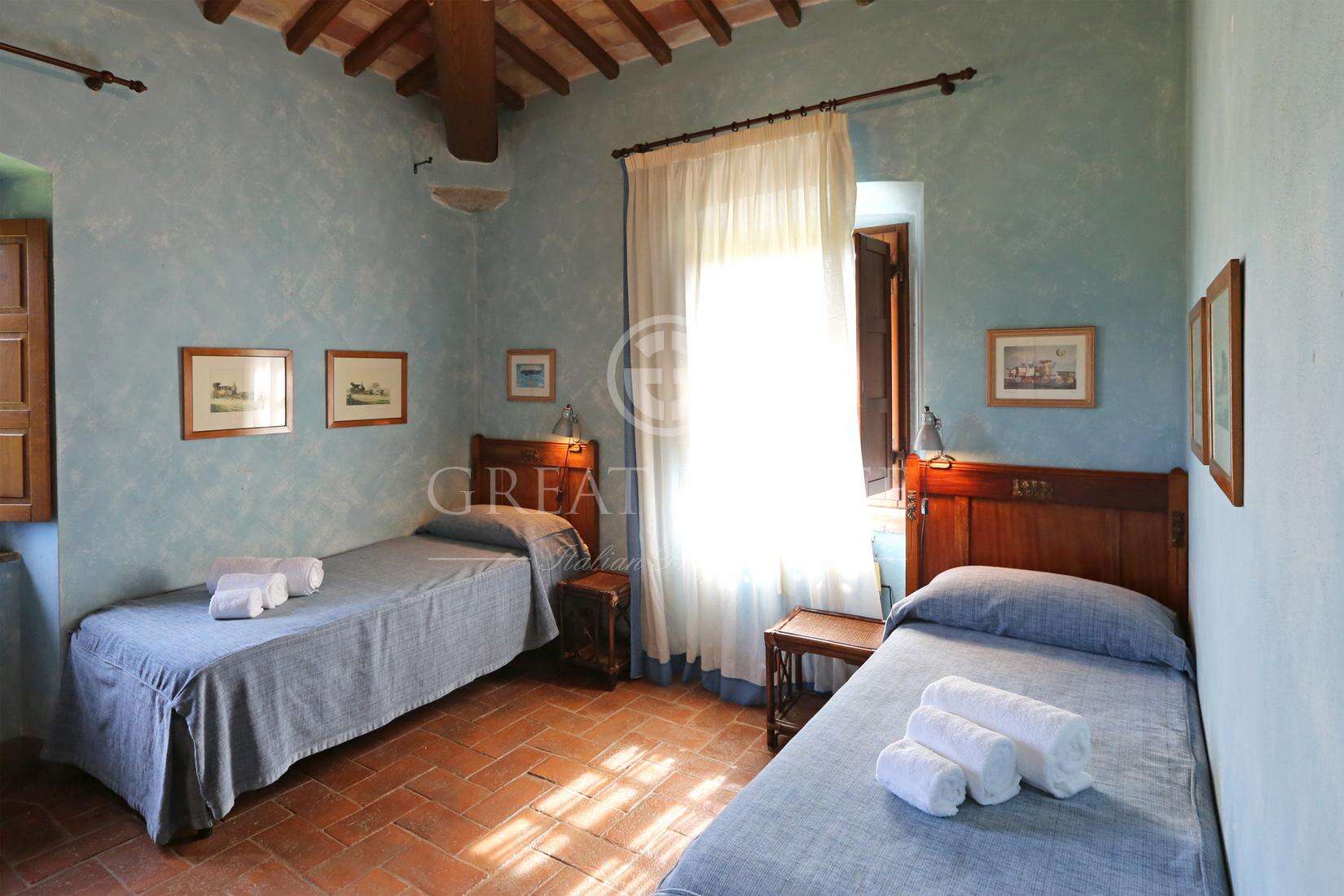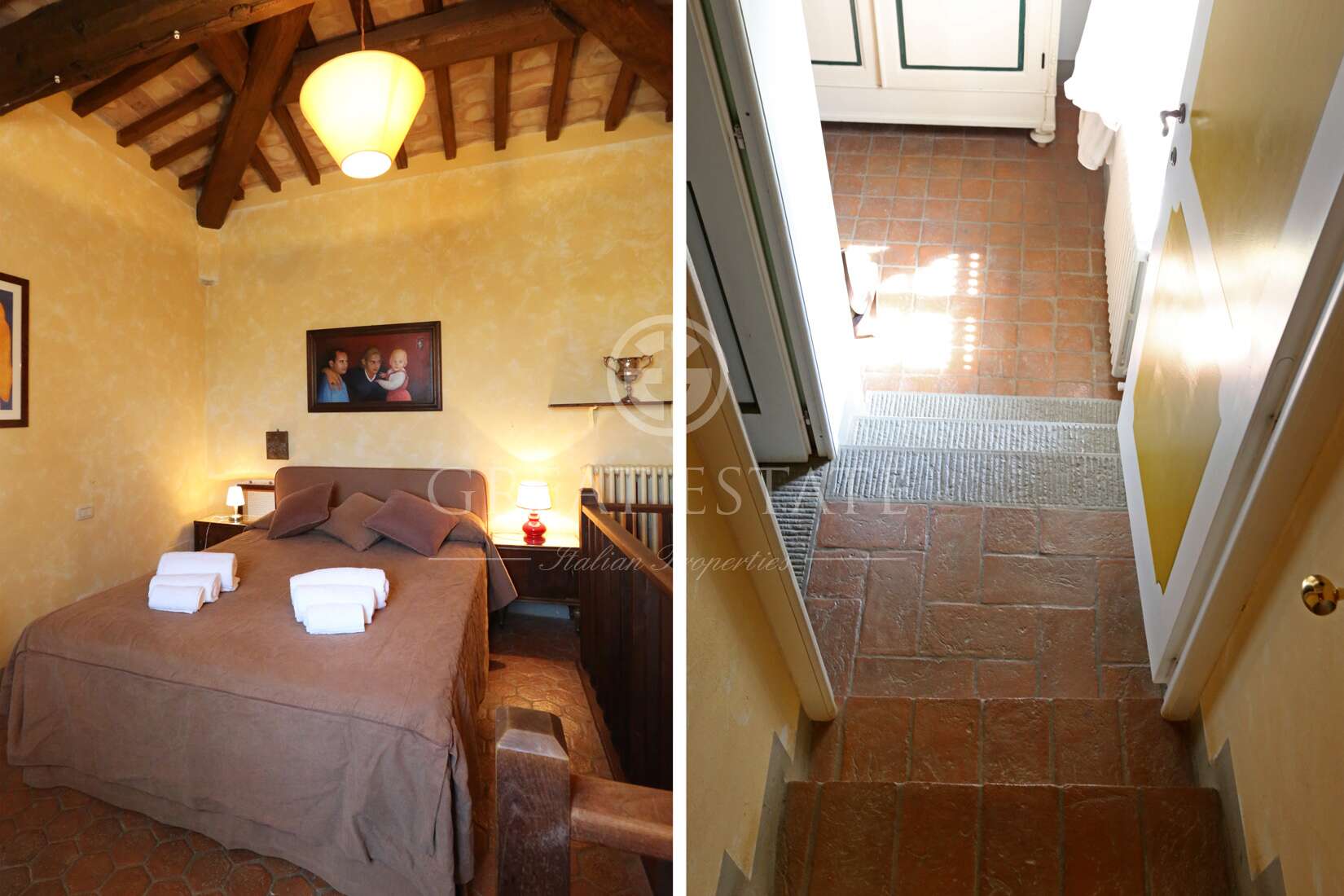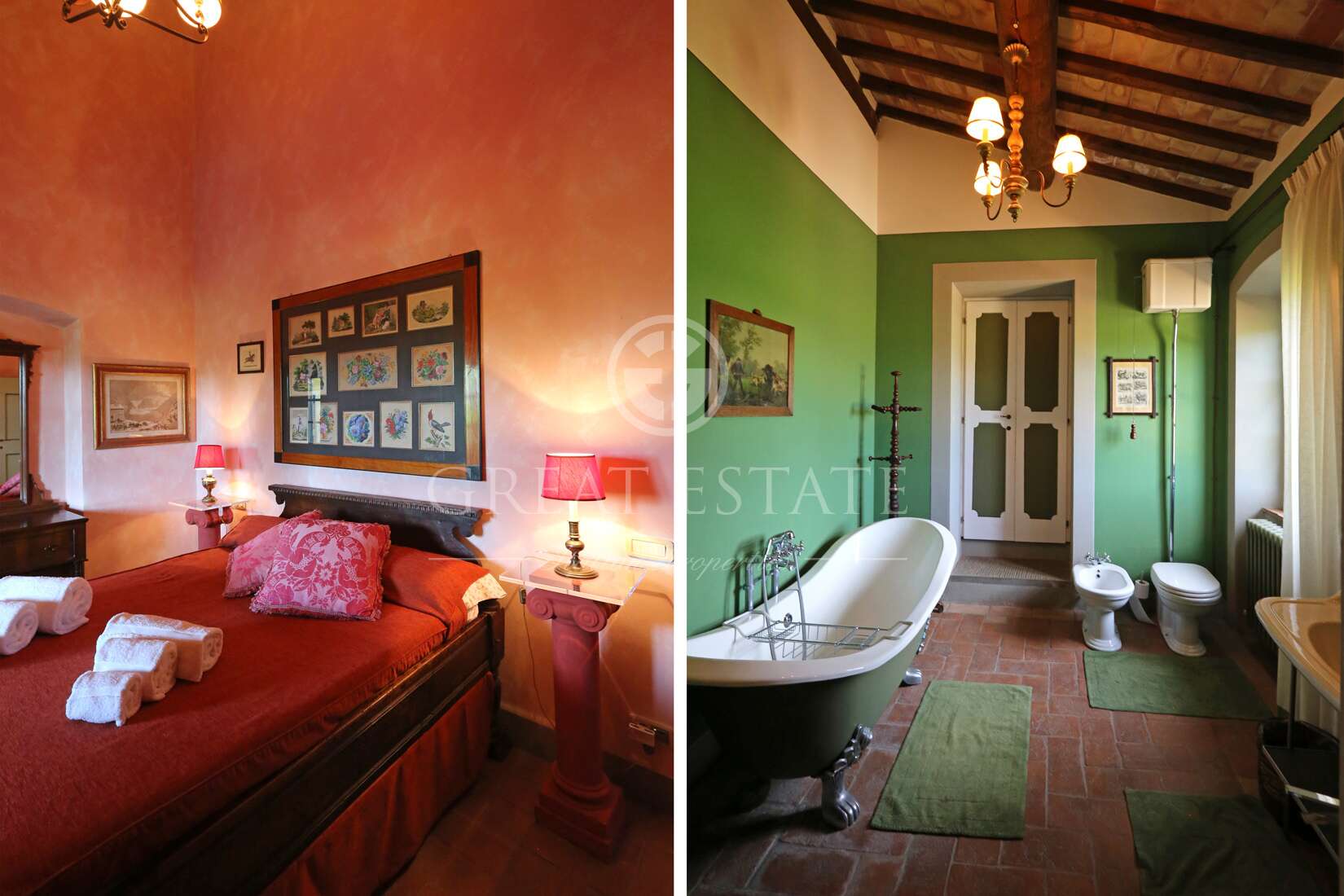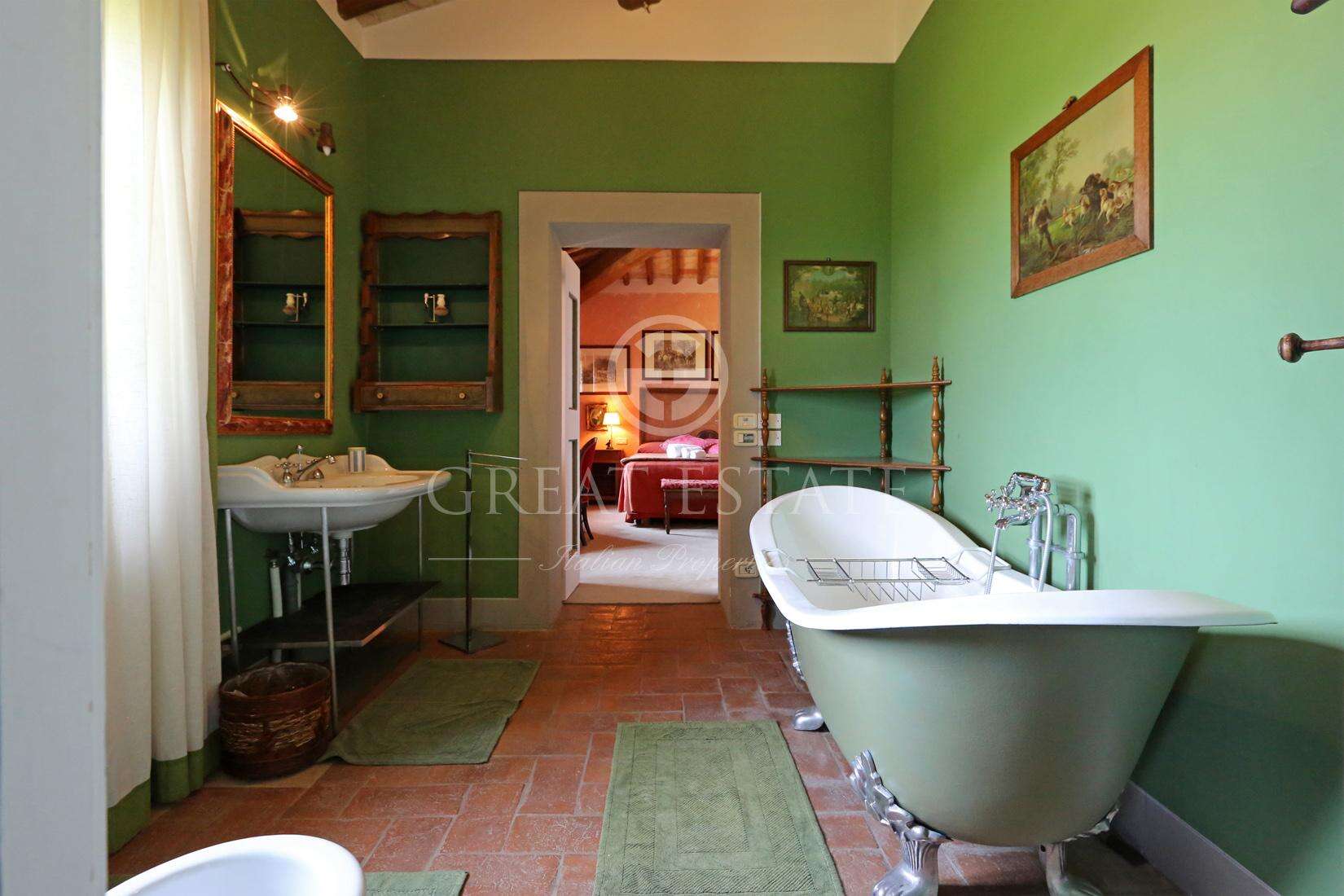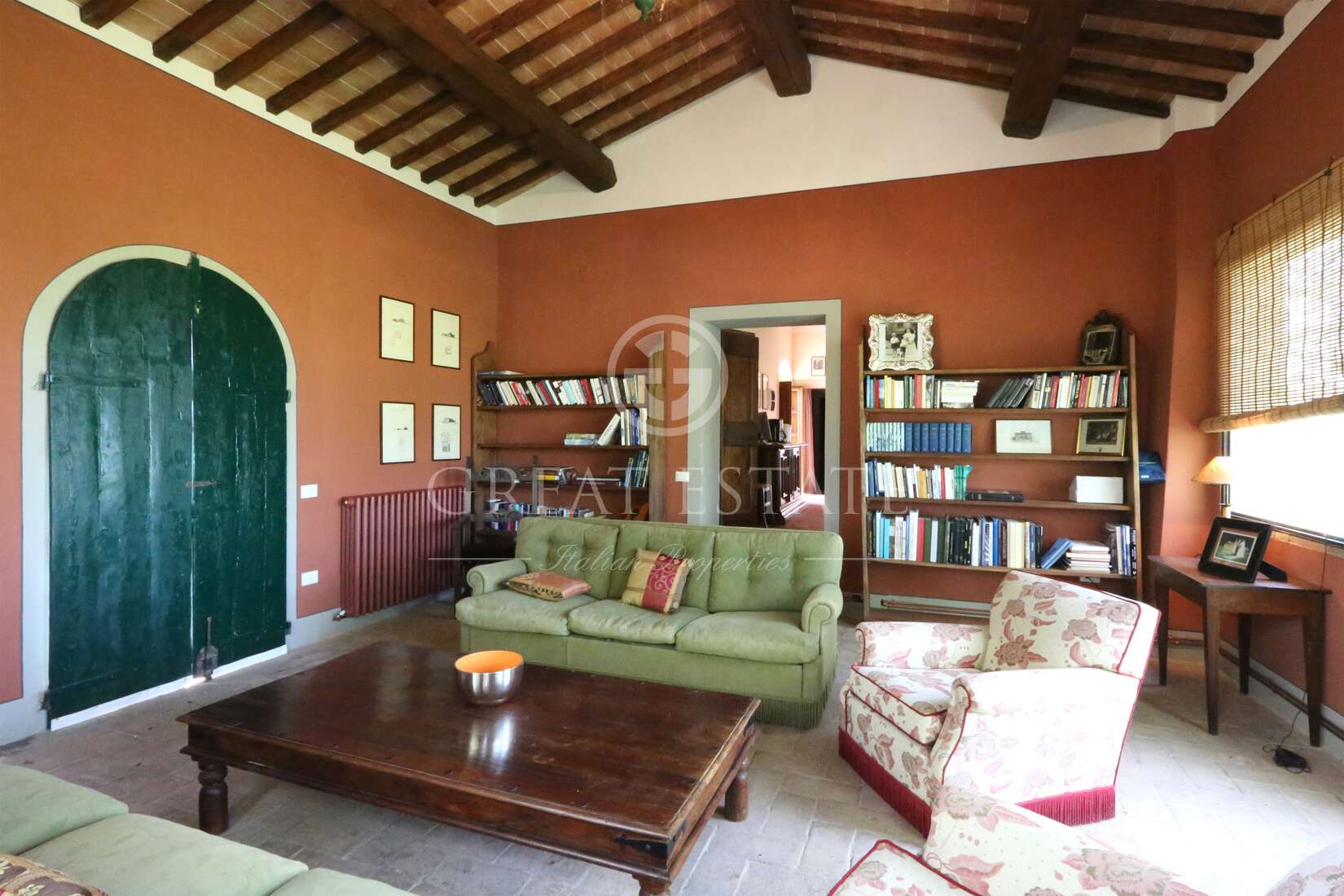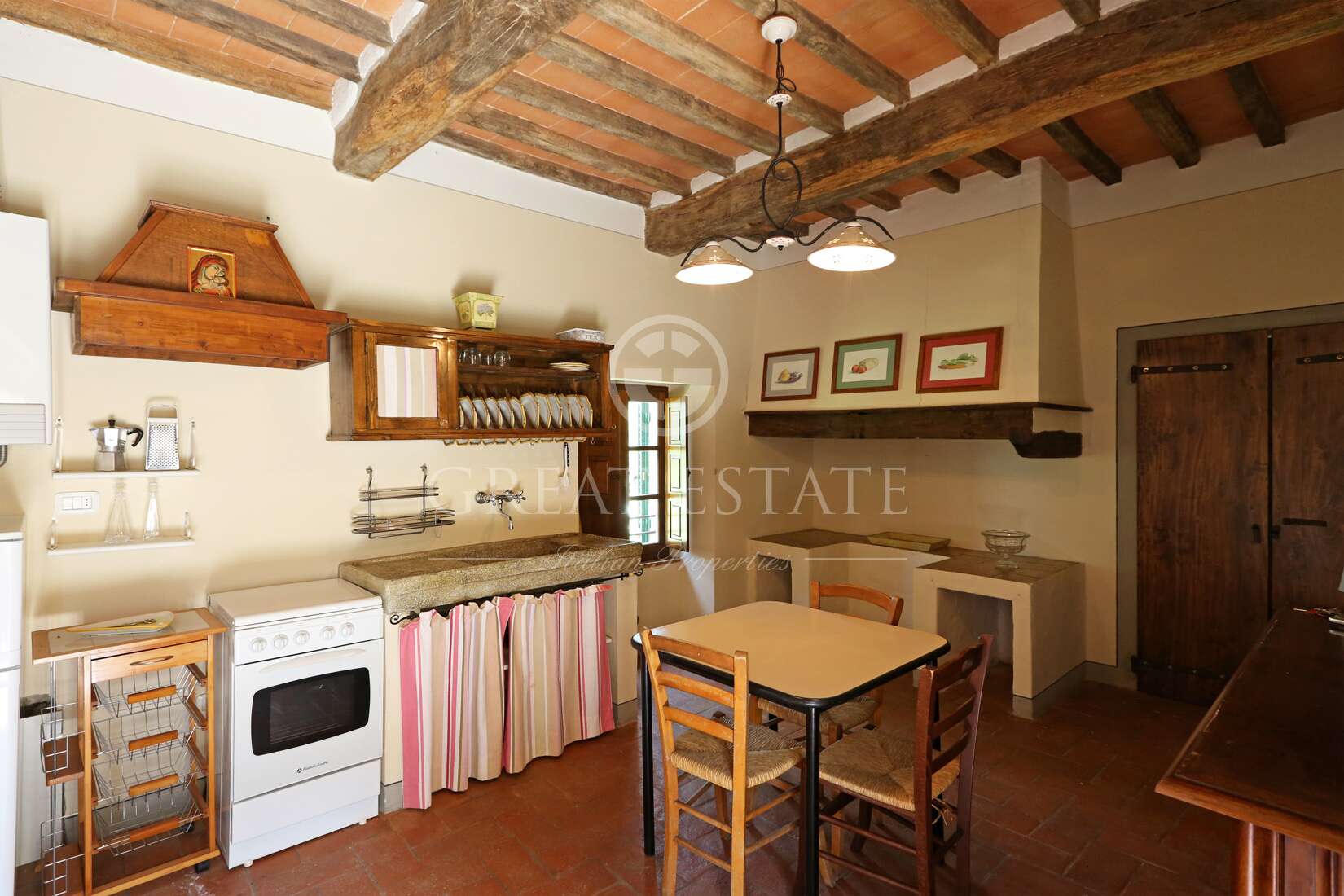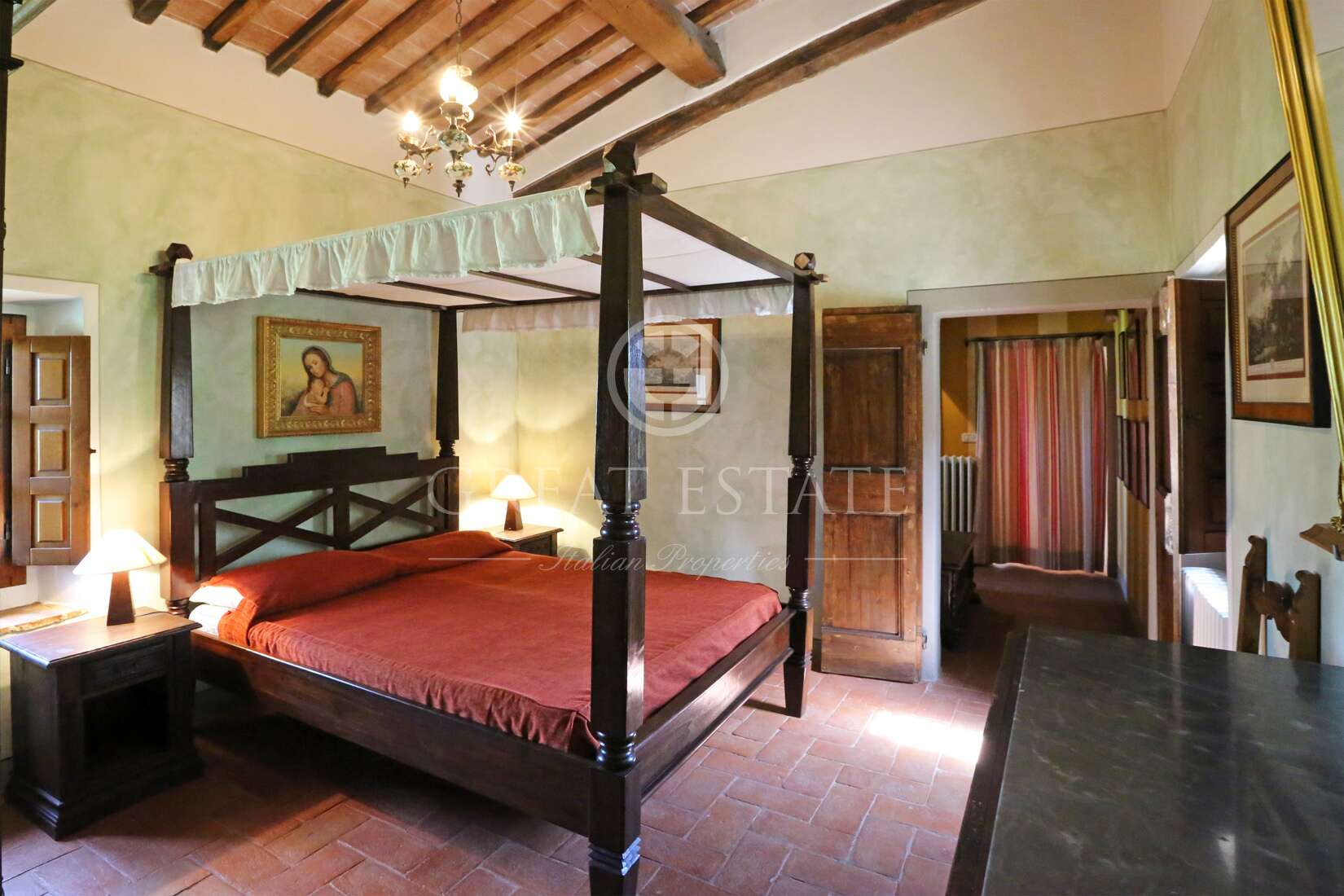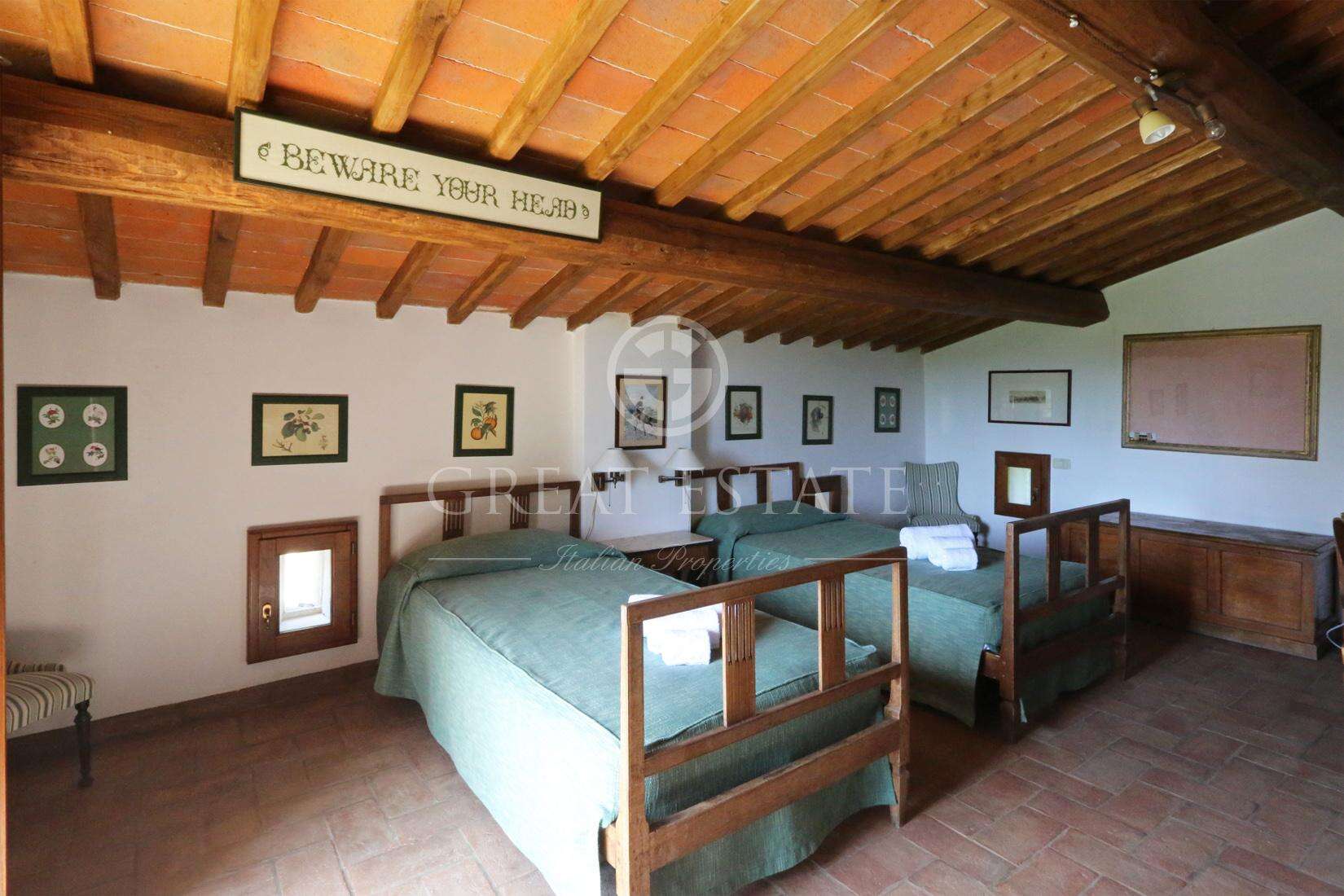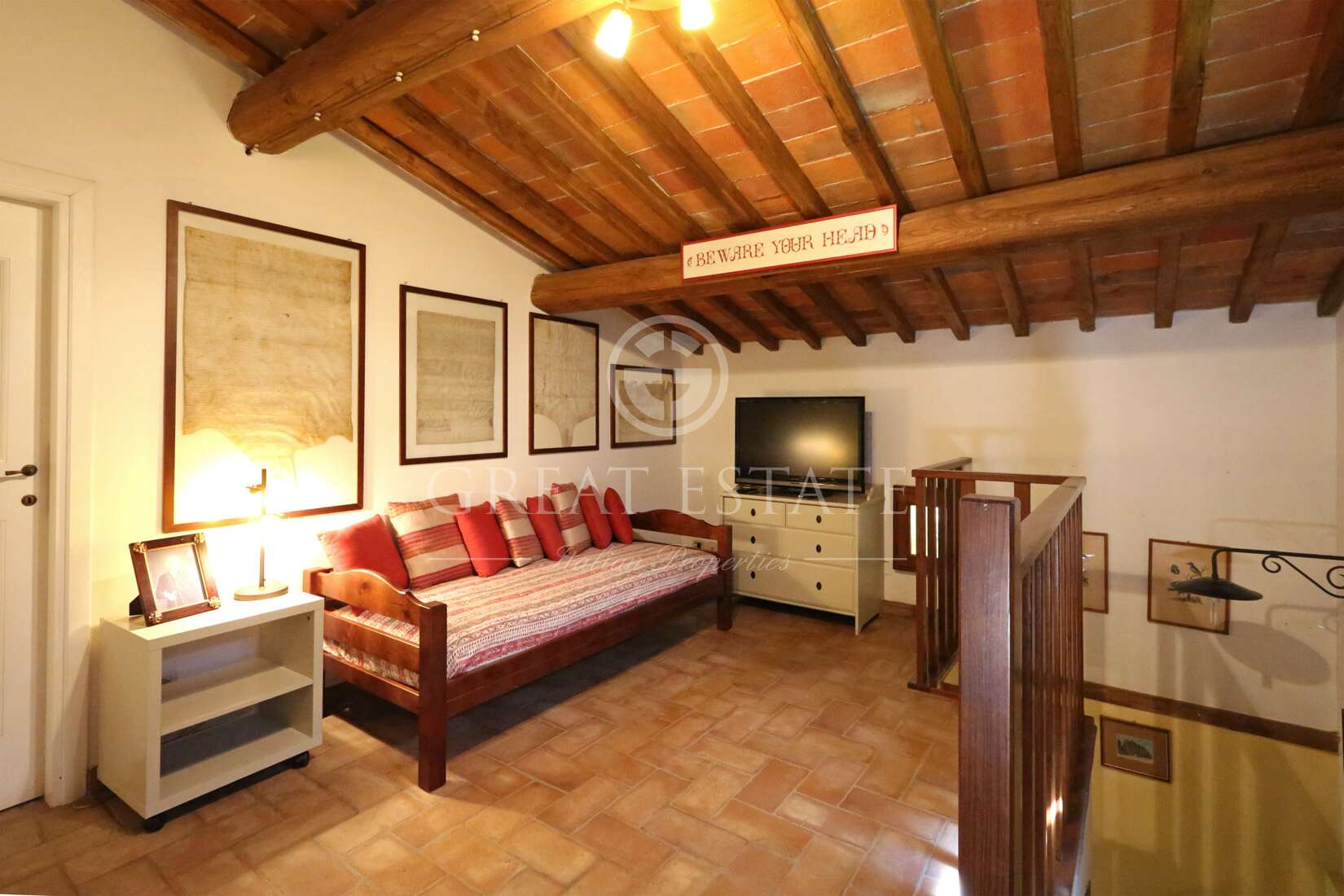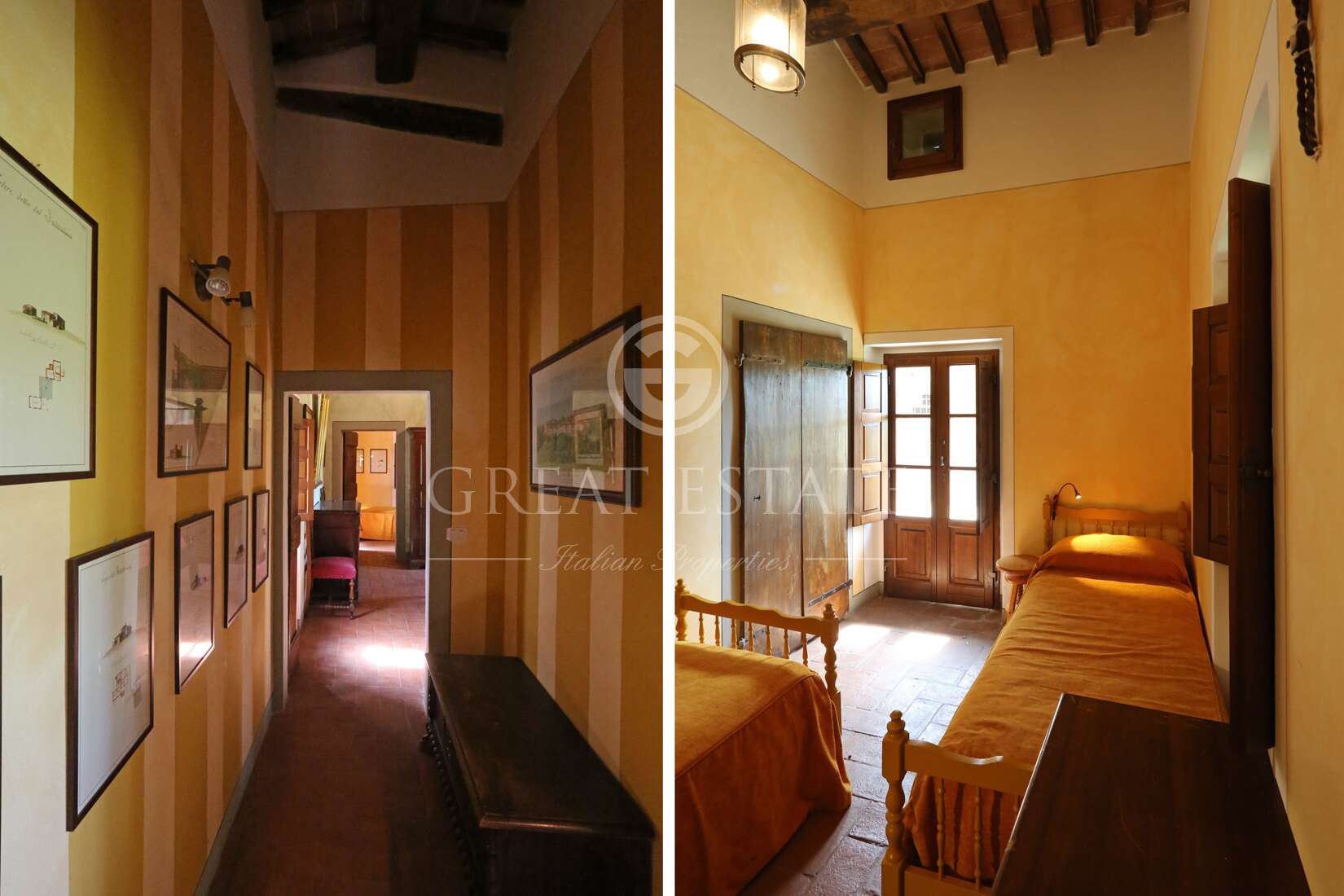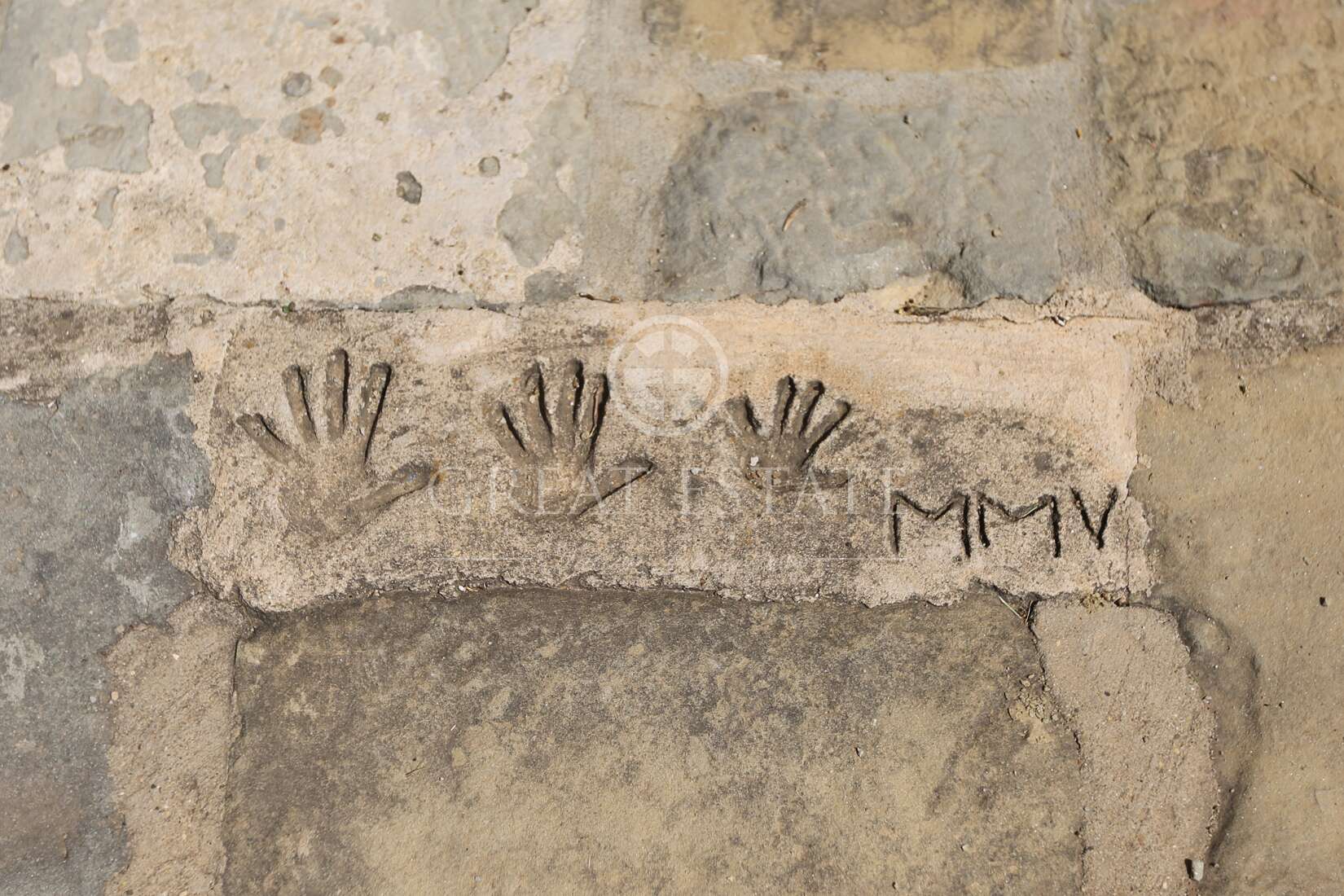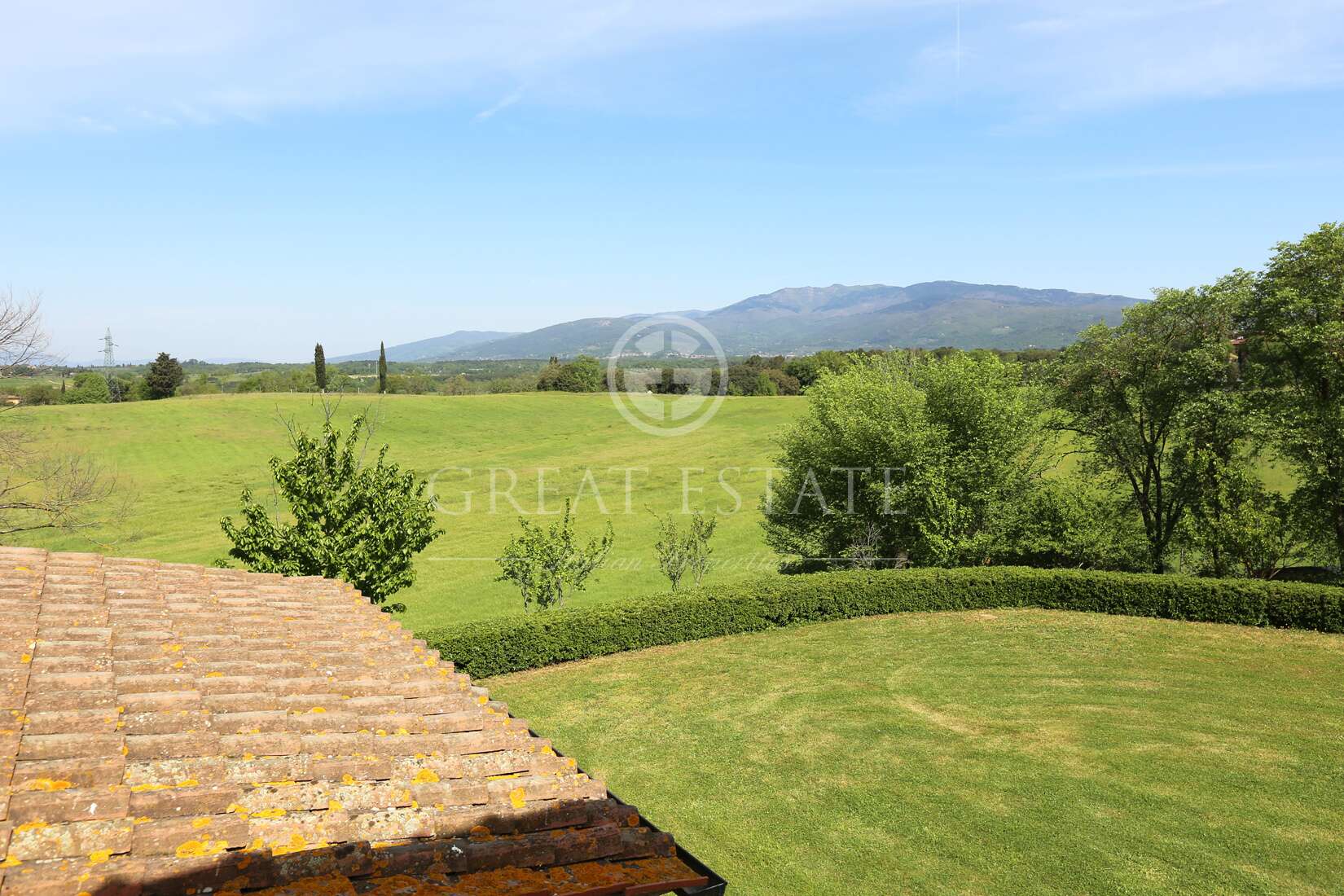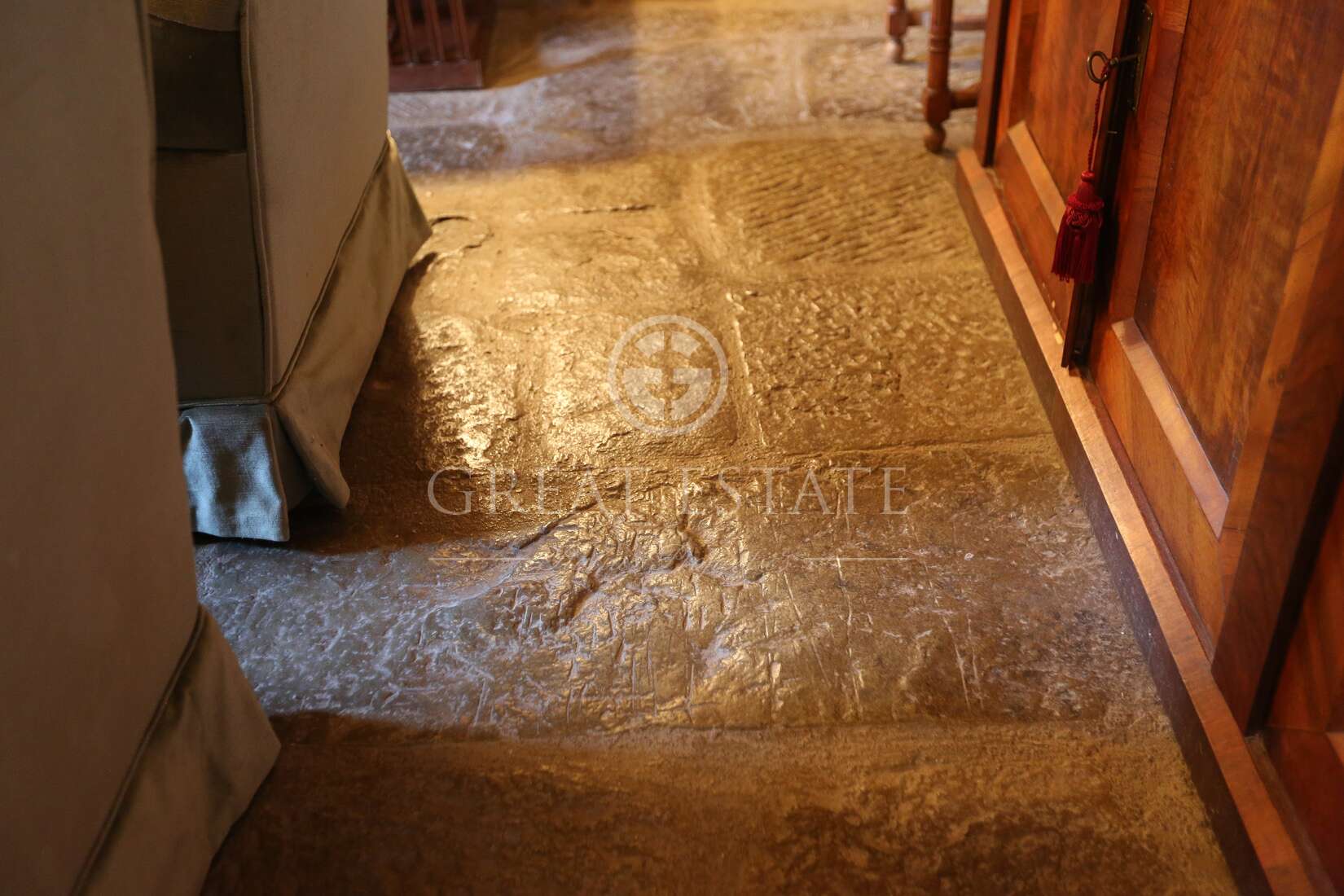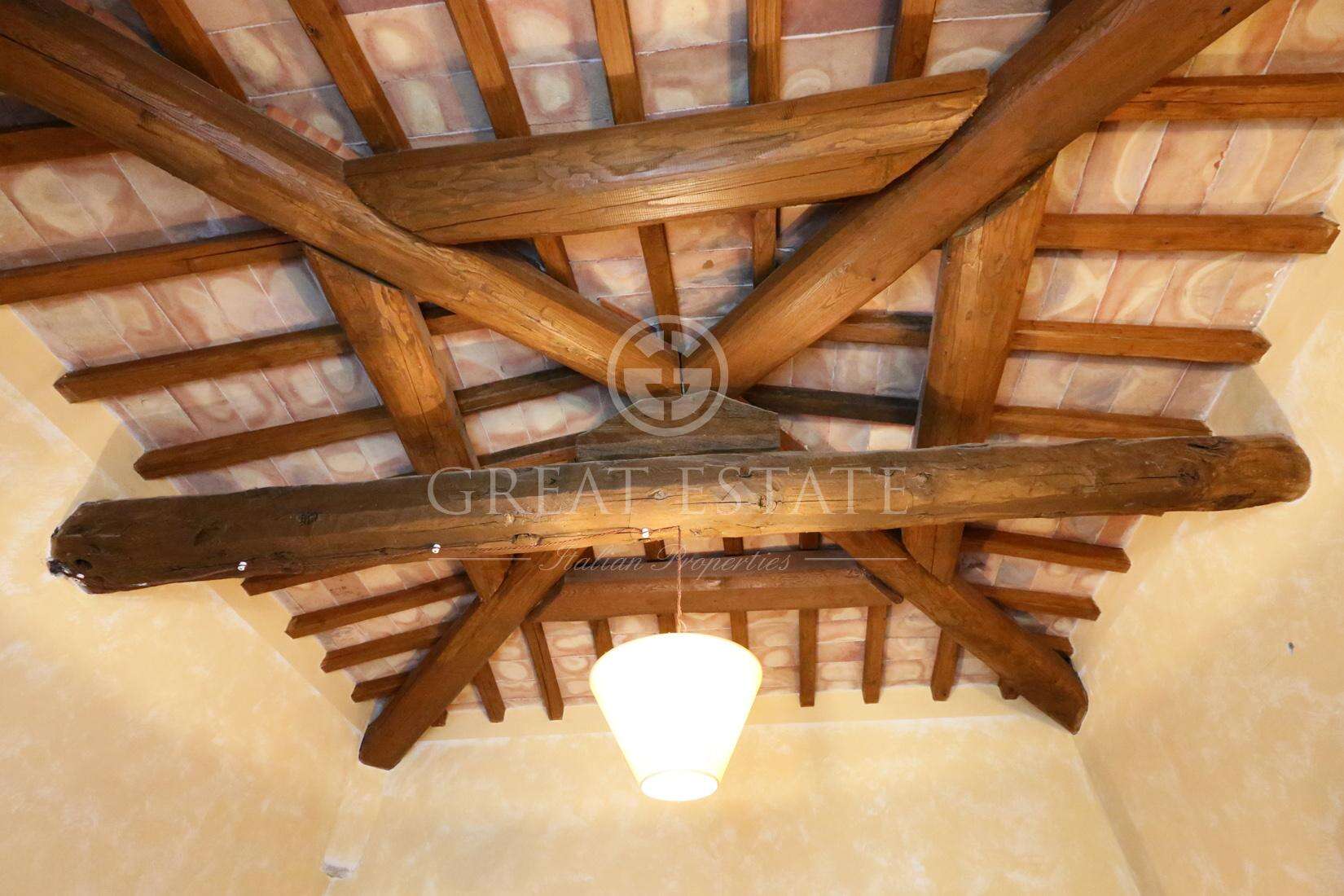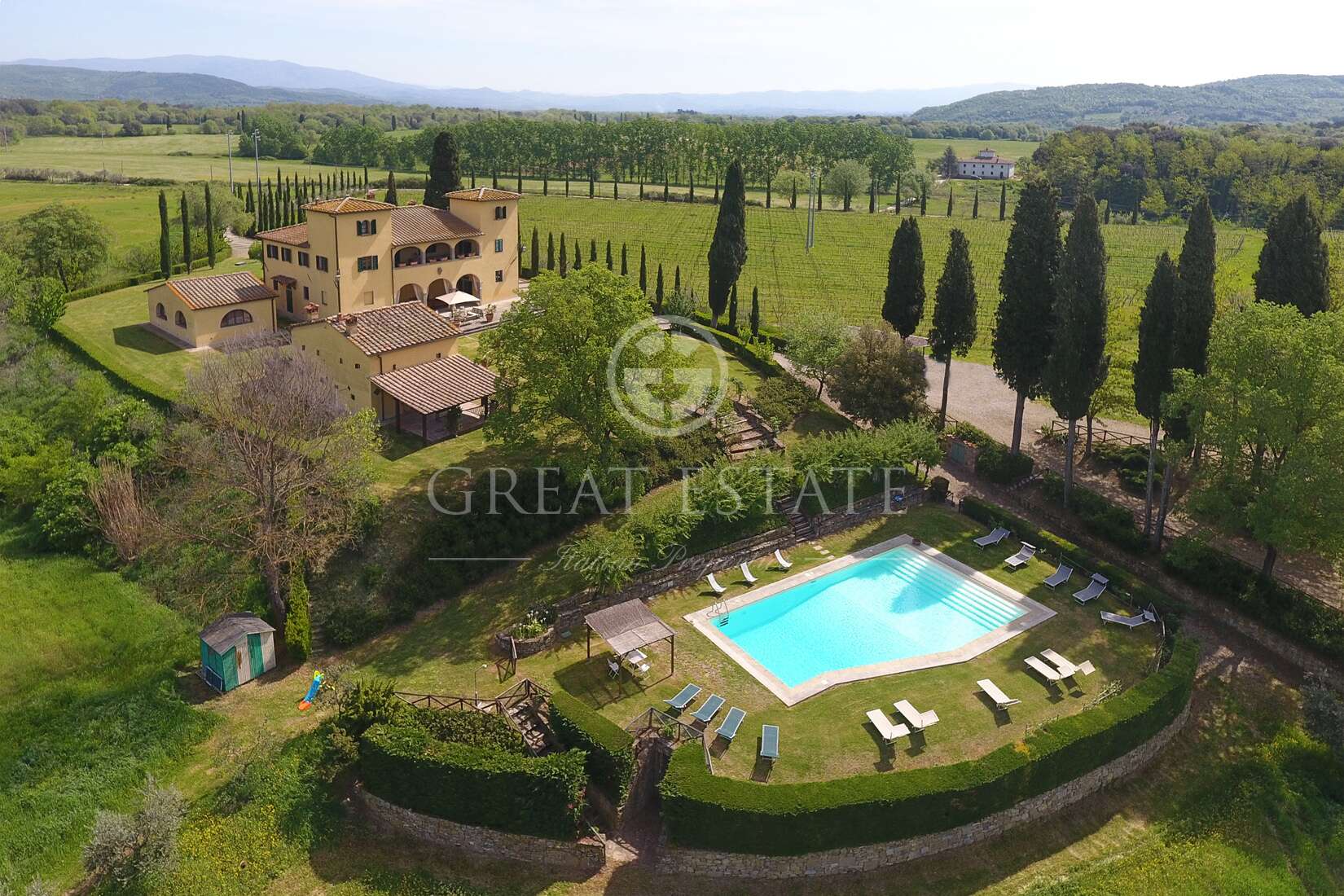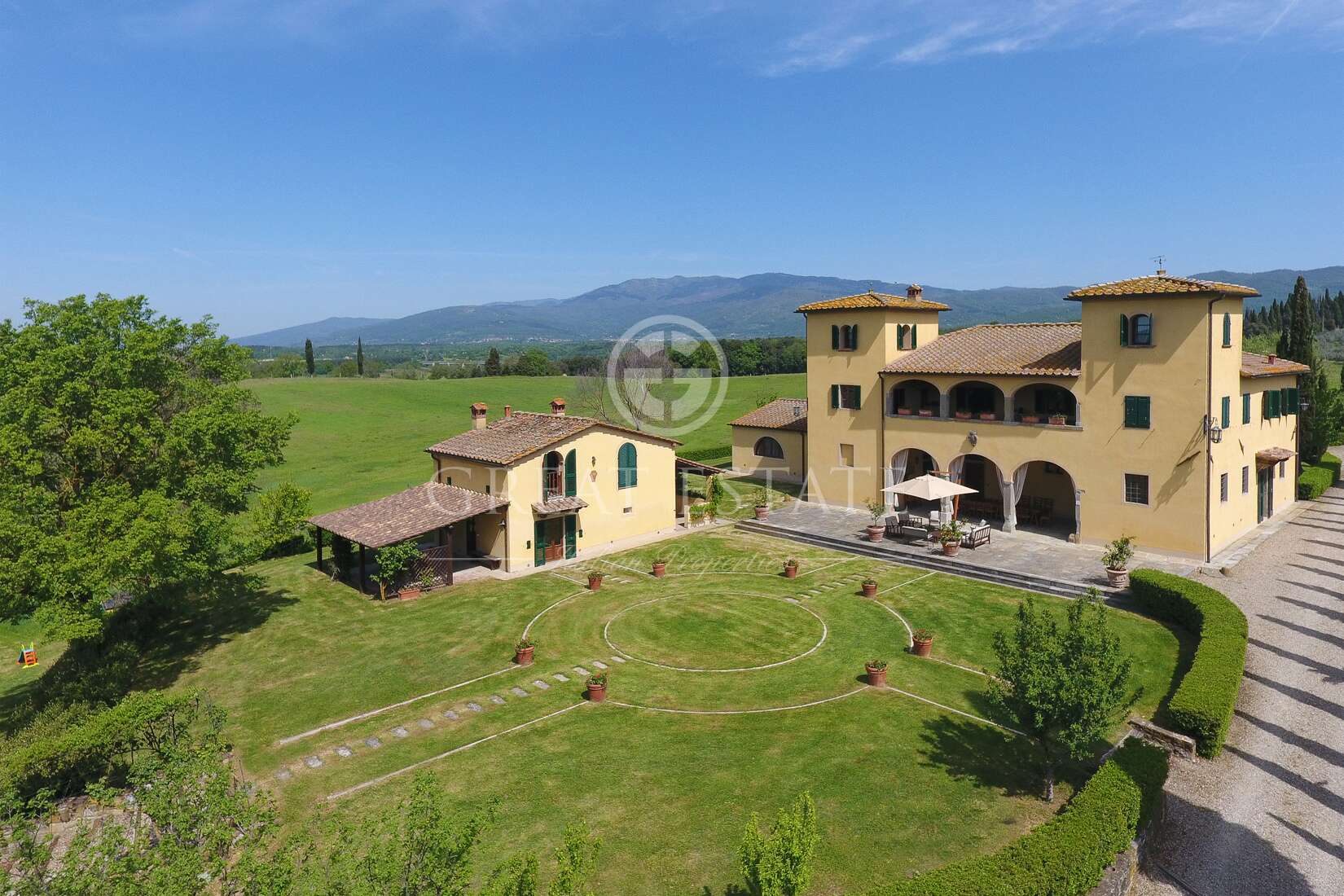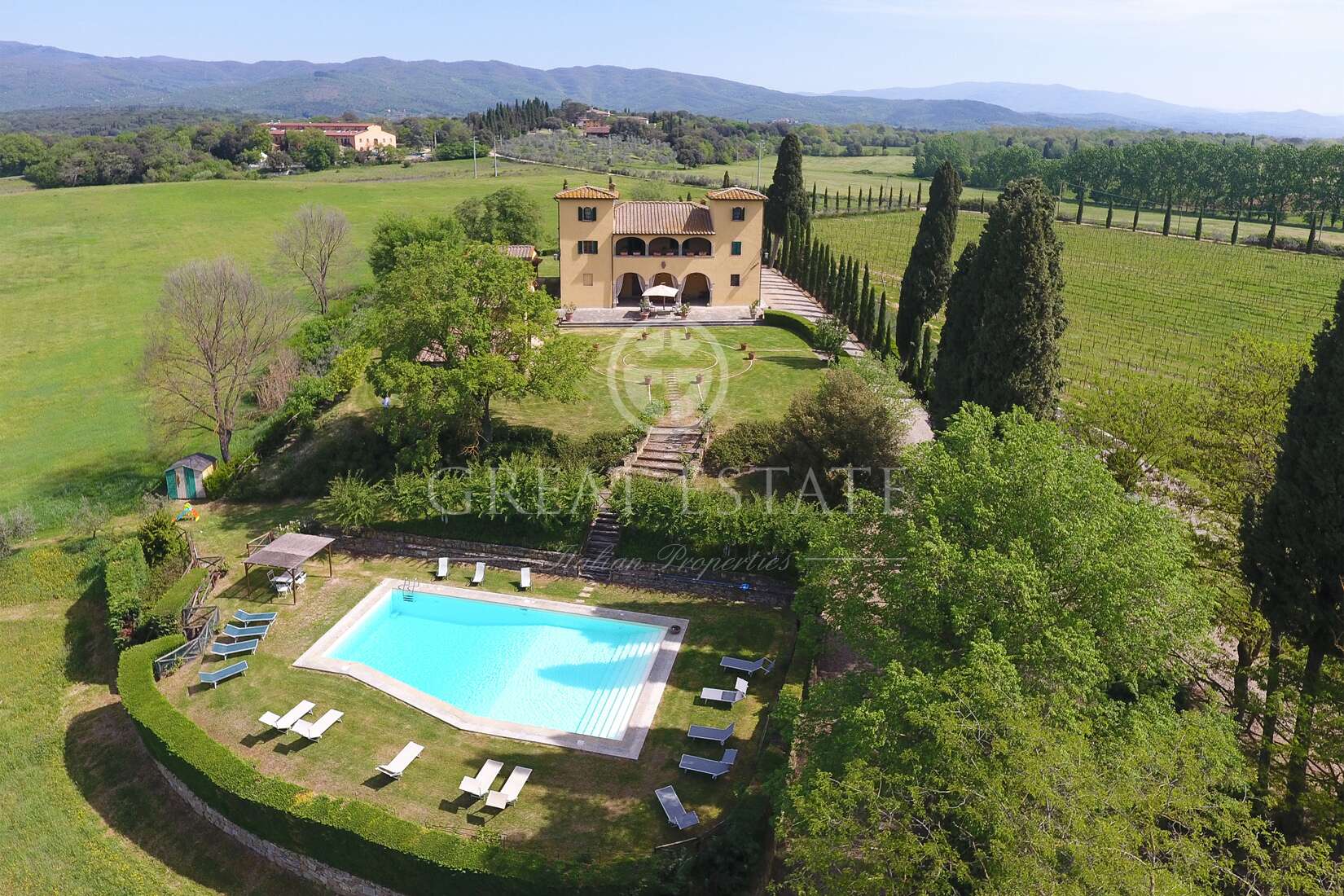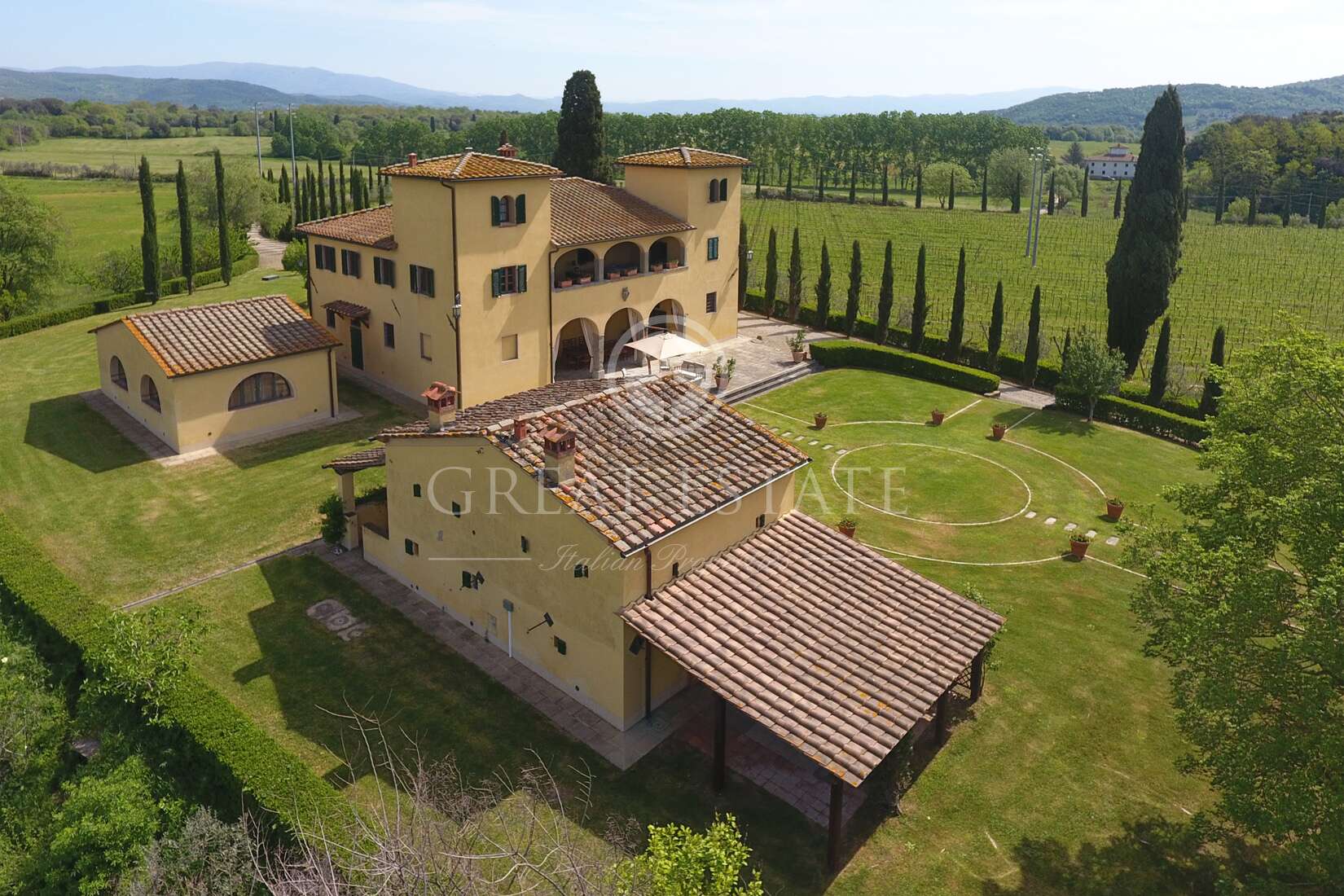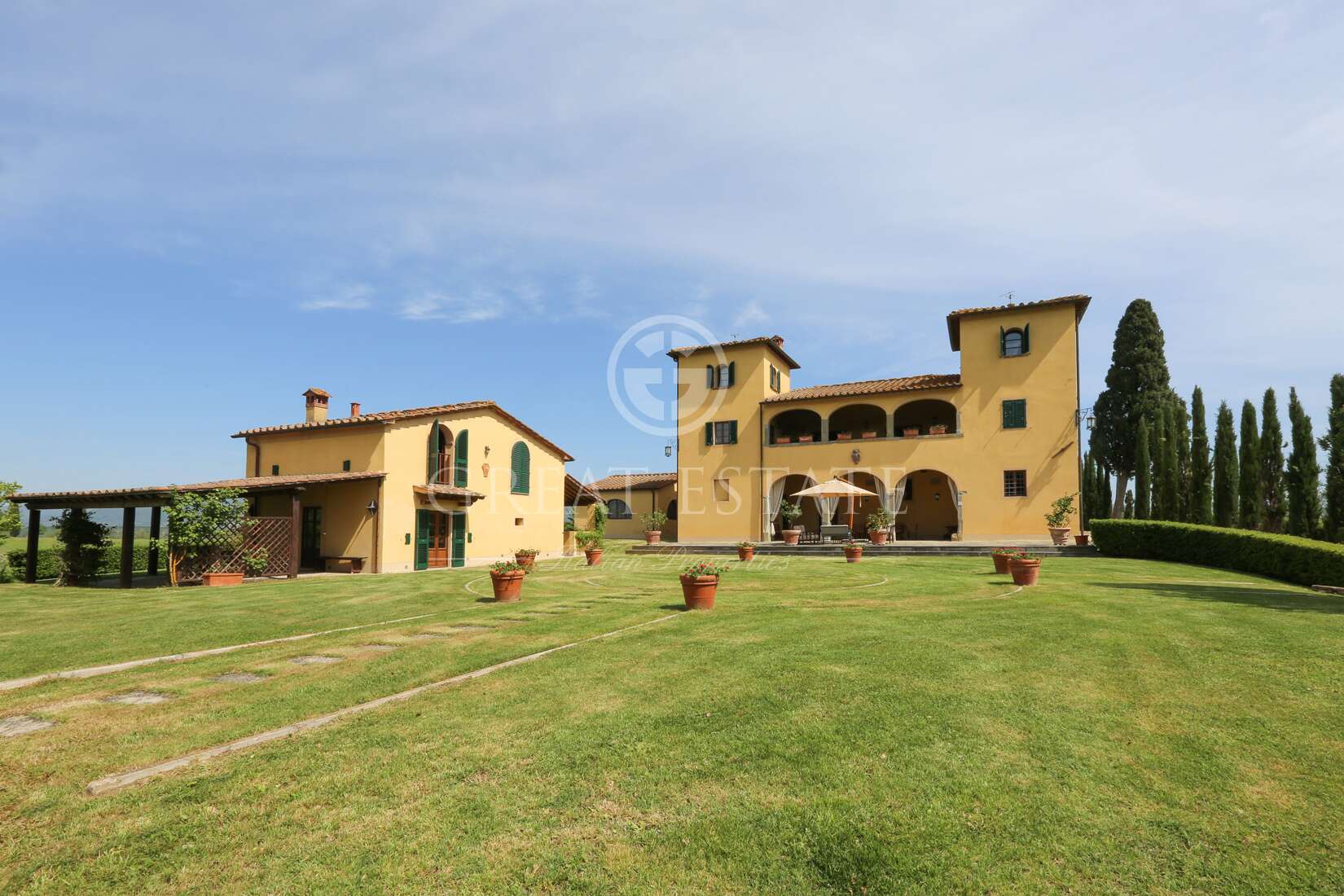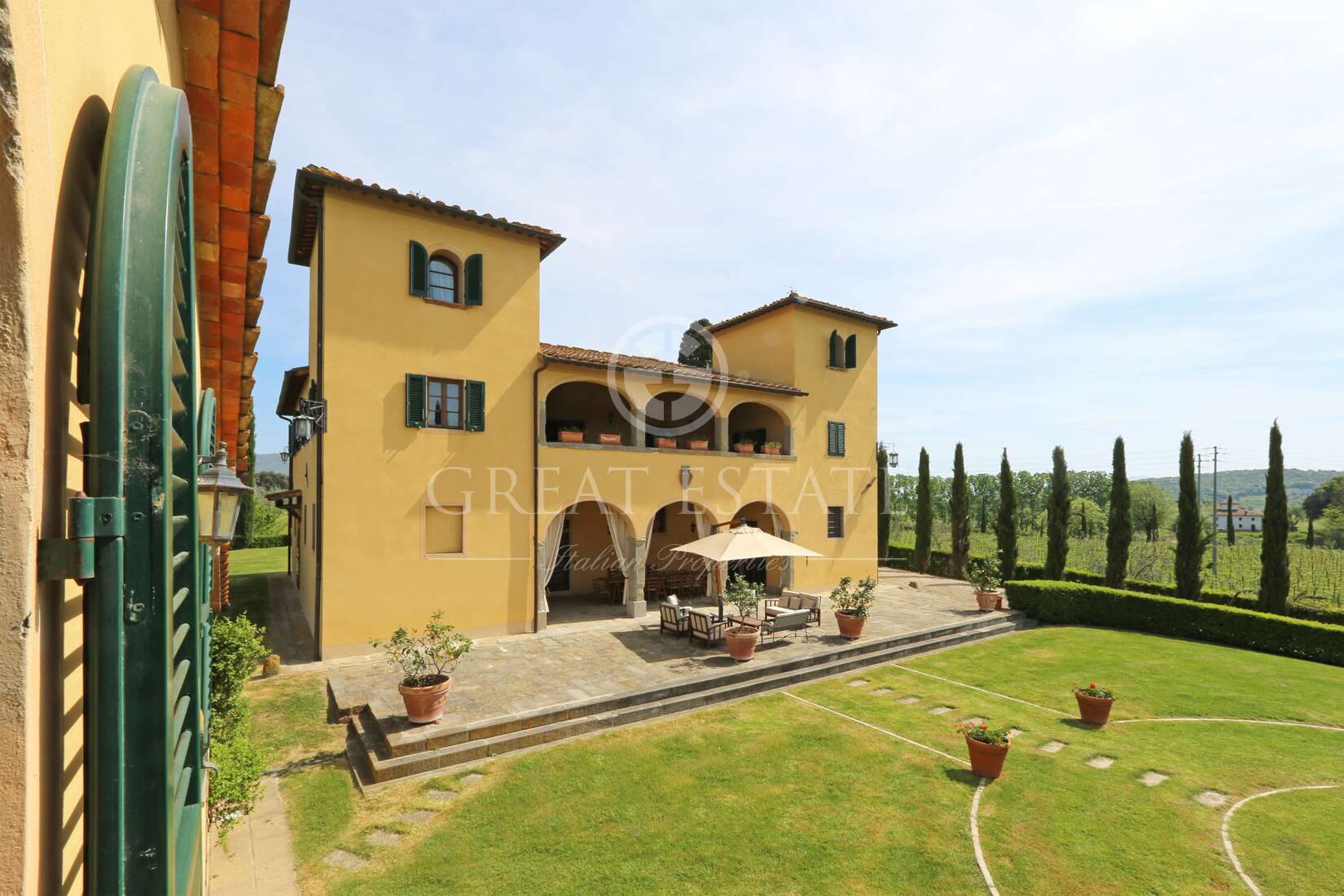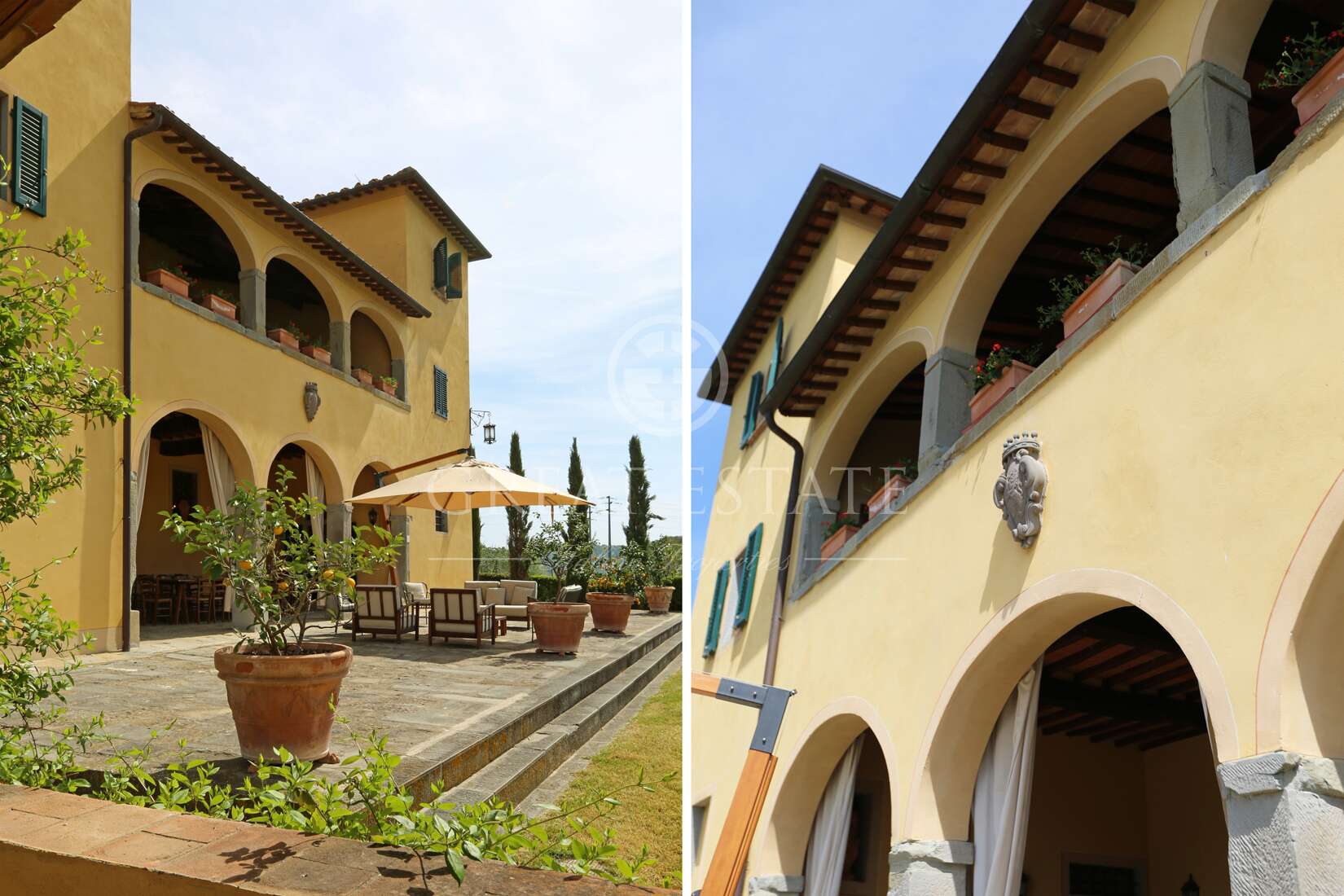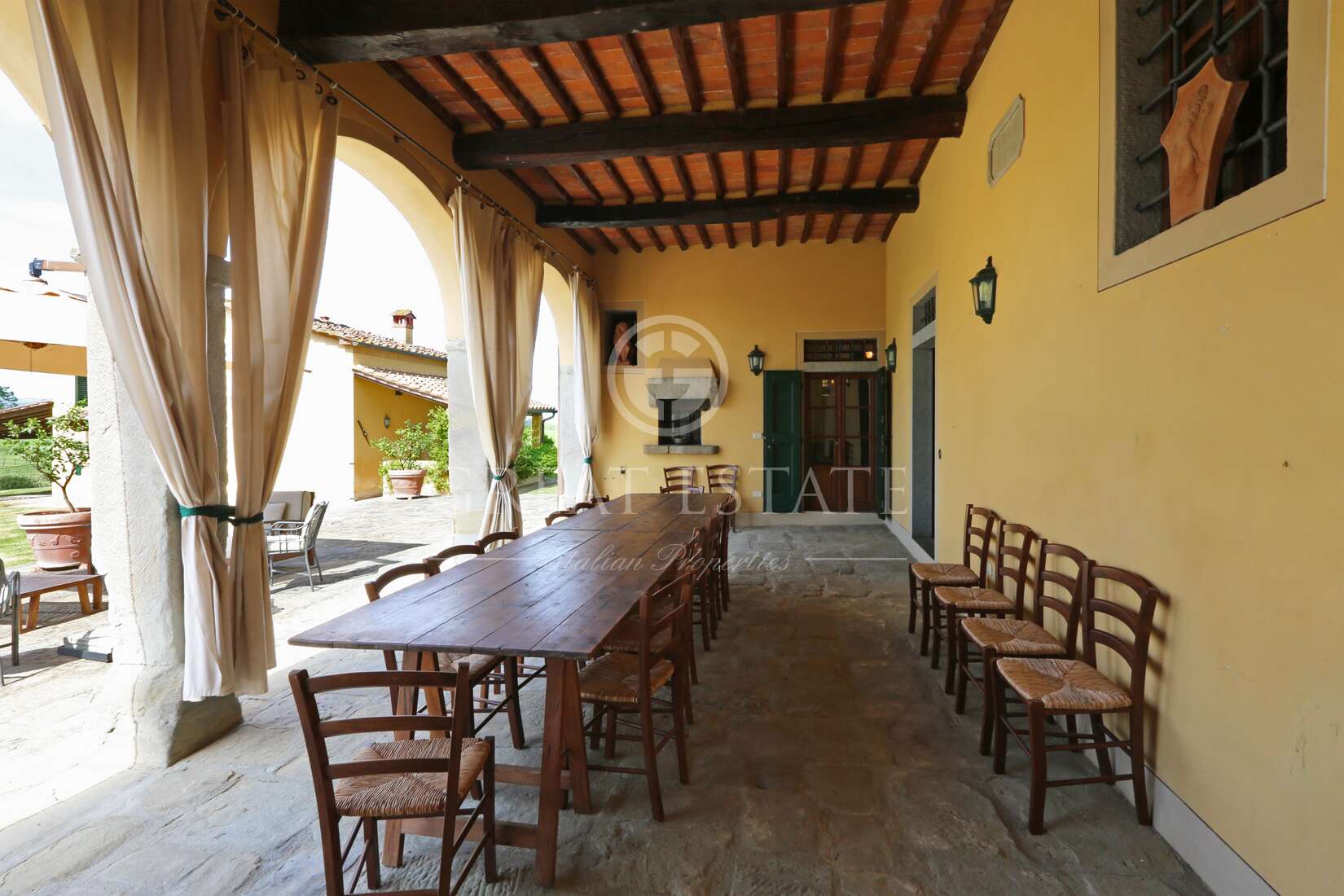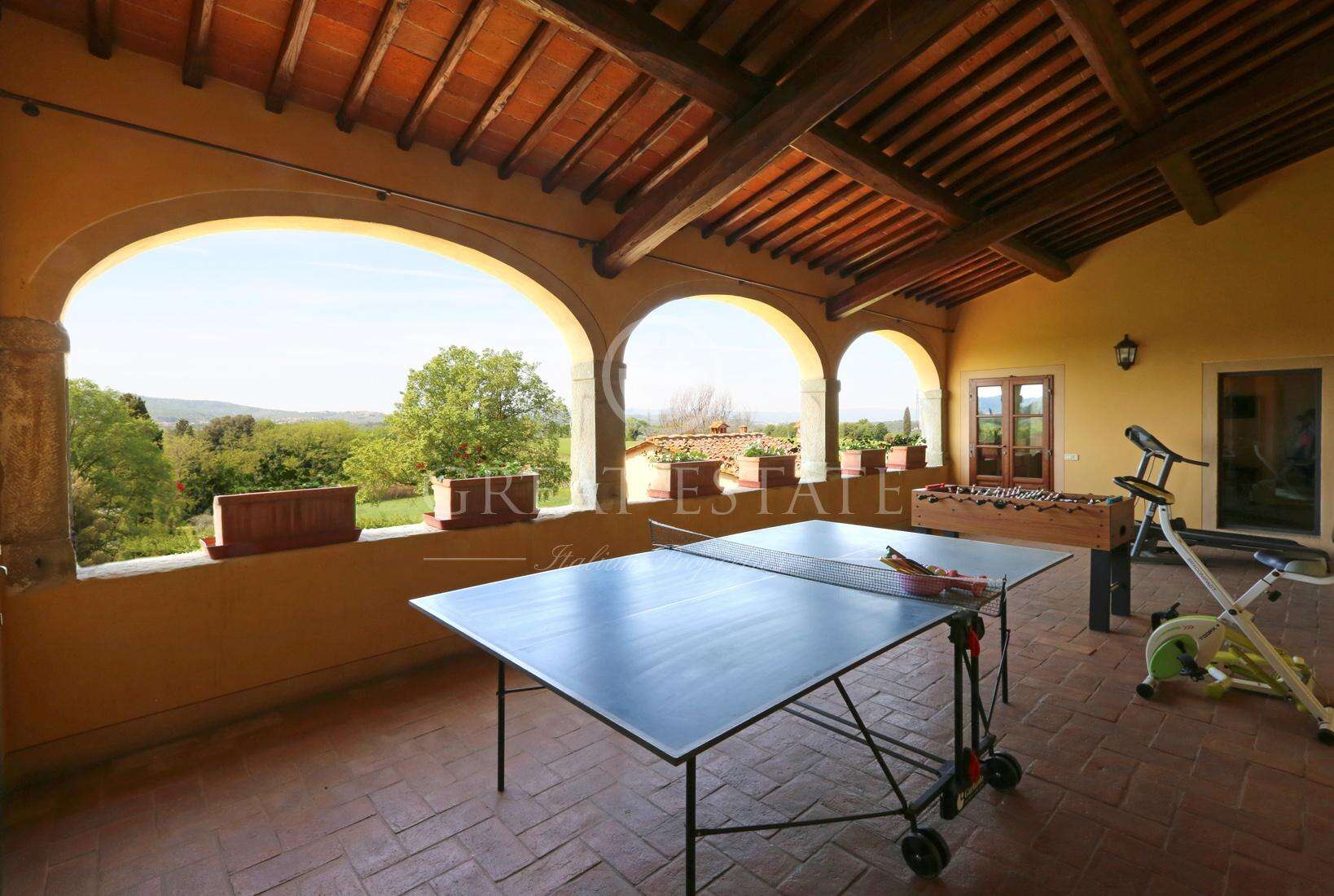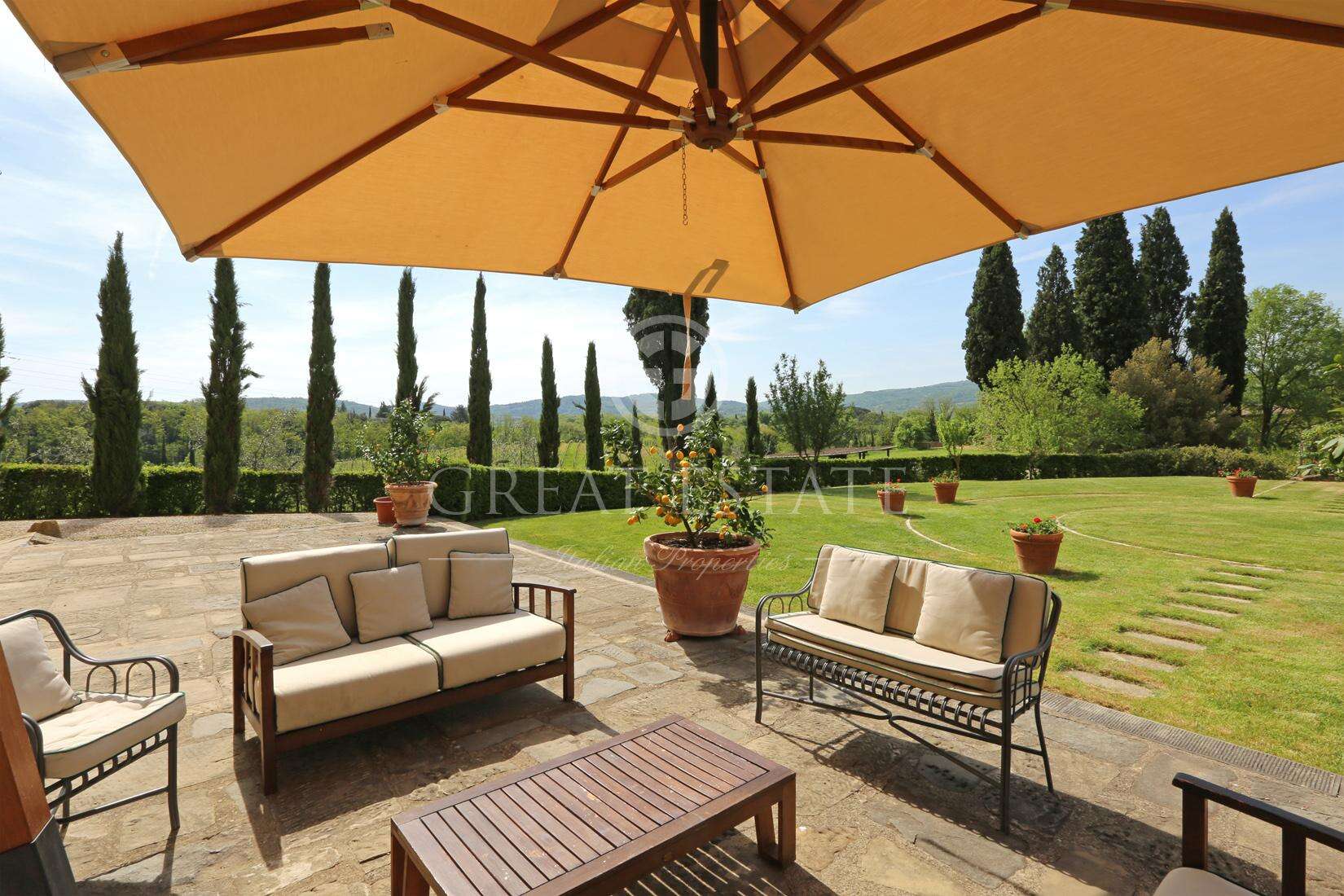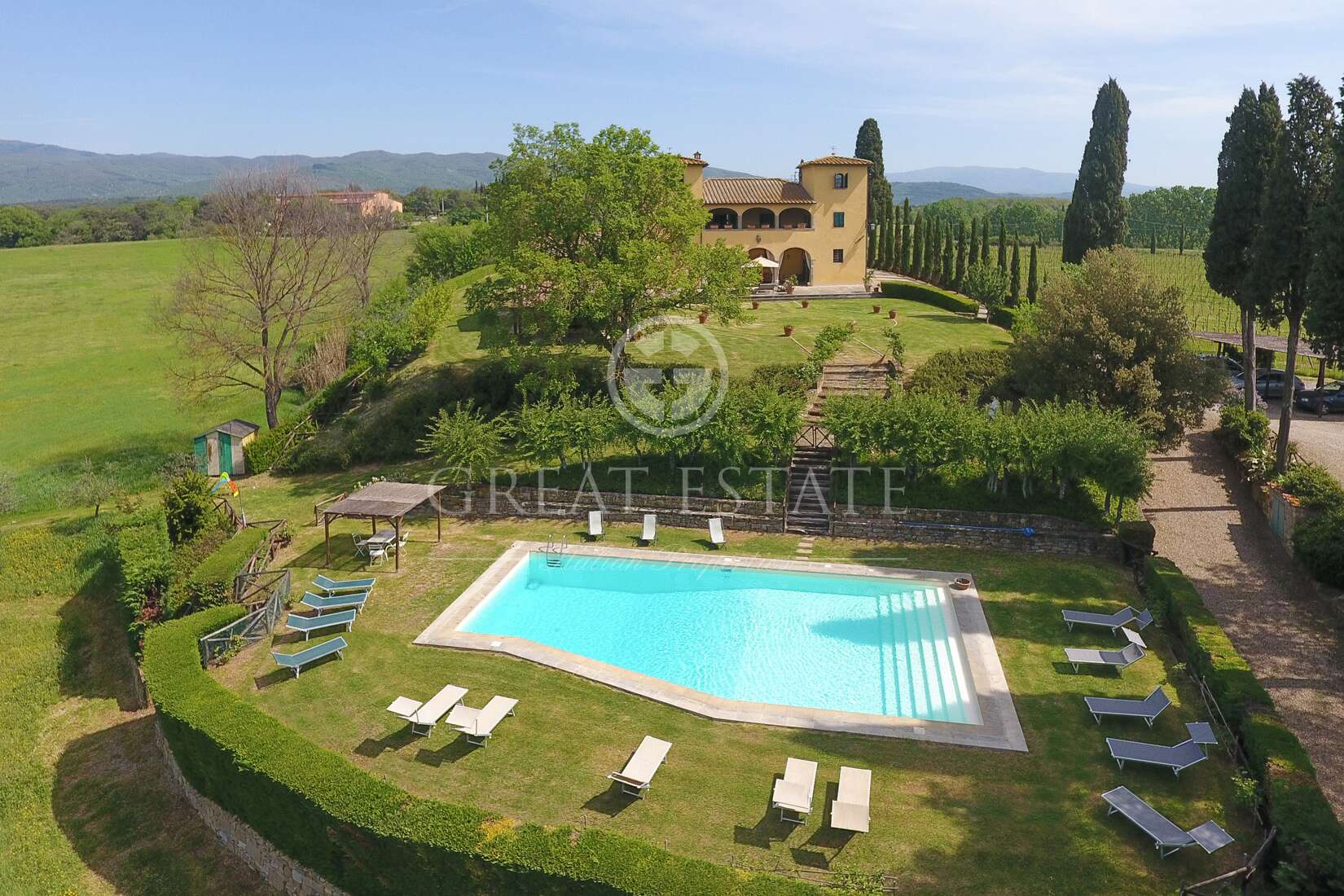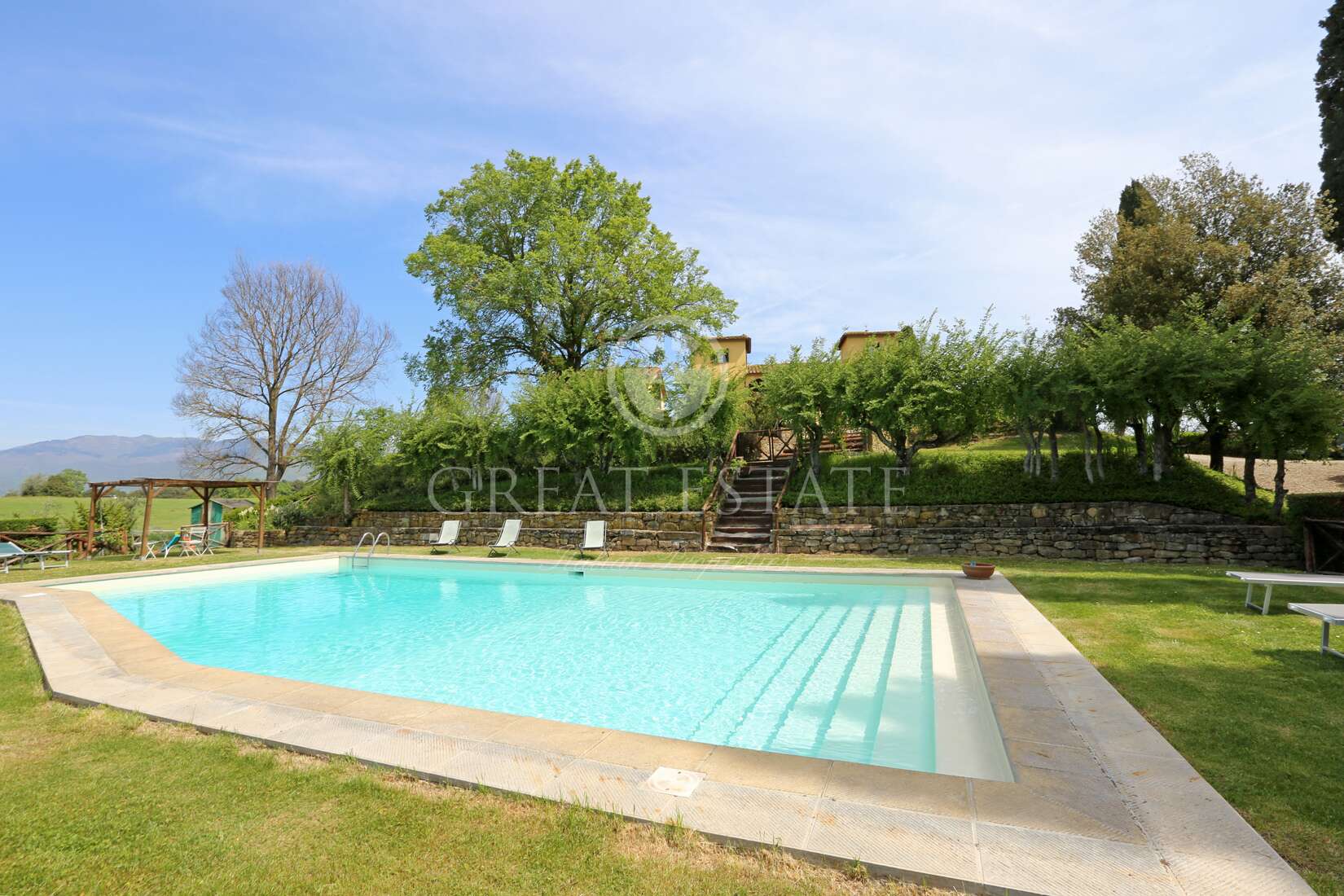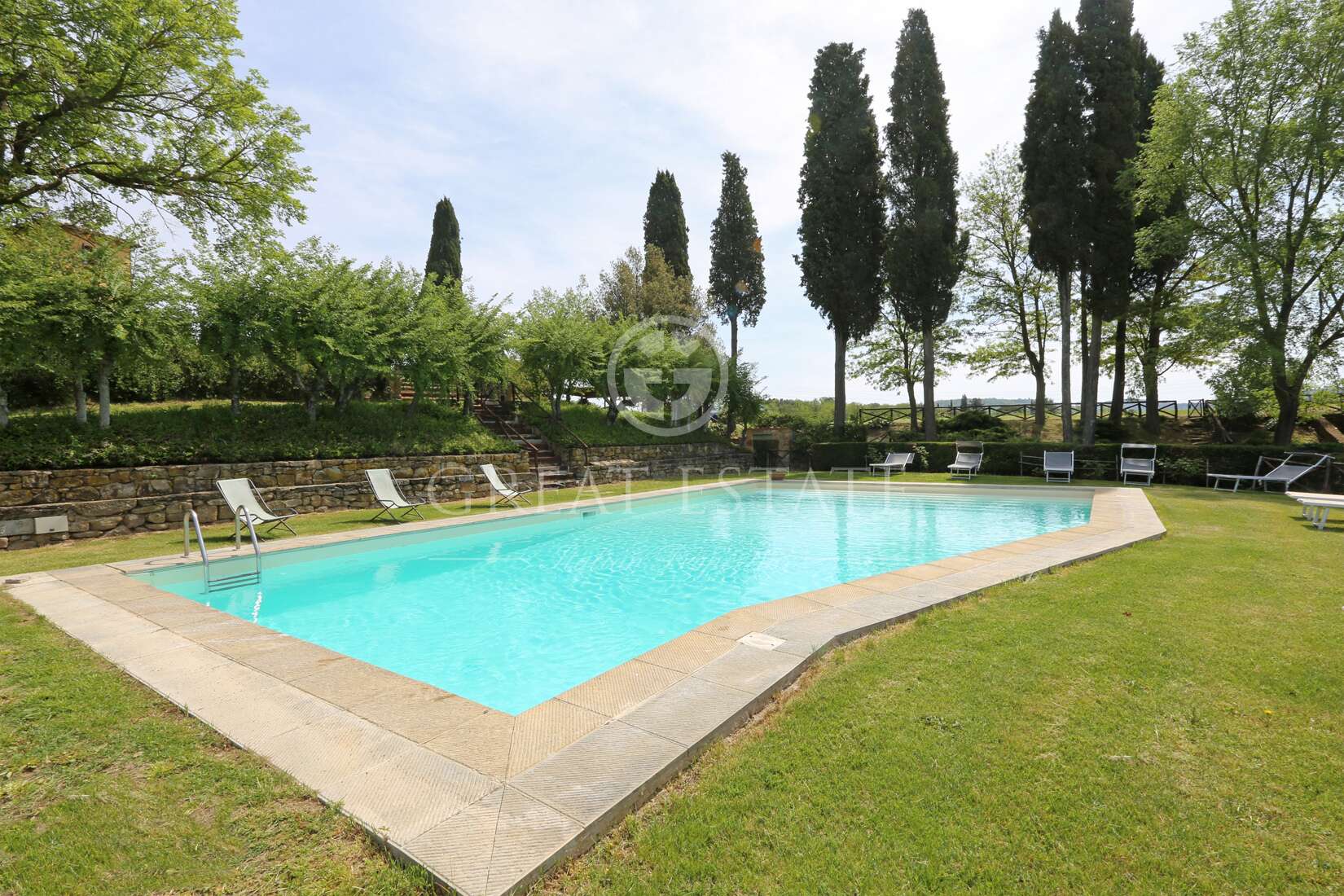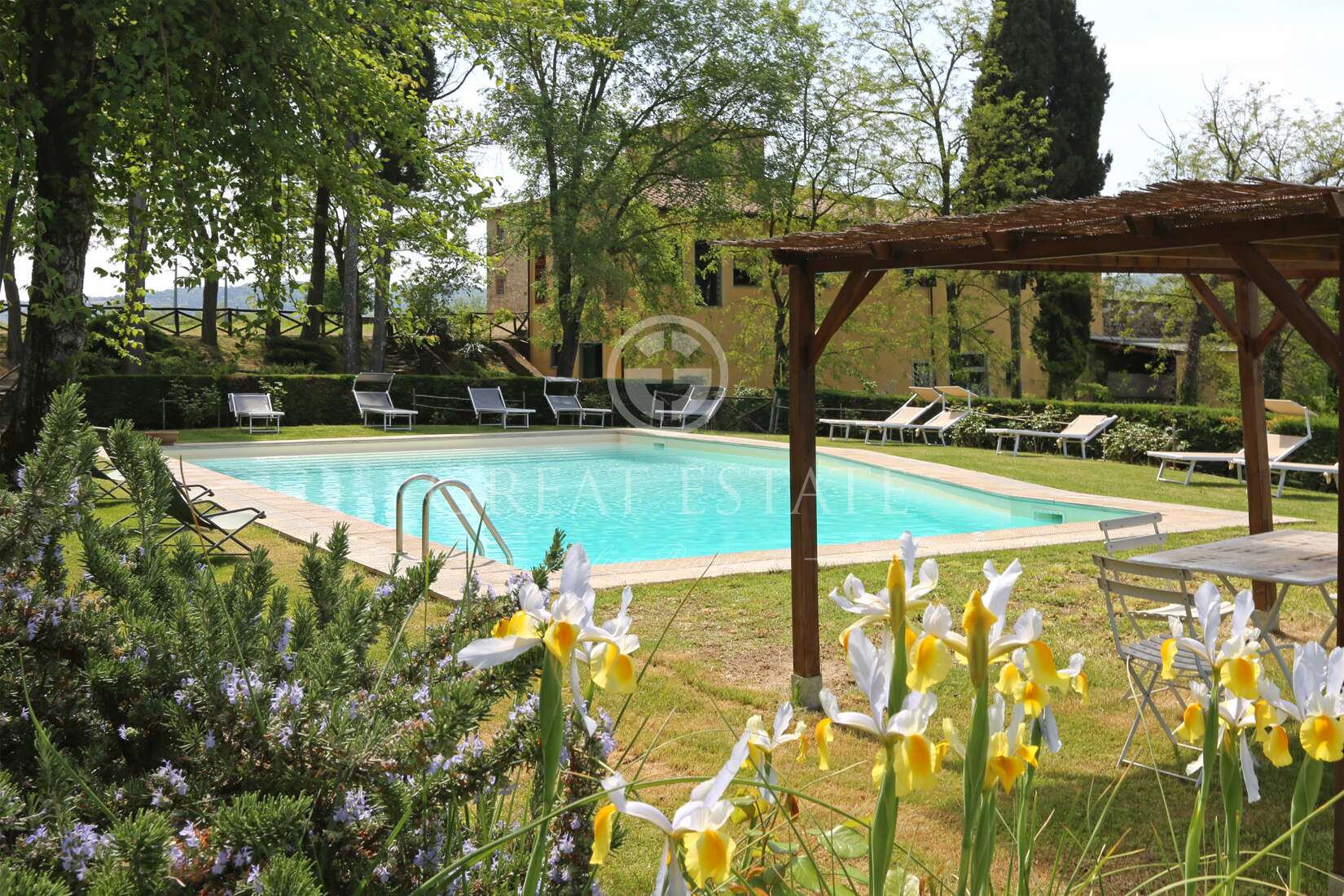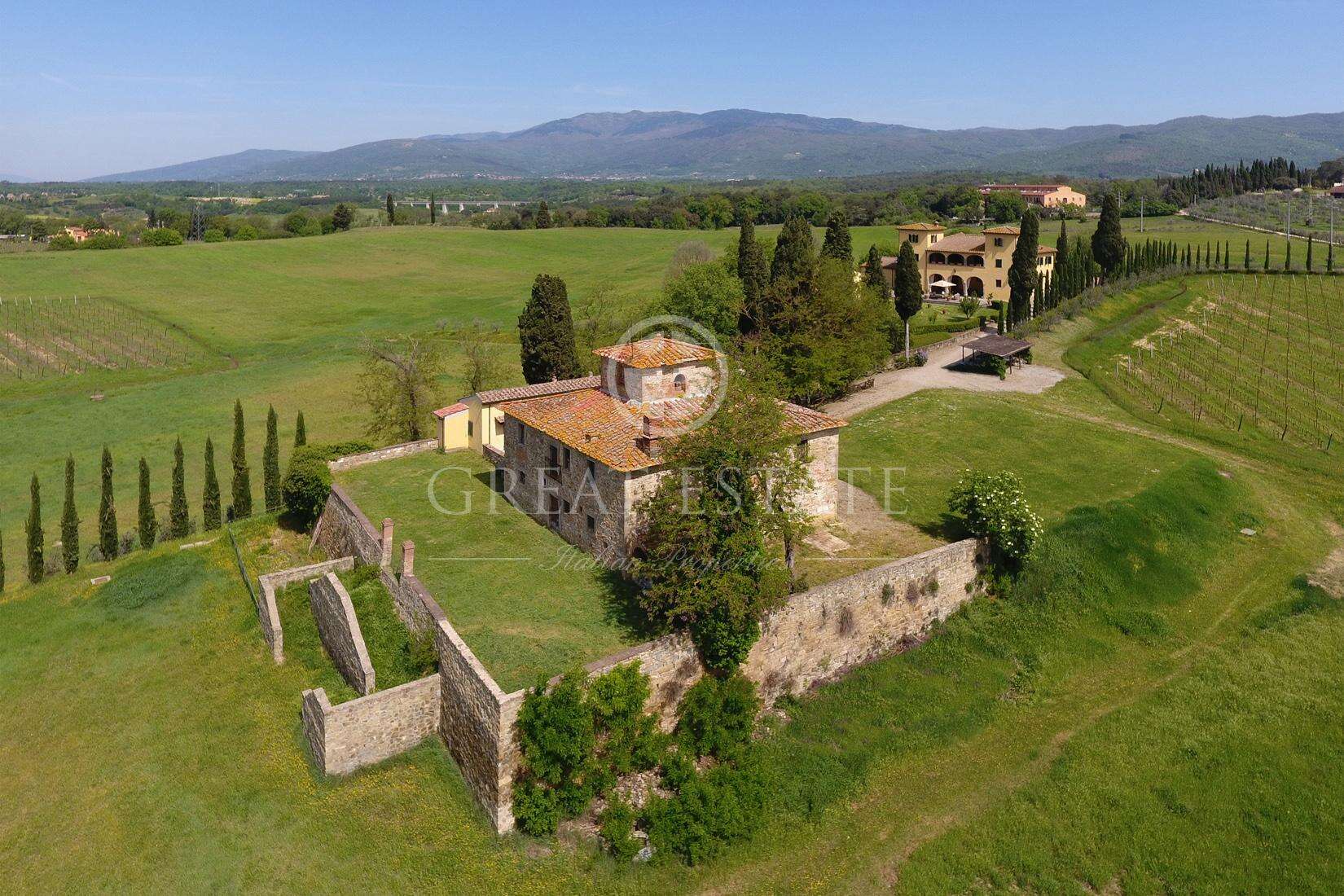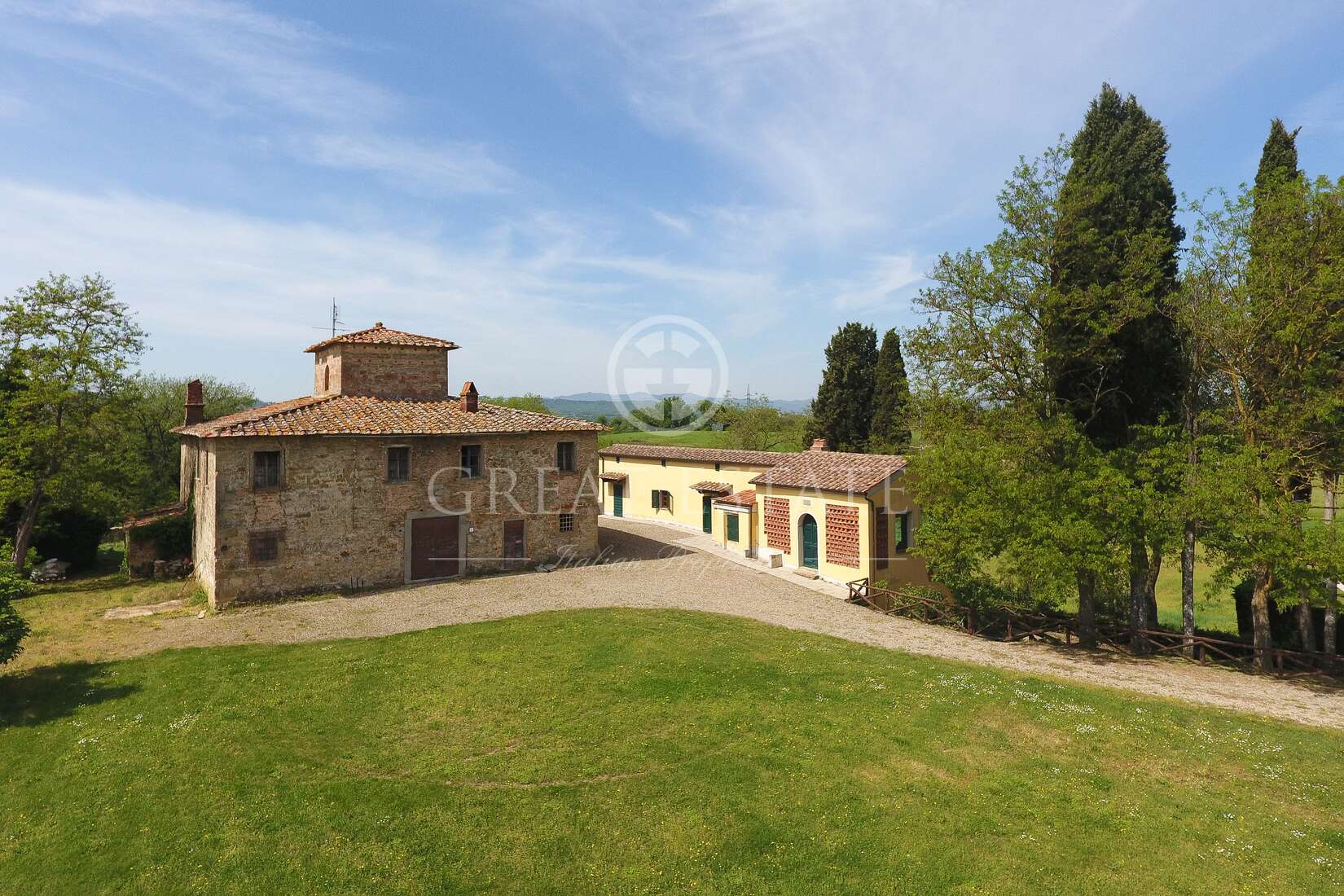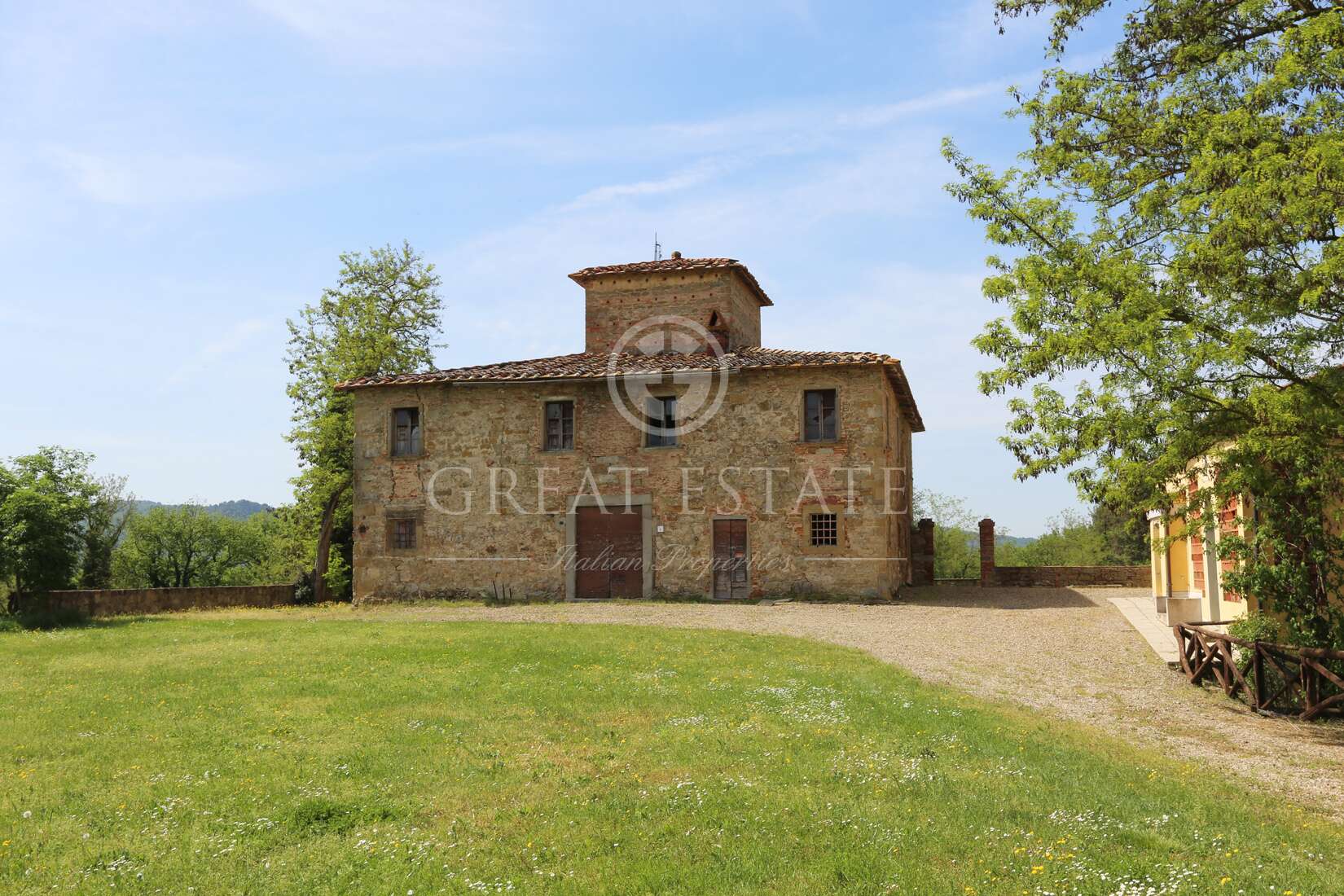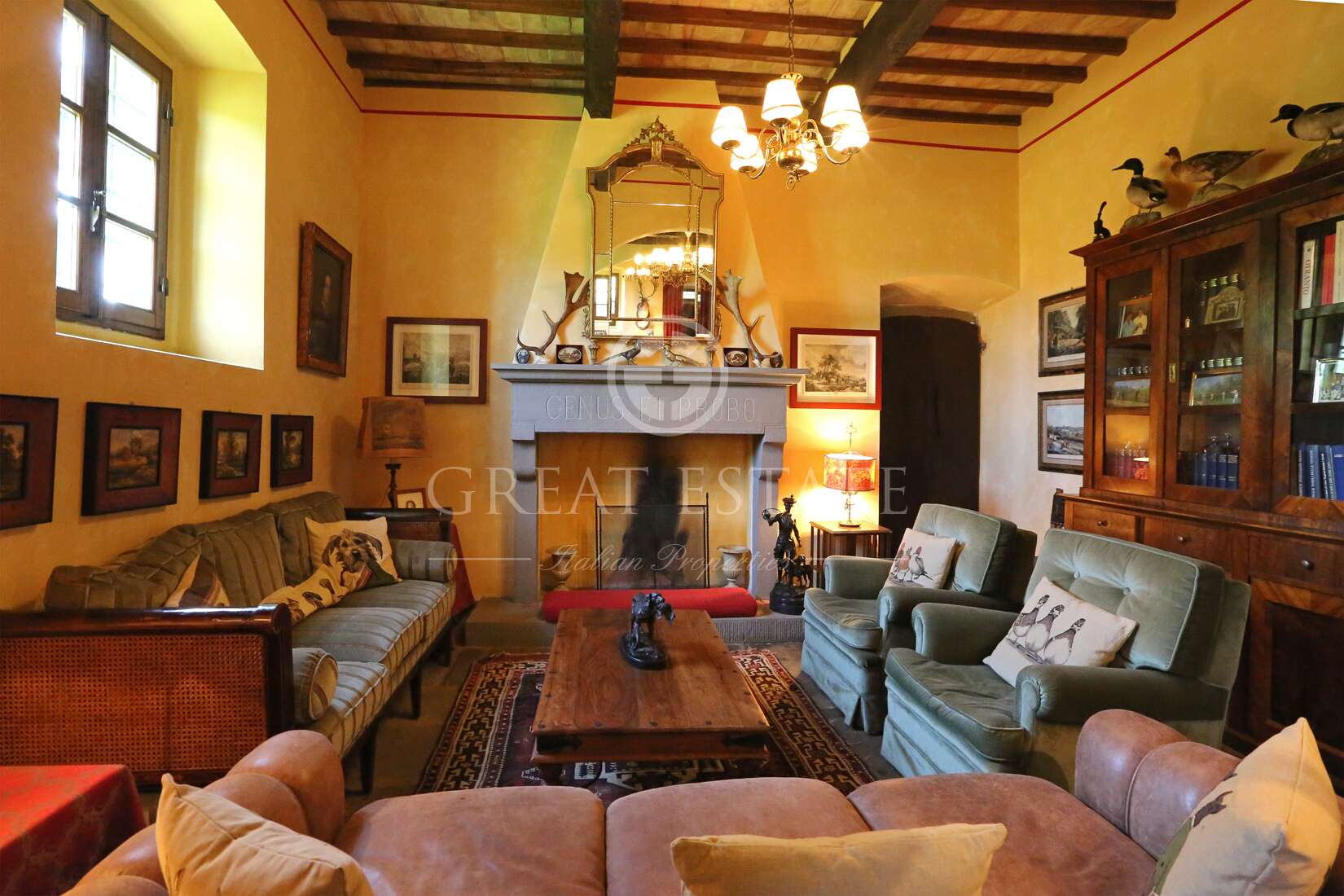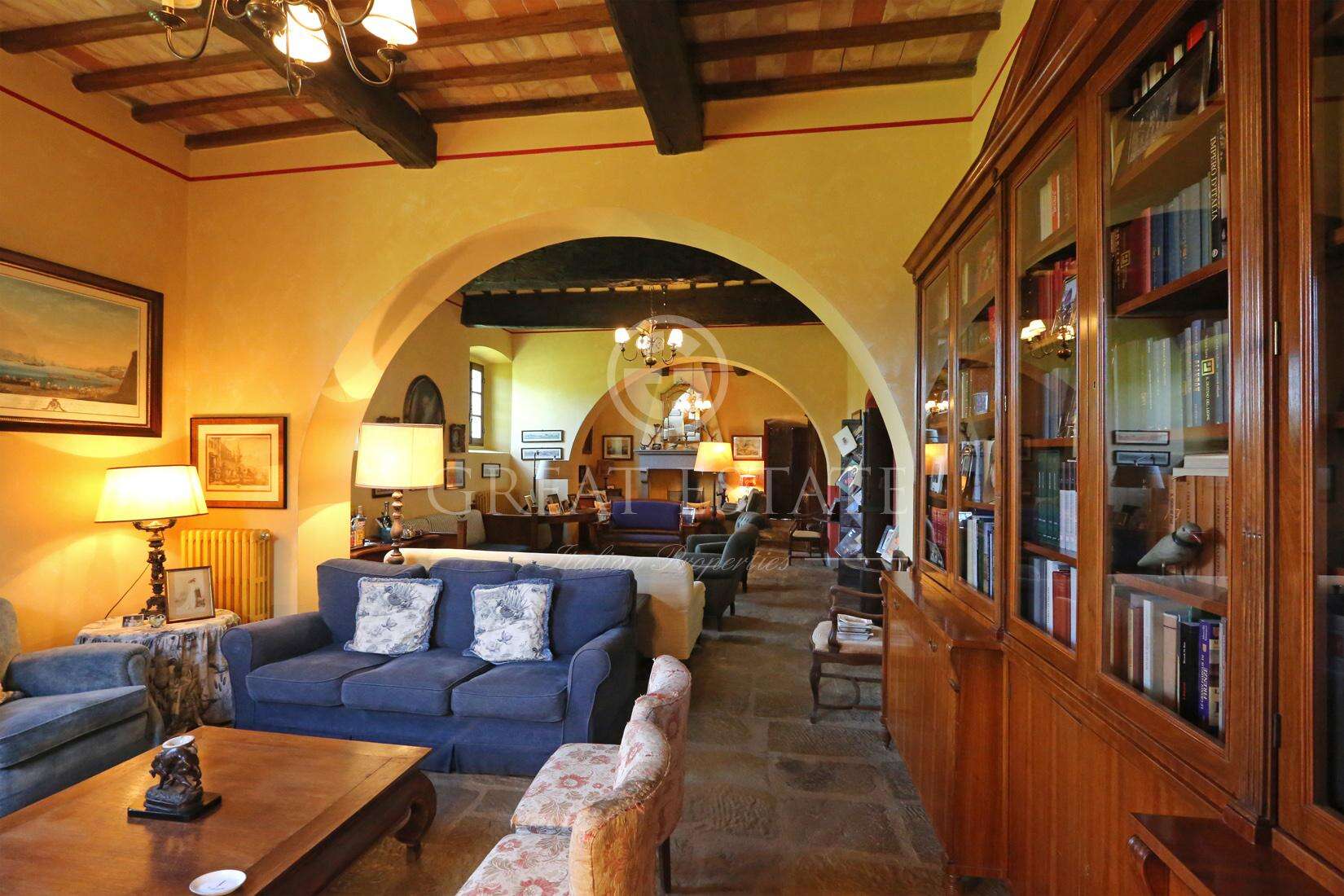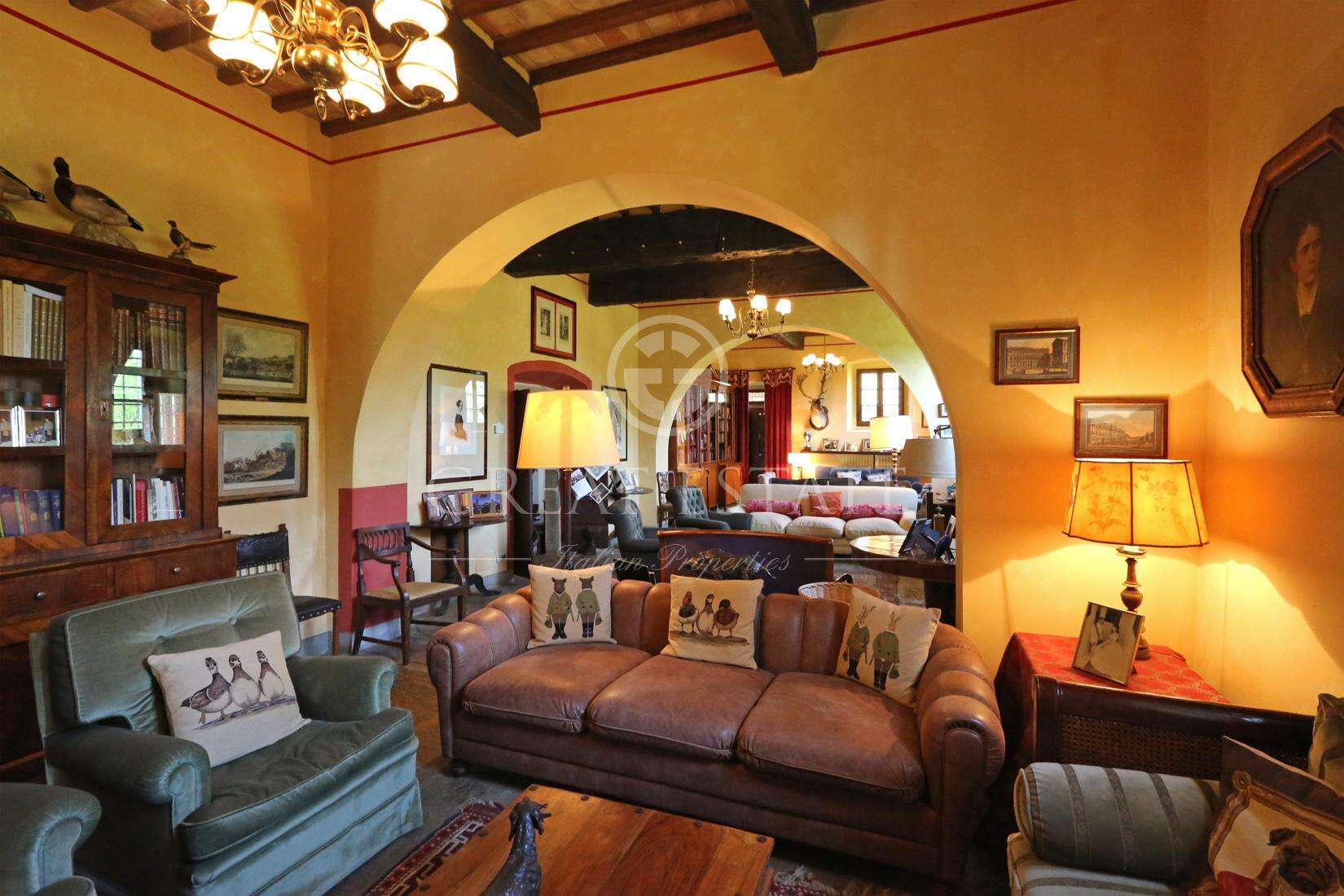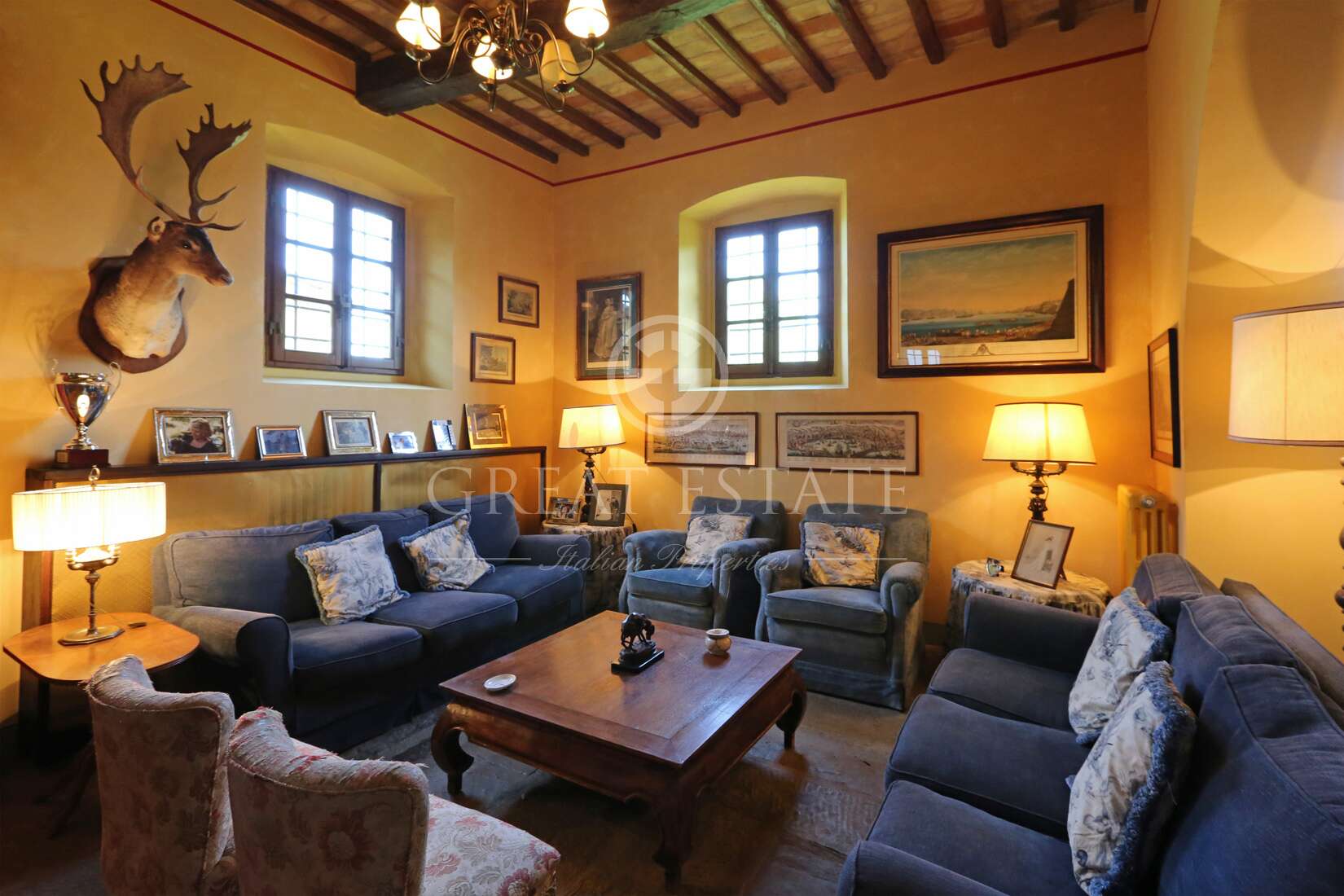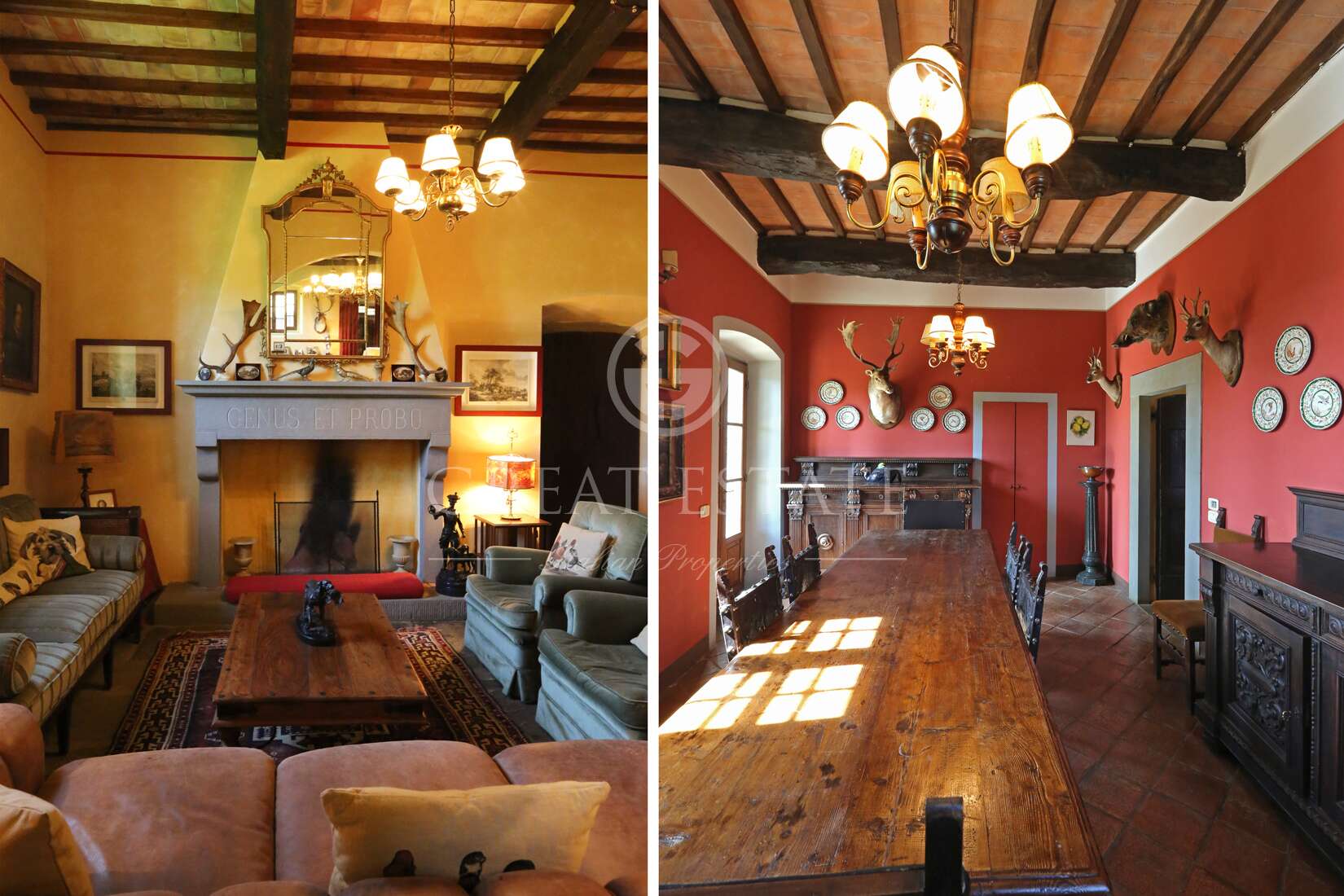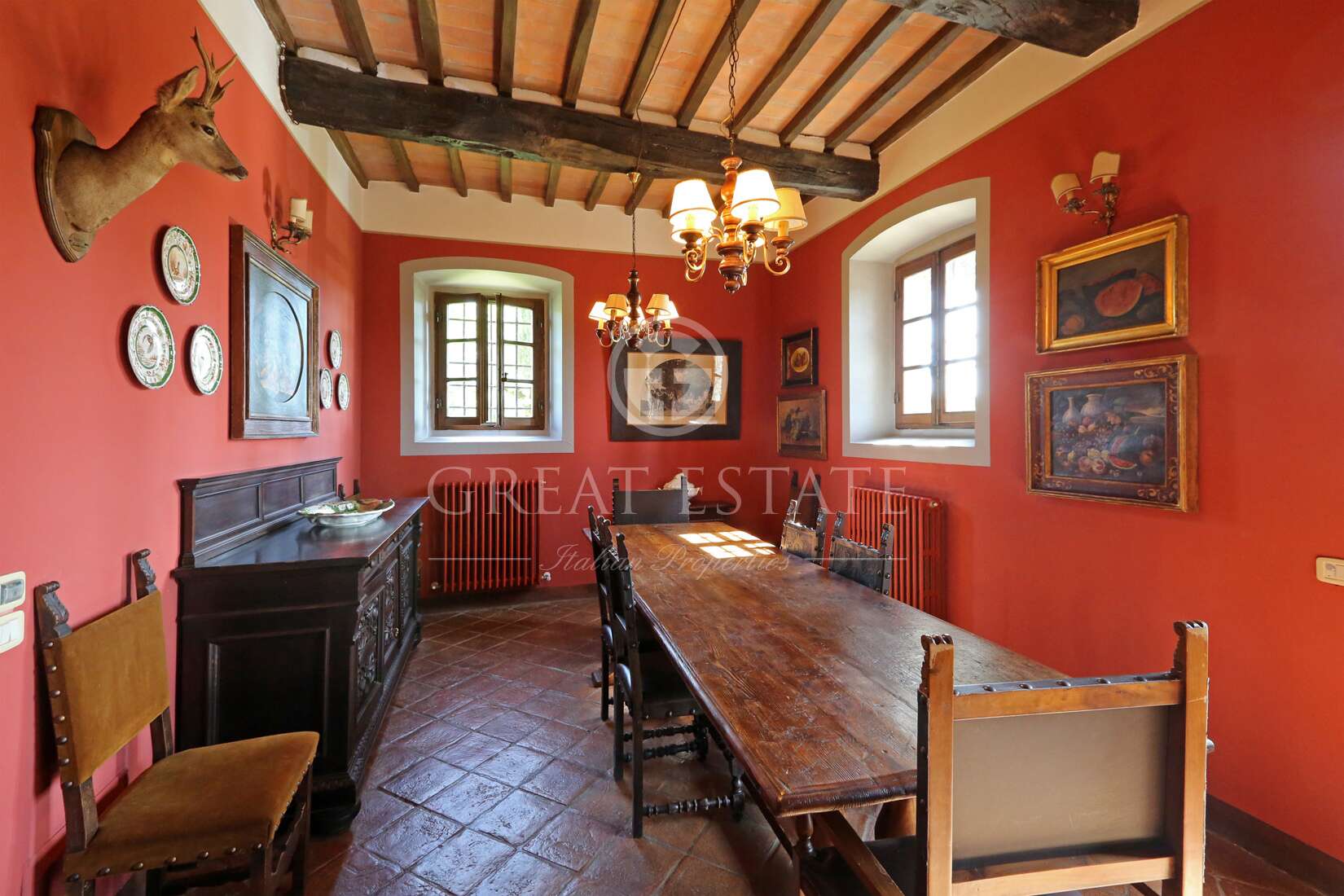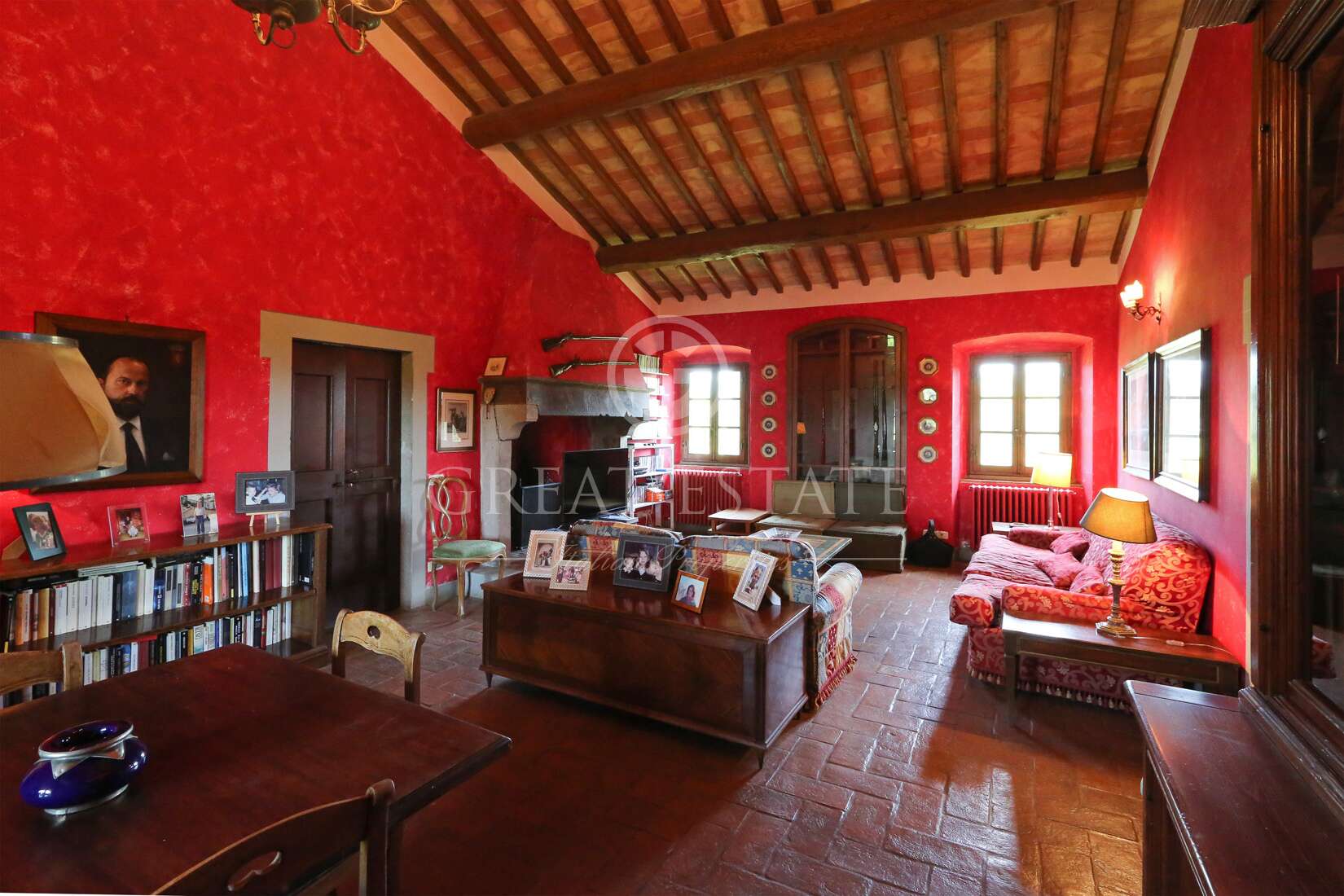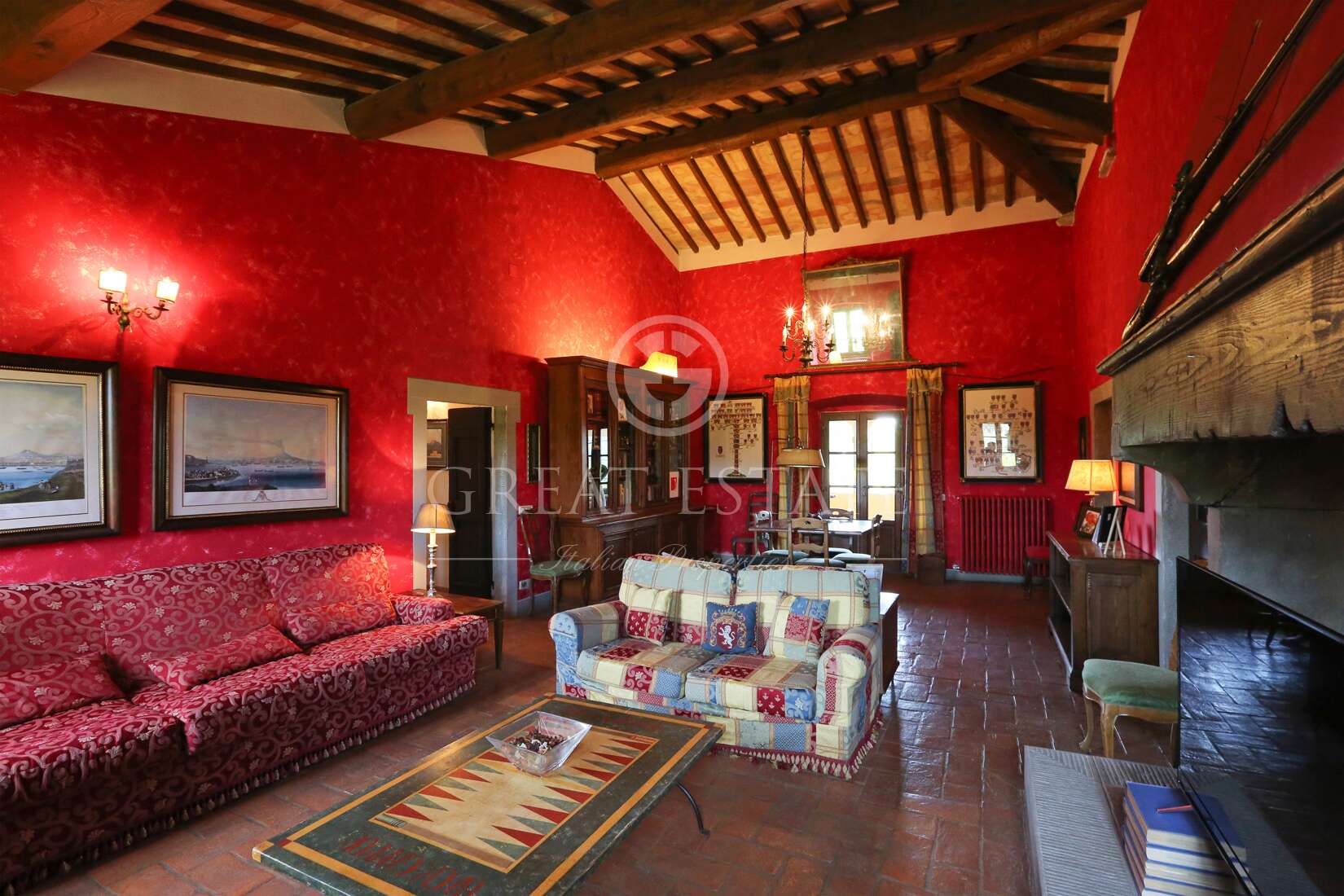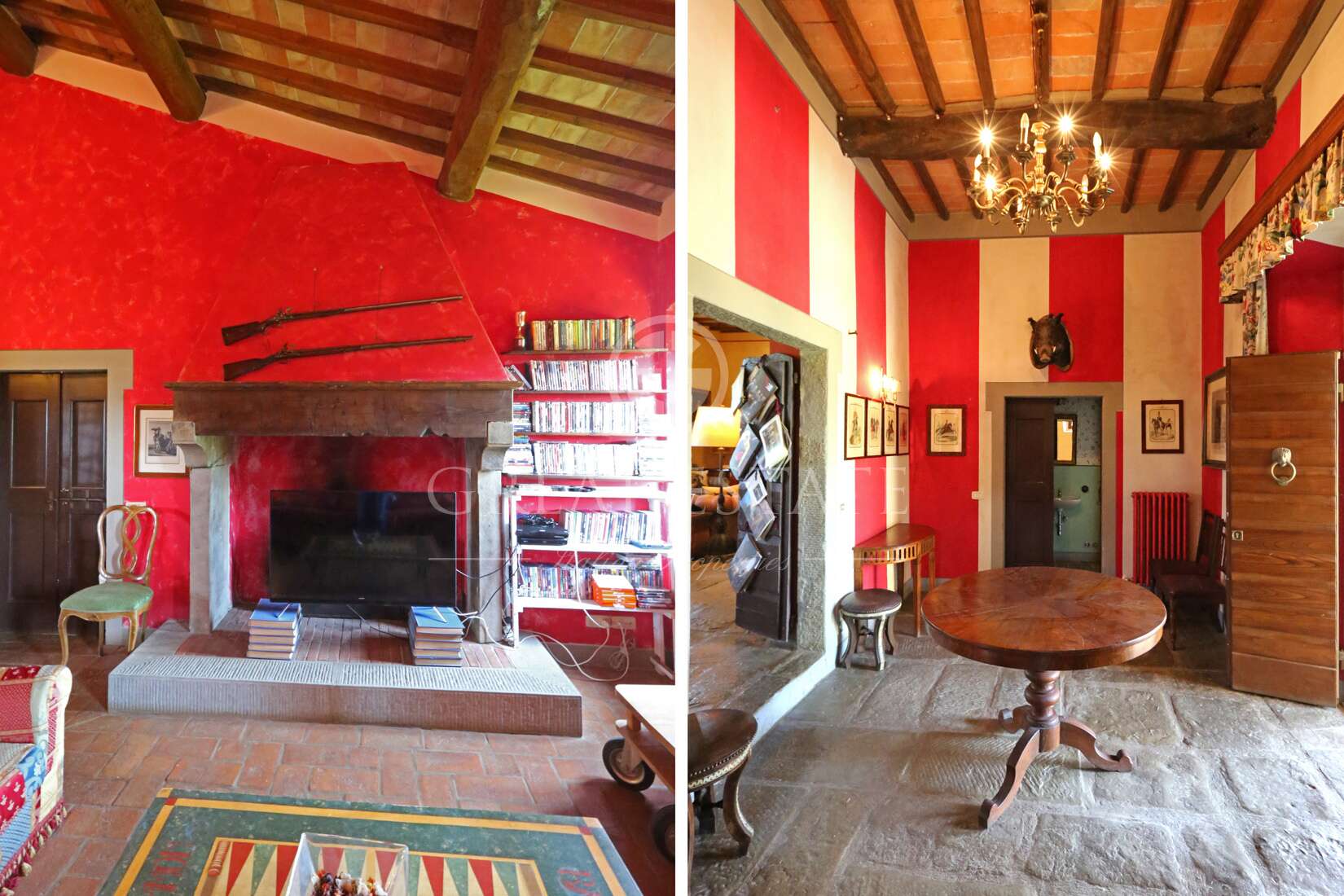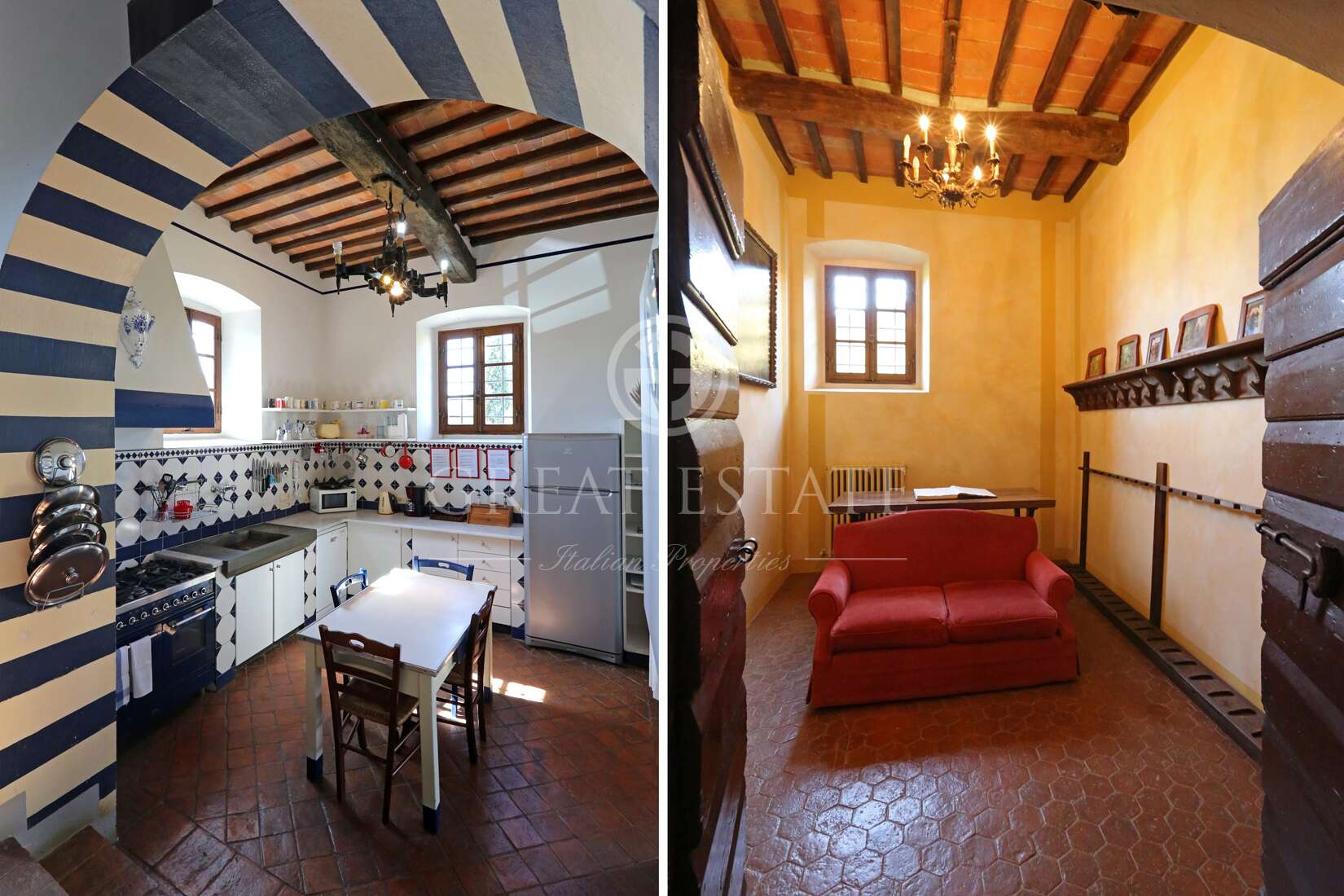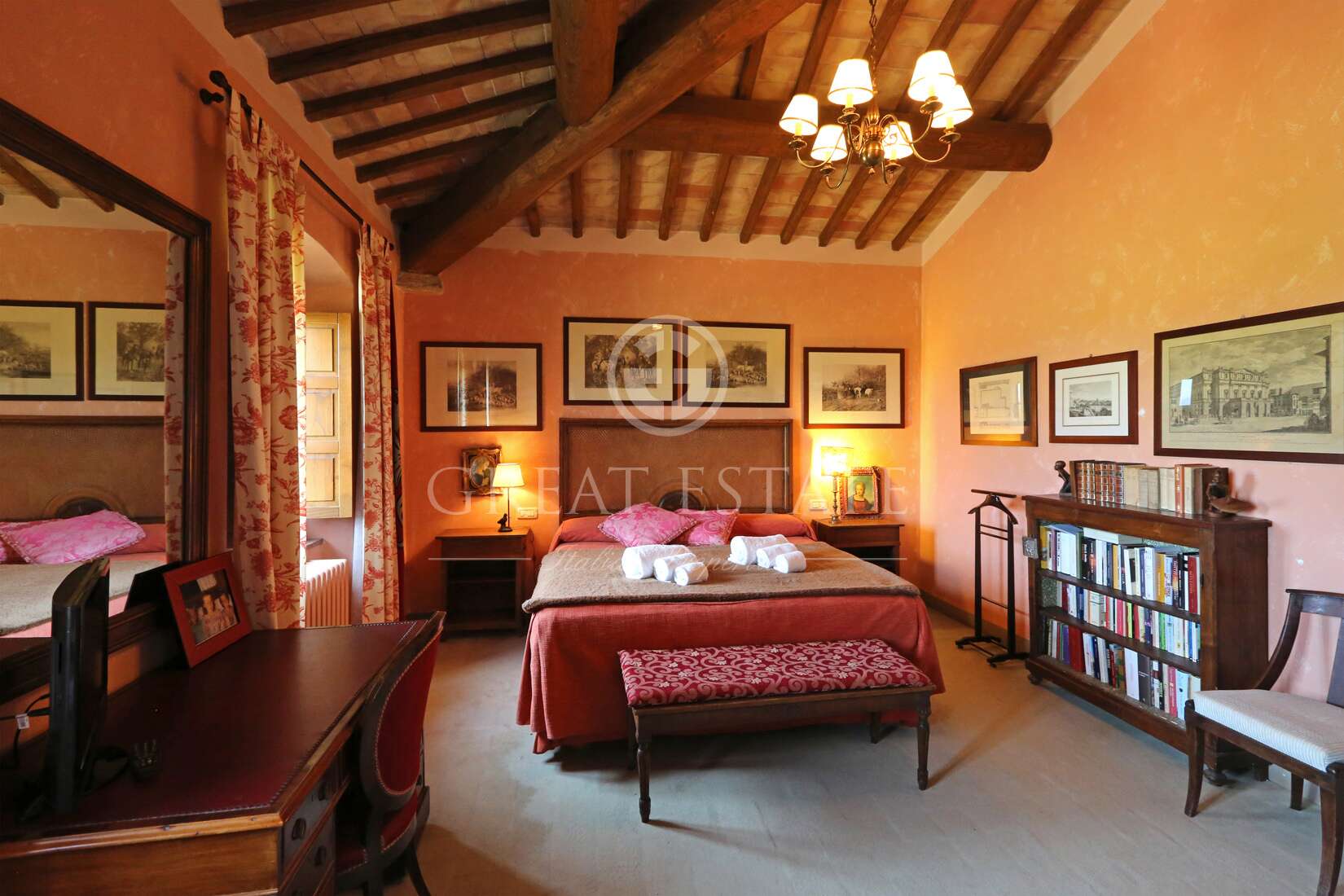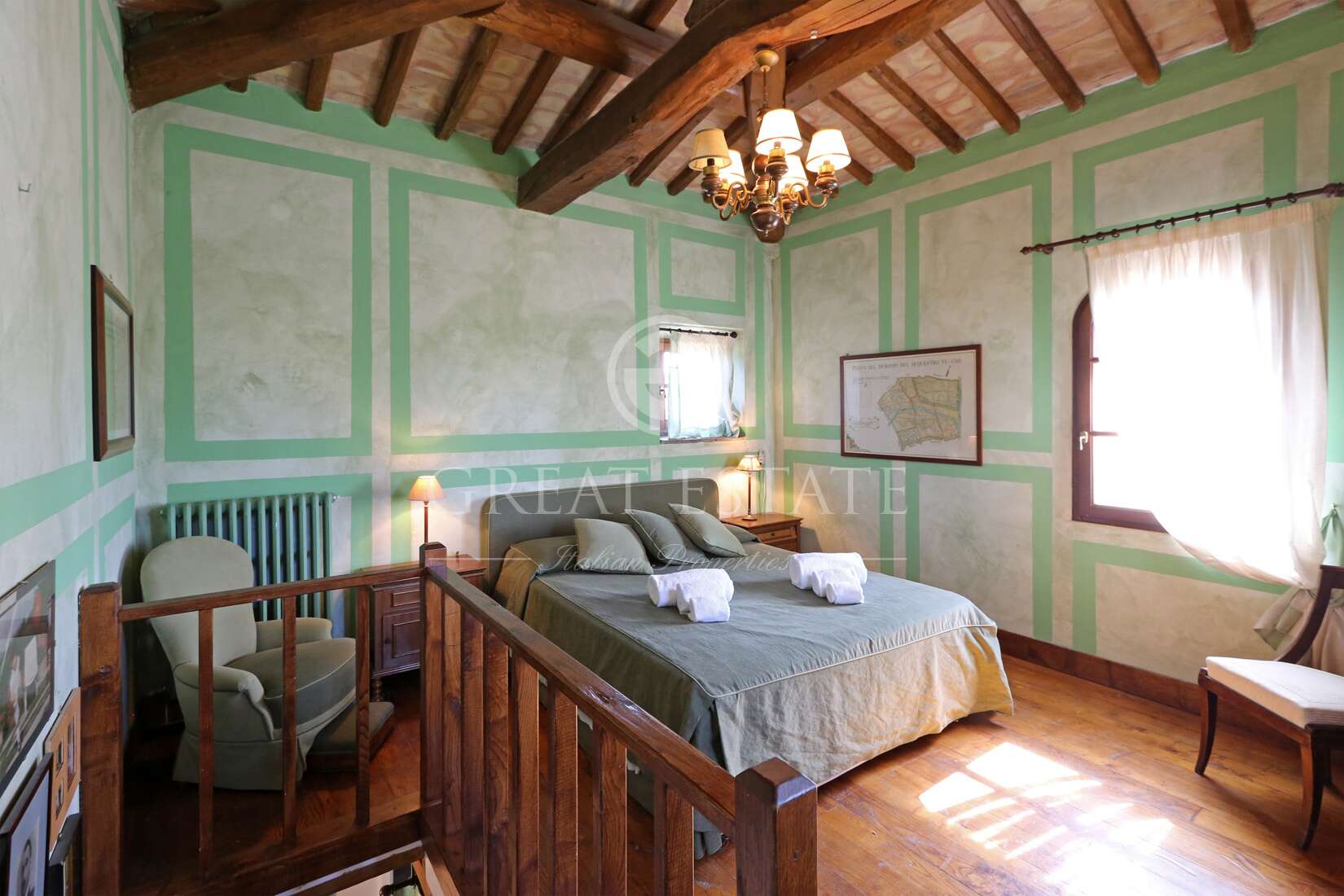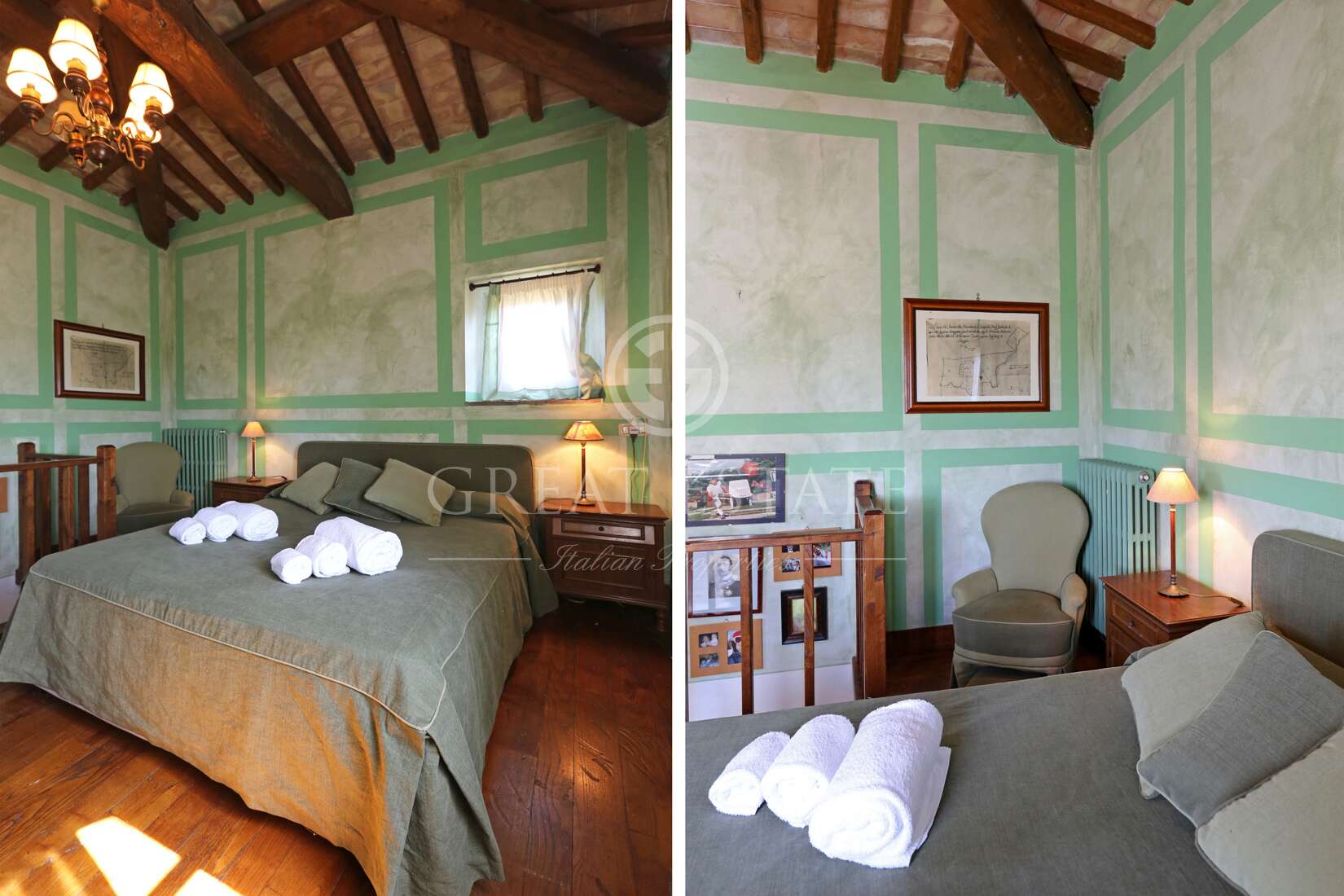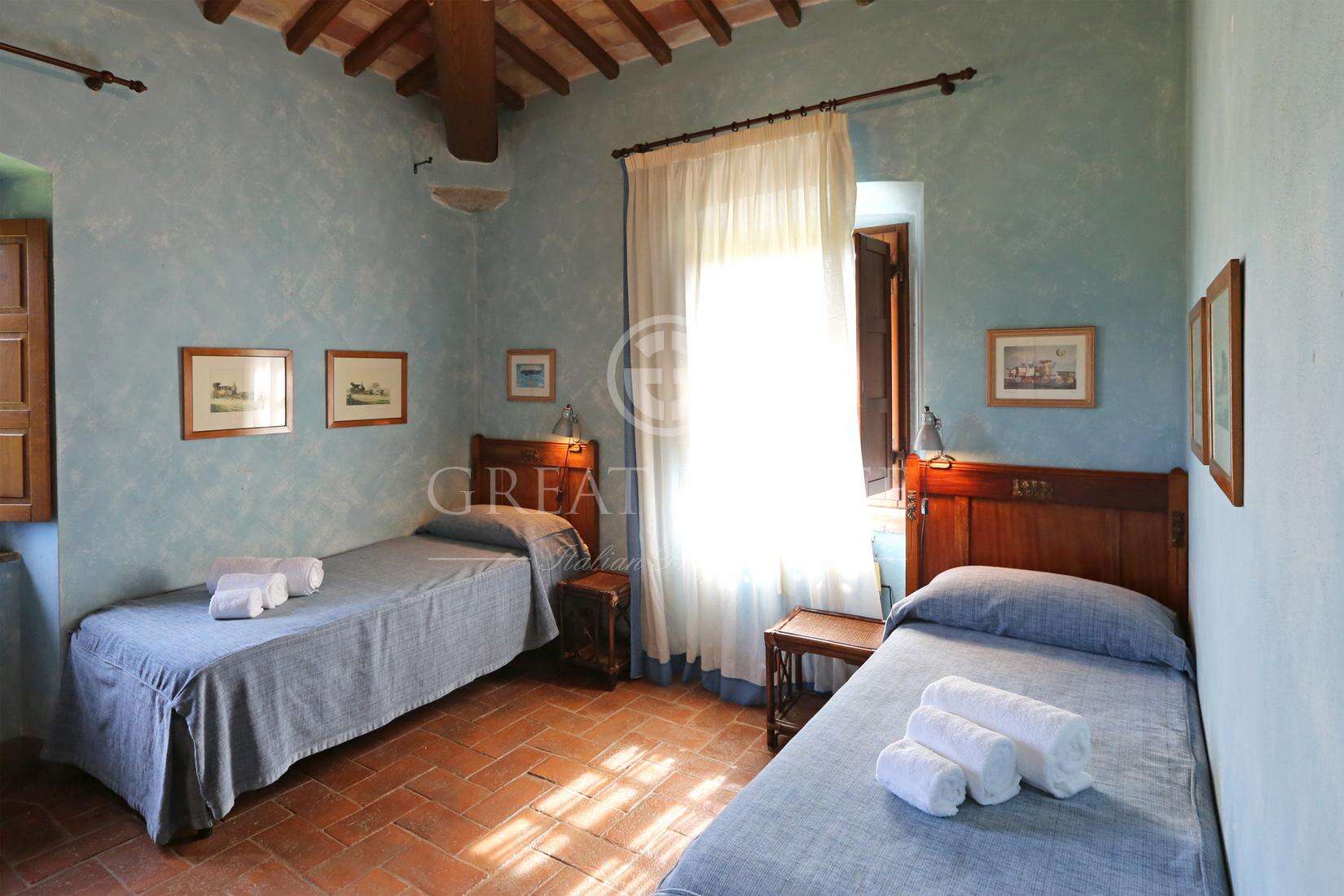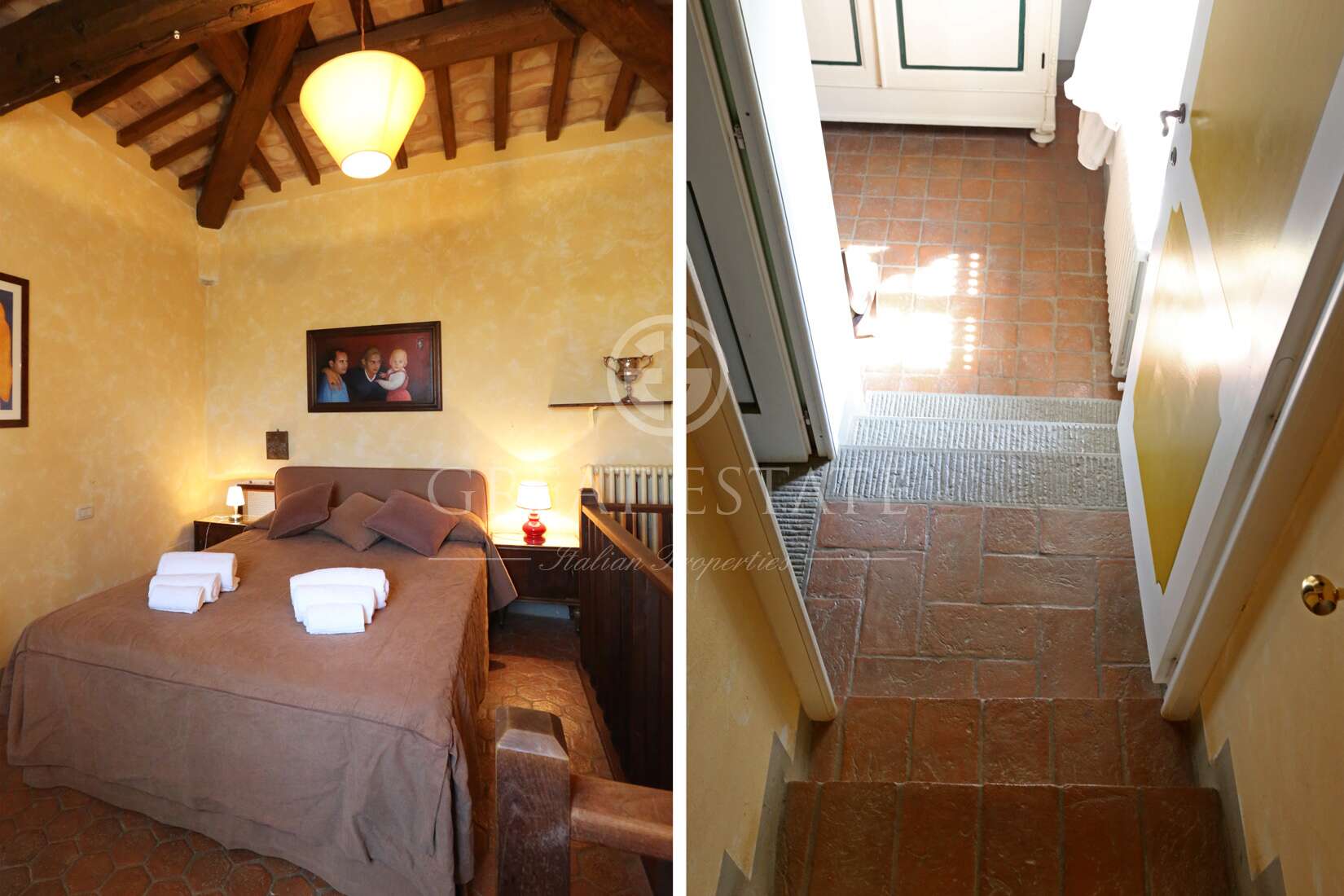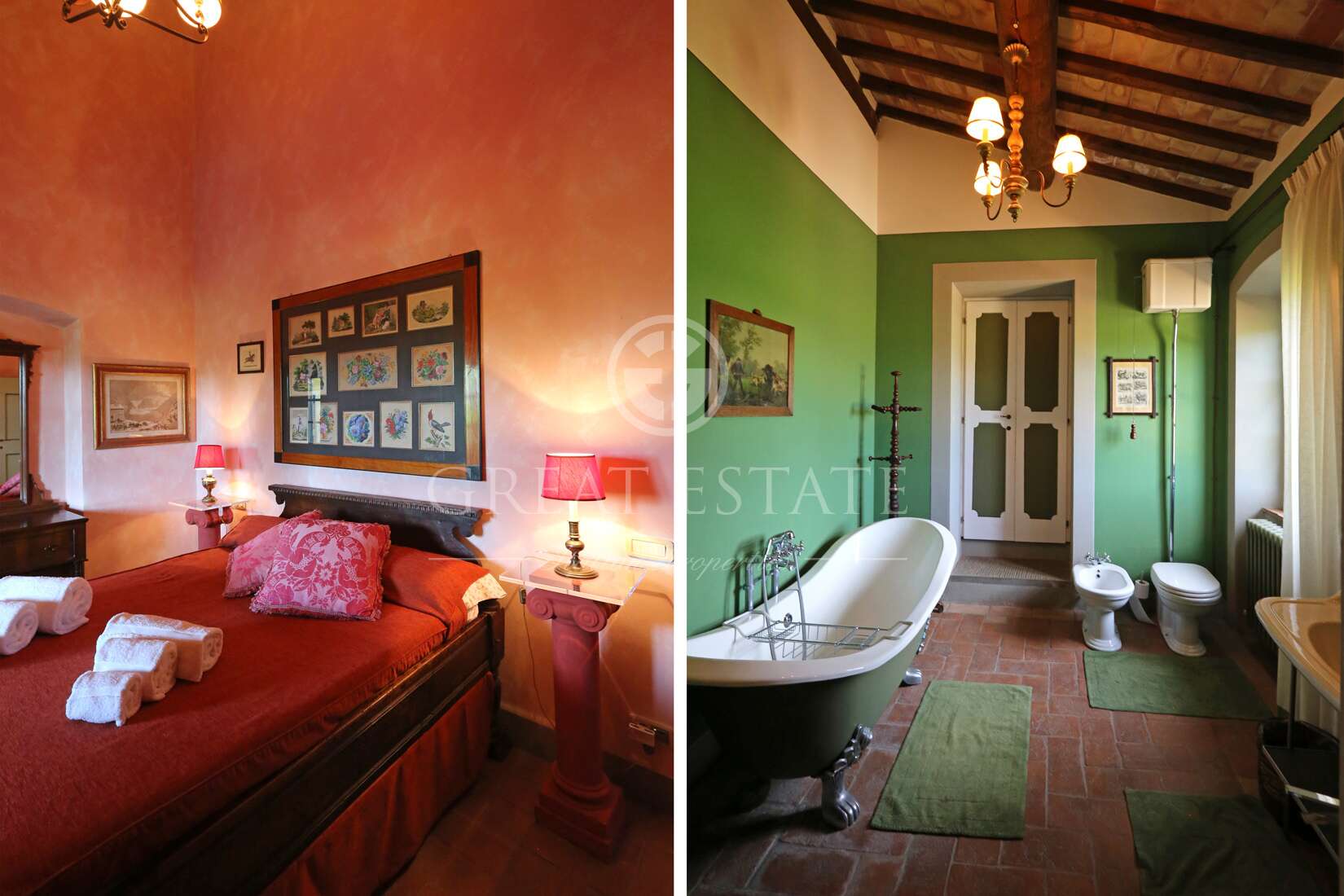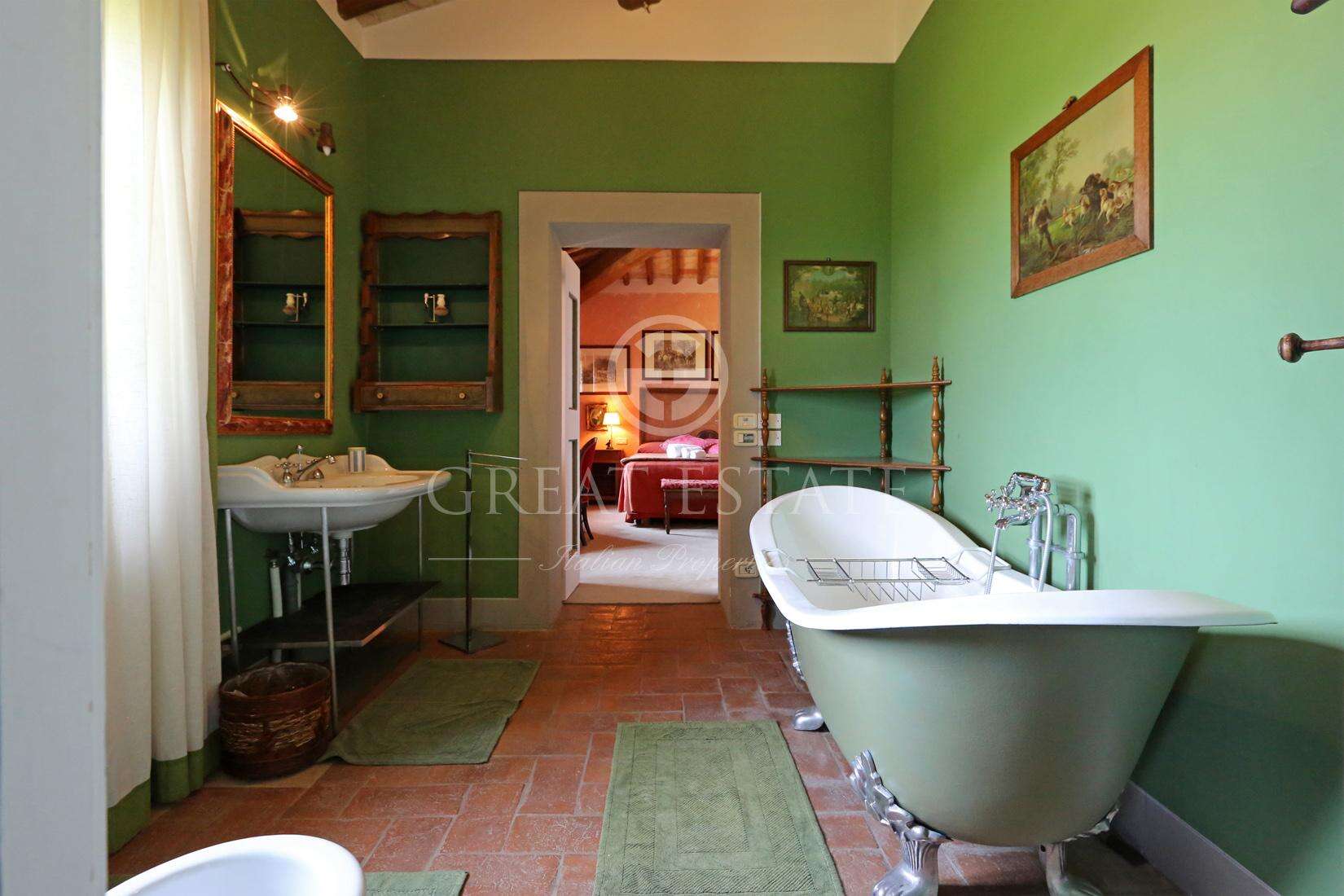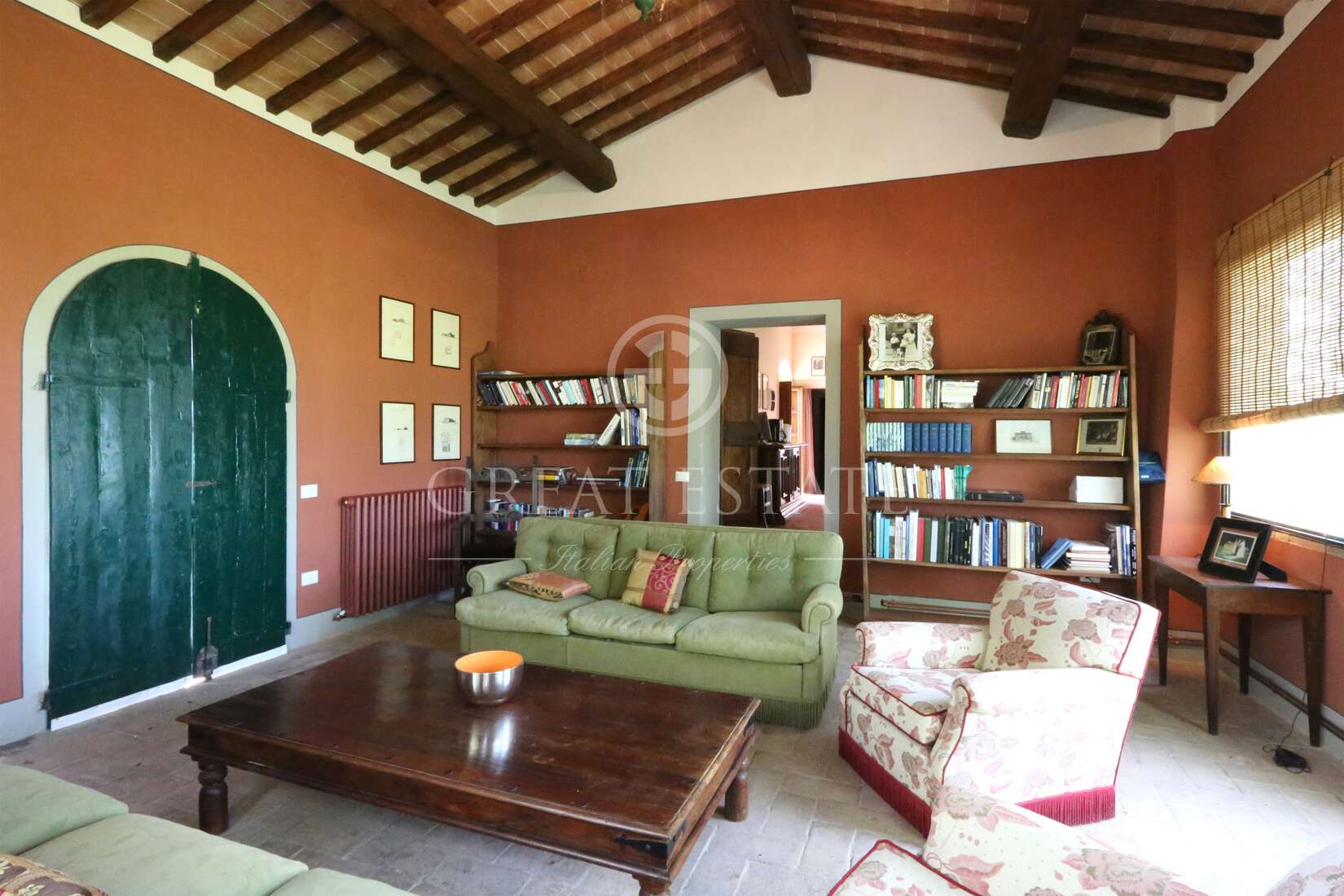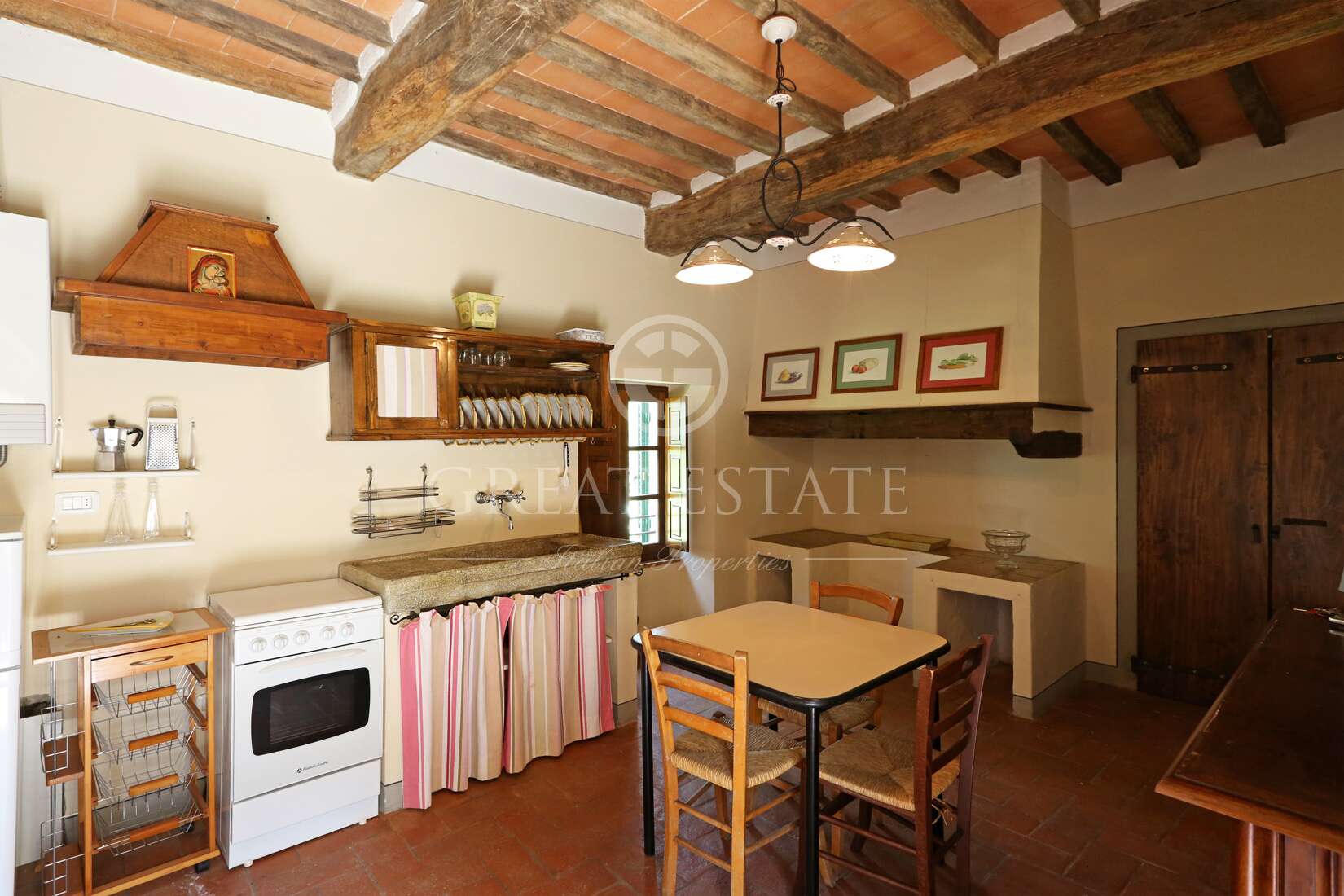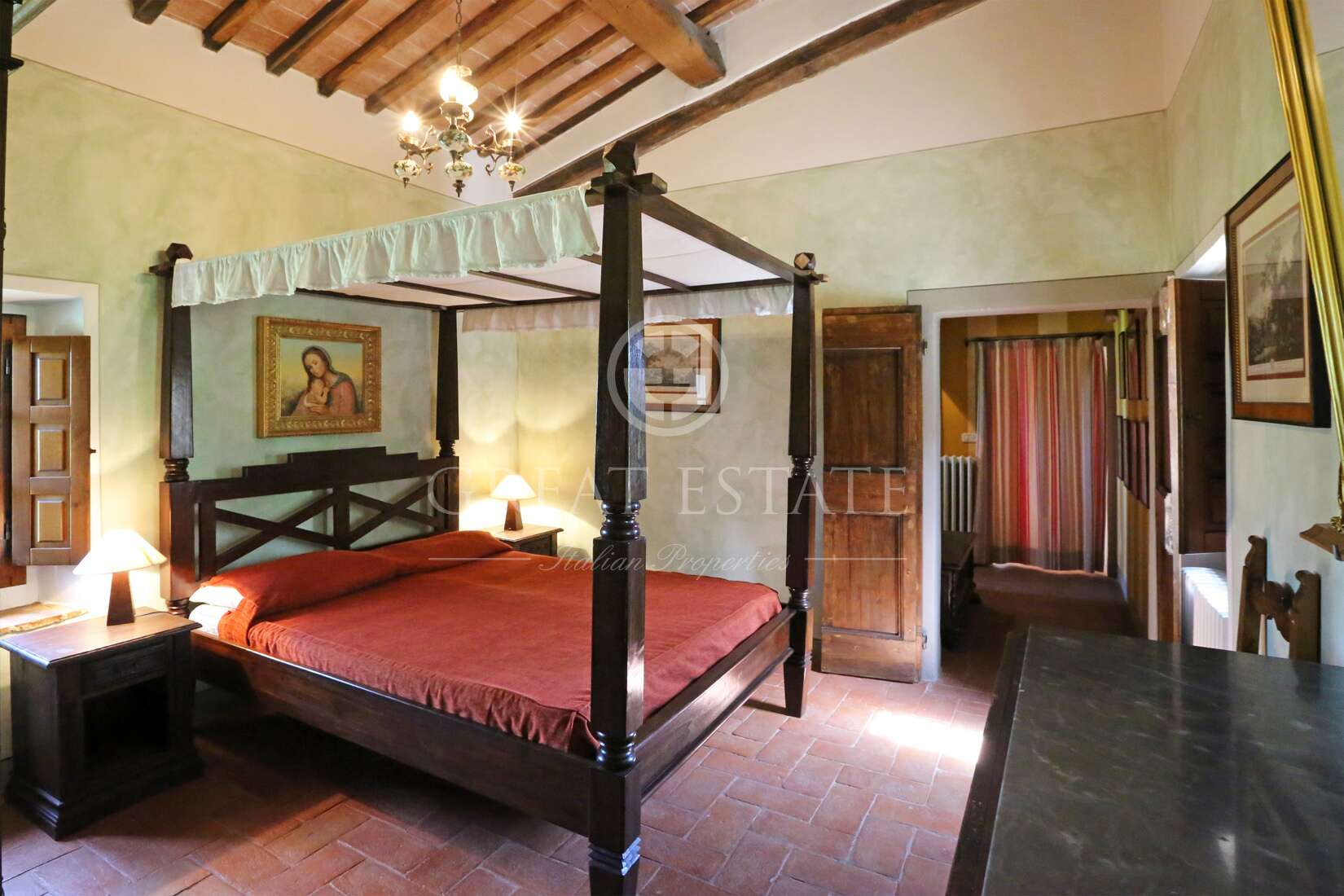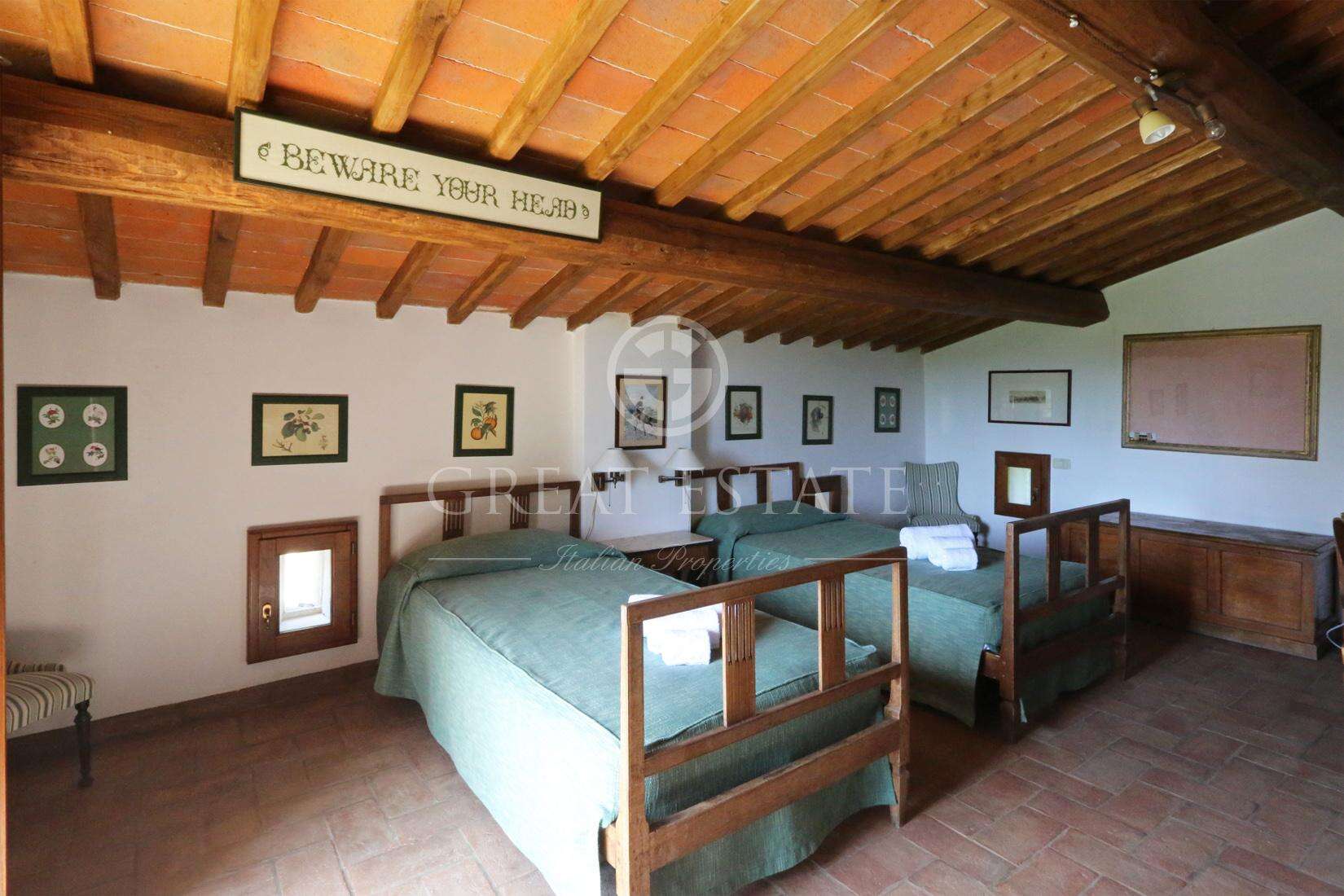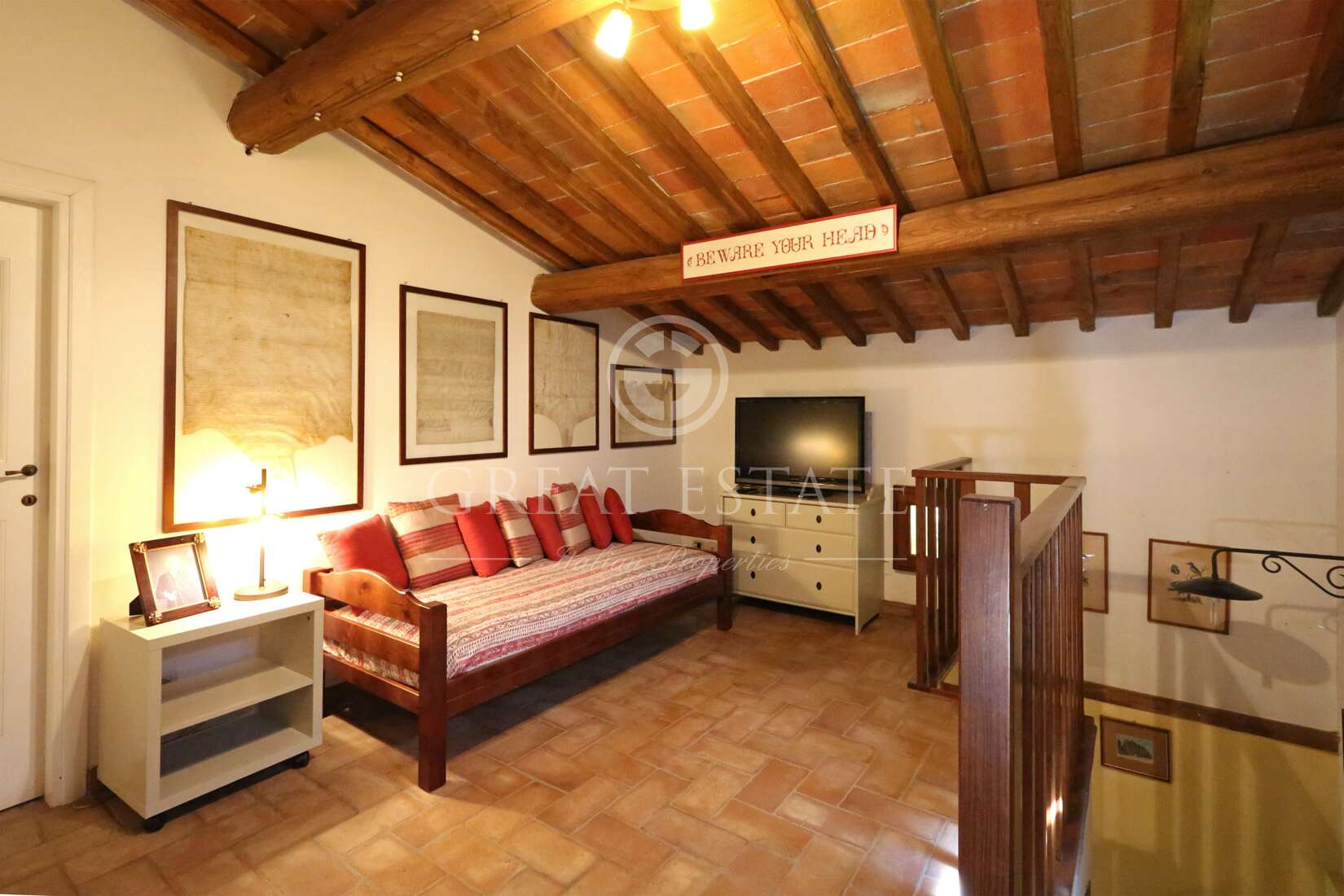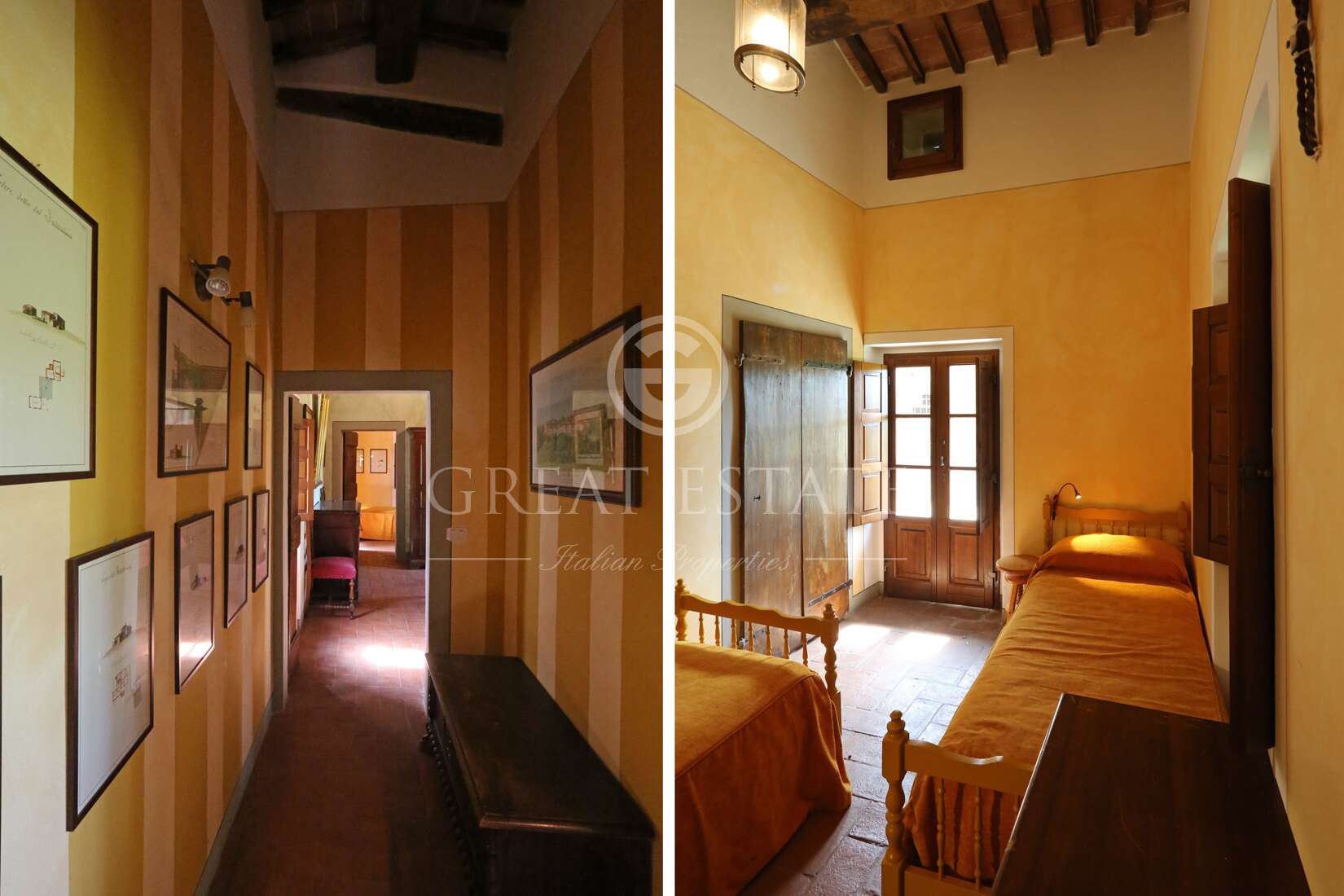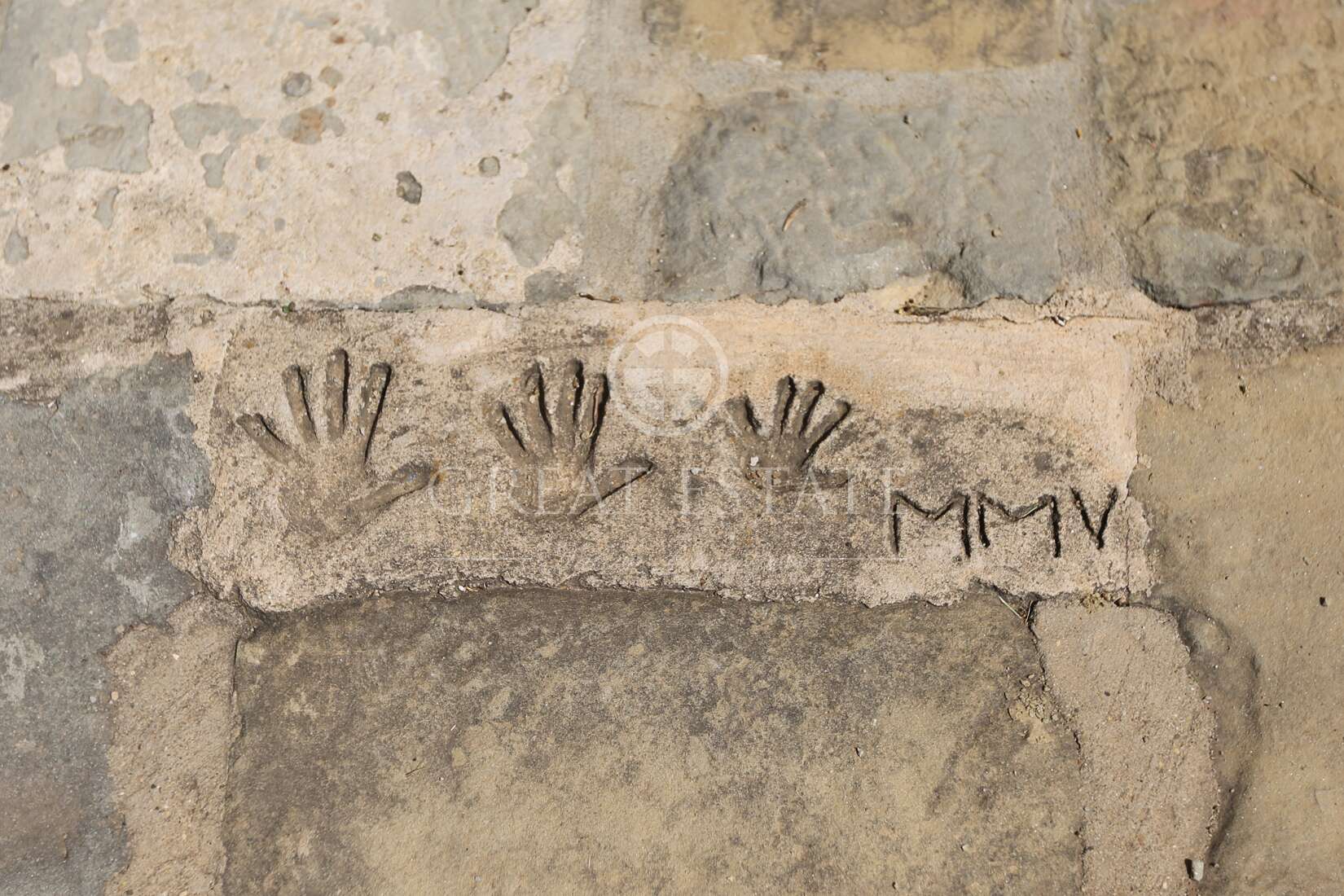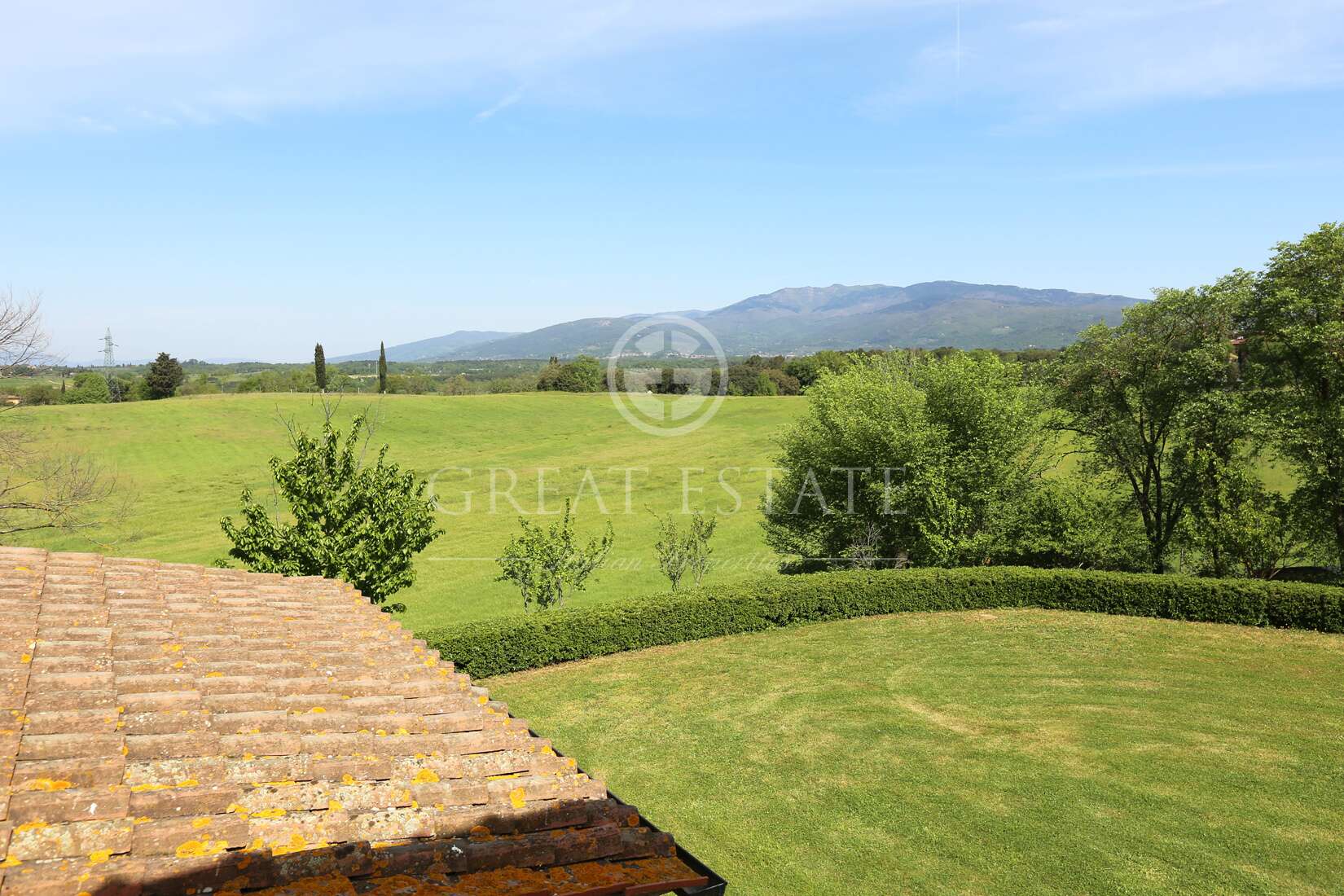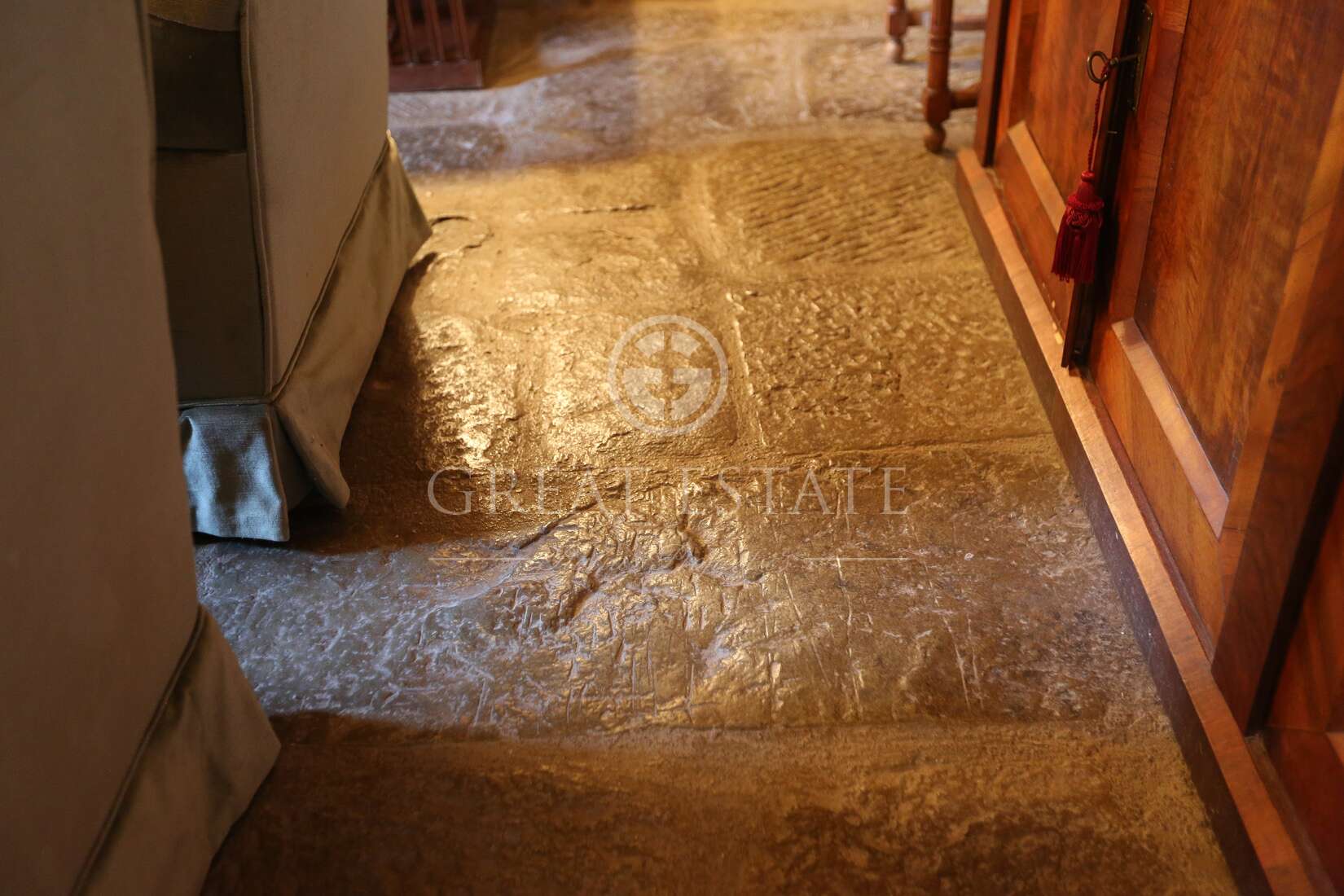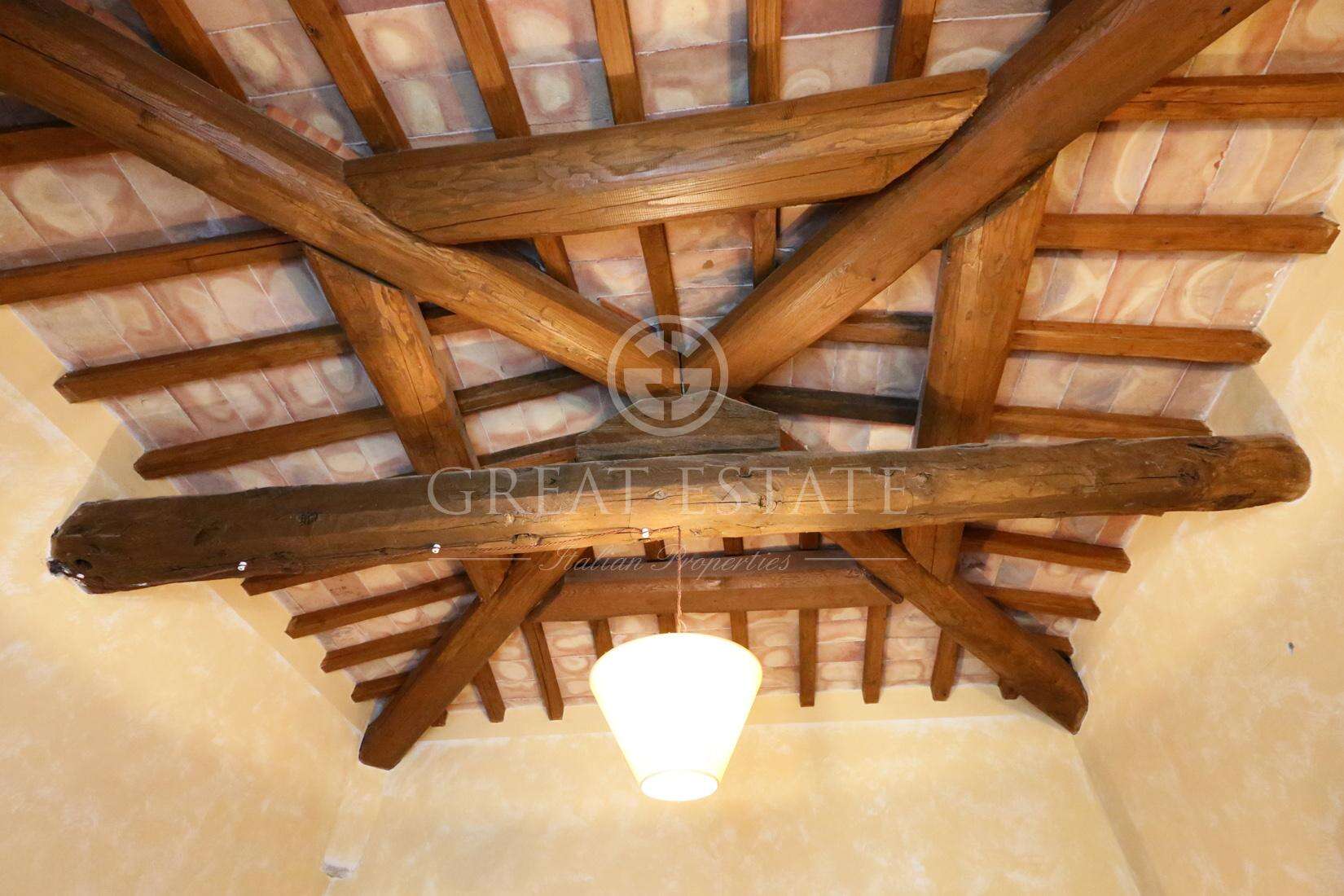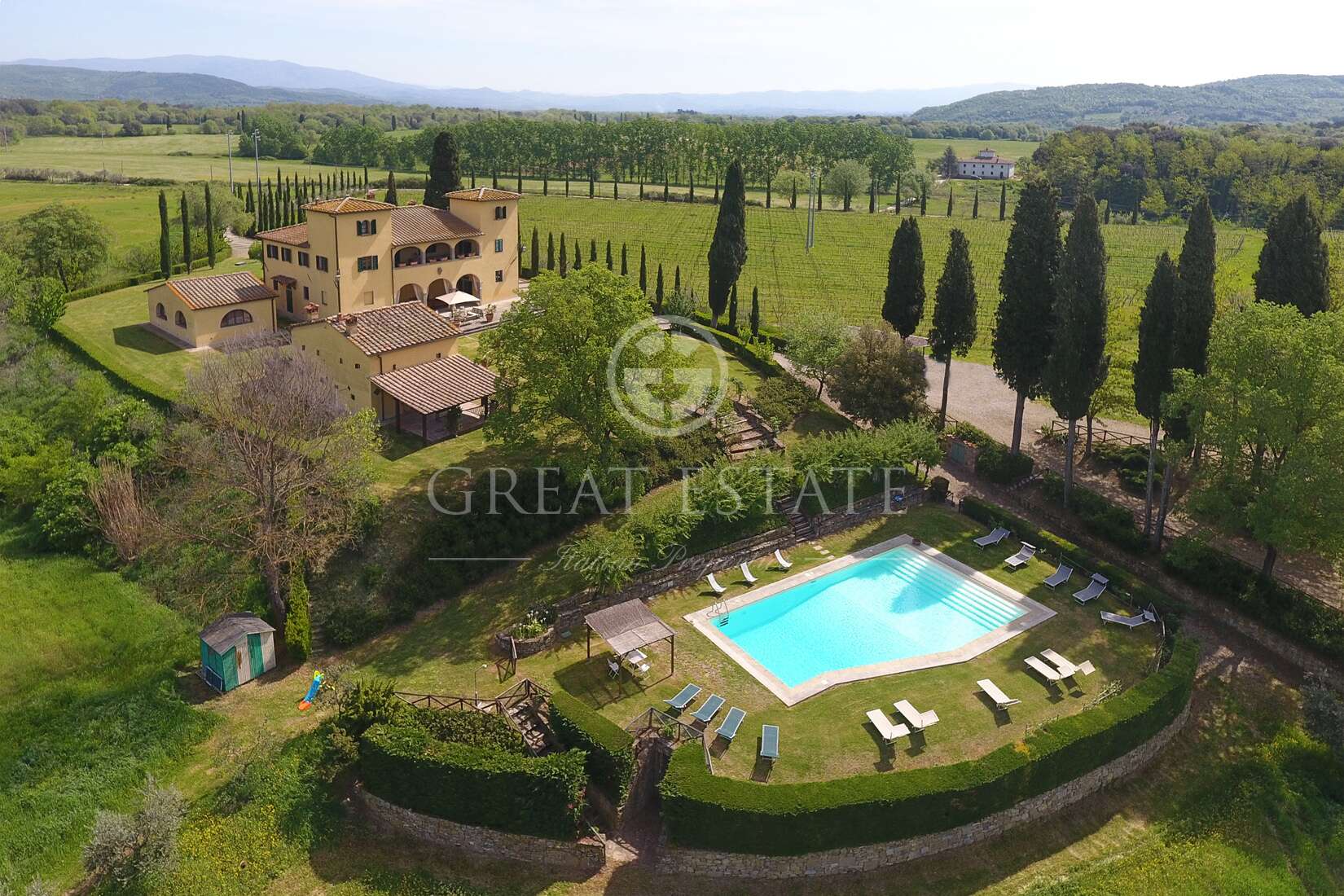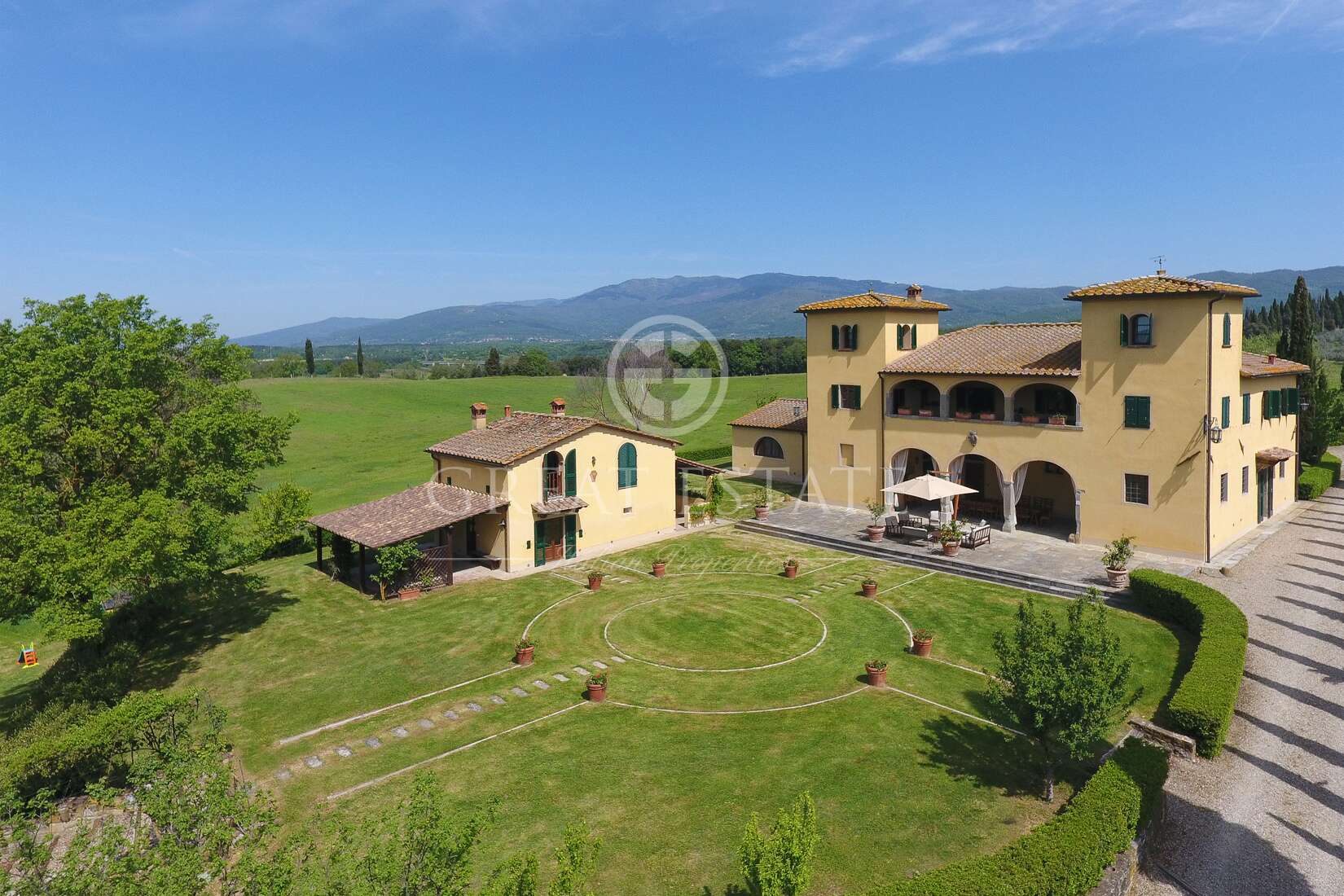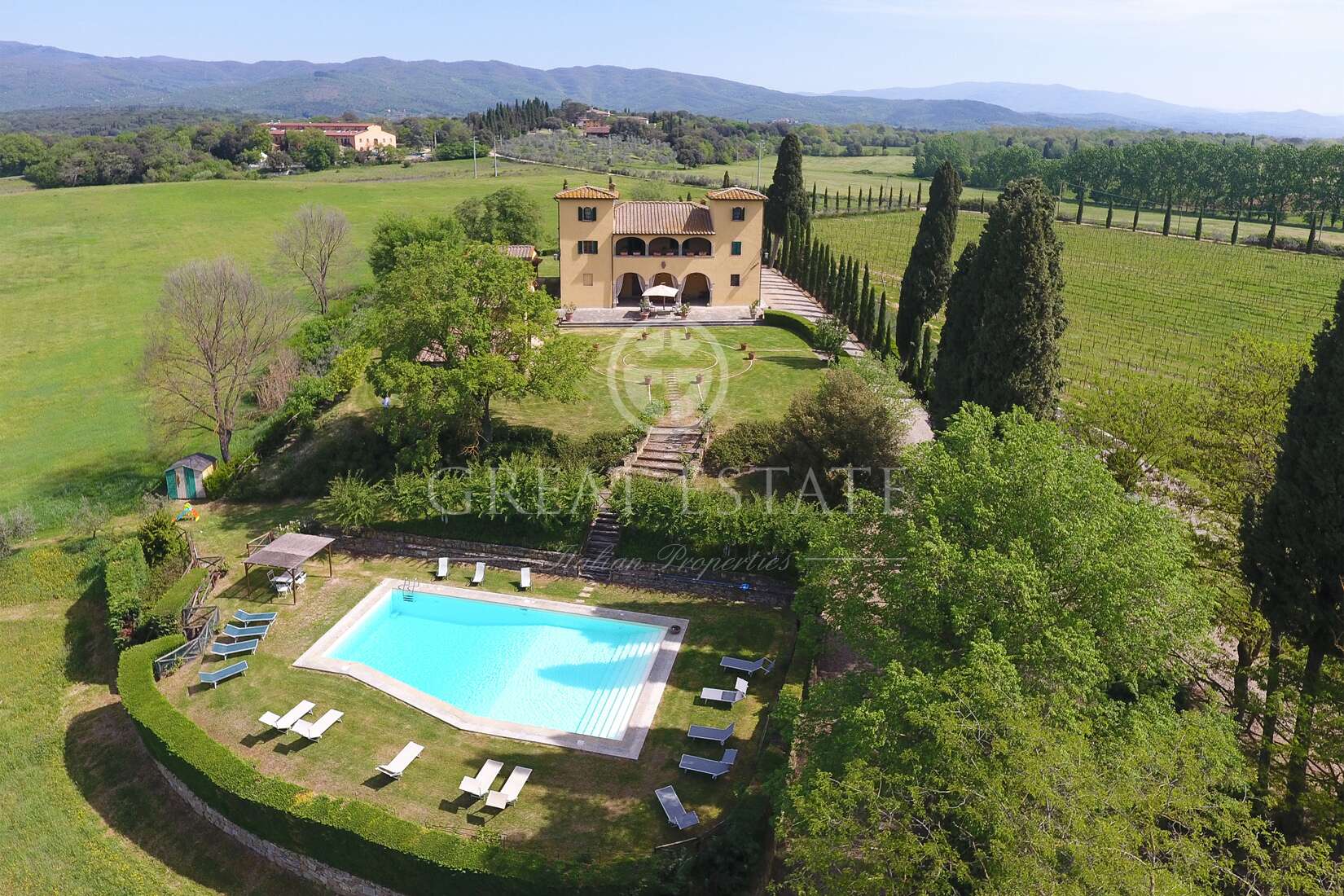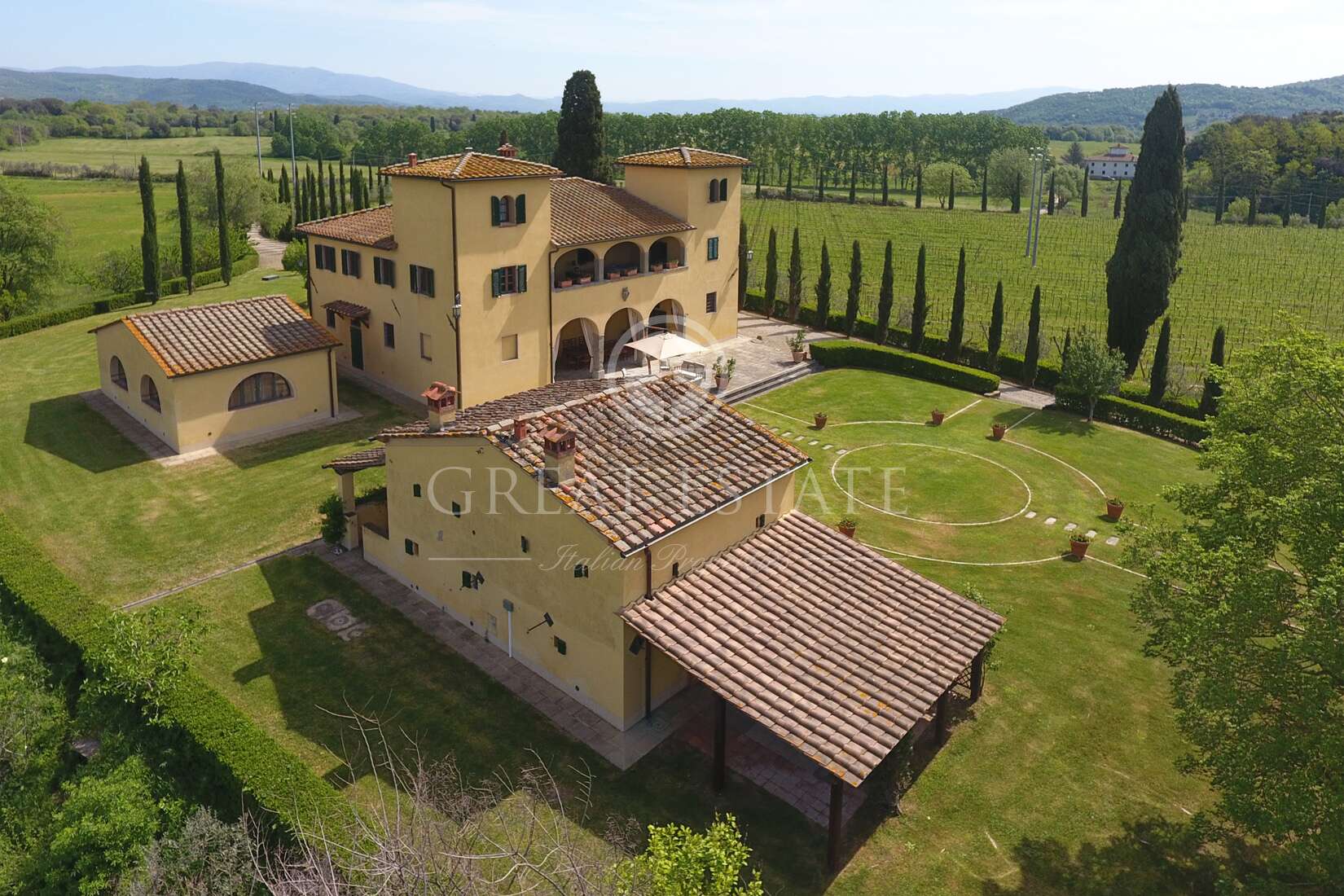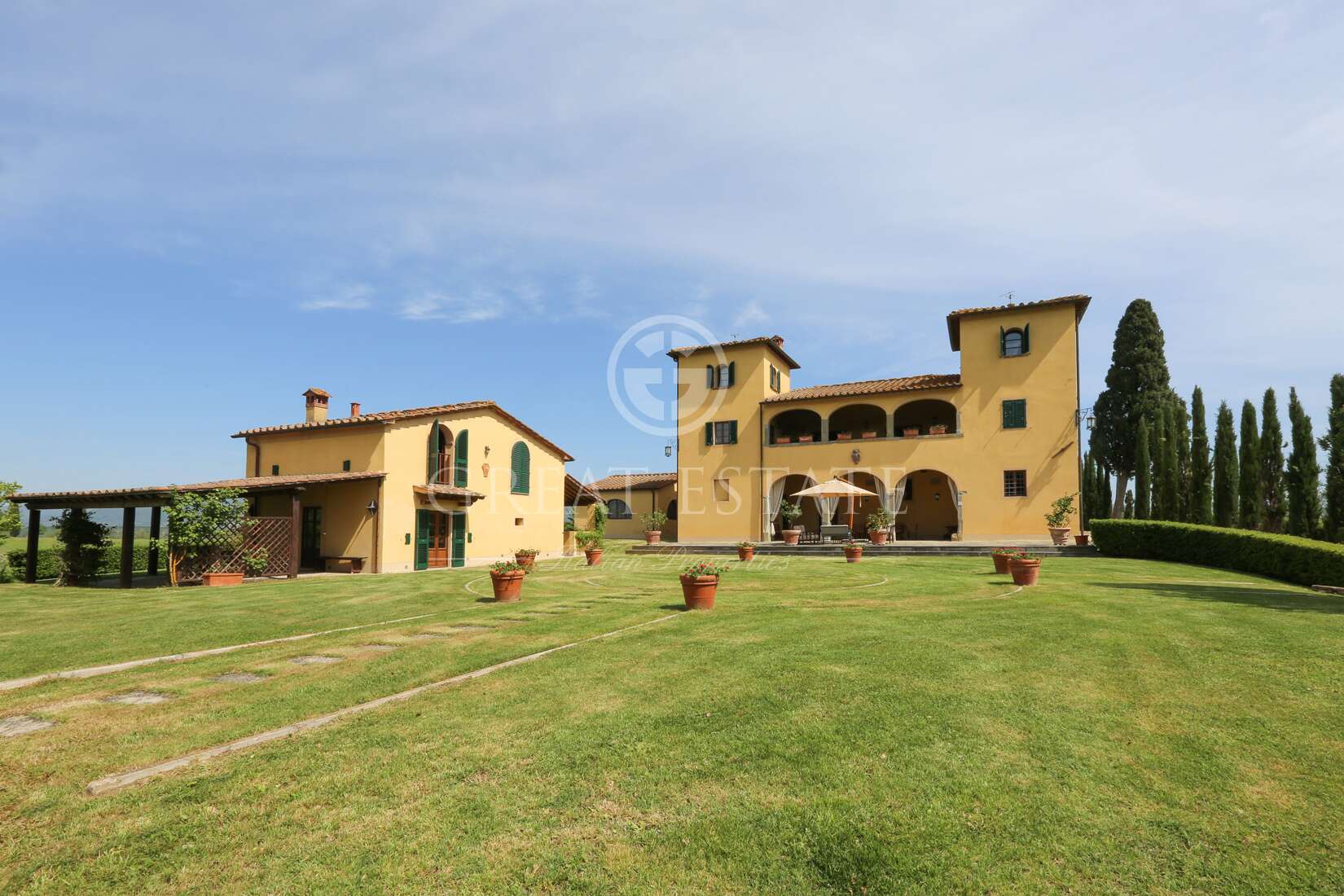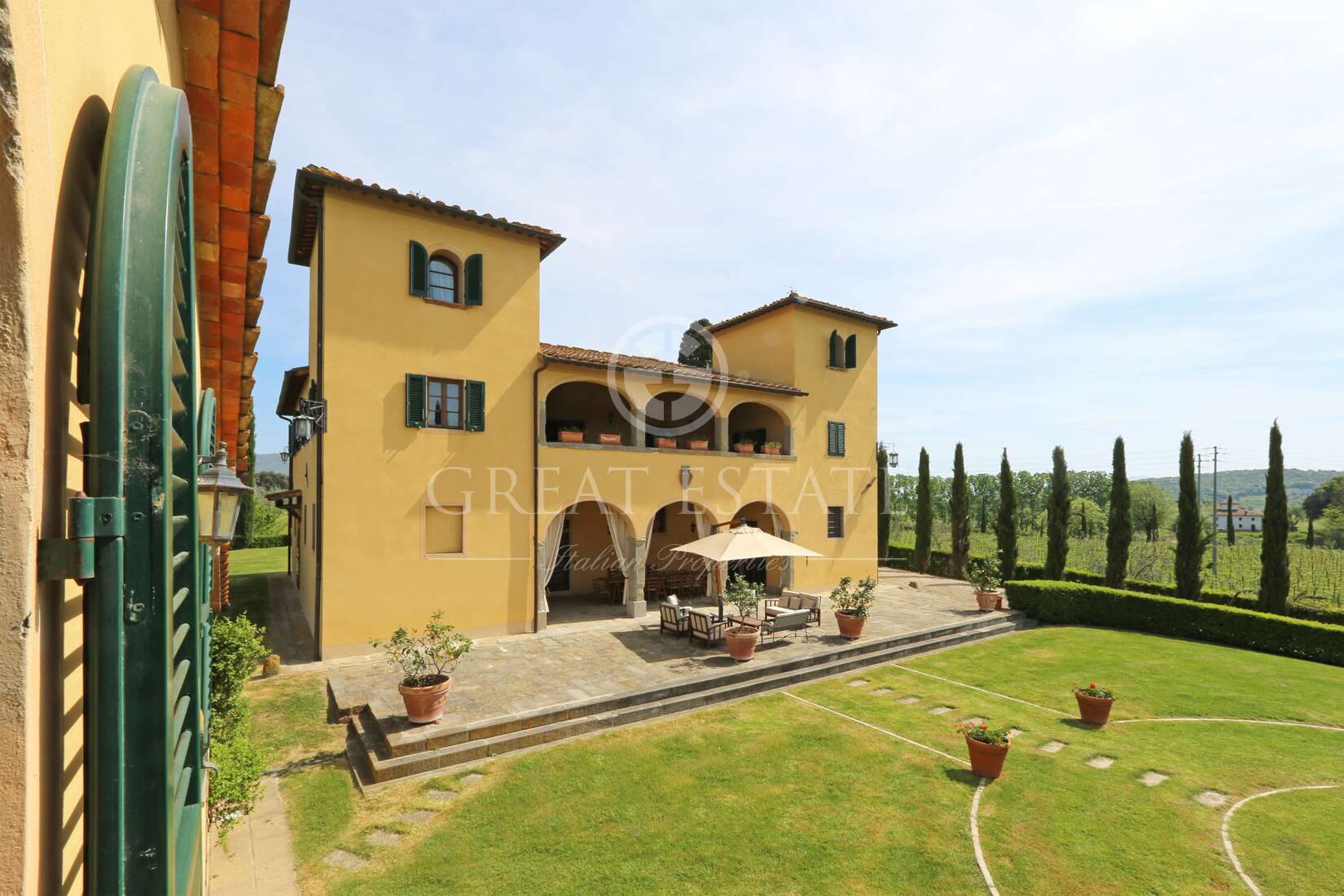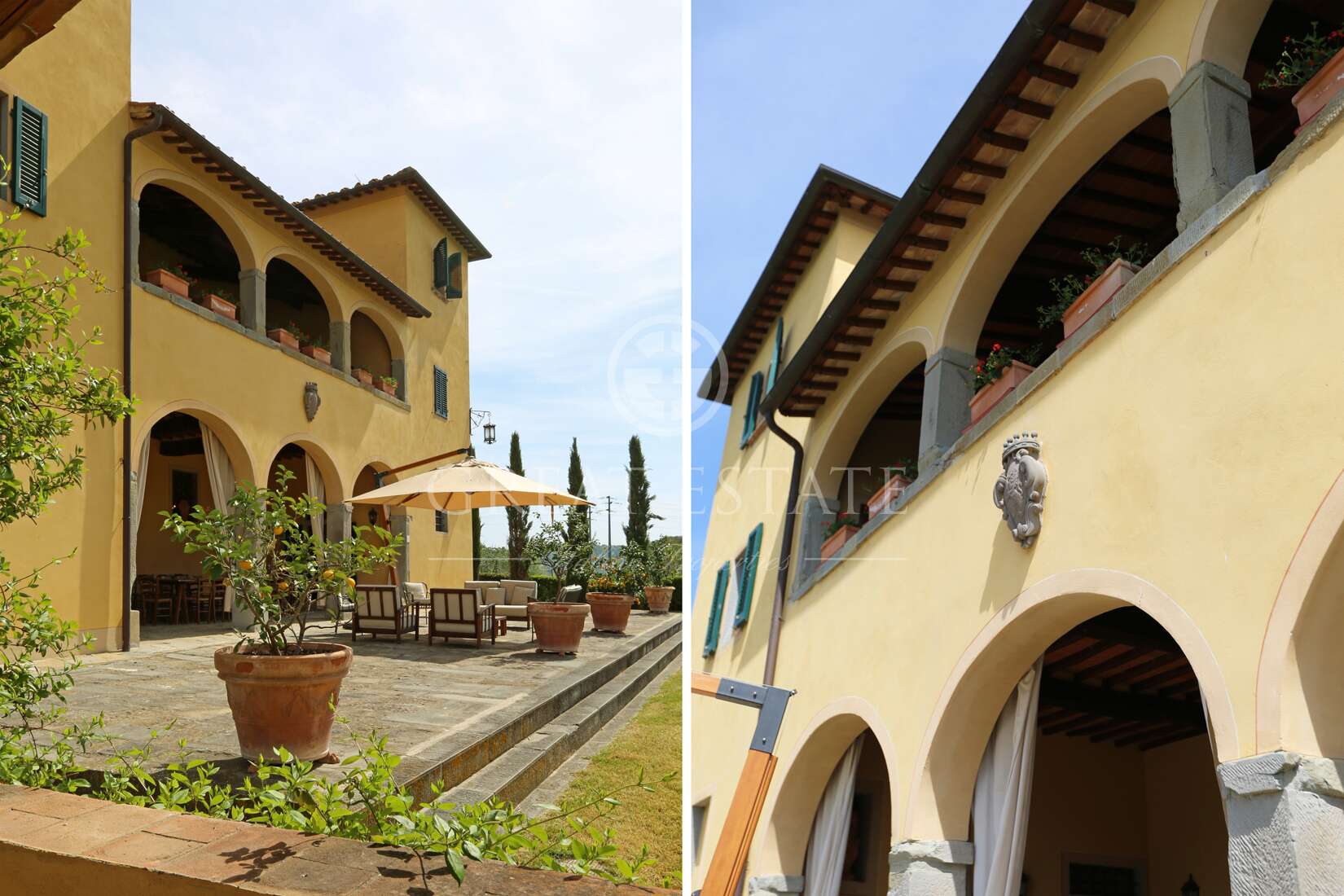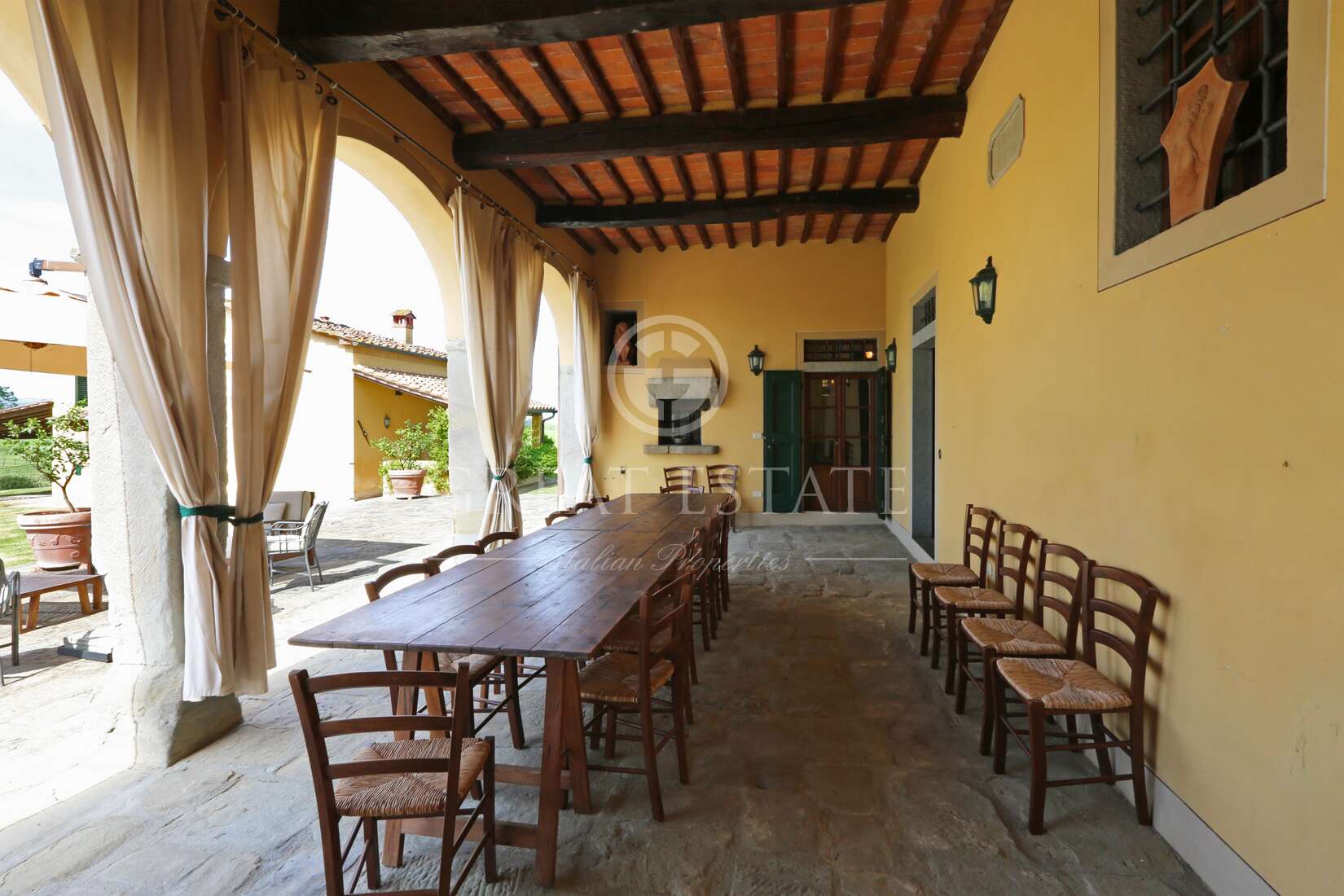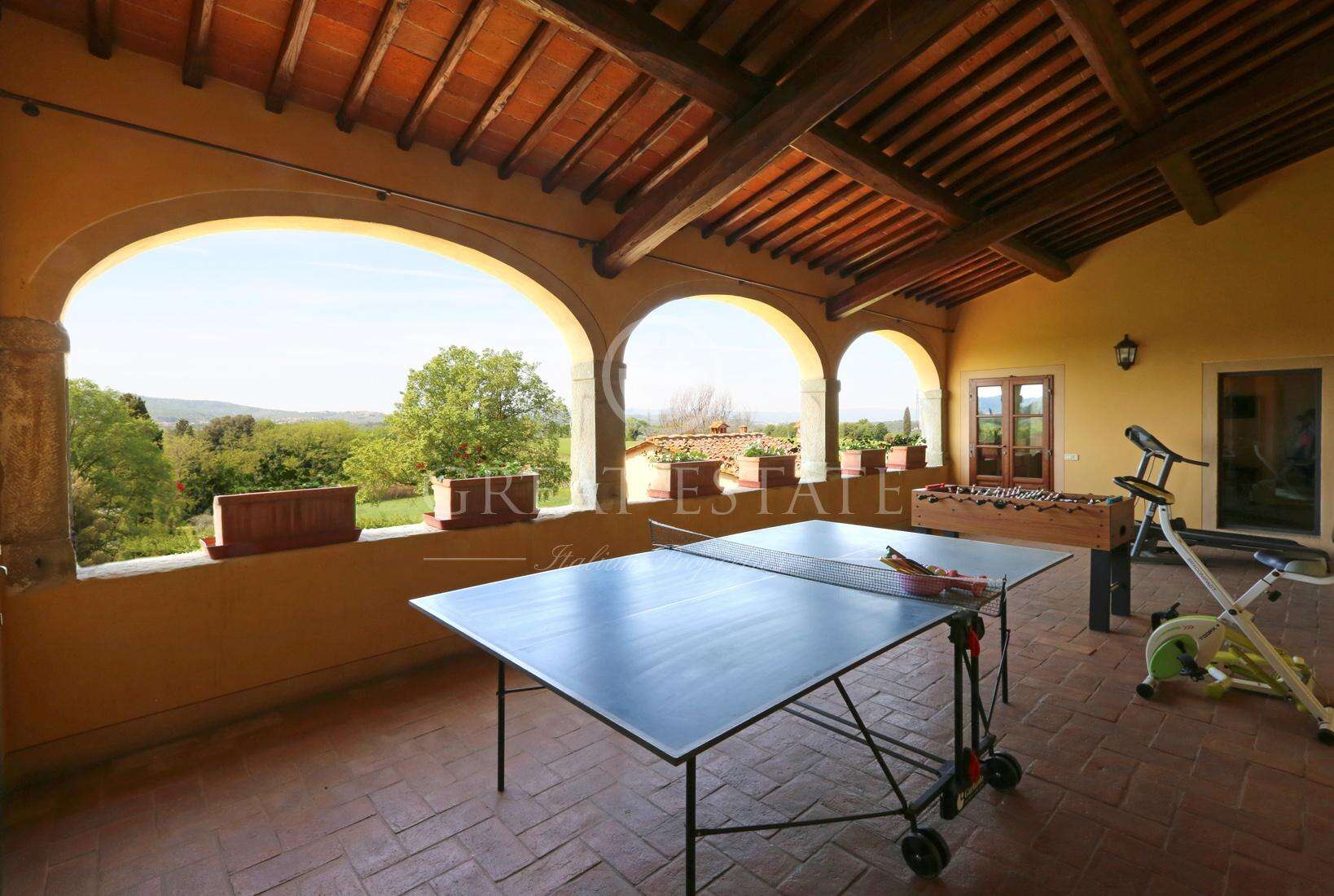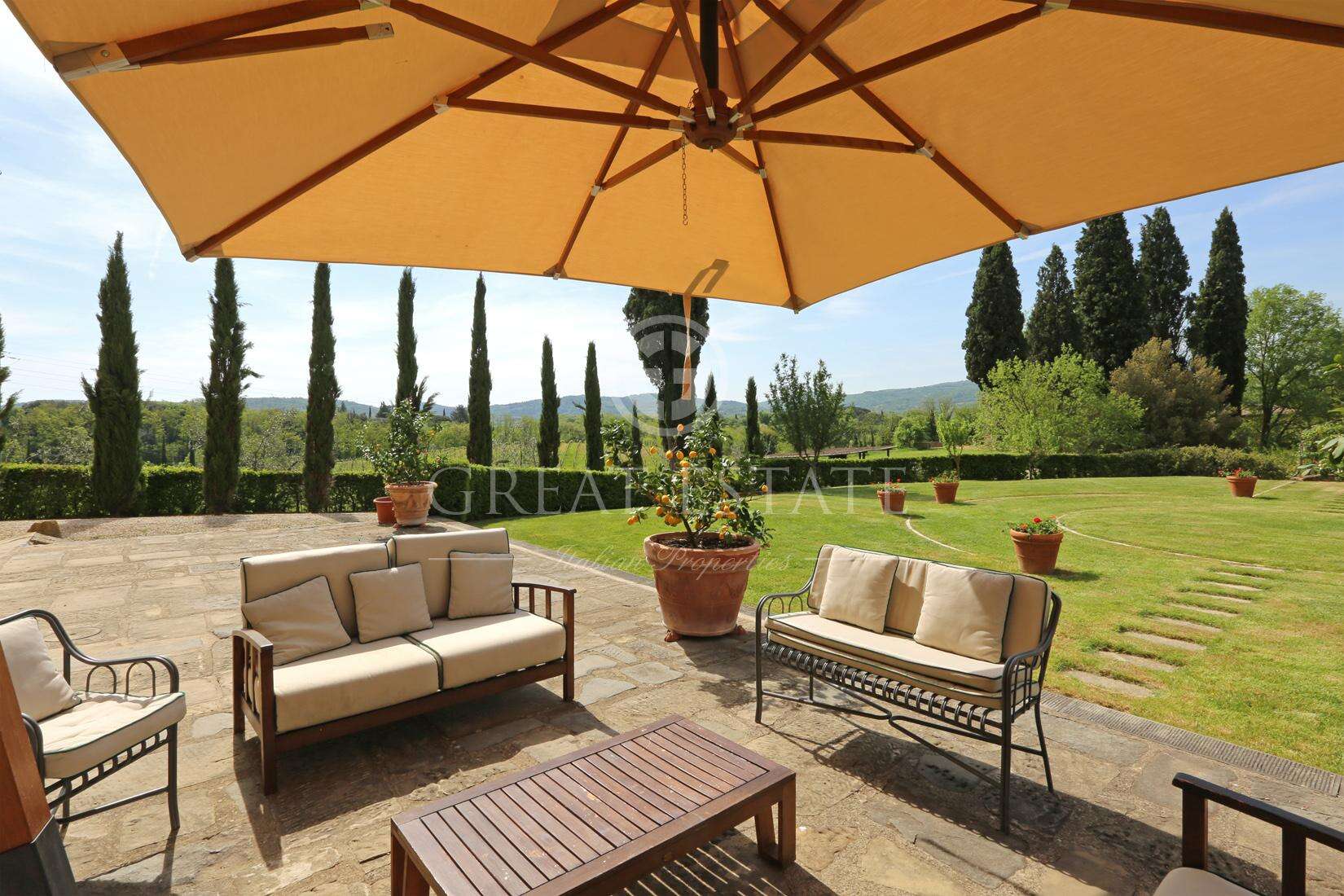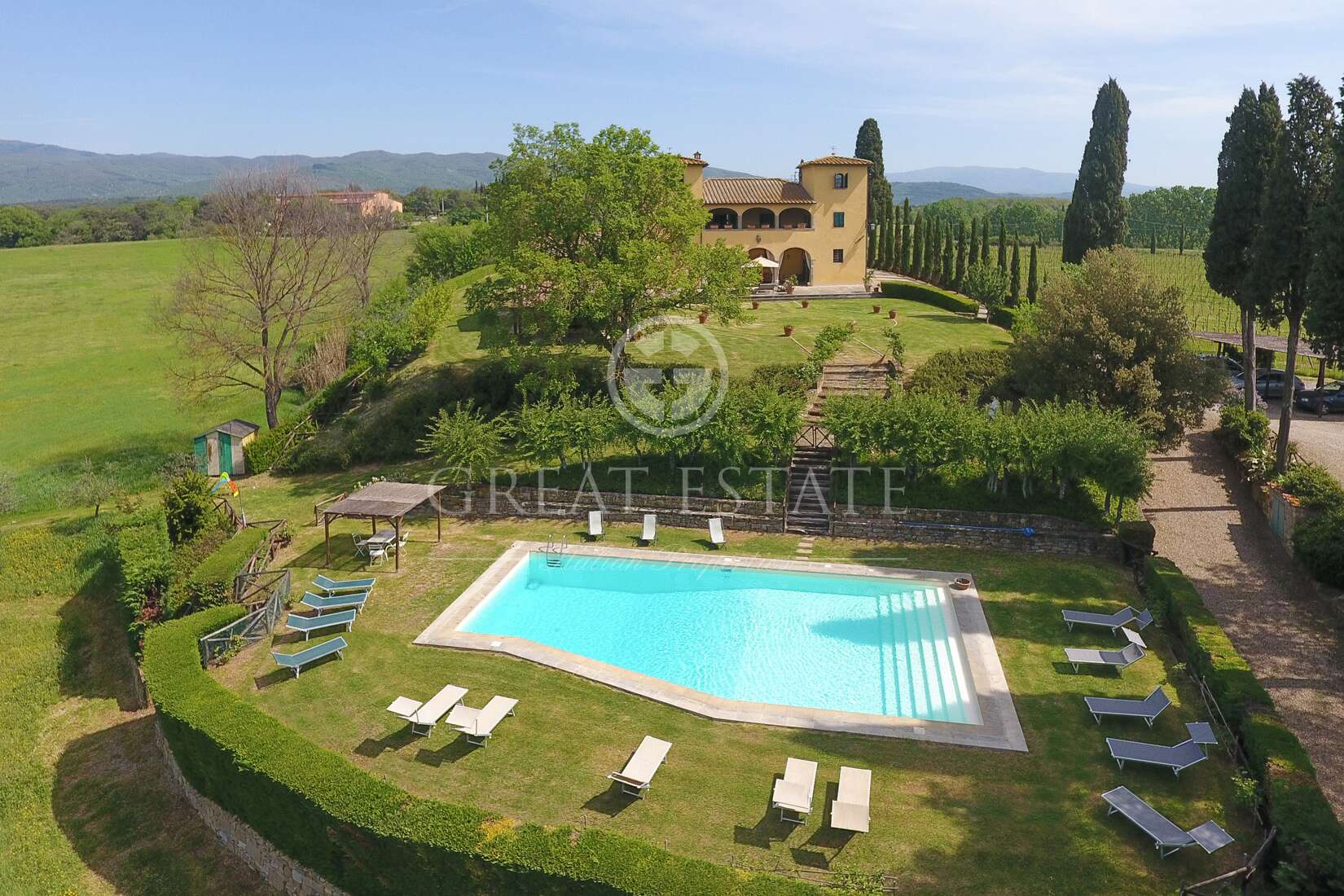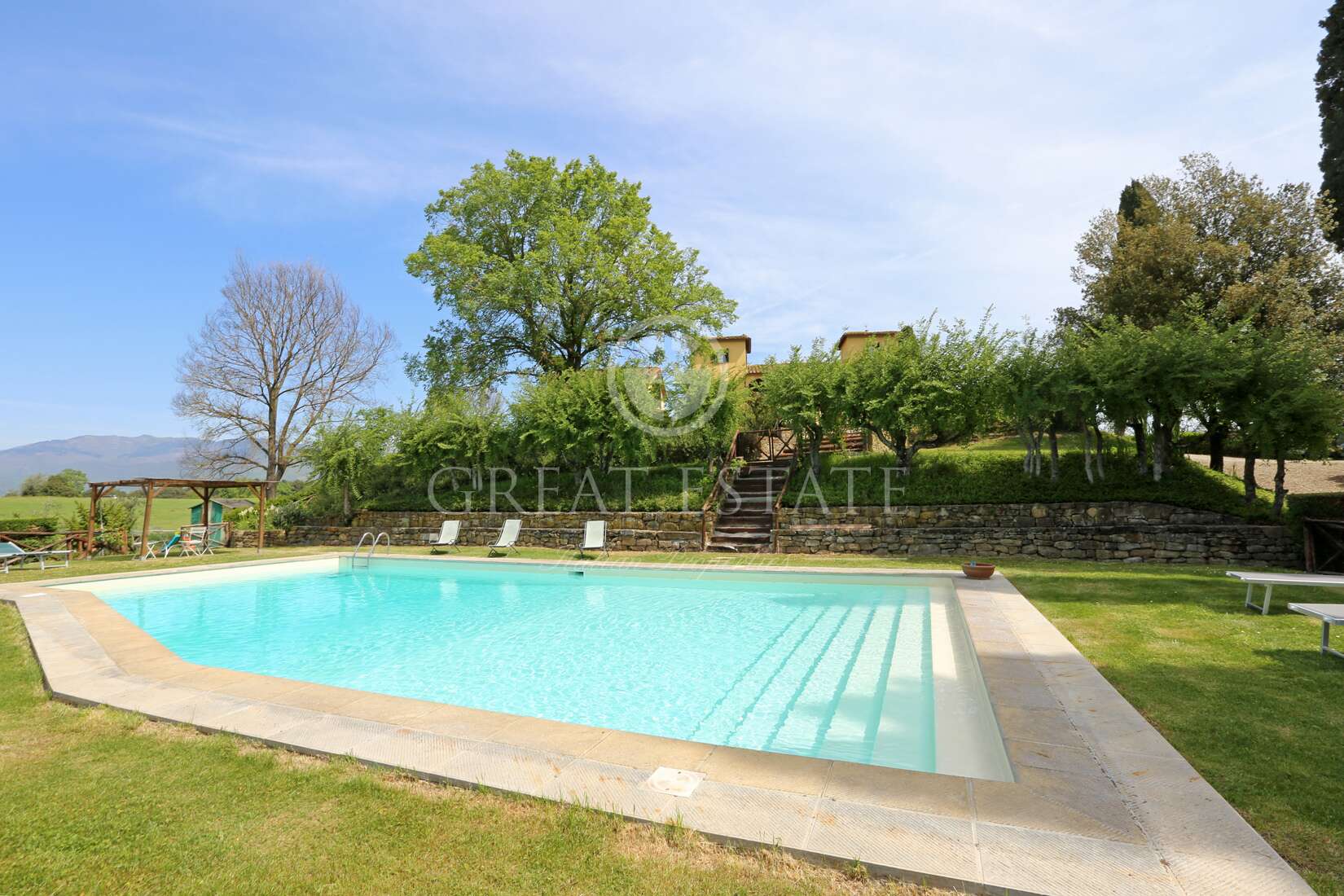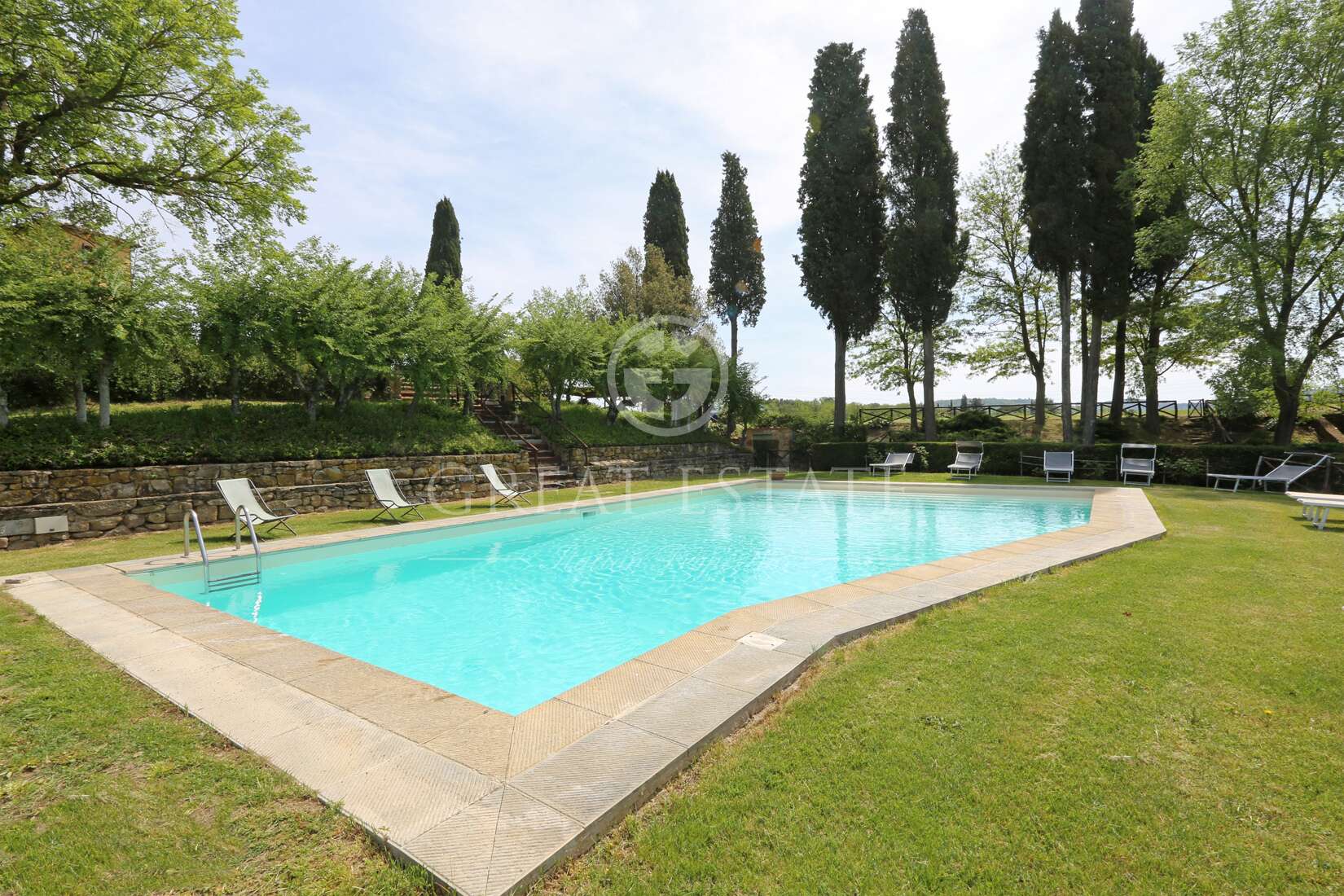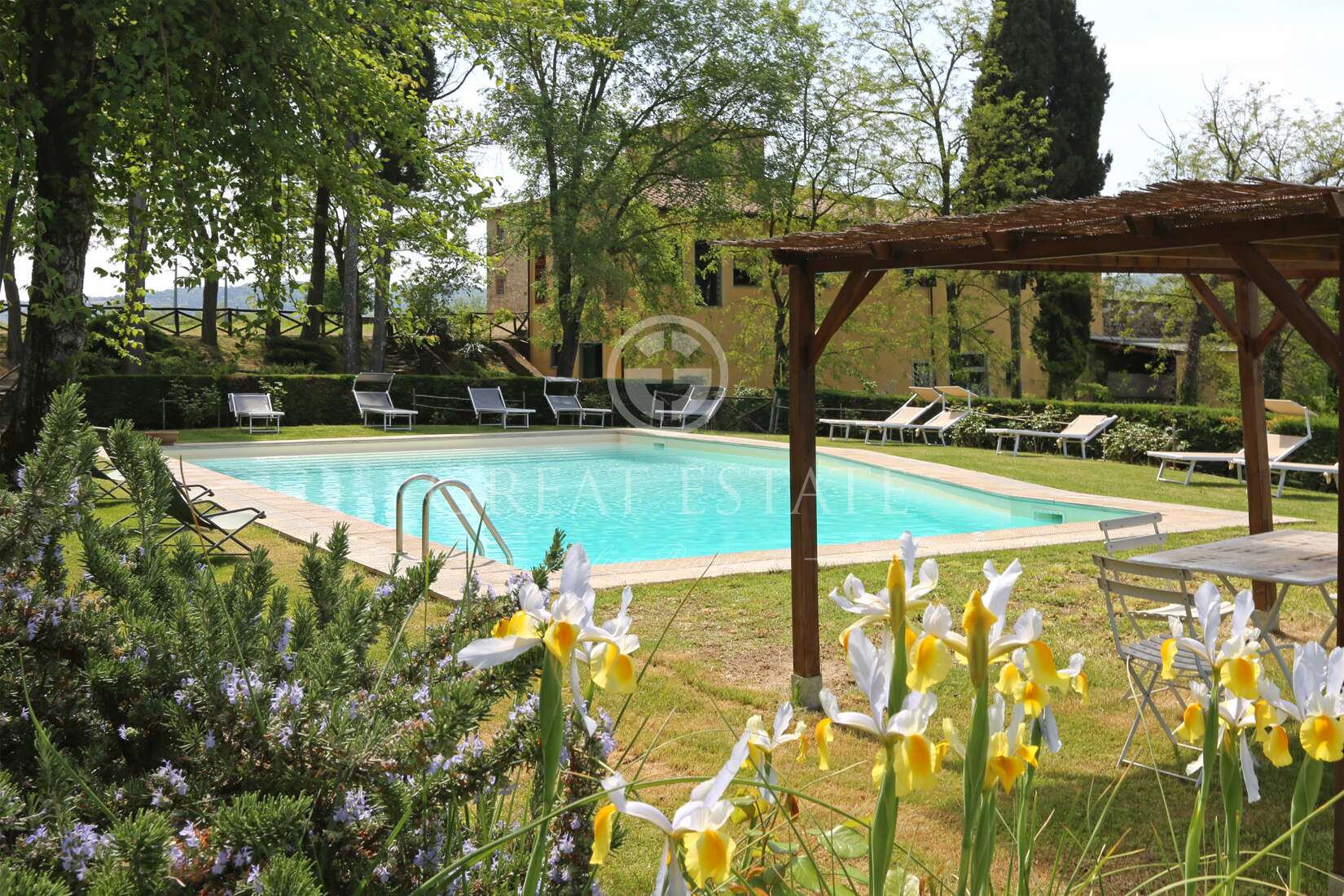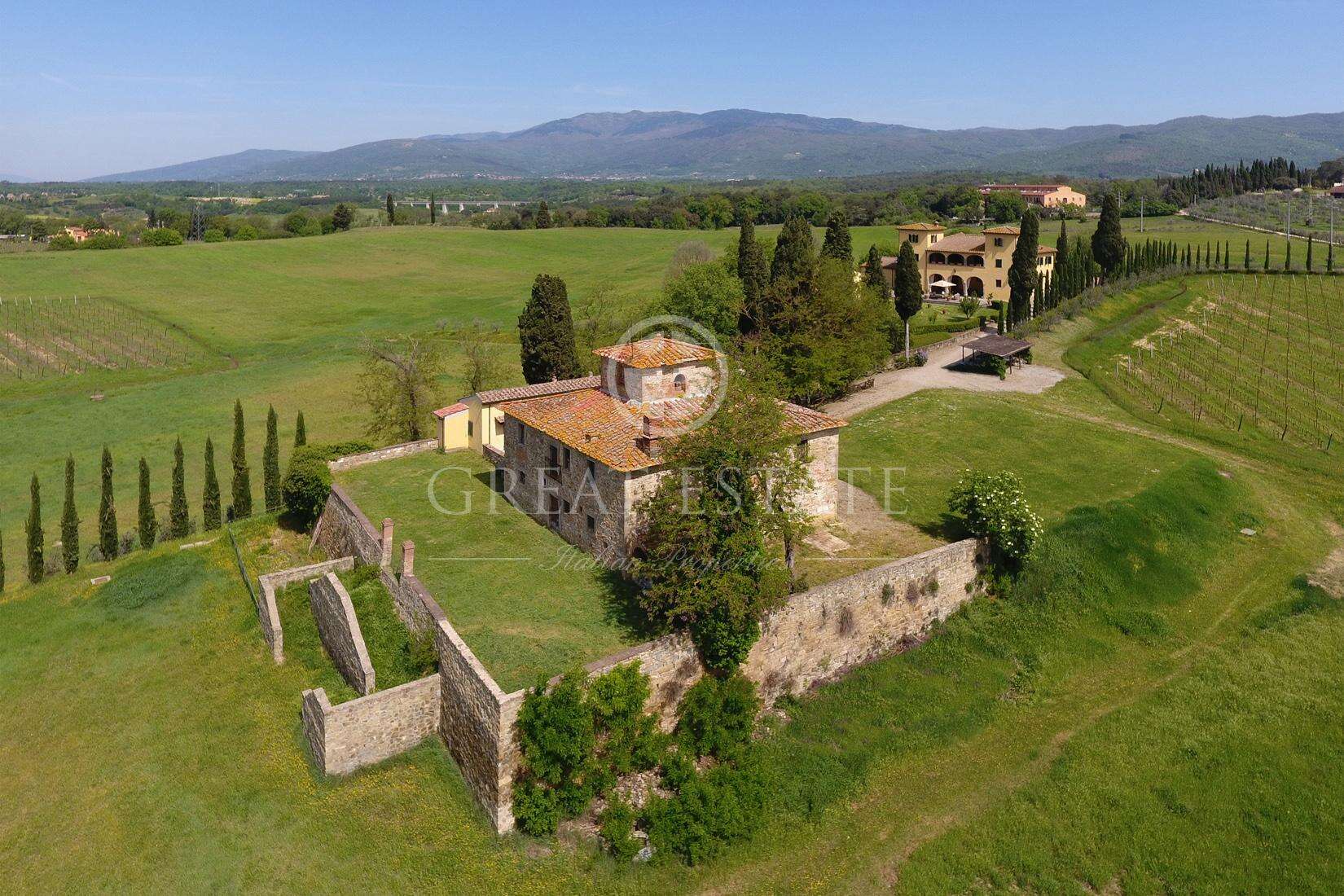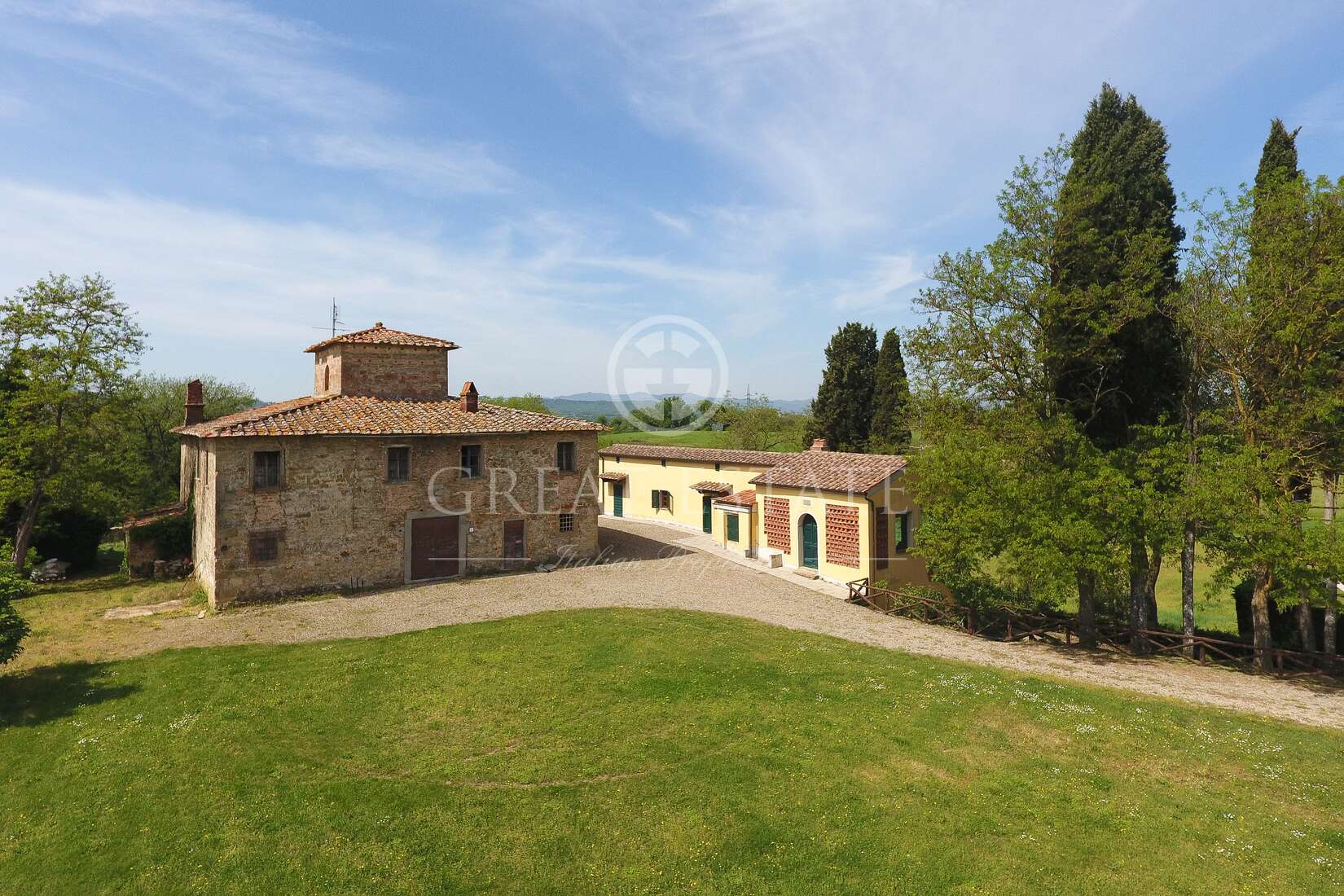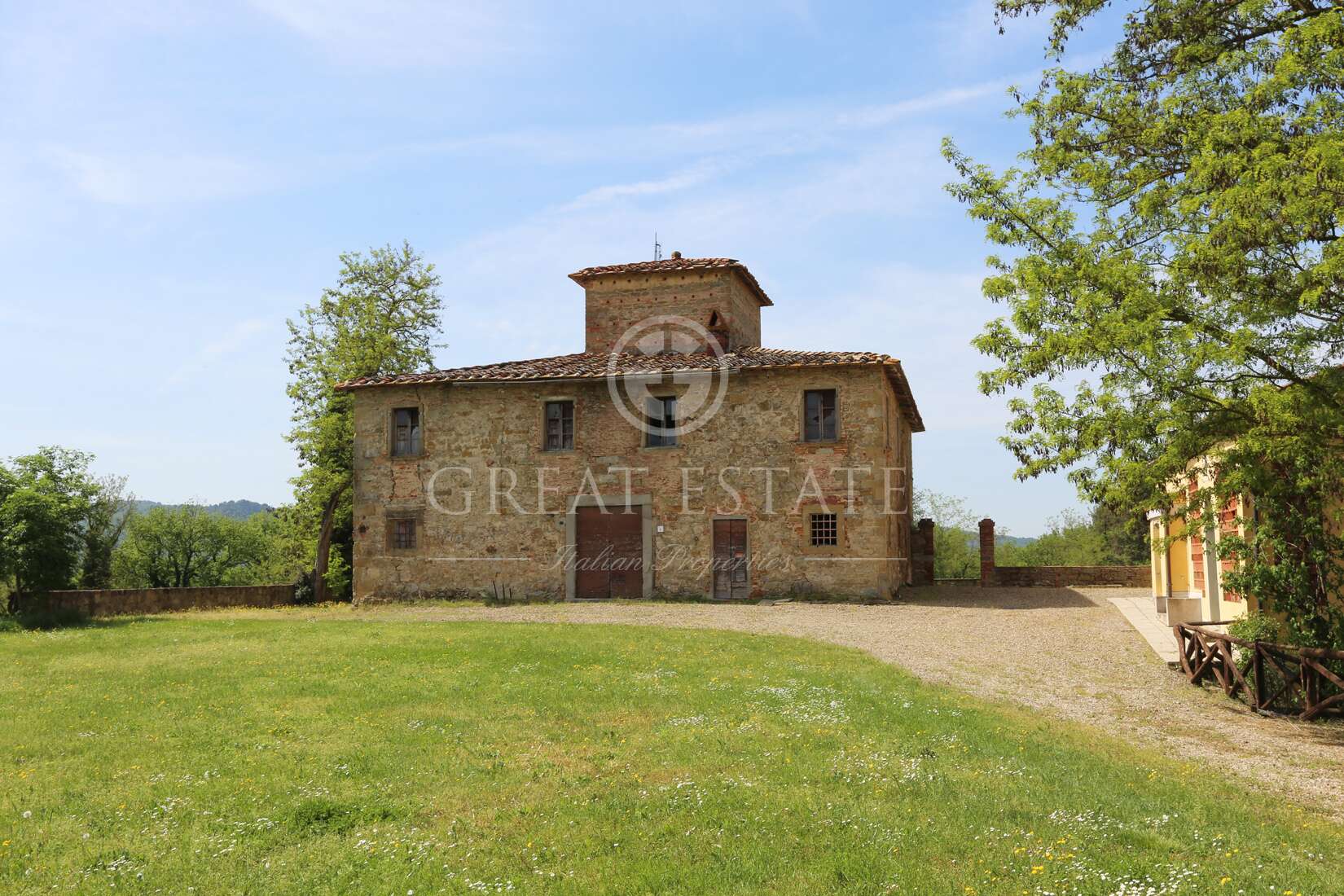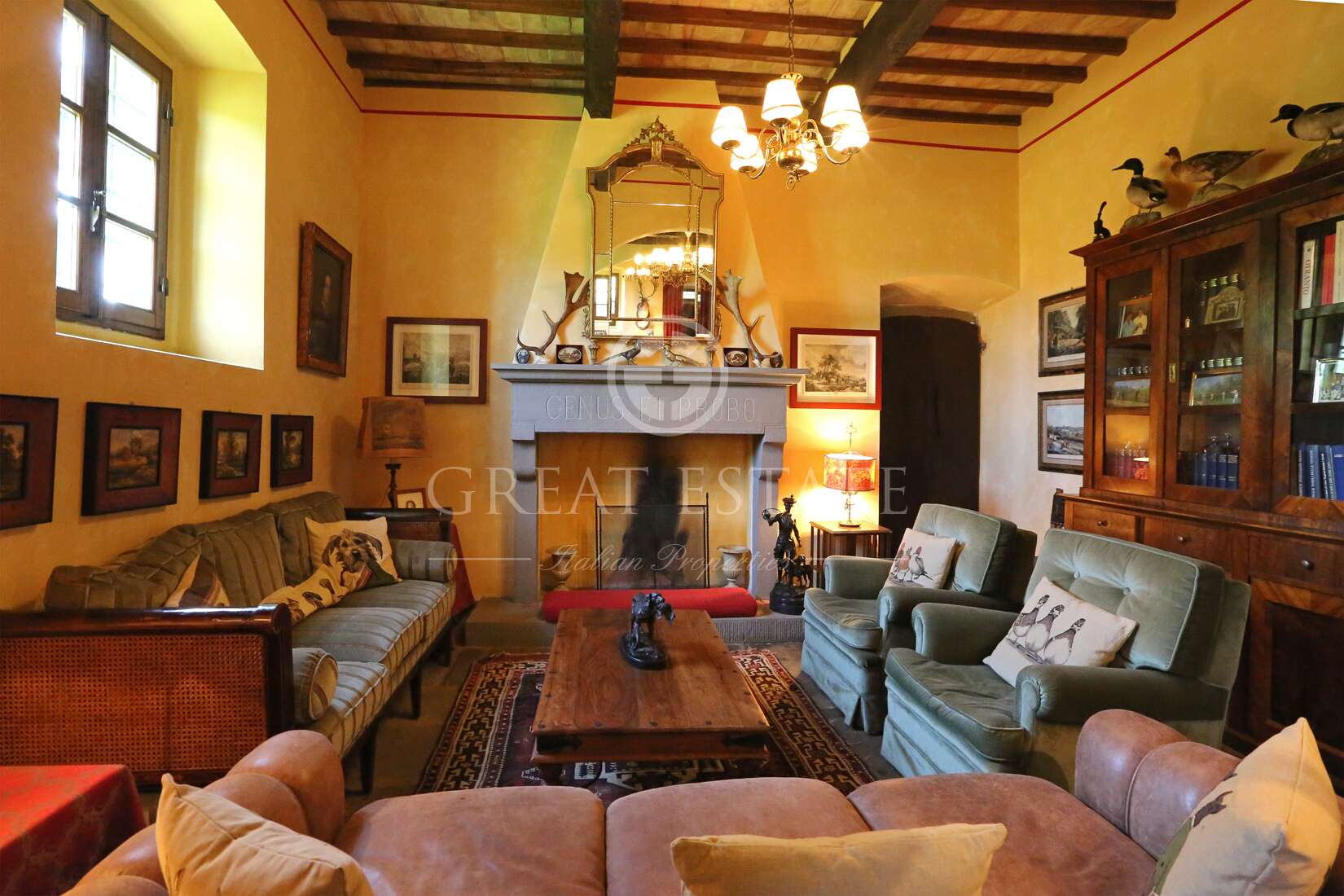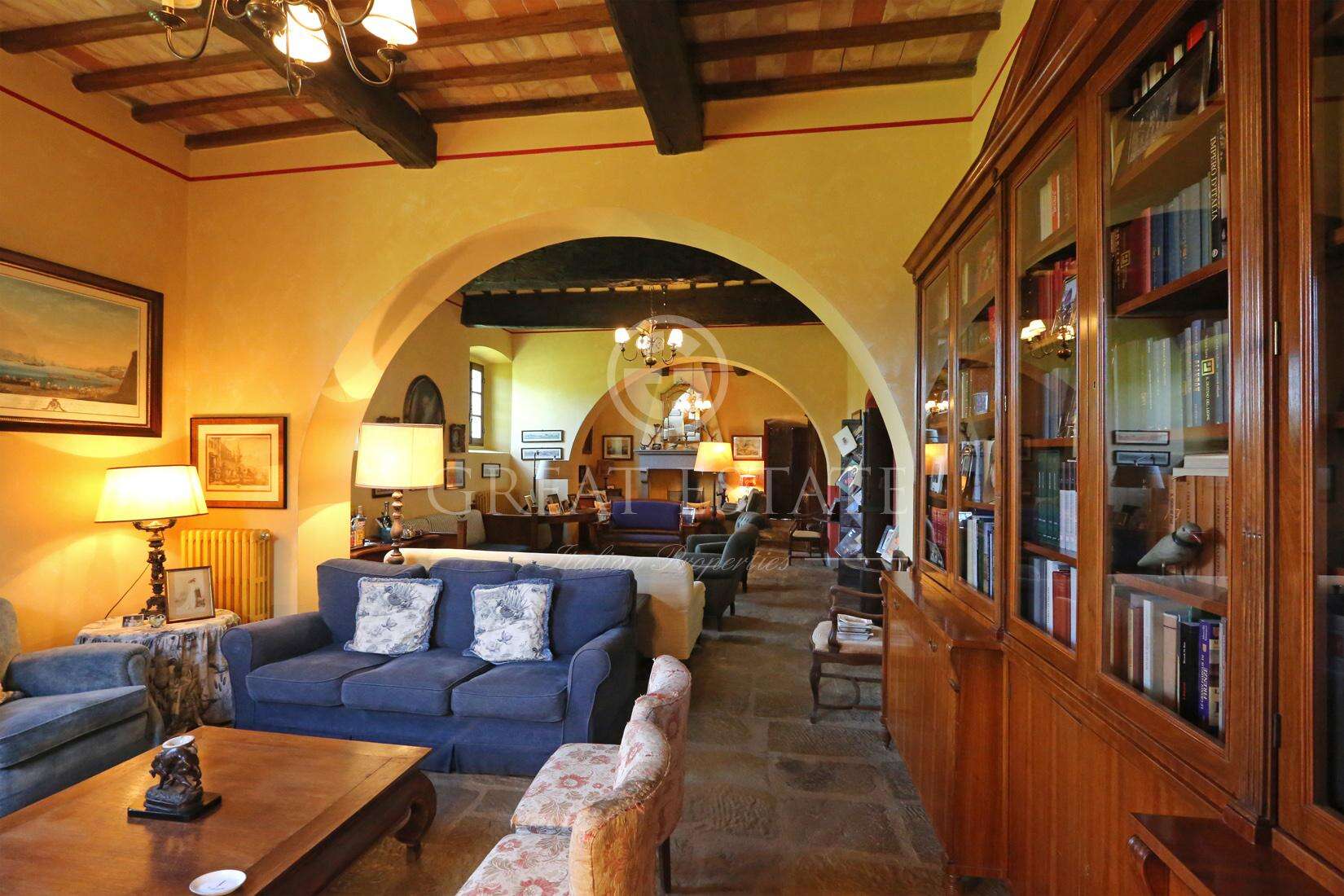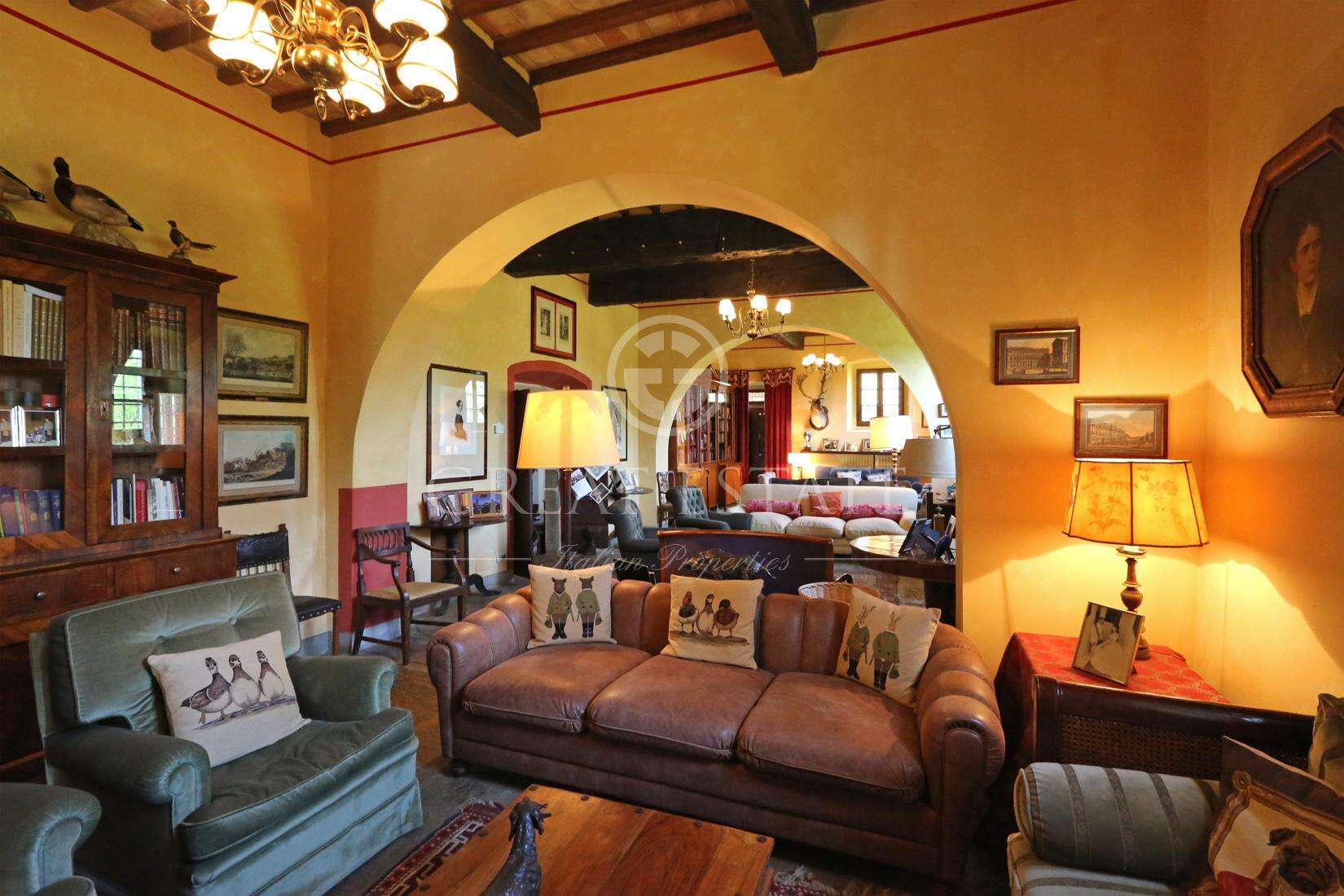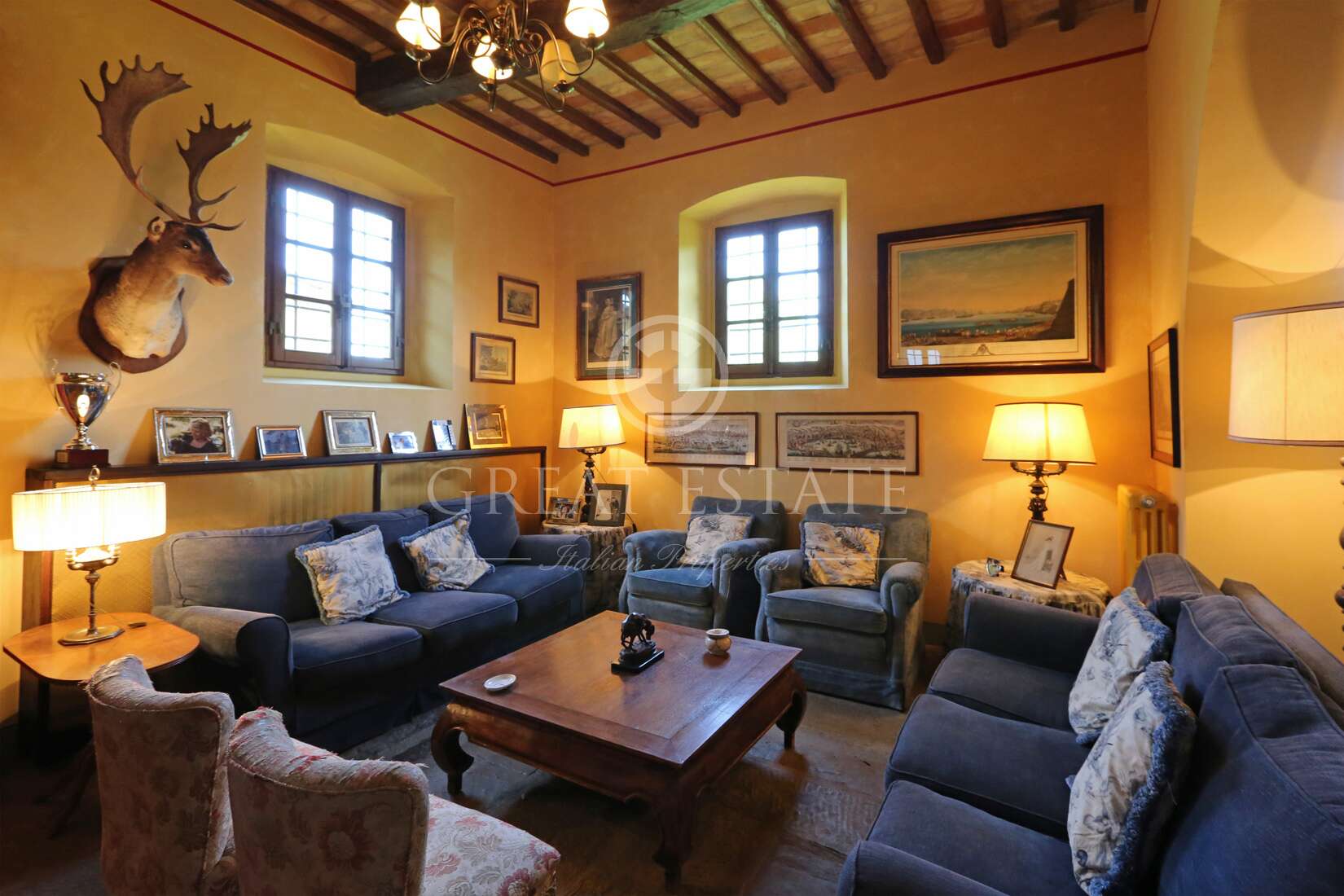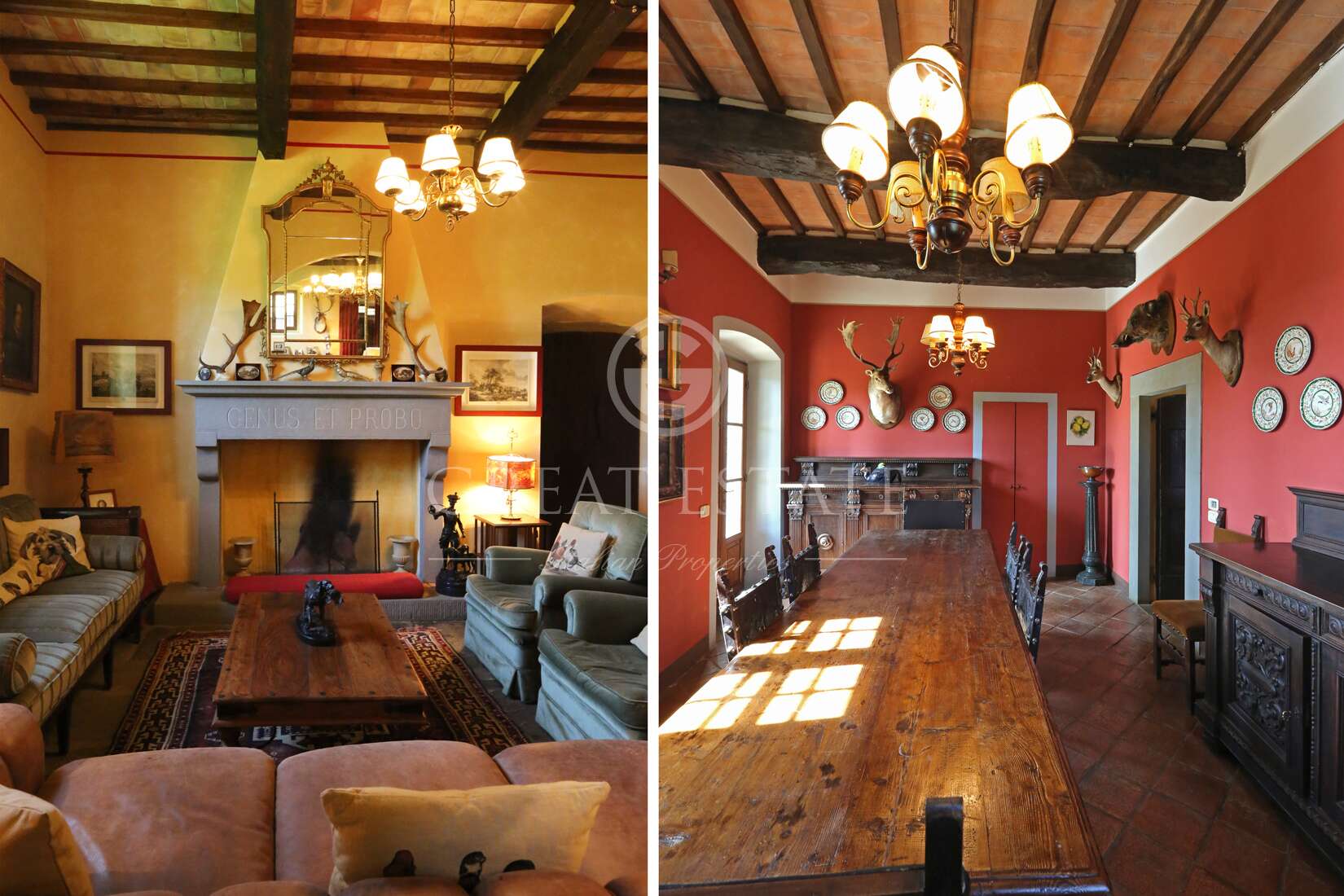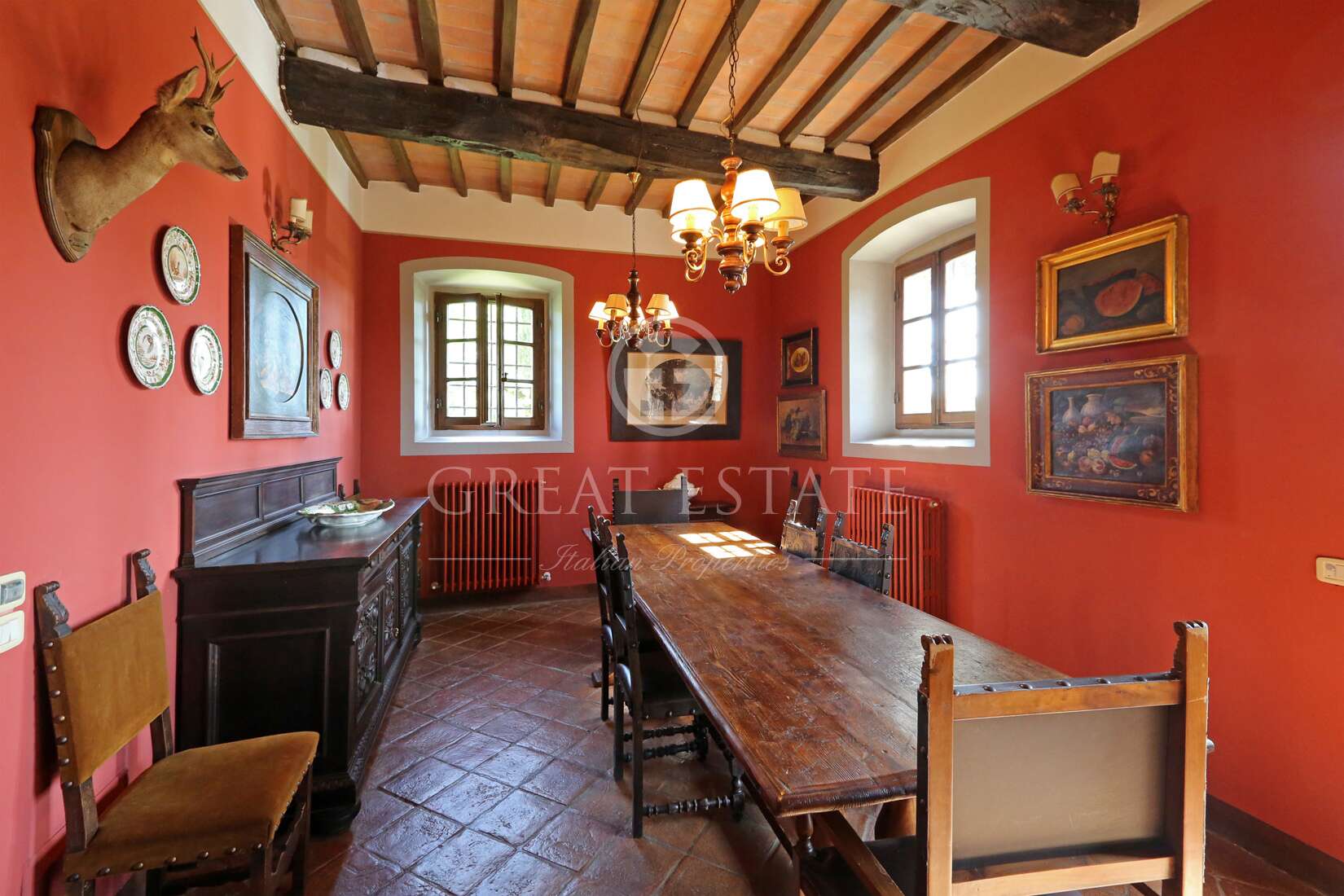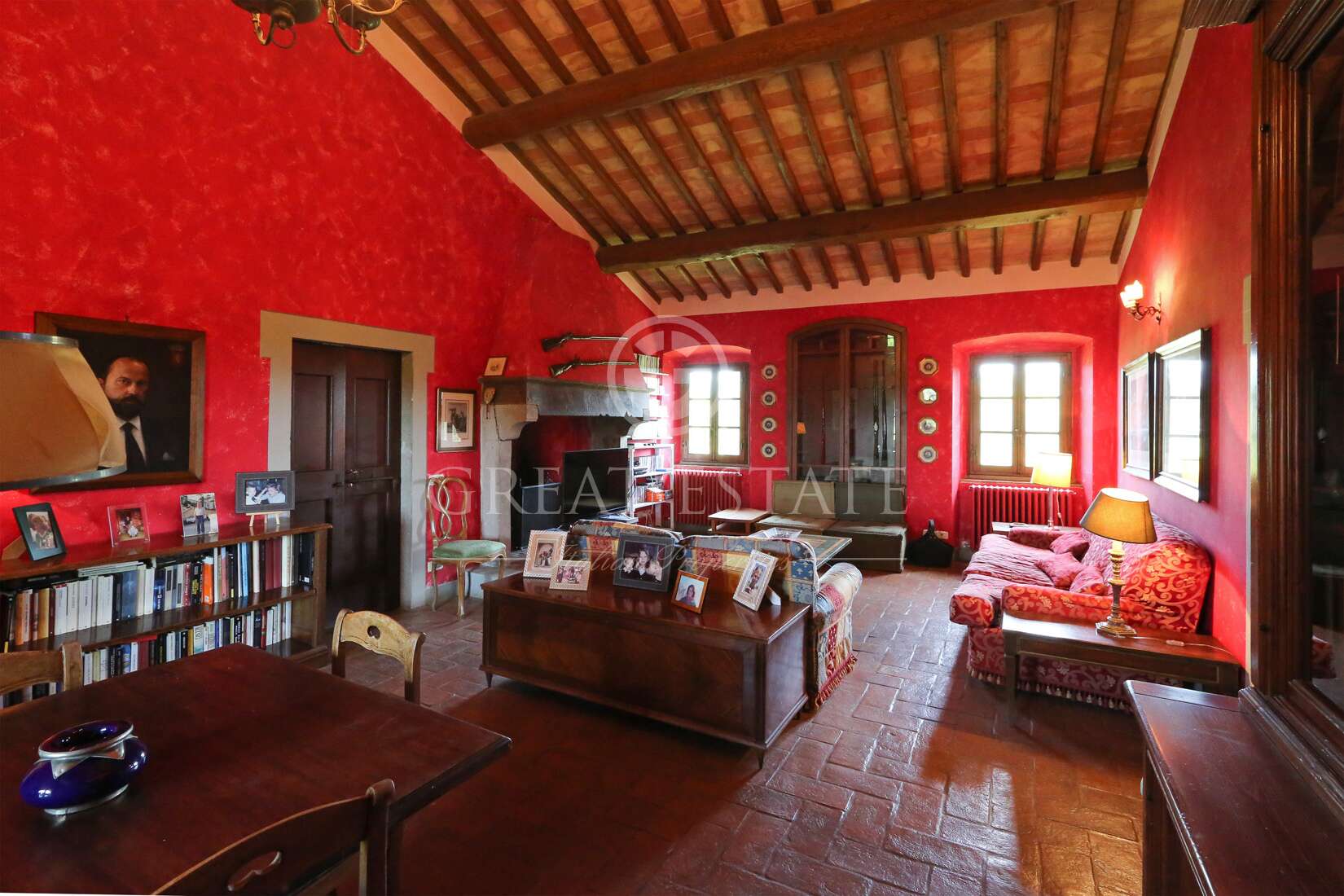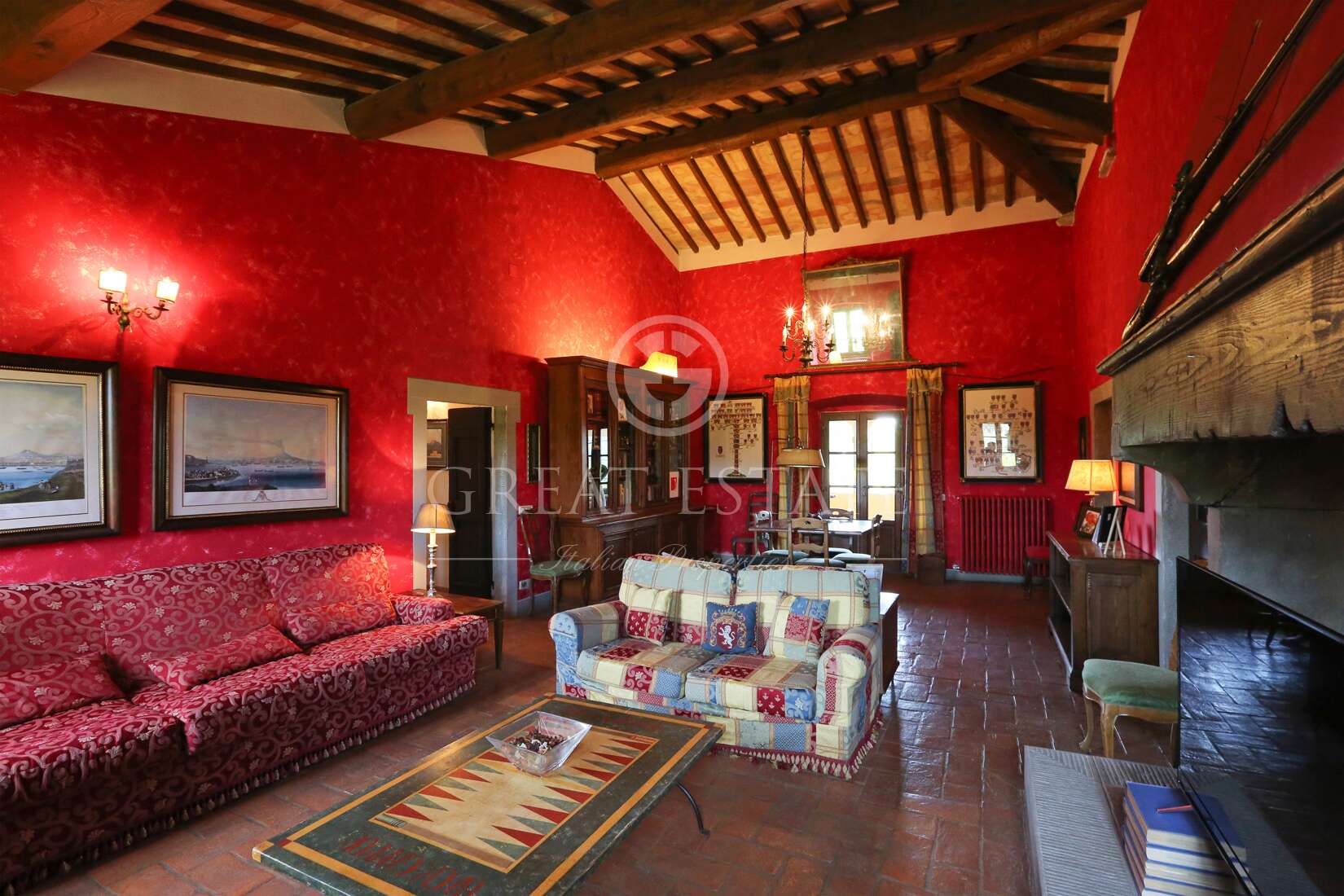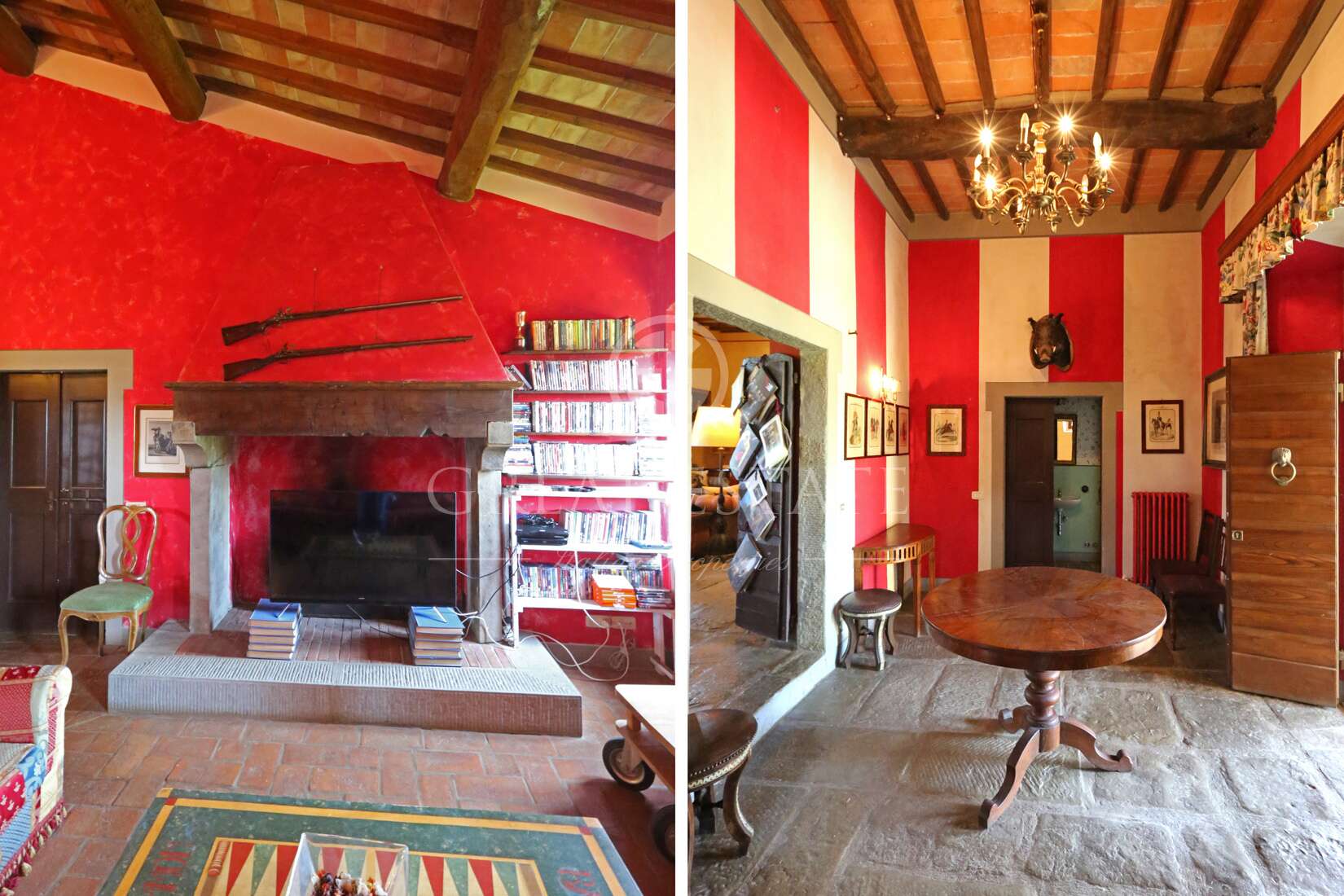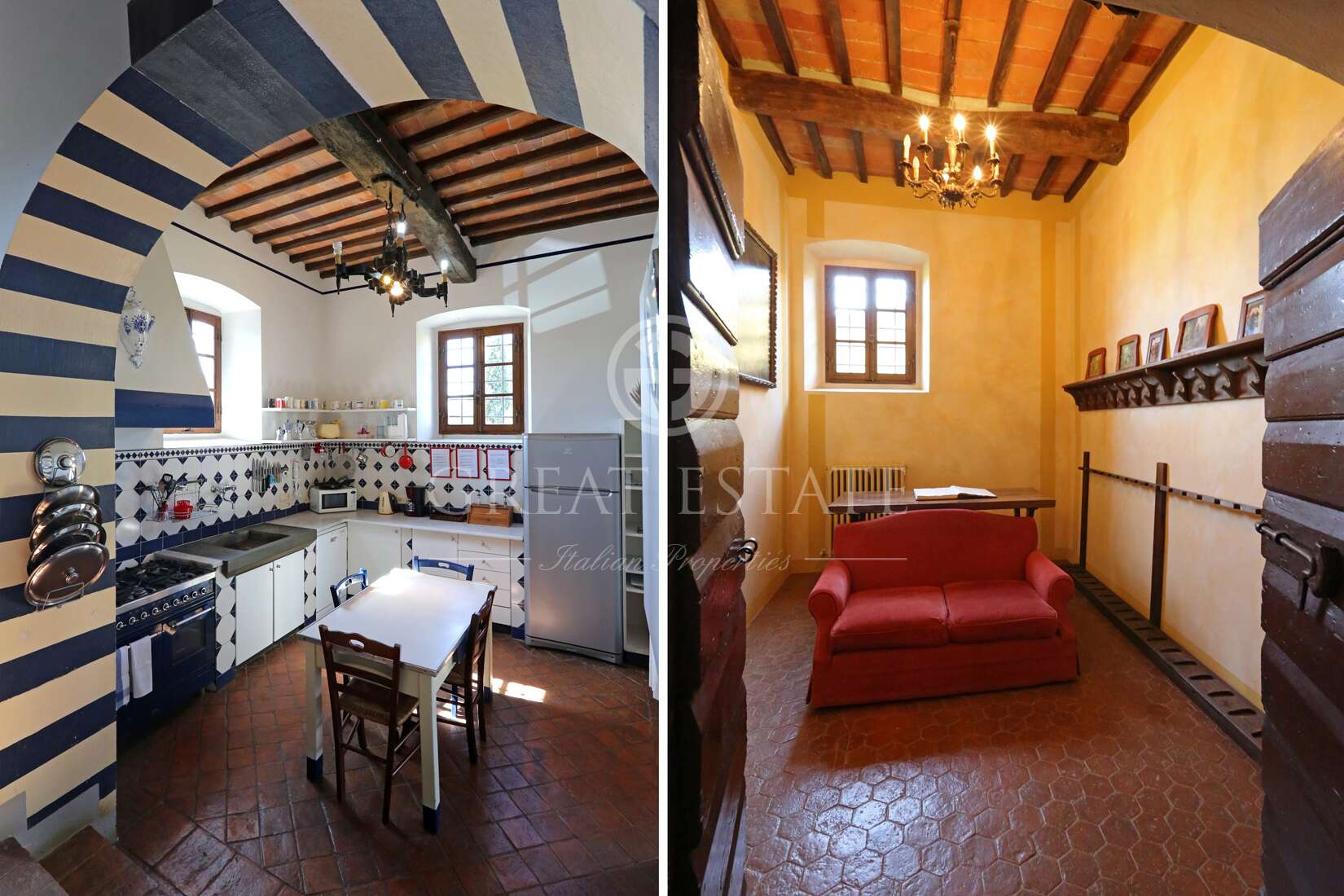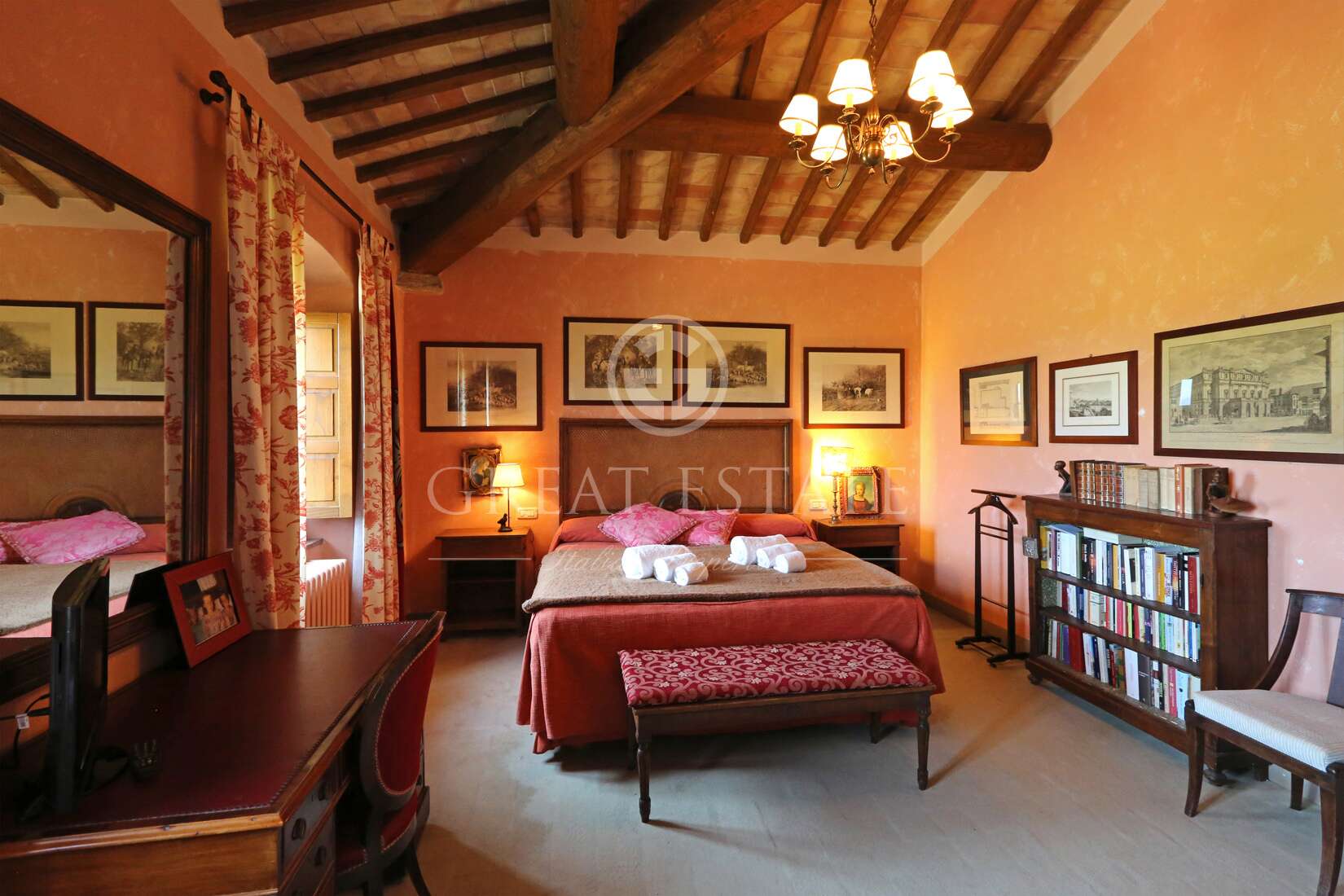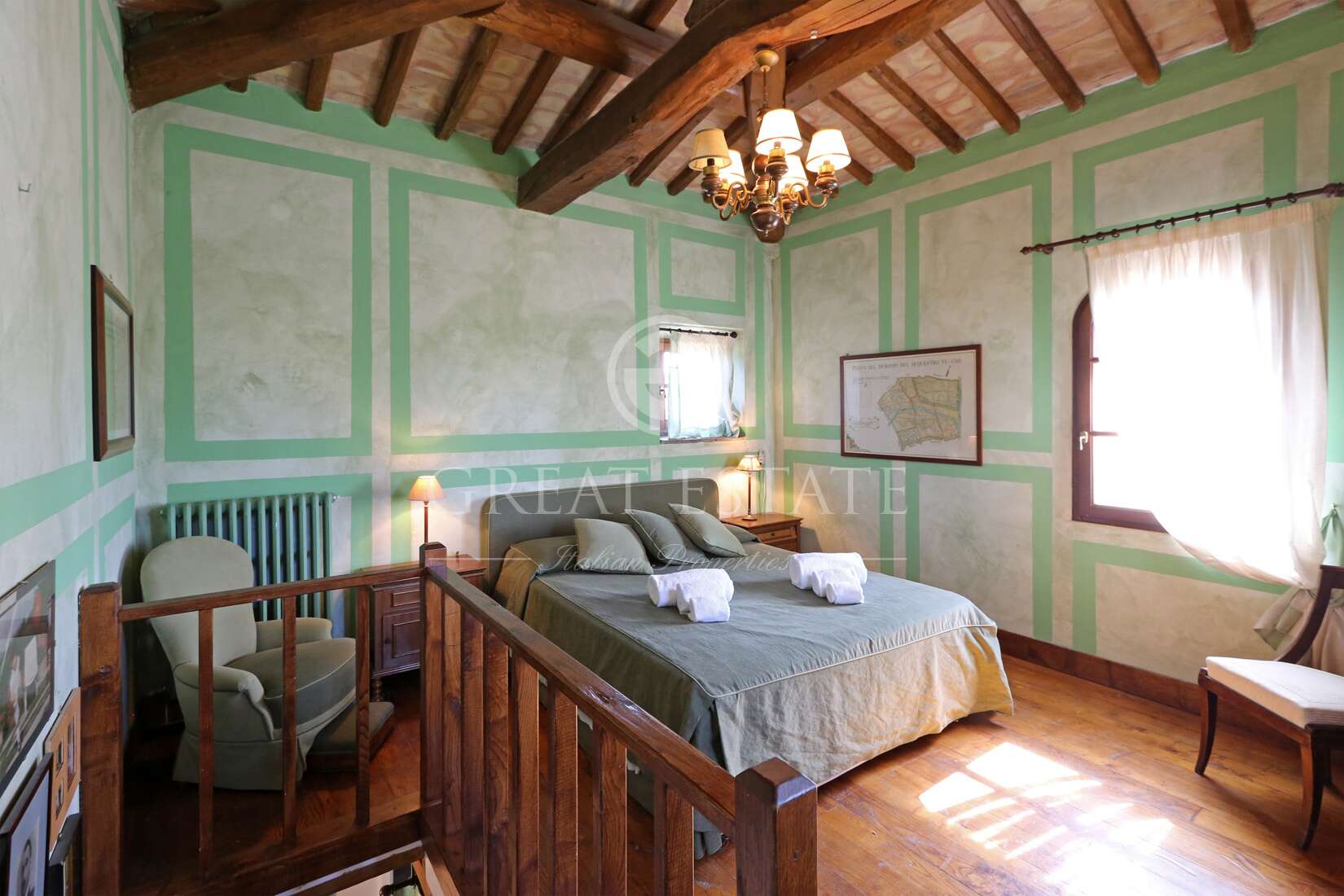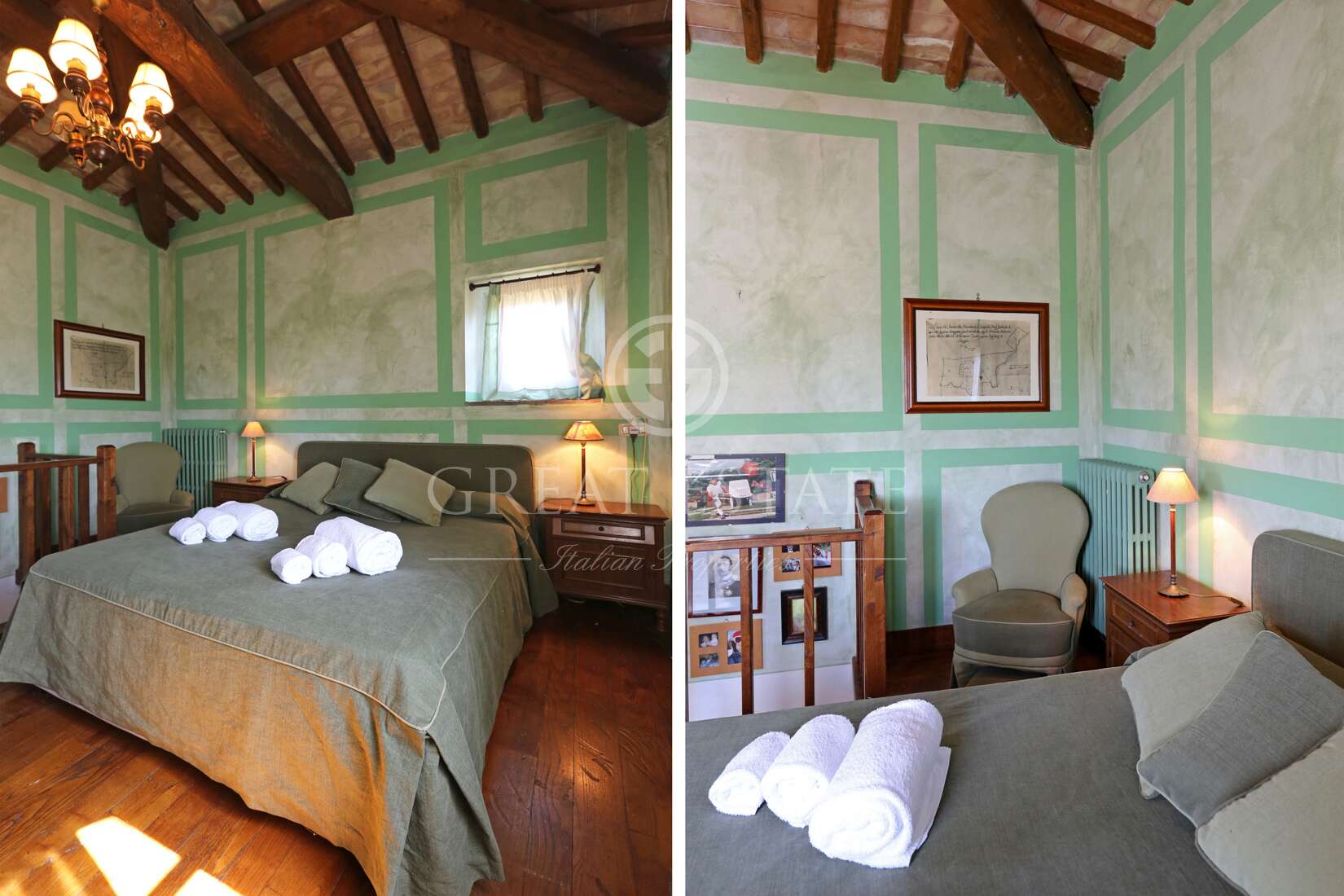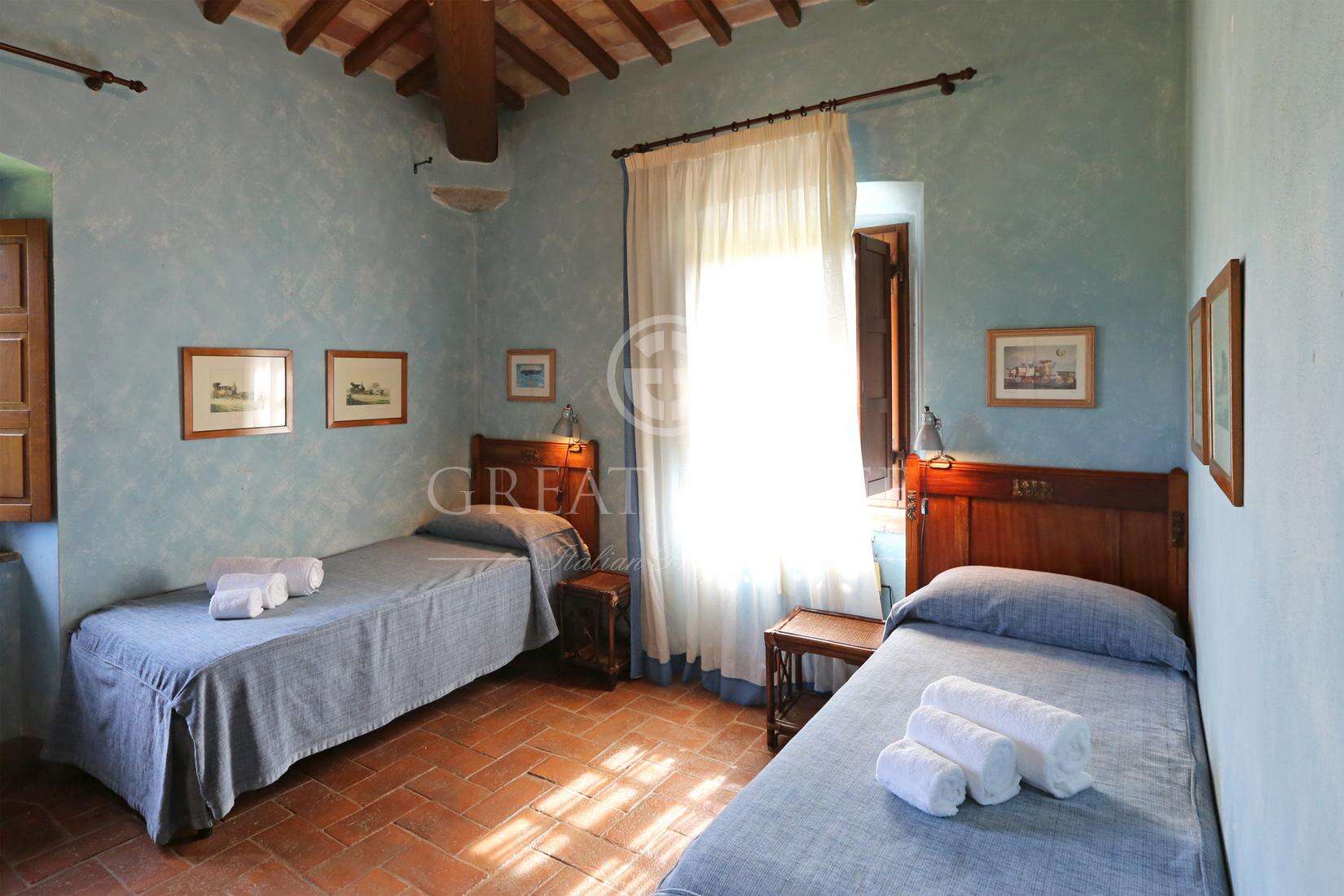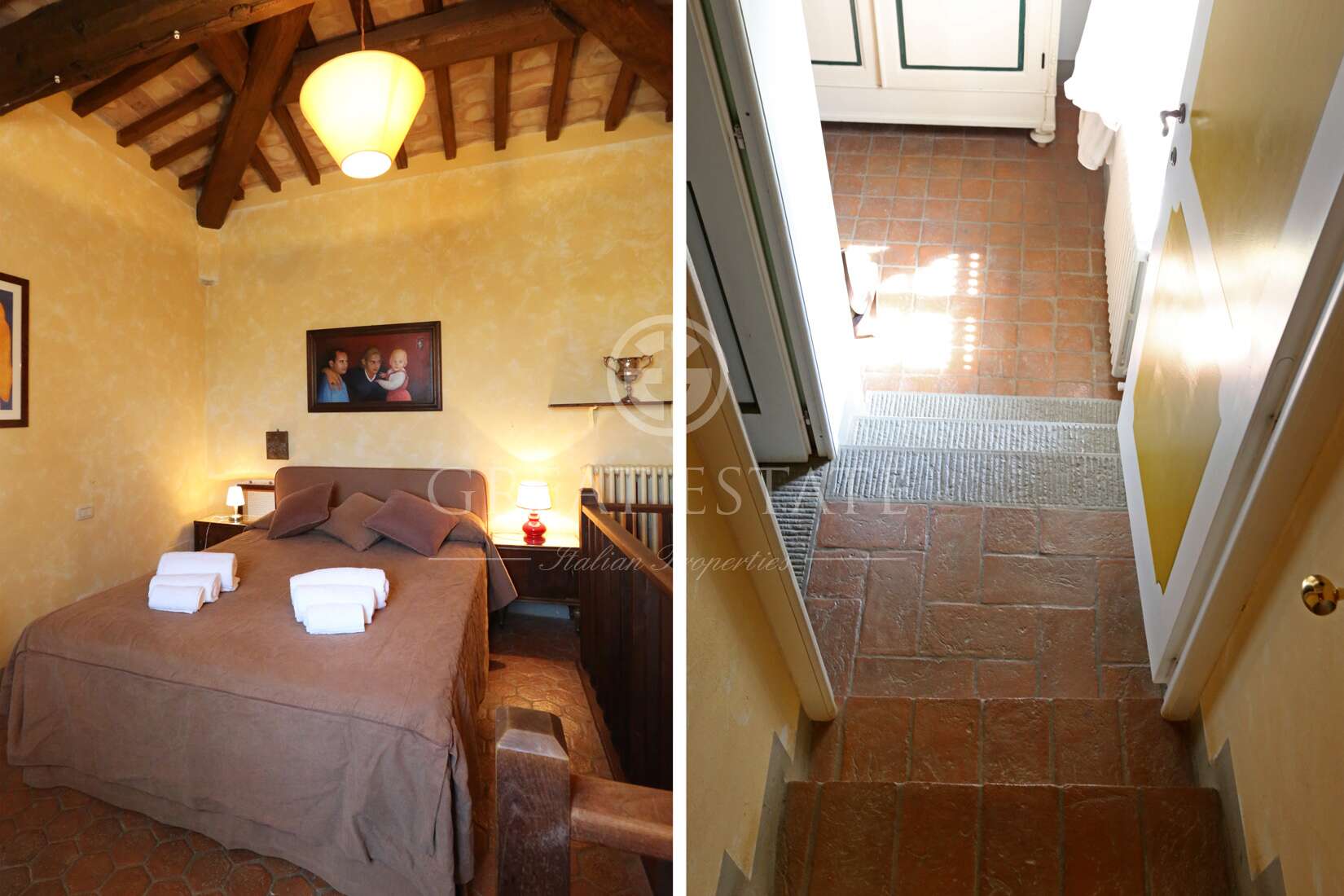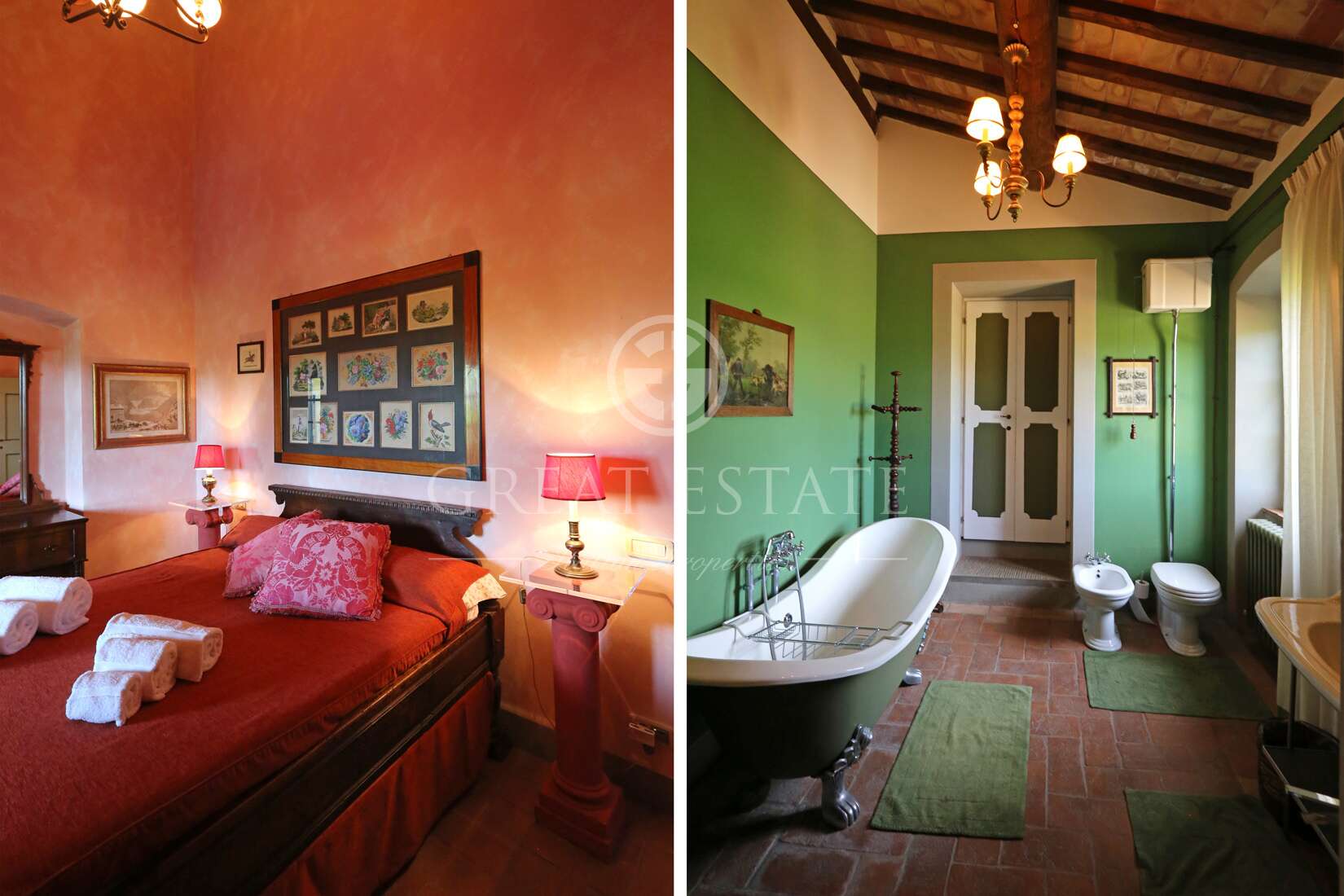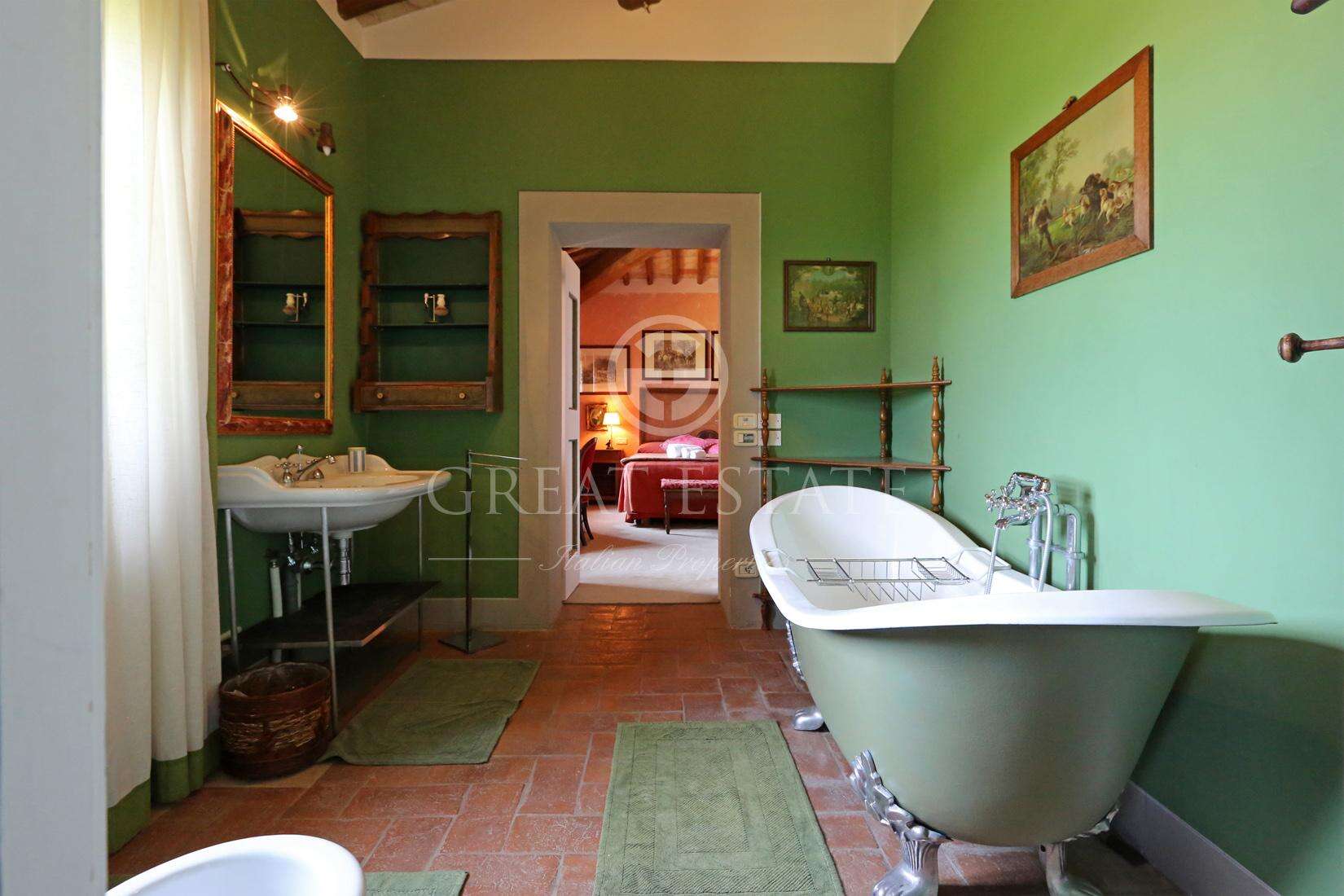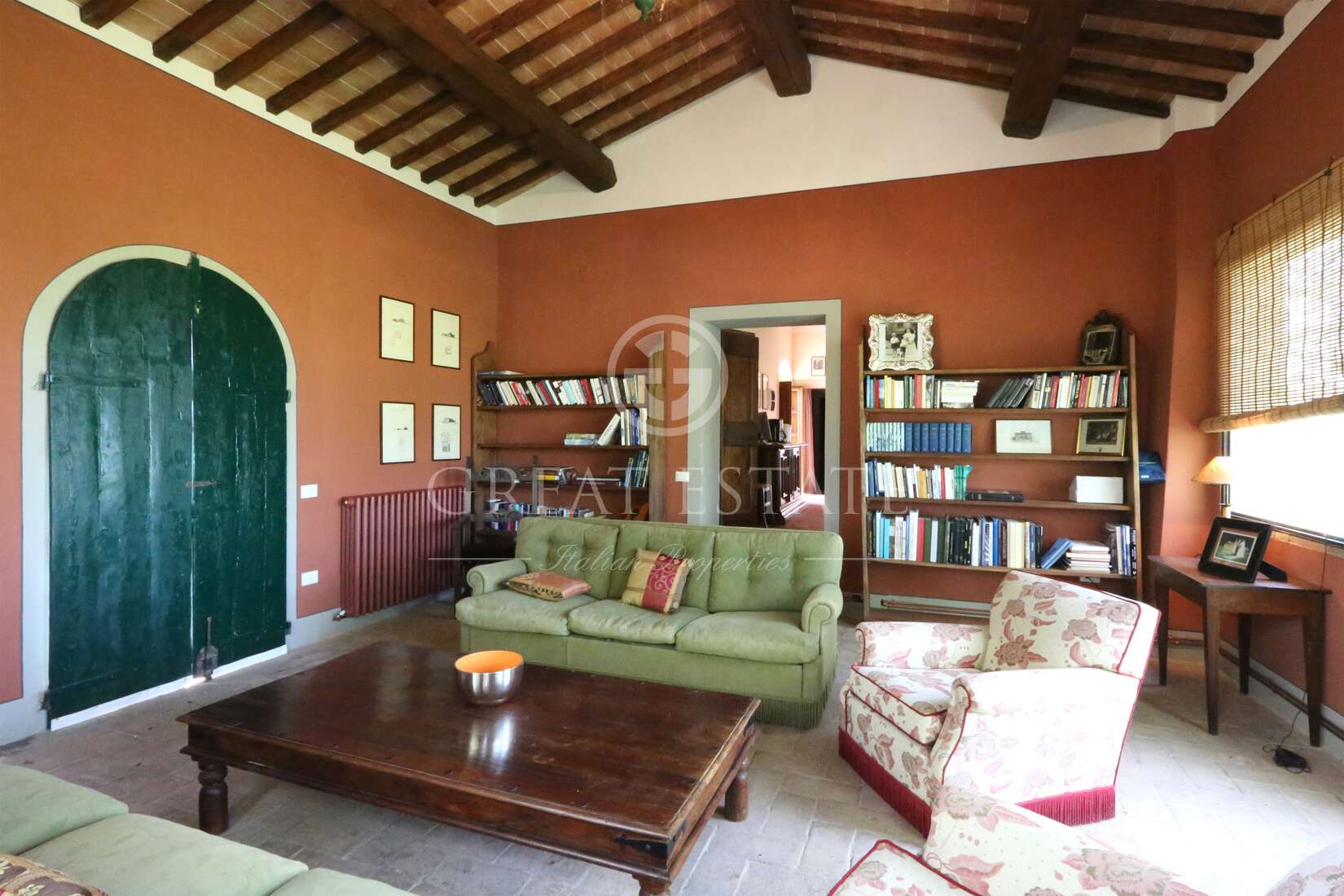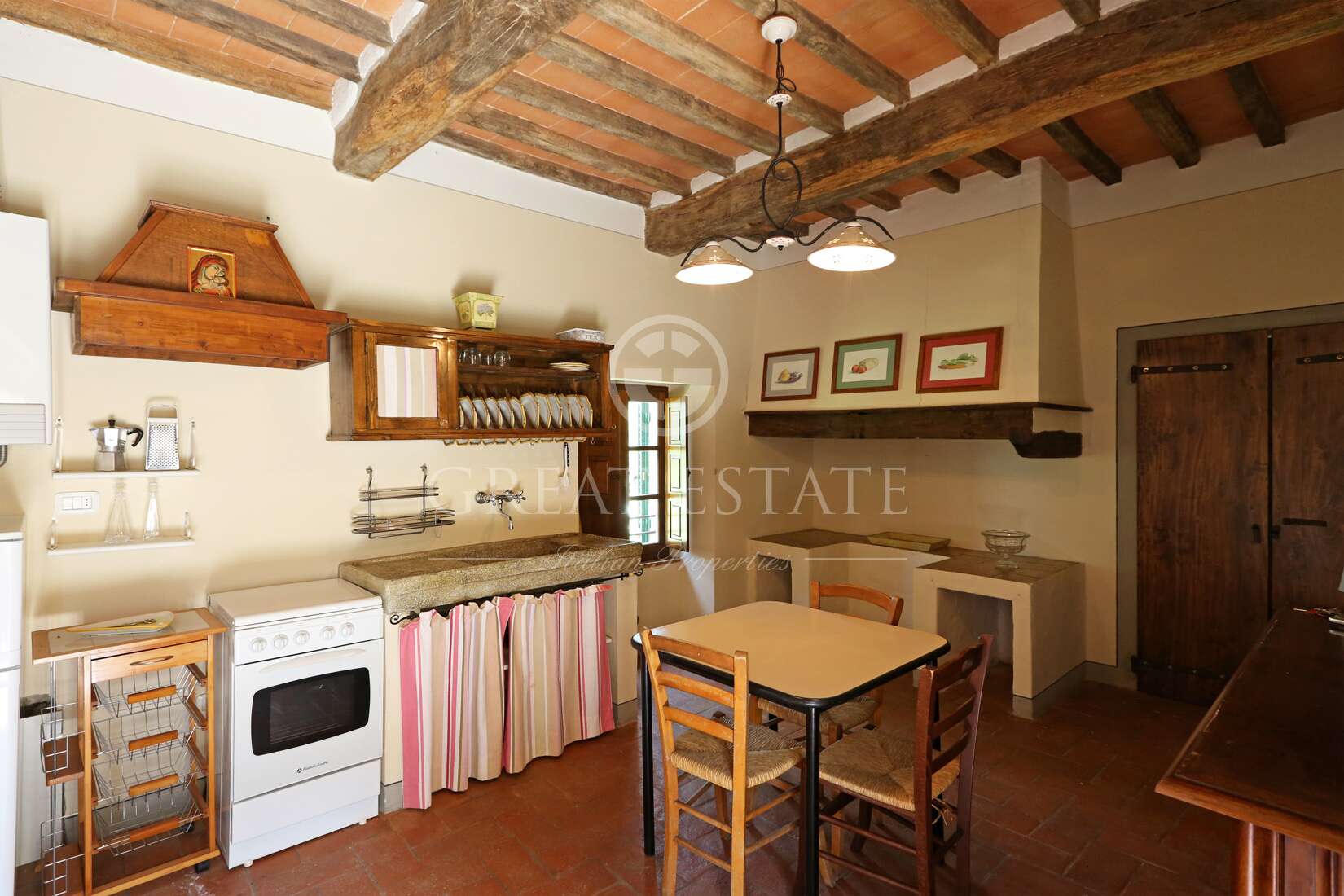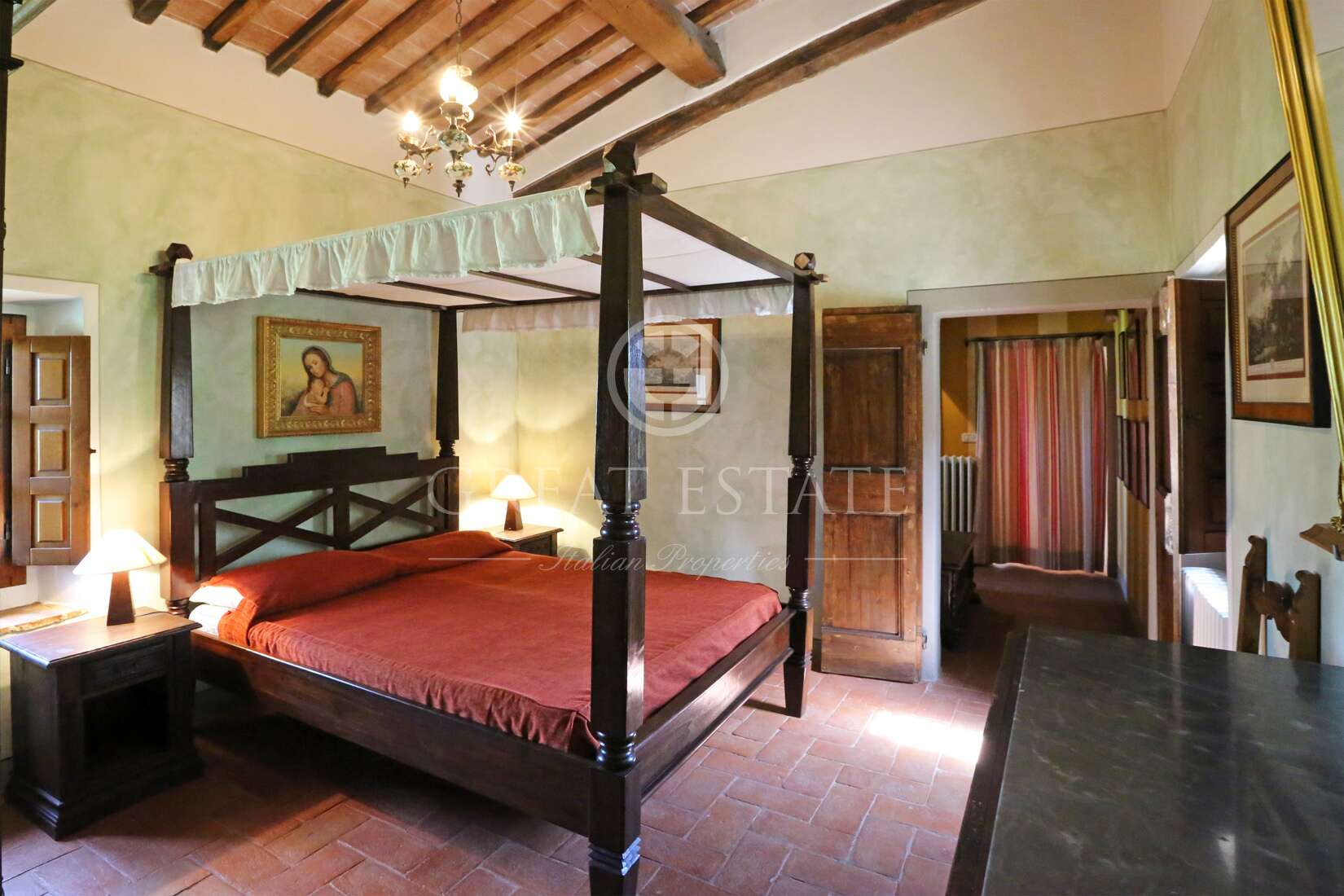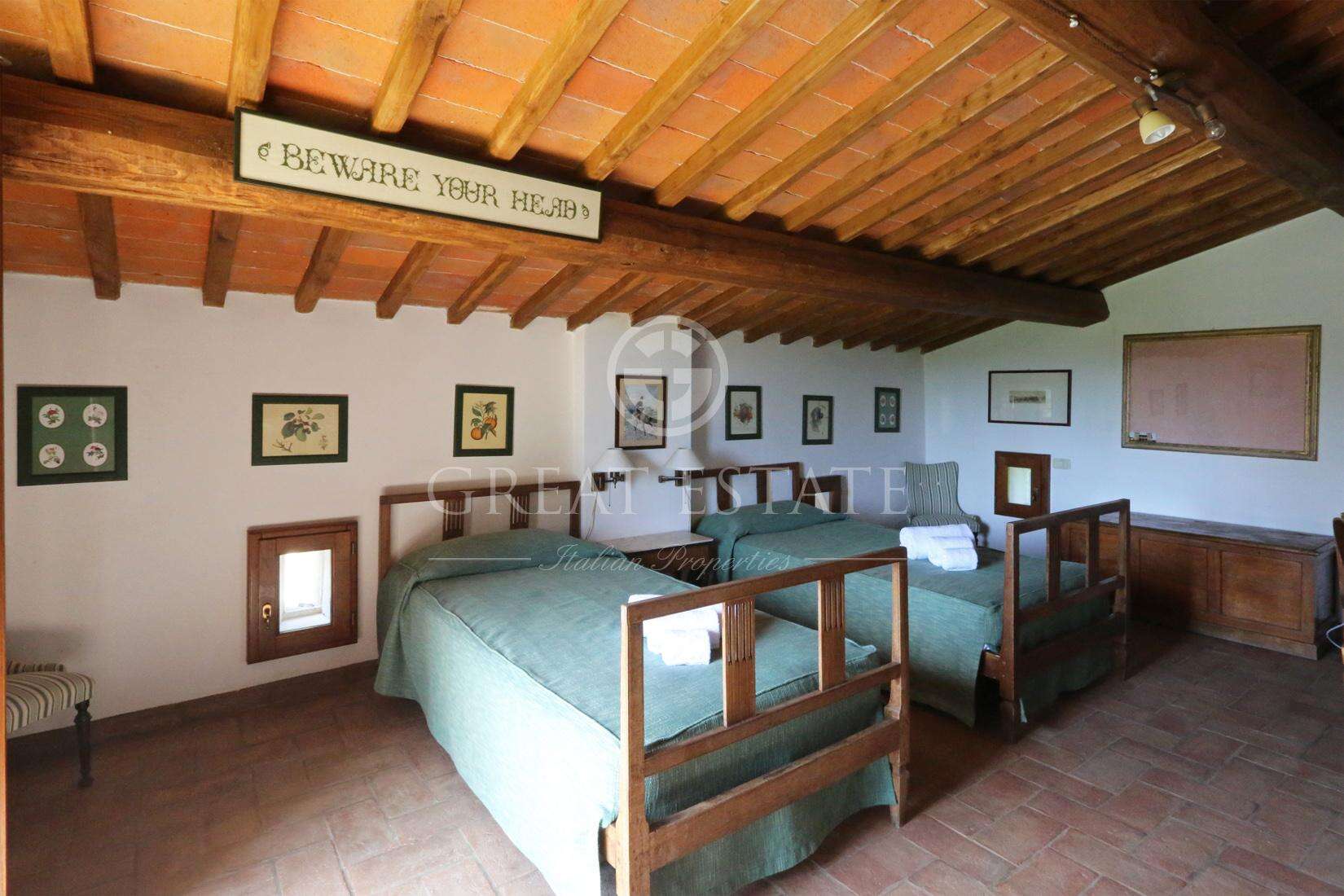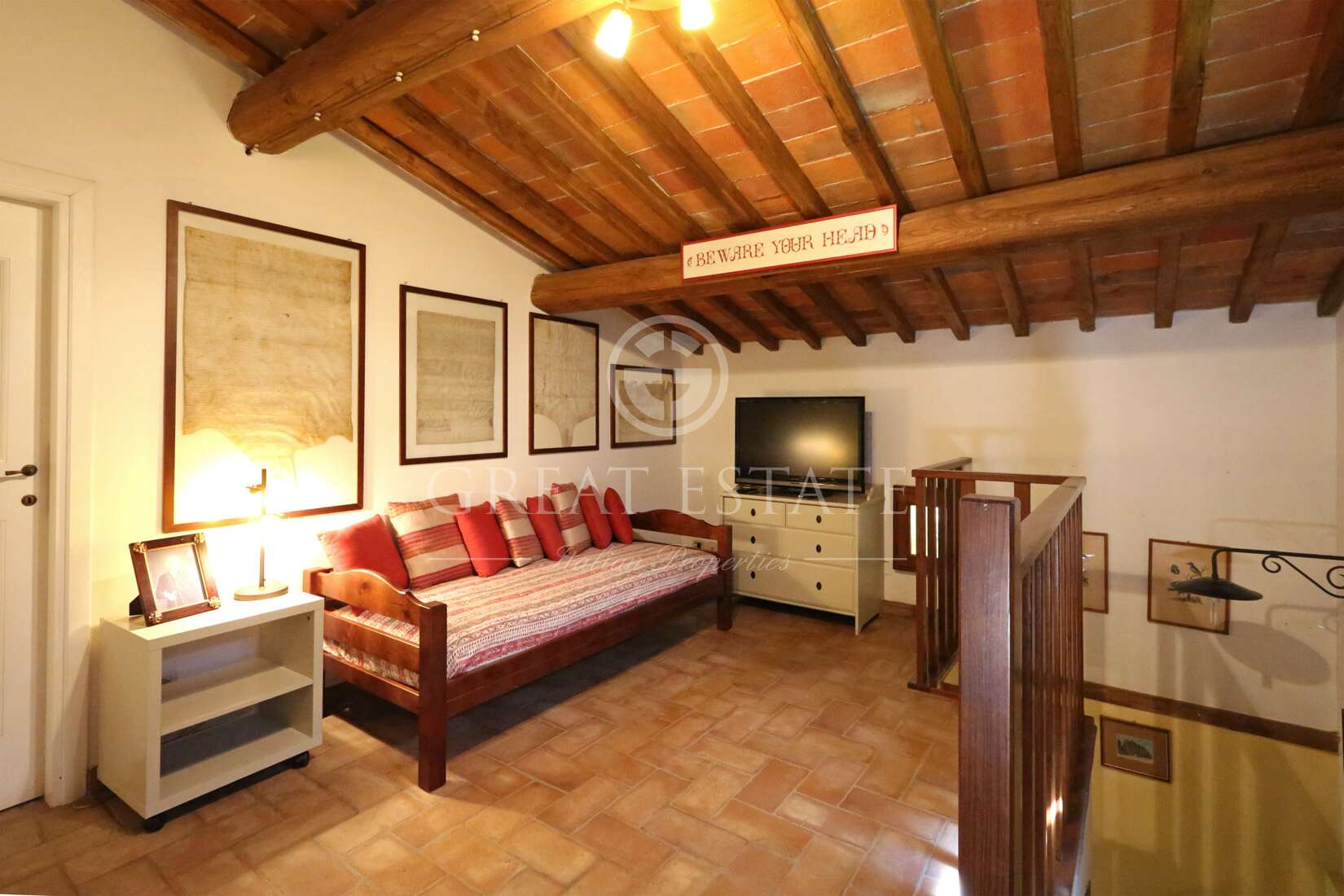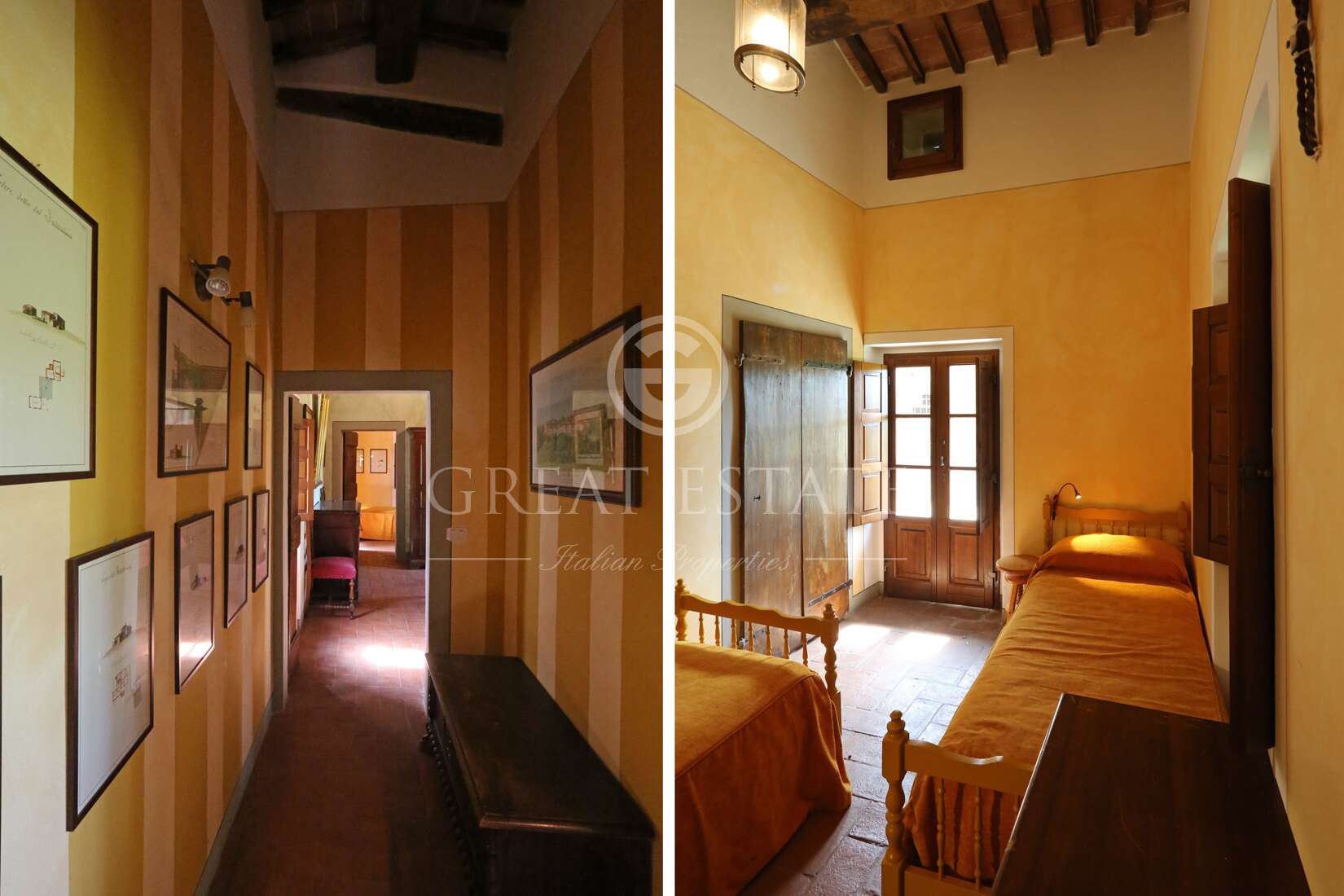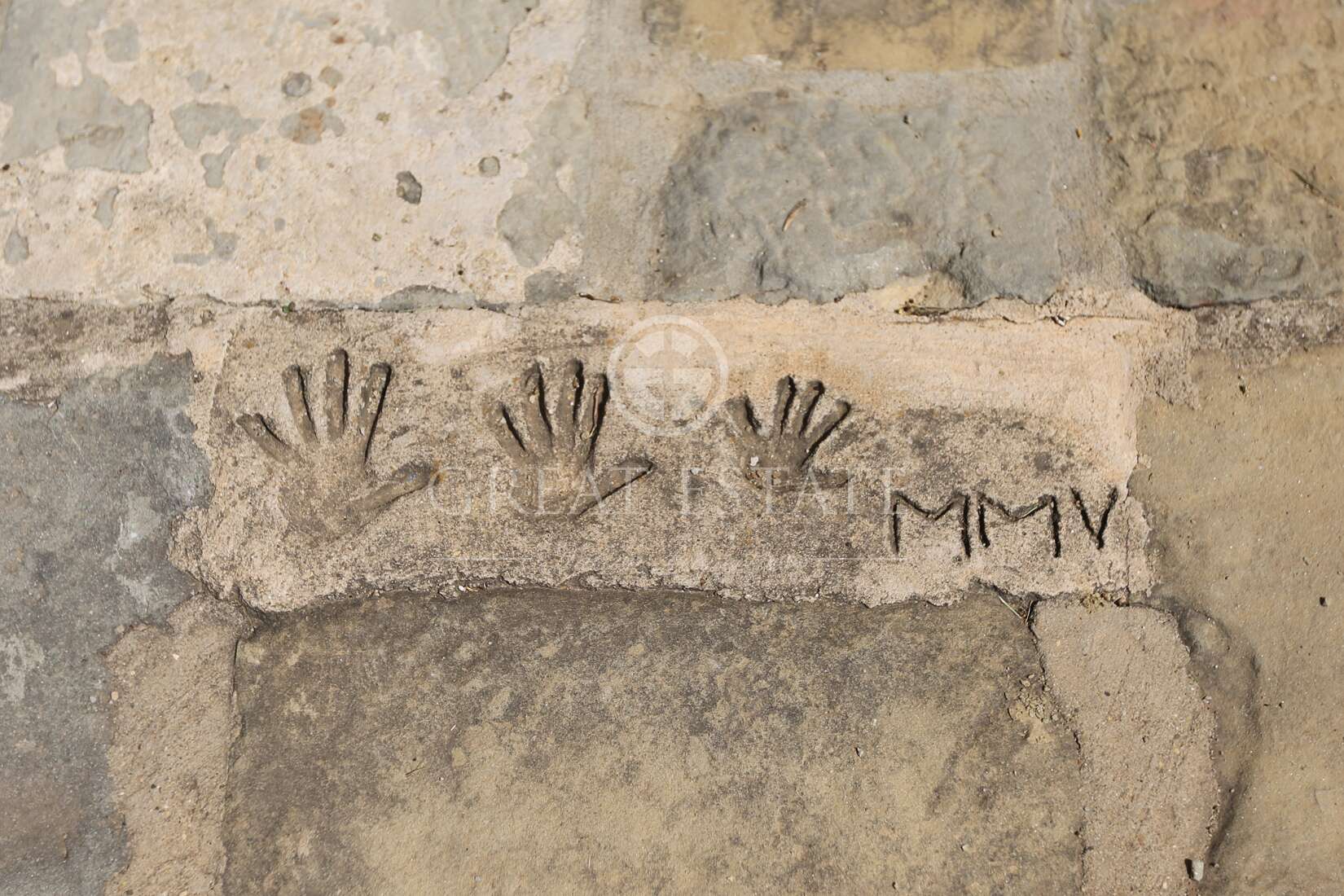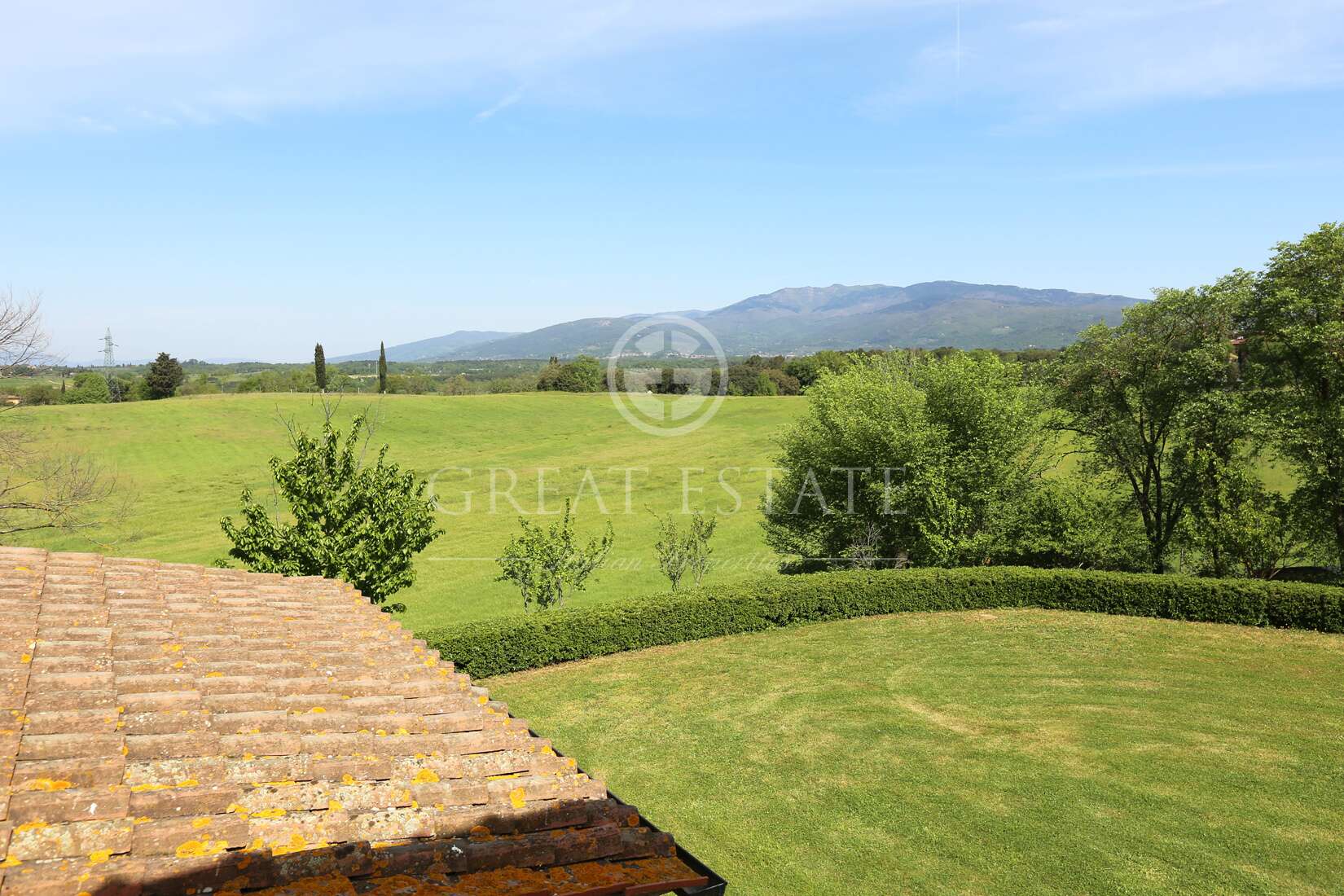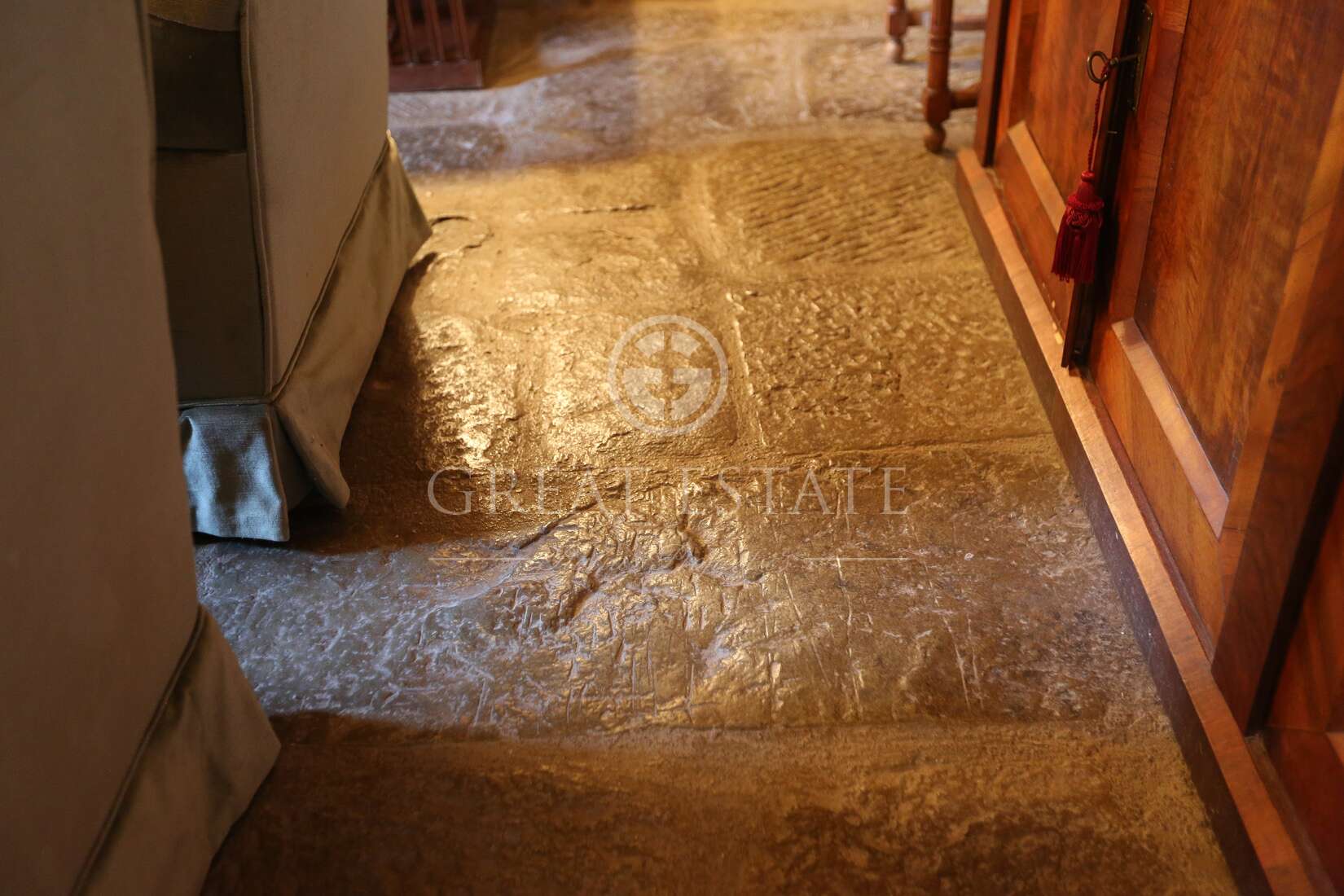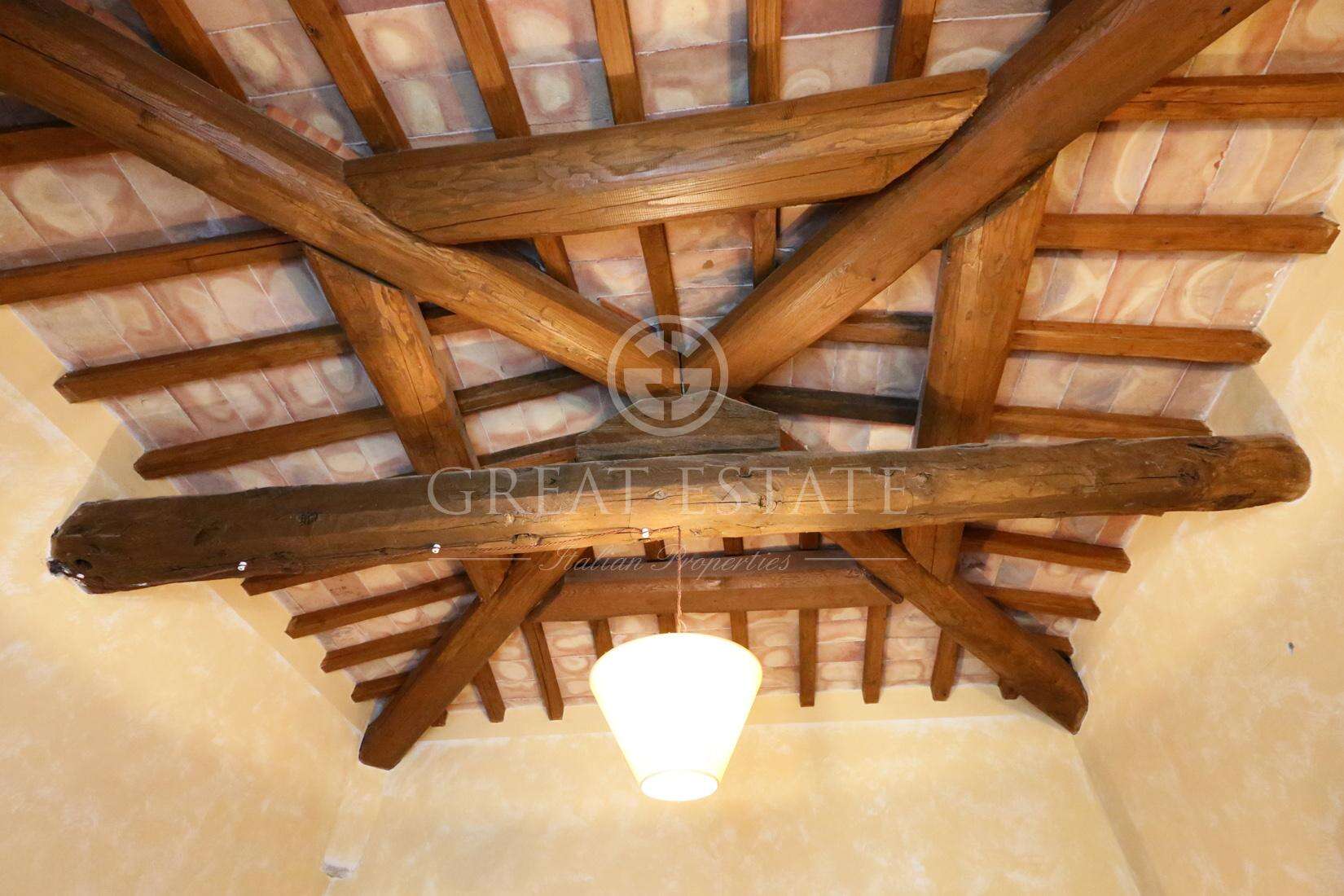 Sted
In the upper Valdarno area, located in a hilly position near the Chianti region and Arezzo, this property for sale could be easily reached by the main provincial streets connecting to the A1 motorway exits (15 min. each).
Beskrivelse
Villa Monsoglio is a beautiful property dating back to '500, surrounded by the traditional Tuscan countryside and within a walking distance from Arezzo. In 1996, the property hosted "Il Ciclone" movie set, a film directed by Mr. Leonardo Pieraccioni. For centuries, the "Poggerello" and "Il Vivaio" farms were part of the Monsoglio property too but, in 2001, they have been sold. To date, "Il Vivaio" still has to be renovated while "Poggerello" – the house from which grandpa Gino answered to Mr. Pieraccioni – has been completely restored. Under the Soprintendenza control, the works brought this leopodina back to its original charm: large internal- and beautiful external spaces, a splendid Italian garden and all its annexes. The complex is currently used and works both as a farm business and touristic accommodation. It is composed of the main farmhouse with double dovecote tower – registered into the 1824 leopoldino land register too –, divided into three levels and with a total surface of 650 sqm (+ the 76 sqm loggia). In addition to its amazing living rooms, this farmhouse includes also 6 bedrooms, 4 bathrooms, a kitchen, a dining room and a laundry. The property offers a 50 sqm office/reception and two annexes as well. The first one – 96 sqm on two levels – includes a living room, a kitchen, two double-bedrooms and two bathrooms. The same goes for the other annex, but with a larger surface (170 sqm). The property is completed by a 92 sqm tinaia (cellar), a 70 sqm warehouse, a stunning 7x13 m swimming pool and "Il Vivaio" – a 600 sqm farmhouse to renovate + its pig-shed. The whole property is framed by 7 ha of wood, 4 ha of vineyards and 2 ha of private gardens.
Boligens tilstand
Restored
Fasiliteter
The property is equipped with all the utilities needed.
Skjøte detaljer
Great Estate Group, through the owner's specialist, draws up a due diligence on each property, which allows to perfectly know the urbanistic and cadastral situation of every property. The due diligence can be required in case of real interest in the property.
Eier detaljer/Kontraktuelle krav
The property is owned by private individuals and the purchase will be taxed according to the current laws.
Mulig tomtebenyttelse
This property offers many opportunities: it could be both a prestigious multi-family residence or – and above all – an incredible touristic accommodation.
Kontakt oss vedr. denne eiendommen: